Data loss is as serious as losing any item of value to you at any moment. You could be a gamer or just love to share good games with your friends on a PC, or even a laptop.
It can be so devastating to lose a pinch of these especially if you have been gaming for hours and all the gains are about to go into the drain.
Steam save files gone? That is why we developed this article as a guide on restoring game files or Steam files saved on a PC to make your day less sweaty. If you are already a victim or just looking for ways to be able to take precautions with your gaming files, read on to the last word.
Also, we have also recommended ways to recover files from emptied Recycle Bin. From the 6 best methods we have discussed below, you should be able to resume your gaming really quickly. But what causes game data loss? Let's dive into this first.
Causes of Game Data Loss on PC
Game loss just like the loss of any other form of data is largely accidental and happens without warning. This does not however mean that you cannot identify the actual causes of your gaming data losses. Below are some of the common causes of game data losses on PC.
Application crash
Gaming applications may crash and cause huge gaming data loss. This could be a result of a system crash or failure on the gaming application itself. Driver incompatibility and outdated files can also cause application crashes and eventual loss of gaming data.
Malware attack
Attacks by malware can easily downgrade your computer's settings and corrupt your files. Corrupted files become inaccessible and this could be one quick way you end up losing your gaming files on your PC.
Hardware failures
Hard drive failure is yet another culprit when it comes to game data loss on PC. This can also result from unexpected power failures or even surges.
Incomplete installation
An incomplete installation can be a major hindrance to smooth gameplay. This is because if a patch of a game or DLC fails to install correctly, it is likely to cause major bugs that result in the loss of necessary files required to support gameplay.
Accidental deletion
As we said earlier, major data loss causes occur accidentally. Accidental deletion may occur when you are uninstalling apps or when deleting unnecessary files and you end up deleting the game files with them, accidentally!
5 Ways to Restore Deleted Steam Files or Game Saves On PC
We recommend you take lots of precautionary measures including backing up your files and running antivirus checks constantly to protect your PC from some of the causes discussed already. Otherwise, if you fall victim at any time, try any of the 5 methods below to get out of the situation clean.
Method 1: Restore Deleted Files with Data Recovery Software (Recommended)
Generally, data recovery software remains the most effective method to restore deleted game saves on PC. Disk Drill data recovery software is a powerful program built to restore corrupted, crashed, or deleted games. You can also try this solution to recover deleted save data on PS4 among other devices.
Disk Drill is a versatile software with the extreme ability to restore lost files faster than most third-party apps. Besides, it supports multiple file formats and is built with flexible scanning options. Some of the features you will enjoy while using this software include deep scan recovery mode, preview, pause and continue scanning, and quick scan features.
To proceed with data restoration using this method, follow the steps below.
Step 1: Download and install the software from the official website.
Step 2: Select the file location and click the "Scan" button to continue.
Step 3: Once the scanning ends, select "Deleted Files" and "Other Lost Files" folders appearing in the left panel. Forward, apply the "Filter" feature or tap the "search files or folders" button to find the deleted data.
Step 4: Now tap the "Recover" button to finish the process. When saving the files, choose a different location from the original one to secure the restored files.
Related: How to move Steam Library to another drive
Method 2: Restore Deleted Game Saves from the Game Library

Depending on the format of every game, they will be saved in different locations on your drive. As a result, you should understand the specific location of your game files to make it easier to recover in case of accidental deletion or loss. 
To recover game files from the game library, follow the steps below. 

Step 1: Open the Steam client on your PC and go to the Library.   
Step 2: Check the left panel to locate the deleted game name and right-click on it then select "Properties."       
Step 3: While still on the properties window, tap "LOCAL FILES" and choose "VERIFY INTEGRITY OF GAME FILES.."       
Once the files are restored, try to launch the game to see if it was correctly restored. Otherwise, you can still follow the other methods to restore the game saves back to your PC. 
Method 3: Restore Steam Files or Game Saves from Recycle Bin

Deleted files in Windows 10 computers will first move into the recycle Bin before they are permanently deleted. Unless they were permanently deleted using the shift button in the first place.
Recovering files from Recycle Bin is a rather straightforward process. In fact, this should be your first check in case you accidentally deleted the game. Proceed as below.
Step 1: Open the Recycle Bin by tapping on the icon on your desktop.
Step 2: Search for the game you accidentally deleted.
Step 3: If the game appears in your search results, right-click on the files and select "restore" to recover the deleted files.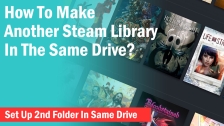 When you have several games in your Steam account library, sometimes it is not possible and reasonable to store all the ...
Method 4: Restore deleted Game data from Back Up

Still, wondering how to restore game files on Steam? Backups are a better way to secure your files from accidental deletion, corruption, or even malware attacks. If you have a previous back up of your Steam files or game saves, follow the steps below to restore them.

Step 1: Go to Steam followed by Back up and Restore games.   
Step 2: Select "Restore a previous backup."
Step 3: Tap "Browse" and look up your title in the Steam backups folder. Click "Next" and follow the pop-up instructions to restore the files. 
Method 5: Restore Deleted game Files with System Restore

If you turned on system restore before your game was deleted, follow the steps below to restore them.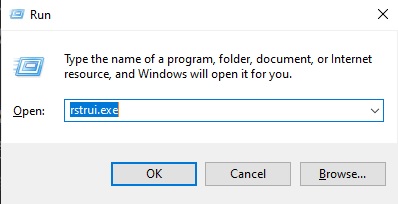 Step 1: Tap the "Windows + R" keys to bring up the Run box in Windows 10, 8, and 7.
Step 2: Type "rstrui.exe" in the empty box then tap Enter to open the System Restore.
Step 3: Choose a different restore point
Related: Fix "New Steam Library folder must be empty" error
Final Words
Losing game files can be a huge pain to game lovers. If you read all the methods we shared, you should be in a position to restore your files really quickly. We recommend using Disk Drill software especially if you cannot locate deleted files from the Recycle Bin or even back up. Good luck!