Laptops
5 Best gaming laptops for PUBG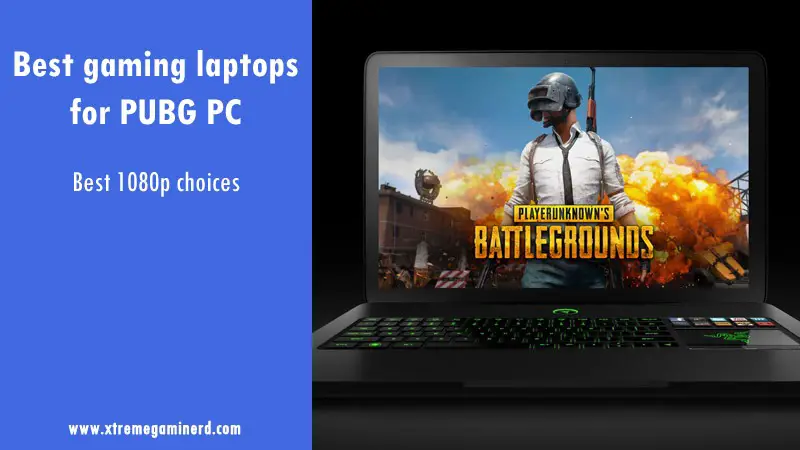 PUBG is currently among the top 3 Battle Royale PC games with its concurrent players peaking at almost half a million1)https://steamcharts.com/app/578080. It's no surprise that you must be among PUBG lovers who want to grind in the game seeking the chicken dinner for the satisfaction before sleep.
While gaming PCs provide an excellent experience for gaming, there are so many great gaming laptops which can provide you with an equivalent joy while being portable at the same time. To understand what type of laptop you will need for PUBG, it's important to take a look at the recommended specs for this game for smooth gameplay.
RECOMMENDED-
Requires a 64-bit processor and operating system
OS: 64-bit Windows 7, Windows 8.1, Windows 10
Processor: Intel Core i5-6600K / AMD Ryzen 5 1600
Memory: 16 GB RAM
Graphics: NVIDIA GeForce GTX 1060 3GB / AMD Radeon RX 580 4GB
DirectX: Version 11
Network: Broadband Internet connection
Storage: 30 GB available space2)

https://store.steampowered.com/app/578080/PLAYERUNKNOWNS_BATTLEGROUNDS/
Currently, we have a good alternative to the GTX 1060 and RX 580 and that is the GTX 1650. So, it's recommended to go with a laptop that at least features this GPU or higher. Also, while 16GB is the recommended RAM, it's not always mandatory and 8GB will be just fine but if you want to be future proof, you can either opt for a 16GB laptop or increase the RAM of your laptop by adding another stick which is the best solution.
So, here is the list of best gaming laptops that I recommend for you.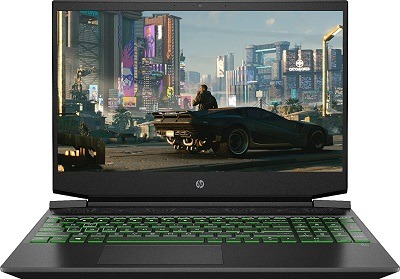 AMD Ryen 5 4600H 6/12 threads GTX 1650 4GB 60Hz 1080p Ips display Green LED-backlit keyboard
---
Starting the list from the budget category, the HP Pavilion 15 is an ideal choice which fulfils the recommended specification requirement to play PUBG. It has got a full HD 15.6″ IPS display for accurate colours and better viewing angles.
With the Ryzen 5 4600H CPU, you will get 6 cores and 12 threads that is just perfect for not only play PUBG but any AAA title. The base/boost clock of this CPU is 3.0/4.0GHz which is decent and with 8GB of DDR4 RAM, you will face no bottlenecks at 1080p. For storage, it comes with a 256GB SSD which of course, you can upgrade by adding another storage drive whenever you want.
For playing the game on high settings you will get the GTX 1650 4GB graphics card which although can play PUBG on ultra settings but it's recommended to lower settings a little bit to avoid performance issues in graphically intensive areas in online gaming. Moreover, you will get a green LED-backlit keyboard to see in the dark and will give you a premium feel for a price of less than $700. Currently, this is the cheapest best laptop I can recommend for playing PUBG and similar games.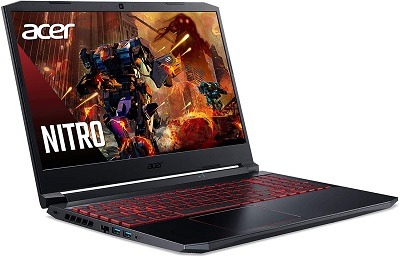 Intel Core i7 9750H 6 cores/12 threads GTX 1650 Ti 144Hz IPS 1080p display Red LED-backlit keyboard
---
Acer Nitro 5 is among the top 5 gaming laptops in my opinion and currently has several models in the Nitro series one of which you will find again in the list. This one is the 15-55-59KS model that features the Intel Core i5 10300H processor that features 4 cores and 8 threads with a base/boost clock speed of 2.5/4.5GHz. While this is slower than the Ryzen 5 4600H, it is accompanied by a GTX 1650 Ti graphics card which should provide a little more boost over the previous laptop.
The best thing about this laptop is, however, its refresh rate which is much more than the HP Pavilion. While it also features a 15.6″ 1080p IPS display, its refresh rate is 144Hz which is way better for any fps game and will definitely provide you with even smoother gameplay. With 8GB RAM and 256GB of storage, it is equivalent to the previous laptop and has a red LED-backlit keyboard.
For internet connectivity, you will get Intel Wifi 6 adapter which is better than the wifi adapter present in the Pavilion 15 and a 1GB LAN for lag-free gaming.
Simply put, both the Nitro 5 and HP Pavilion 15 are good for their respective prices but the Nitro 5 is a better choice for $80 more especially due to 144Hz refresh rate.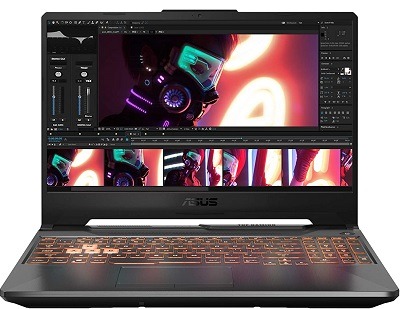 Ryzen 7 4800H 8 cores/16 threads GTX 1660 Ti 144Hz IPS 1080p display RGB keyboard
---
For a little less than 1000 dollars, the Asus TUF A15 laptop is a beast laptop that has all the enthusiast-level features which will not only increase fps in games but will also increase your productivity. This TUF model features a Ryzen 7 4800H processor which is currently one of the best mobile processors in the laptop industry that consists of 8 cores and 16 threads with a base/boost clock speed of 2.9/4.2GHz.
It has 16GB of DDR4 RAM clocked at 3200MHz and a 512GB fast NVME SSD for eliminating any kinds of bottlenecks and slowdowns. For gaming, you will get a GTX 1660 Ti graphics card that is at least 20% faster than the GTX 1650 and 1650 Ti that will result in higher graphical settings without any reduction in fps.
It boasts a 15.6″ 1080p IPS display with 144Hz refresh rate and an RGB backlit keyboard for improving its aesthetics. This is the best-suited laptop for playing PUBG at 1080p ultra settings that won't go below 60 fps anywhere.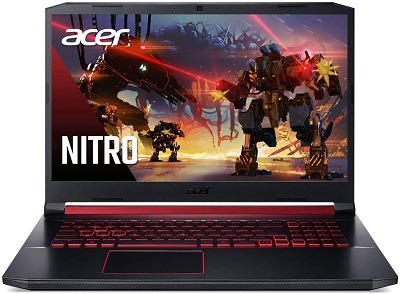 Intel Core i7 9750H 6 cores/12 threads RTX 2060 6GB 17.3″ 144Hz IPS 1080p display Red LED-backlit keyboard
---
As I mentioned earlier, the Acer Nitro 5 has several variations. This one comes with a better CPU, graphics card, and memory. While the storage, unfortunately, stays at 256GB, the RAM is now increased from 8 to 16GB. The processor used is the i7 9750H which consists of 6 cores and 12 threads clocked at 2.6/4.5GHz with an RTX 2060 graphics card that is actually a 1440p gaming card but on a 1080p display, it's best suited for a 144Hz refresh rate which fortunately this laptop features.
With 6GB of VRAM on the RTX 2060, you can max out any setting in PUBG and your fps will still stay around 100 fps even where the load on the GPU is very high according to several benchmarks 3)https://www.youtube.com/watch?v=ogWoSIqwbtE. So, you 'will' get the benefit of 144Hz refresh rate more than with any other laptop mentioned above it.
All the other specs like body design, keyboard, etc. are similar to the first version but the major difference here is the screen size. While all the laptops including the Nitro 5 with i5 have 15.6″ display, it has a 2-inch bigger display with 17.3″ screen size and therefore, its cost surpasses $1100 but still holds a good position amongst the best gaming laptops today.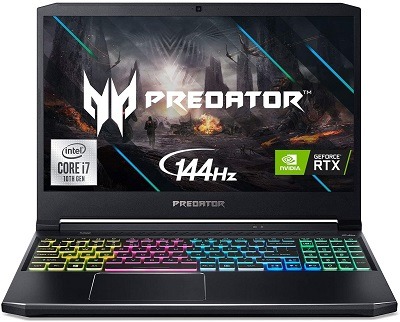 Intel Core i7 10750H 6 cores/12 threads RTX 2060 6GB 15.6″ 144Hz IPS 1080p display RGB keyboard
---
The Acer Predator Helios 300 costs the same as the Nitro 5 model mentioned above it. The difference here is the processor which is now the Intel's Core i7 10750H which is although is a 6 core/12 thread processor but features a higher boost clock of 5.0GHz which makes it noticeably faster in CPU-dependent applications and gaming.
It comes with an RTX 2060 6GB graphics card and a very responsive 1080p screen that boasts a 144Hz refresh rate and 3ms of response time. Graphics card used in it is perfect for this type of display and to eliminate all sort of memory-related bottlenecking, it is equipped with 16GB of DDR4 memory and to store games you get a 512GB NVME SSD.
The laptop is also available in different editions having different specs such as a bigger screen of 17.3″, a better GPU like RTX 2070 Max Q, and a higher refresh rate of 240Hz. While this model is best for PUBG, you can spend more and get the other editions with better specs if you do want smoother and higher performance.