Arctic recently introduced their Alpine 12 Passive cooler which is targetted towards those users who want no noise but want to get their job done on a tight budget. Passive coolers are not that popular due to the fact that they aren't made for overclocking or providing low temperatures in the long run but for those people who don't have an overheating system, these might be actually useful.
I have got the opportunity to review this cooler and in this post, you will get to know the real world performance of the Arctic's Alpine 12 Passive cooler and whether this is meant for you or not.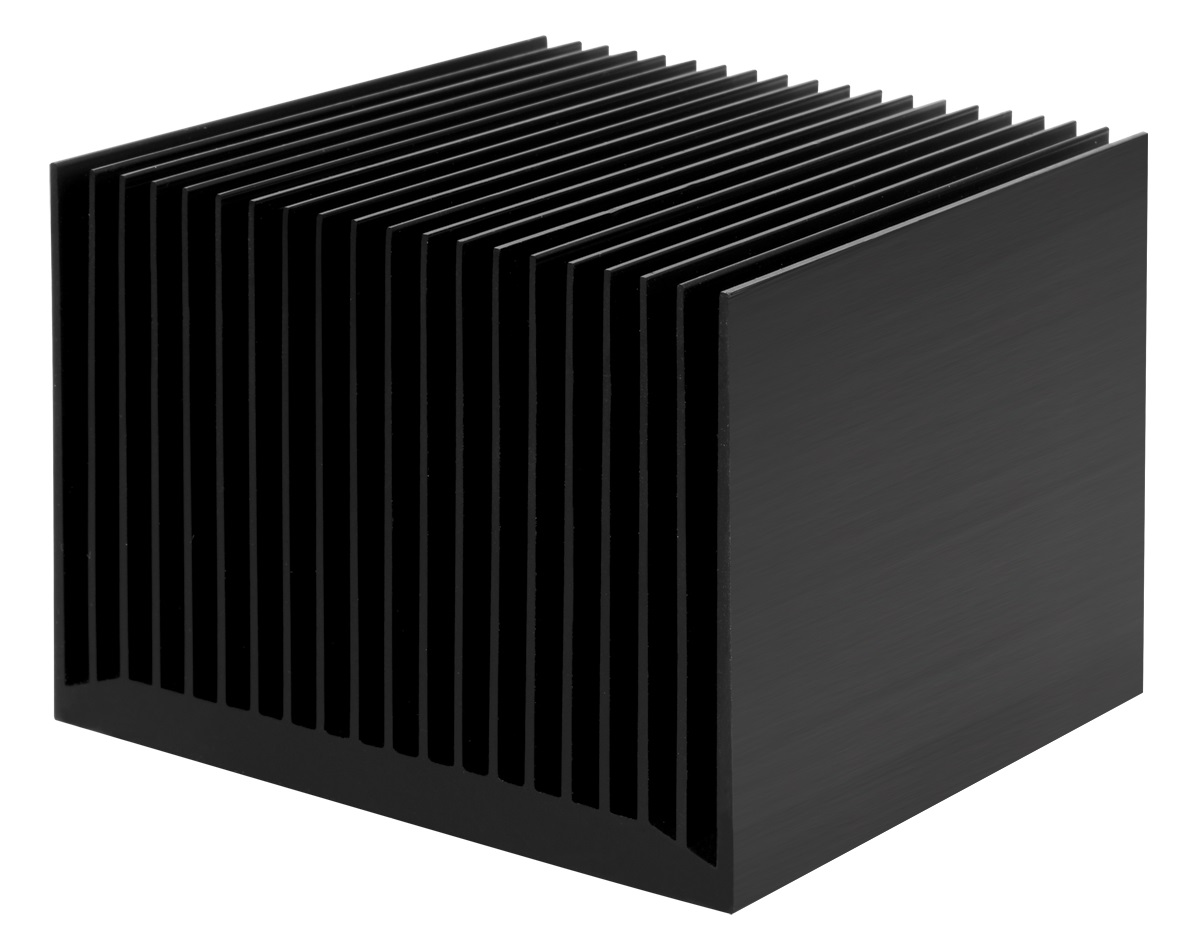 SPECS
| | |
| --- | --- |
| Material | Aluminium |
| Surface Finish | Black Anodising |
| Thermal Compound | MX-2(Pre-applied) |
| Maximum TDP | 47W |
| Dimensions | 95x95x69mm(LxWxH) |
| Noise Level | 0 Sone |
| Weight | 508G |
| Compatibility | Intel Socket 115X (AMD edition also available) |
While there is already a similar cooler from Arctic available on the market, Arctic made some minor changes to the design in order to improve both the aesthetics and performance without increasing the price. Arctic Alpine 12 Passive is the successor of Alpine 11 Passive which features an aluminium heatsink without any colour coating. The design and the size are exactly the same but as I didn't review the Alpine 11 Passive, I can't say anything about its performance.
This cooler is compatible with all the current Intel 115X sockets and for AMD motherboards there is a different edition sold separately. The cooler weighs exactly the same as the Alpine 11 Passive and even matches it in the dimensions. The only apparent difference here is the black coating.
Unboxing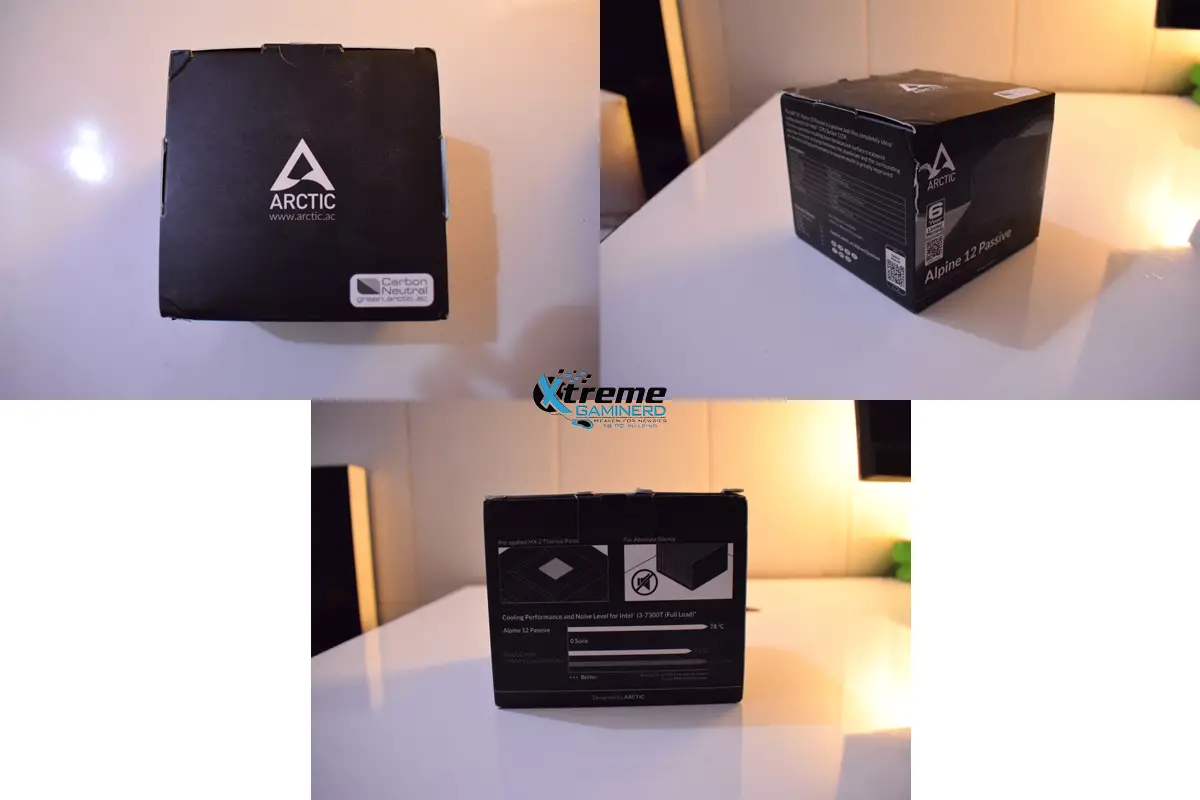 The cooler came is a very compact box from which I faced some difficulty in taking out. I didn't expect that. Anyways, the box is very informative just like the box of Arctic's eSports One cooler. You will find the specs and benchmarks of it with the Core i3 7300T.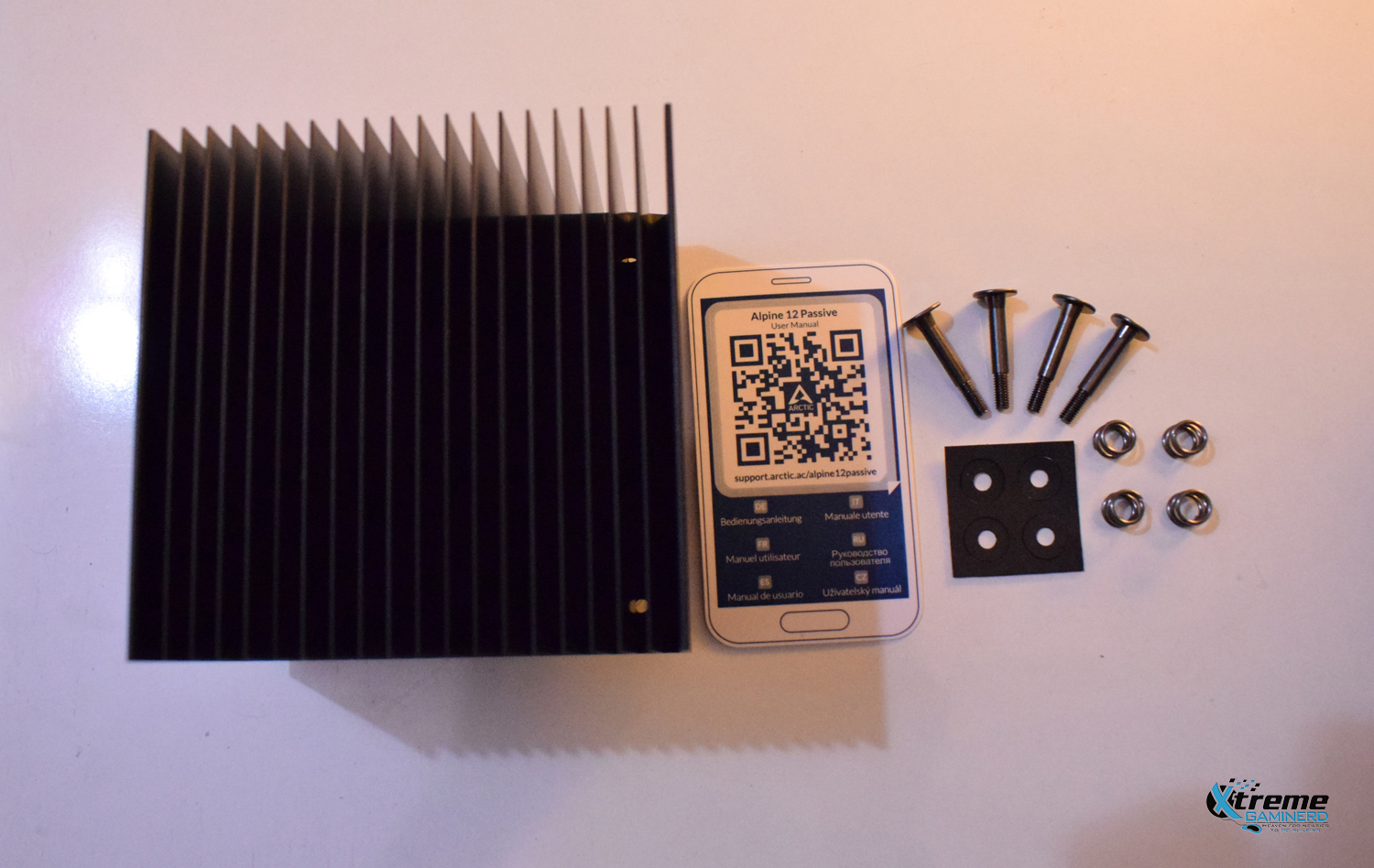 Inside it, there are: The heatsink, A QR Barcode(For installation method), 4x screws, 4x springs, 4x washers. There are no installation brackets or thermal paste. So, from looking at these accessories you can guess how the installation might go.
Taking a close look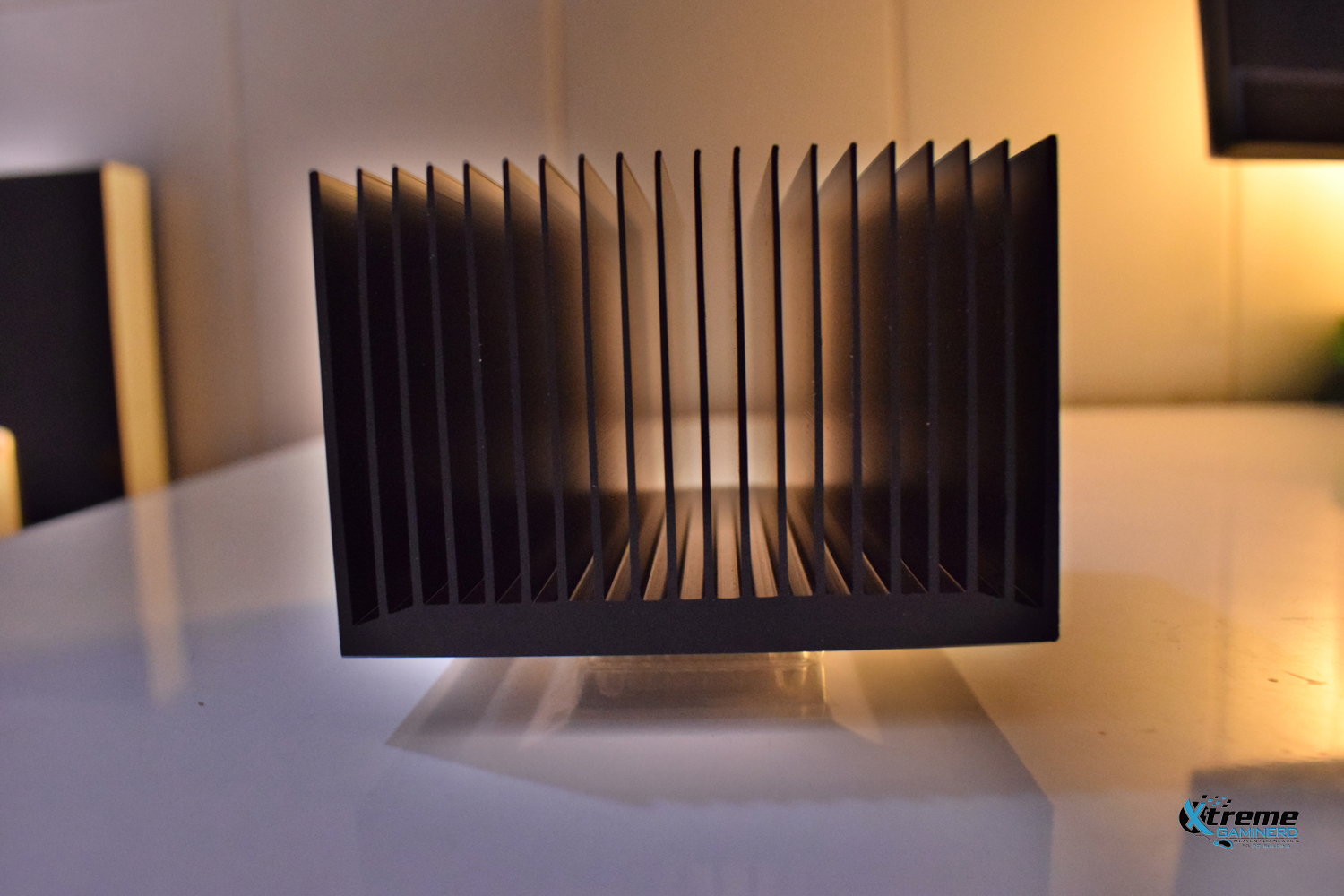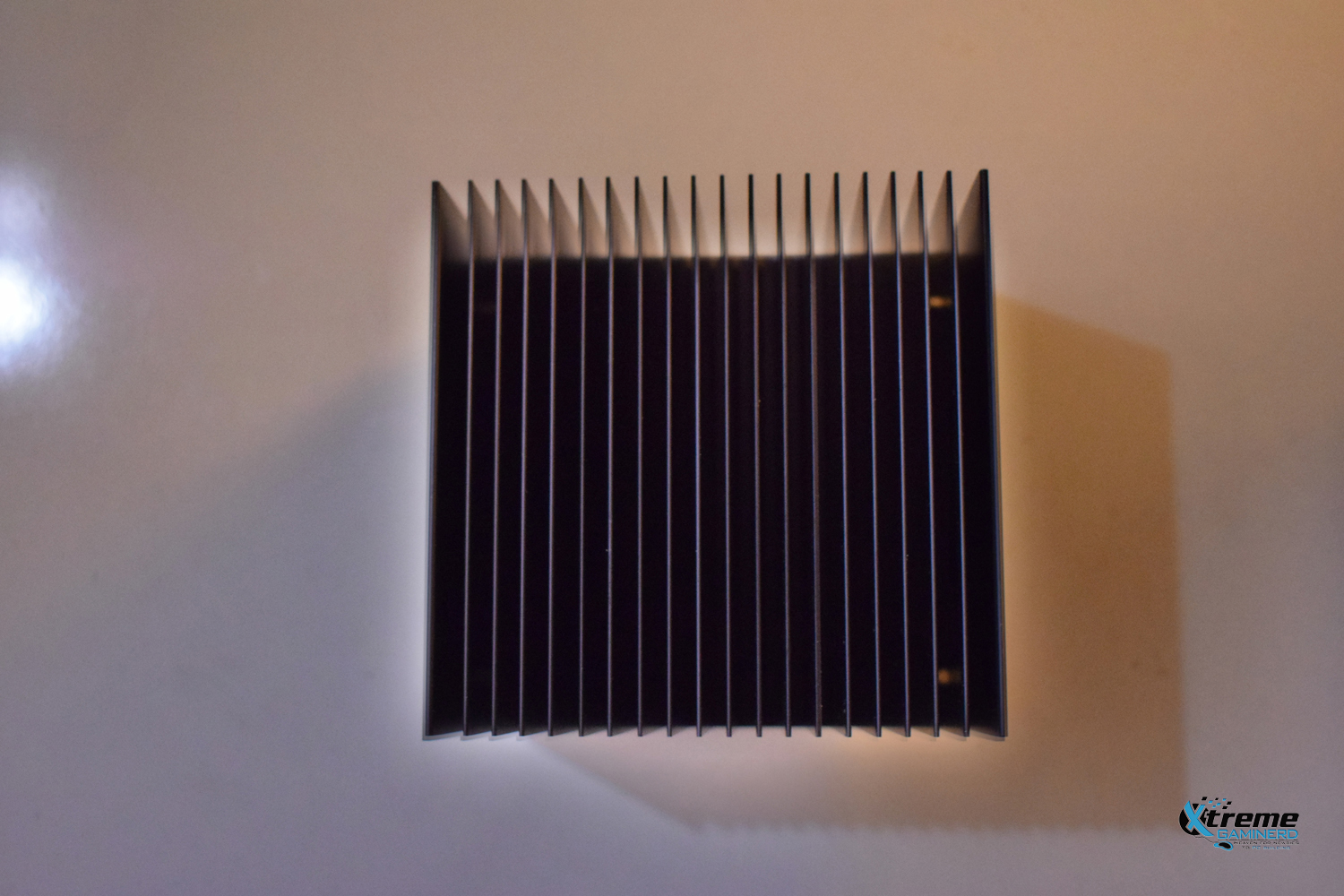 The cooler uses a half Kg aluminium heatsink coated in black colour and measuring 95x95x69mm in dimensions. It's very compact but the quality of the heatsink is something that you can appreciate. The fins are strong enough and you can't bend them easily. A good quality heatsink like this makes the cooler more reliable and durable for several years.
There are a total of 20 long fins that are connected with each other at the base and separated at the top with around 5mm of even gap in between.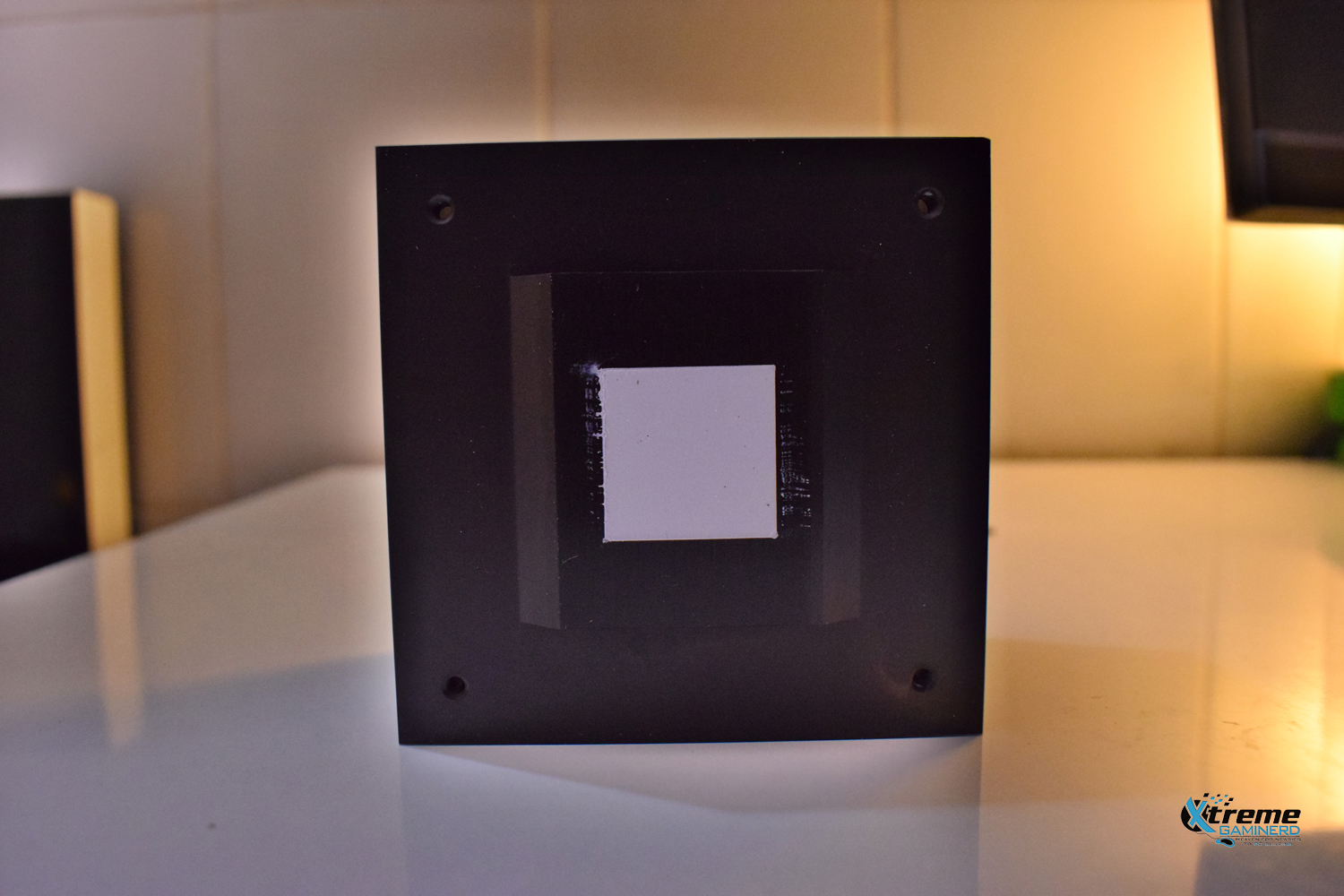 The base of the cooler comes with pre-applied Arctic MX-2 thermal paste which is very important as the cooler doesn't come with a thermal paste tube. There are 4 screw holes at the corners to install the heatsink on the motherboard and this design differs from the AMD Alpine 12 Passive edition.
[nextpage title="Testing and Results"]
Installation
This was one of the easiest CPU cooler installations that I have seen in a while. 4 screws go straight into the heatsink from the back with springs to make a tight contact. It was very straightforward and quick. From the images above and below you can see how compact the cooler is. It doesn't eat up any DIMM slot, neither it is very tall which is a win-win situation in both ATX towers and ITX cases.
Following is my testing rig which I use in testing CPU coolers and you can see the CPU block of CoolerMaster 240 hanging down there which I removed in order to install the Alpine 12 Passive. I use an open chassis in order to make the cooler perform at its best and you can check the components of my test rig down below.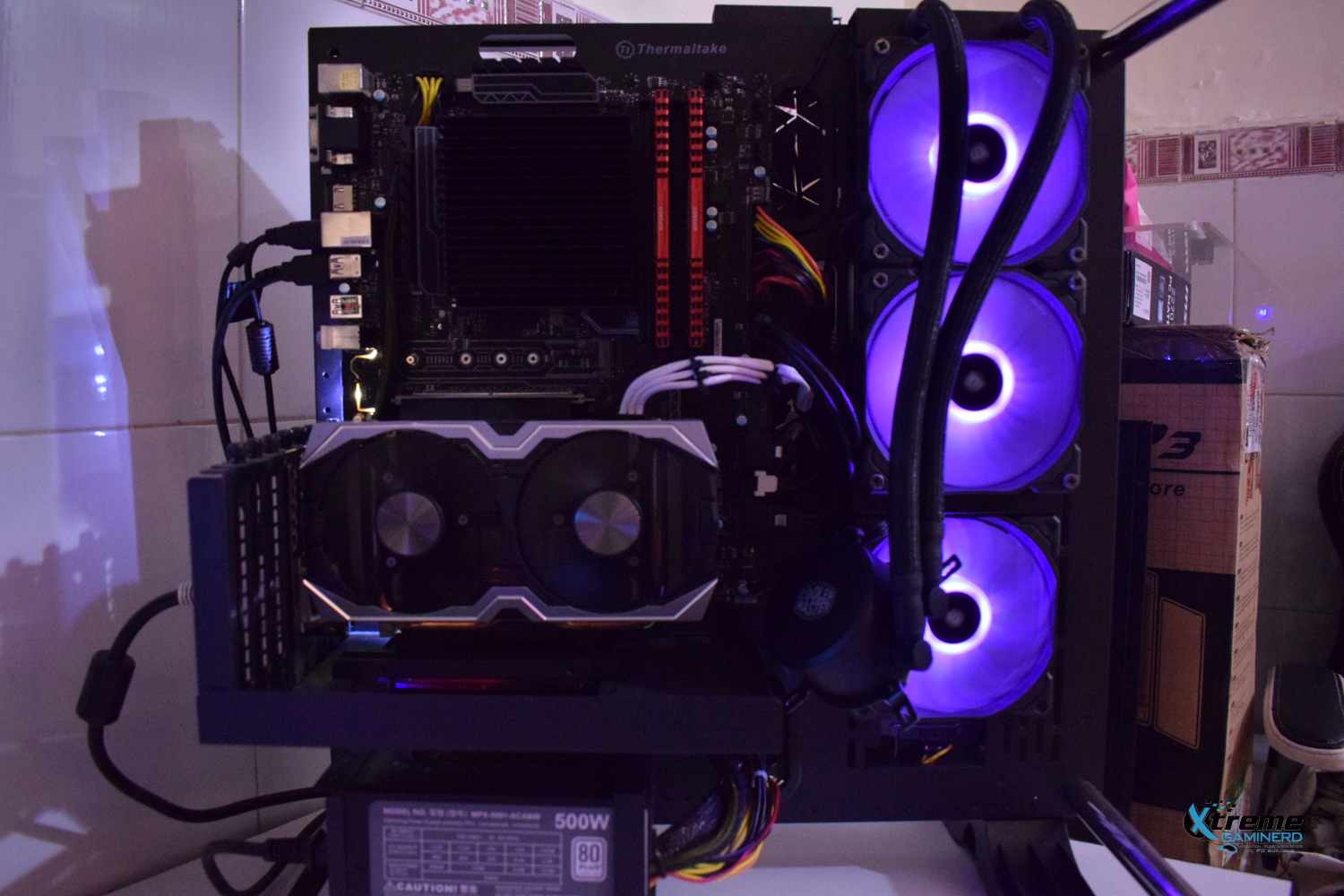 Testing Rig and Methodology
CPU: Intel Core i5 6600K
Motherboard: MSI Z270 PC Mate
CPU Cooler: Arctic Alpine 12 Passive
RAM: Corsair Vengeance LPX 2400MHZ(2x 4GB)
GPU: Zotac GTX 1060 6GB AMP
Storage: 320GB+500GB WD HDD
PSU: CoolerMaster MasterWatt Lite 500W
Case: Thermaltake Core P3
The cooler is made to work with low TDP processors and this isn't for overclockers or enthusiasts who want to get the most out of their CPUs but despite this, I tested it on my i5 6600K which is a 91Watts processor. Note that the max TDP support of this cooler is only 47Watts, so this test is actually an overkill for this cooler which should examine its performance to its limit. It would have been fair if I used an Intel Core i3 7300T or a similar lower TDP processor but I don't have any of these chips with me right now.
Testing was done at 31 Degree C room temperature and as different coolers are tested in different seasons, I most of the times also include the Delta T benchmarks to keep the comparison fair.  Delta T will be obtained by subtracting the room temperature from the temperature of the CPU after benchmarking. So for example, if the room temperature is 25C and the CPU temperature after benchmarking is 60C, then Delta T will be equal to 60C- 25C= 45C. This will be done to make the comparison of different CPU coolers tested in different seasons fair. But I don't think it is very much required in this cooler test as I won't compare it to any other cooler with fan.
The software used was Heavyload for stress testing the CPU, which was used for 15 minutes for the benchmark. For measuring the temperature of CPU I used CPUID HWMonitor. For overclocking the CPU I used the Intel Extreme Tuning Utility and lastly I played 30 minutes Rise of the Tomb Raider game which is not a very CPU intensive game to check the coolers practical performance. These two applications should be fine for knowing how will the cooler perform in various situations and to make the test fair according to the capability of the cooler. I also fixed the Core clock of i5 6600K to 3.5Ghz on all cores and disabled the boost clock.
Benchmarks
The initial temperature of the CPU in idle state was 46 degree Celsius which is 15 degrees more than the room temperature, however, the temperature hovered between 50-60 degrees while working(Non-benchmark programs).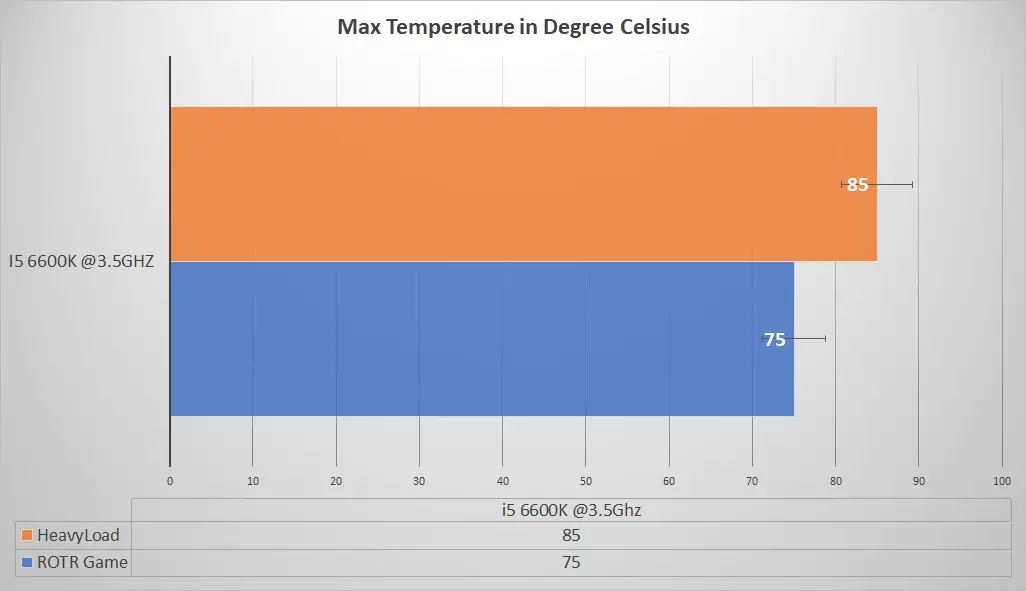 Result
Even with a 4 core processor like i5 with a TDP of 91Watts, this cooler didn't fail in any test. It surely did reach 85C in Heavyload but it is far better than the Intel Stock heatsink. In gaming, it did a good job and I wasn't expecting it to perform better than the stock heatsink because it has no fan. But it proved me wrong and it is seriously one of the best CPU coolers without a fan which costs only $13.

After the HeavyLoad test, I also waited to see how much time does it take to cool down properly to reach its initial temperature. In around 17-18 minutes it was back to the 46C. This cooler is best suited for budget builds which use processors like Intel Celeron or Pentiums but even if you use it on a quad-core processor, it won't disappoint in any way. But overclocking with this is a big no, no. Had I overclocked the 6600K even a little bit, then it would have crossed 90C which is not a good idea at all. As long as the temperature remains under 80C, then you are totally safe to use this and that's what I saw when I played Rise of the Tomb Raider for half an hour.

[rwp_box id="0″]

(I gave it 10 points in fan quality because it doesn't come with a fan)