Testing and Benchmarks
Here is the RIG I used for testing the cooler(I use this same rig for every other cooler to keep the results fair):-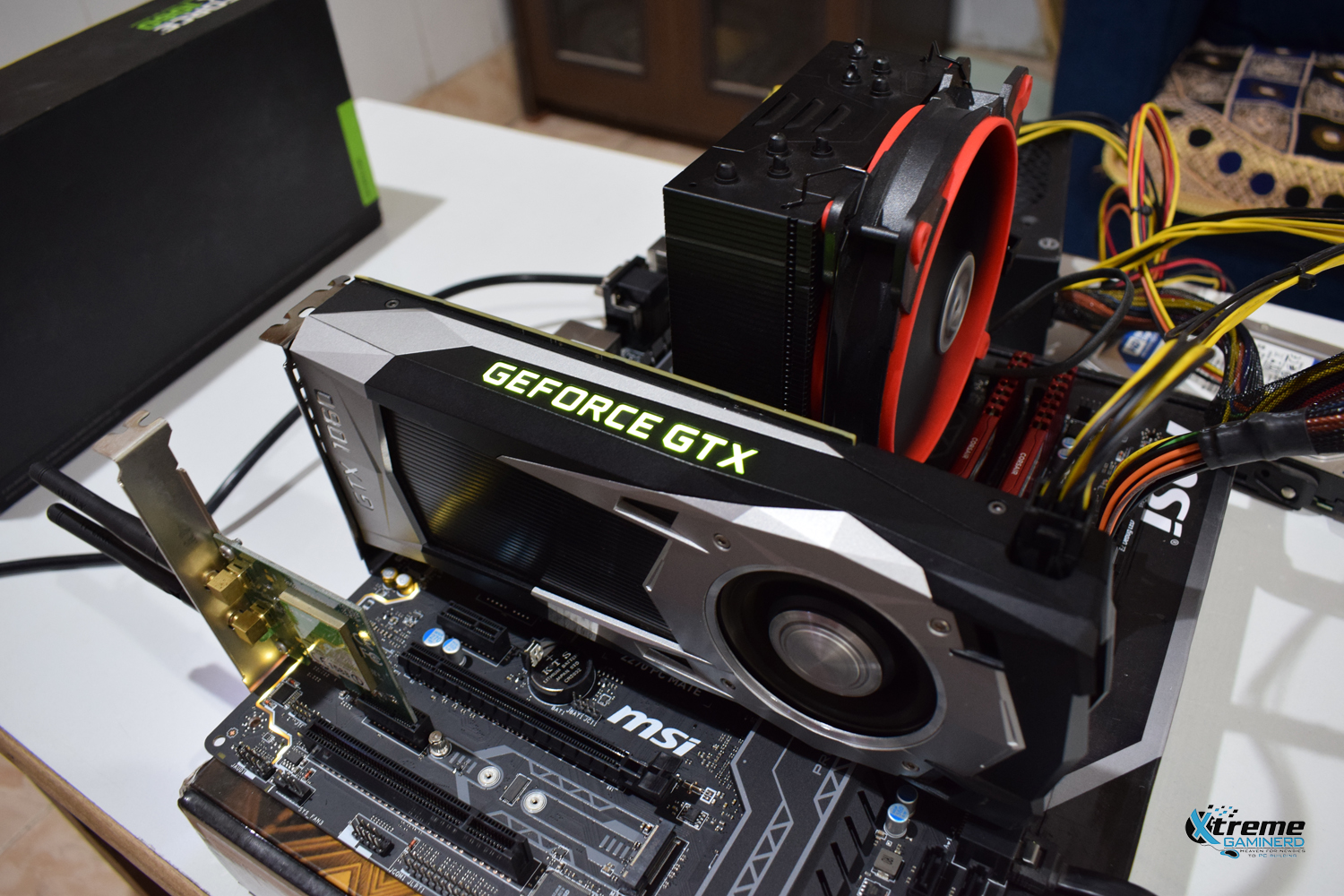 Intel Core i5 6600K: Check on Amazon
MSI Z270 PC Mate: Check on Amazon
2x 4GB DDR4 2400Mhz Corsair Vengeance LPX: Check on Amazon
Nvidia GTX 1060 6GB Founders Edition: Check on Amazon
320GB WD HDD: Check on Amazon
TP-Link N300 Wifi PCI Card: Check on Amazon
Antec VP450: Check on Amazon
This time, there is some change in the testing rig methodology. The first one is the change of motherboard. As my previous motherboard, the Asus Z170 Pro gaming died, I used the MSI Z270 PC Mate which should be almost equivalent to the Asus one. Though, I miss the AI Suite 3 software through which it was very easy to overclock and tweak different parts.
The other change was the removal of the cabinet. I took out everything out to make the cooler work at its best. The result will, however, vary if used with a closed chassis but as I tested every other CPU cooler with my cabinet opened from all sides, this should put no difference to the testing.
Another different thing this time was that I wasn't able to overclock the CPU to 4.5GHz. It kept crashing. I don't know why so I just ended up doing at 4.2Ghz. I generally use two clock speeds for testing: 3.5Ghz and 4.5Ghz on all cores but this time I did with 3.5Ghz and 4.2Ghz. I think it is still ok because this CPU cooler is not meant for breaking overclocking world records.
Testing Environment and Methodology
Testing was done at 31 Degree C room temperature and as different coolers are tested in different seasons, I will also include the Delta T benchmarks to keep the comparison fair.  Delta T will be obtained by subtracting the room temperature from the temperature of the CPU after benchmarking. So for example, if the room temperature is 25C and the CPU temperature after benchmarking is 60C, then Delta T will be equal to 60C- 25C= 45C. This will be done to make the comparison of different CPU coolers tested in different seasons fair.
Noise testing was done by an LCD noise tester in a silent room after switching off every fan in the case except that of PSU. The tester was kept around 1 inch far away from the CPU cooler Fan.
The software used was Heavyload for stress testing the CPU, which was used for 10 minutes for each benchmark and then 5 minutes were given to the CPU cooler to cool down at its full speed until the temperature went to its initial idle temperature. For measuring the temperature of CPU and fan speed I use CPUID HWMonitor. For overclocking the CPU I used the Intel Extreme Tuning Utility and for tweaking the fan speed I used the MSI Bios.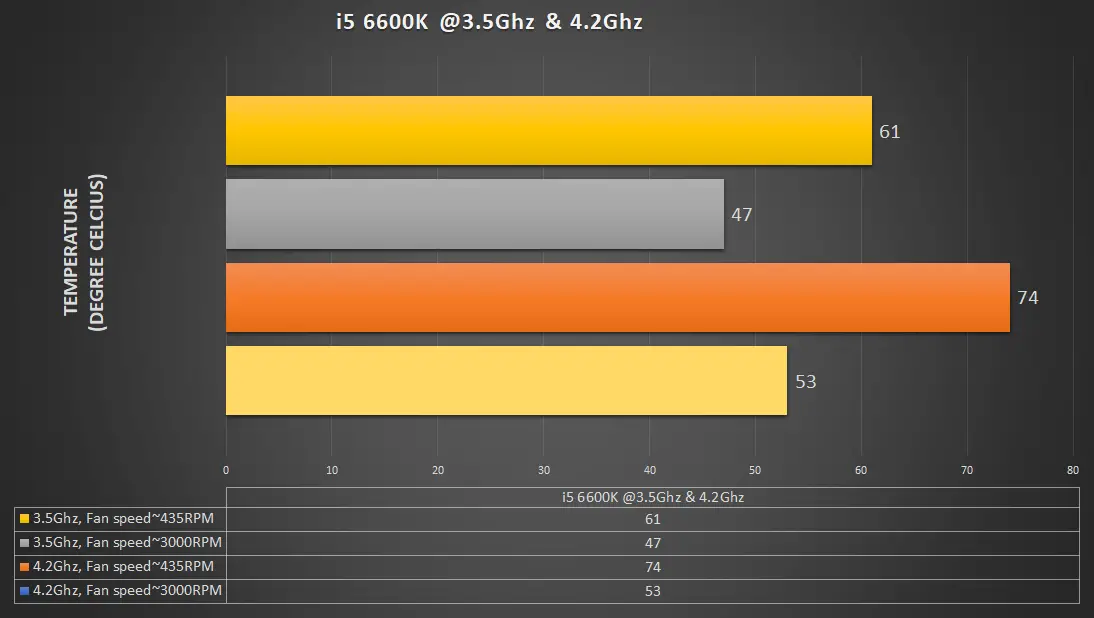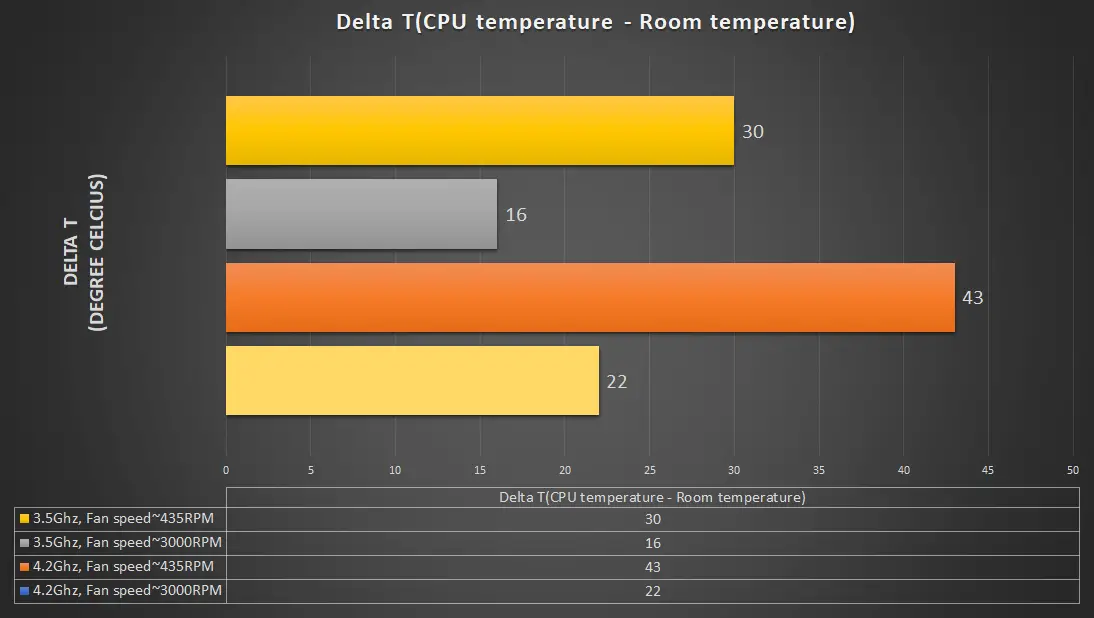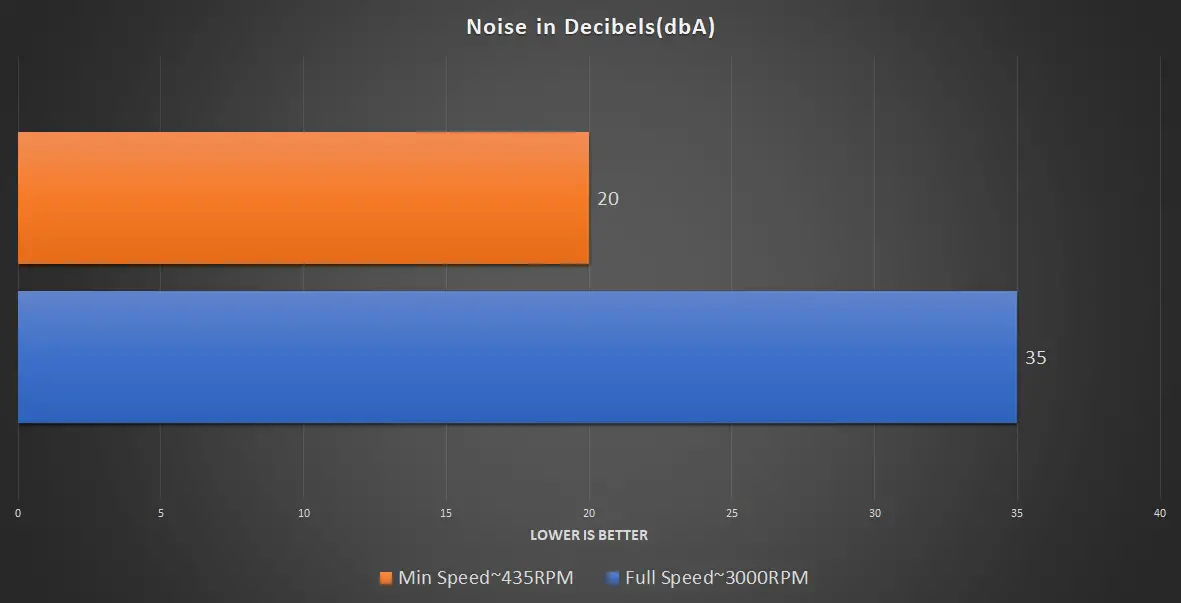 Result
As you can see from the graphs above, the cooler performs decent enough to justify its price of $30, however, note that it is not the best option for overclocking. If you use this for mild overclocking, then it is surely good but I recommend turning the fan to max speed if you want to achieve good results. Going below 1000 RPM will take the temperatures high in 70's for sure. At 3000RPM, it becomes loud but managing the speed somewhere between 2000-2500RPM will be a wise choice where you won't have to deal with a loud noise and high temperatures at the same time.
I like how Arctic has provided the wide speed range of fan operation where you can actually benefit from different circumstances. For instance, if you are not overclocking, just take the fan speed to the minimum and it is damn silent and when you overclock it, then take it over 2000RPM to get good results. For $30, there are some coolers which can beat it but Arctic is providing an unmatchable 10 years warranty with this thing. I don't think that there is anything better than that.
Related:- Best CPU Coolers
Arctic Freezer eSports One
Pros
A decent looking cooler for $30
Heatpipes are in full contact with the CPU
Wide range of Fan speed
The fan performs great at high speed
Available in 4 different colours
10 years of warranty
Very easy installation
Cons
Heatsink quality not that great
Not enough thermal compound for further use
Not good enough for strong overclocking
Summary
Wide speed range of fan, good aesthetics, cheap price, 10 years of warranty; These things make the Arctic's Freezer eSports One cooler a great deal for $30. For mild overclocking and silent operation, it's an ideal choice for budget PC builders.