Xtremegaminerd.com is supported by the readers. The purchase you make through our links may get us some commission and doesn't cost you an extra penny.
---
Hello fellas….. If you are reading this article that means you are currently looking for an in details product review of Asus Cerberus MK-II Gaming keyboard. Before continuing about the product review let me give a brief story about how did I get my hands on this Beast.
I had purchased an Asus Cerberus MK-I keyboard way back and after using in for 6-7 months I noticed some technical flaw in the board, I submitted to the local store for RMA, and after waiting for almost 5months I got a Replaced Brand New Keyboard- the new Asus Cerberus MK-II. I was very much happy at that moment and a thought instantly flashed in my mind. Why not review this one??? So here I am doing it right now to help other guys who are looking a good review of this product.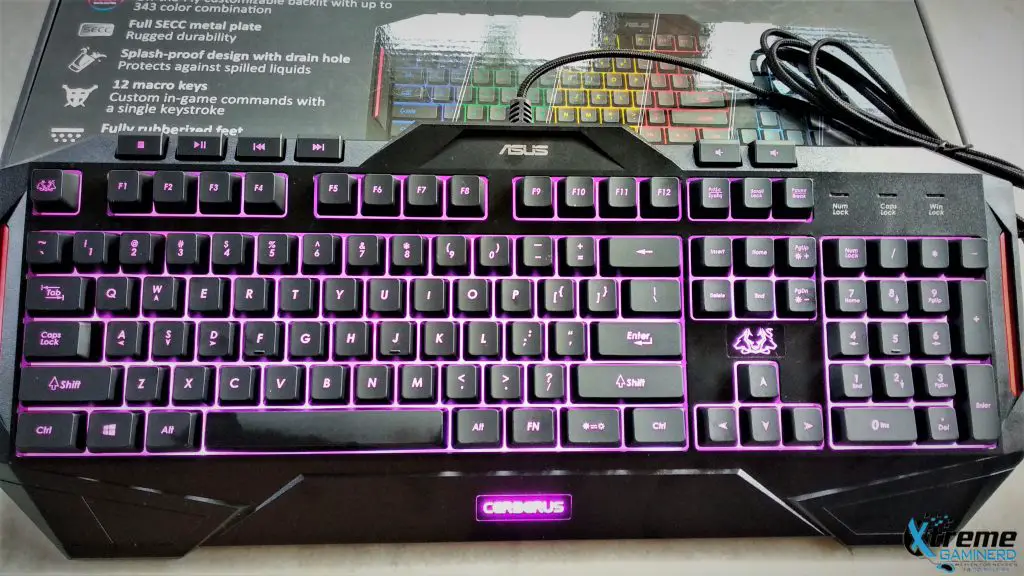 After having this keyboard the first thing I tried to do is to compare this one with its predecessors i.e Cerberus MK-I and it was clear that Asus has reworked with its previous model keeping the new trend in mind which we will discuss in details later.
Features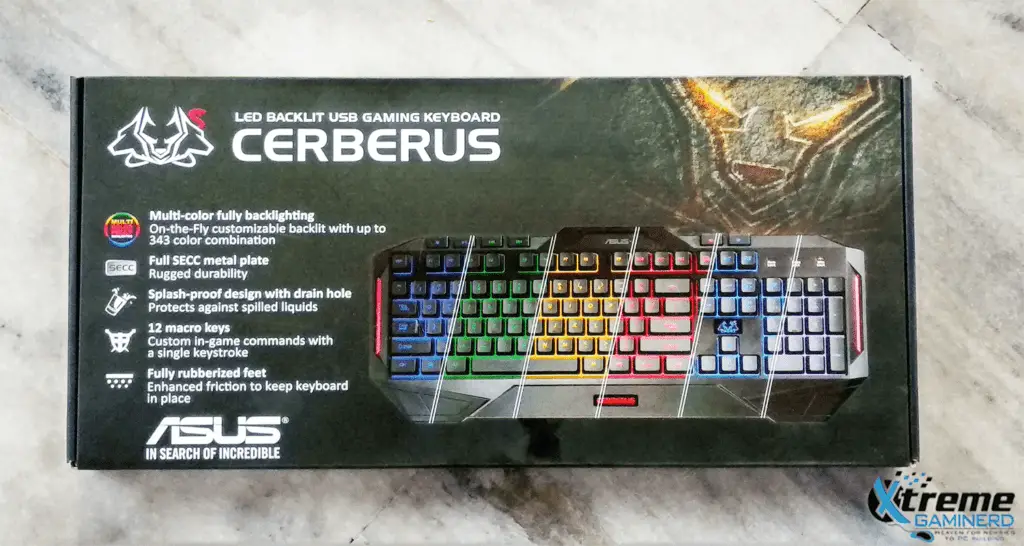 Multi-color fully backlighting – Express yourself in a way that shows unique
Full SECC metal plate – Rugged durability
Splash-proof design with drain hole – Protect the keyboard against spilled liquids
12 macro keys – Tactical flexibility
Fully rubberized feet – Enhanced friction for strong movements
Specification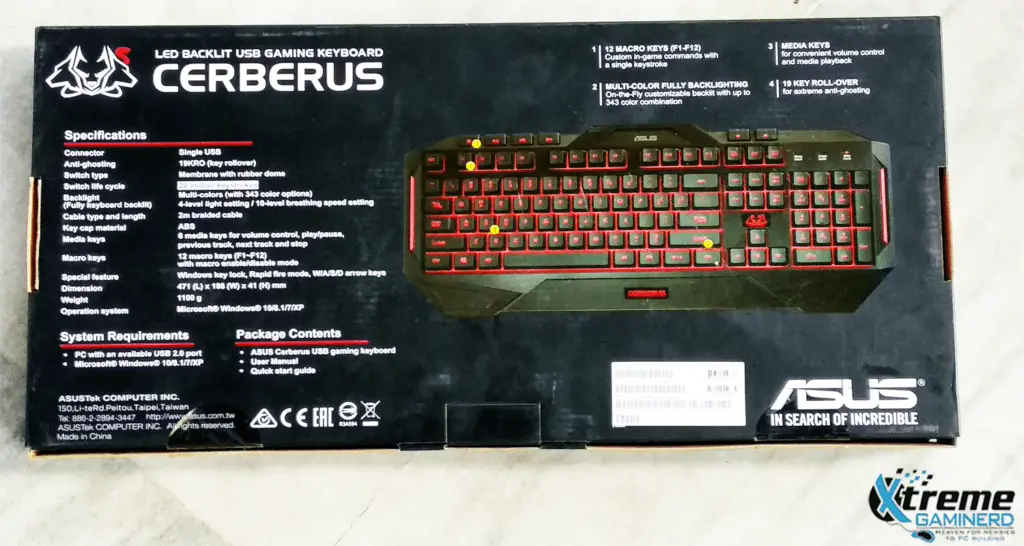 Connectivity Technology: Wired
OS Support: Windows 10, Windows 8.1, Window 8, Windows 7, Windows XP
Dimensions: 471(L) x 186(W) x 41(H) mm
Weight: 1100 g
Color: Black
Contents: 1 x ASUS Cerberus Gaming Keyboard MK-II, 1 x Quick Start Guide, 4x Extra Key Caps
Others: Anti-ghosting: 19KRO (key rollover)
Switch type: Membrane with rubber dome
Backlight: Multi-colors (with 343 colour combinations)
Backlight brightness effect: 4-level light setting, 10-level breathing speed setting
Cable /Connector: 2m Braided cable
Media keys: Volume control, play/pause, previous track, next track and stop
Macro keys: 12 Macro Keys (F1~F12) with macro enable/disable mode
Special feature: Windows key lock, Rapid fire mode, W/A/S/D arrow keys
Packaging & Unboxing
Cerberus a term often used in Greek mythology, Cerberus is often called as the "hound of Hades" which is the monstrous multi-headed dog that guards the gates of the Underworld to prevent the dead from leaving. The name makes it sounds like a rugged and durable product which will full fill all that you throw at it.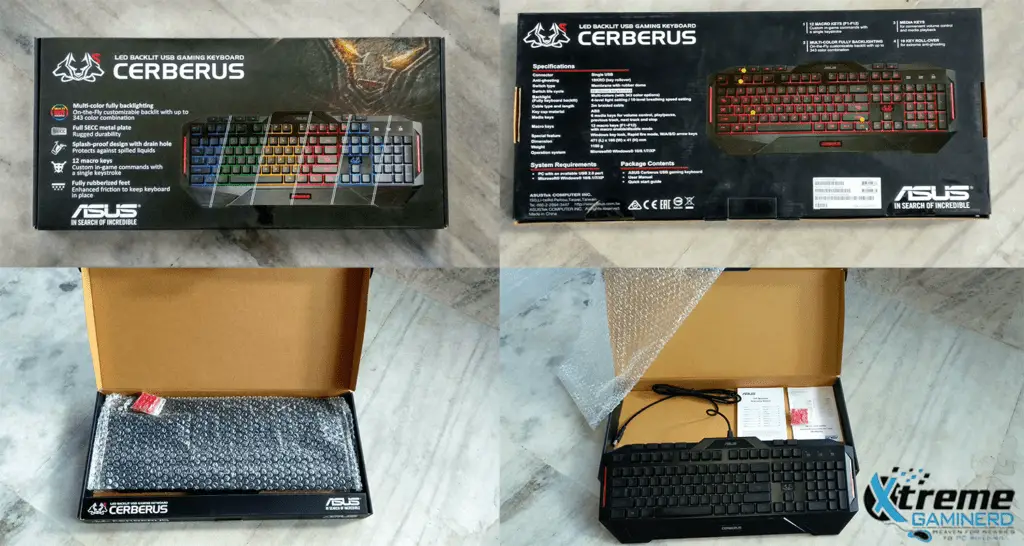 The front of the box contains an image of the keyboard and the legendary Cerberus Image on the top right and Cerberus logo on the top left. On the top of the box along the left side, the key details of the keyboard are present with the RGB illuminated keyboard at left. The back of the box provides the specification details of the keyboard.
The box contains the keyboard itself, four extra red colours keys "A, S, W, D", a quickstart guide, and a user manual. In my case, the extra keys provided are mismatched as I received 2nos of "W" instead of "A".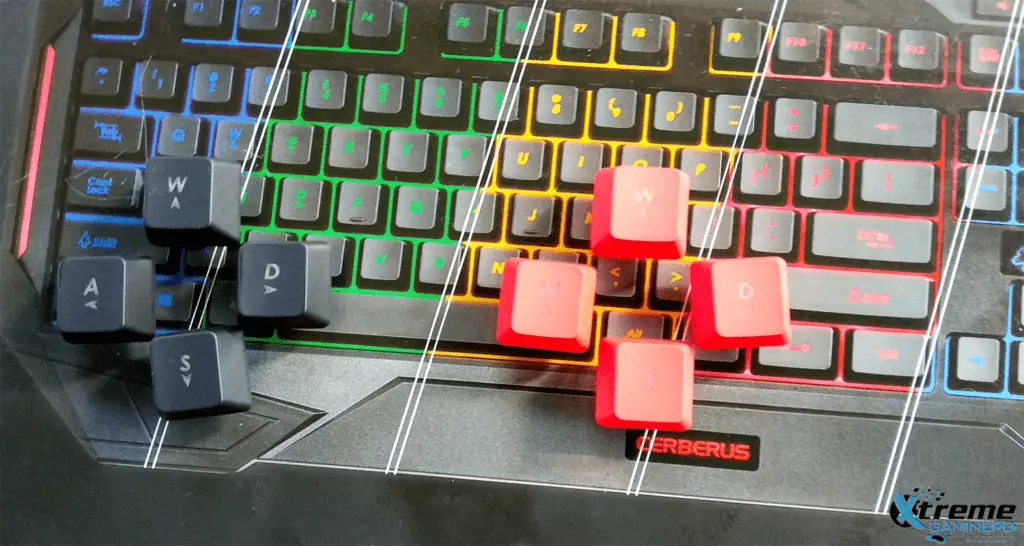 It makes these extra keycaps useless as its mismatch the layout/alignment while placing on the keyboard. Asus should be more careful to these sort of things as the price of the keyboard is not at all budget friendly.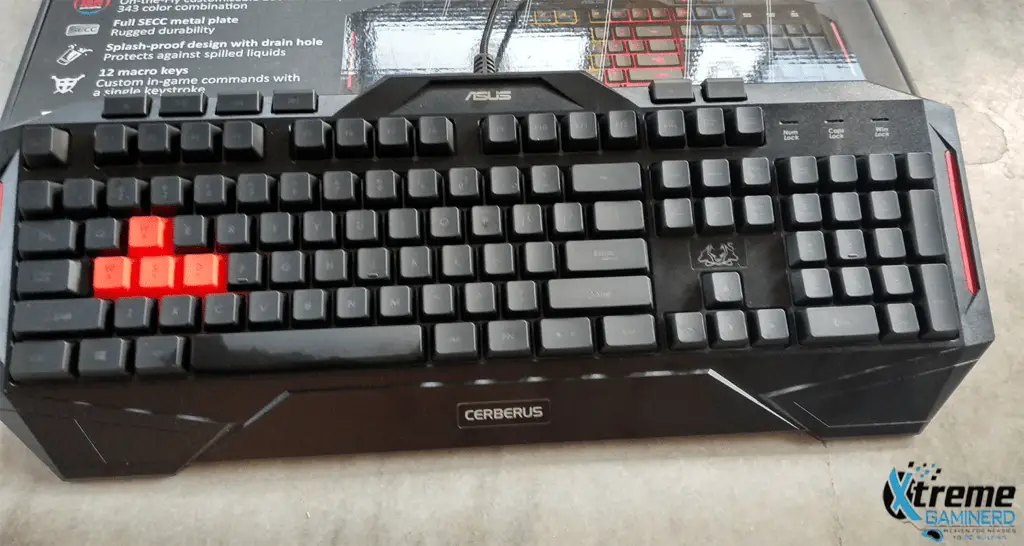 Construction & Design
The MK-II Keyboard offers a similar look and approach like its predecessors and has very rugged maat finish along with Braided USB Cable.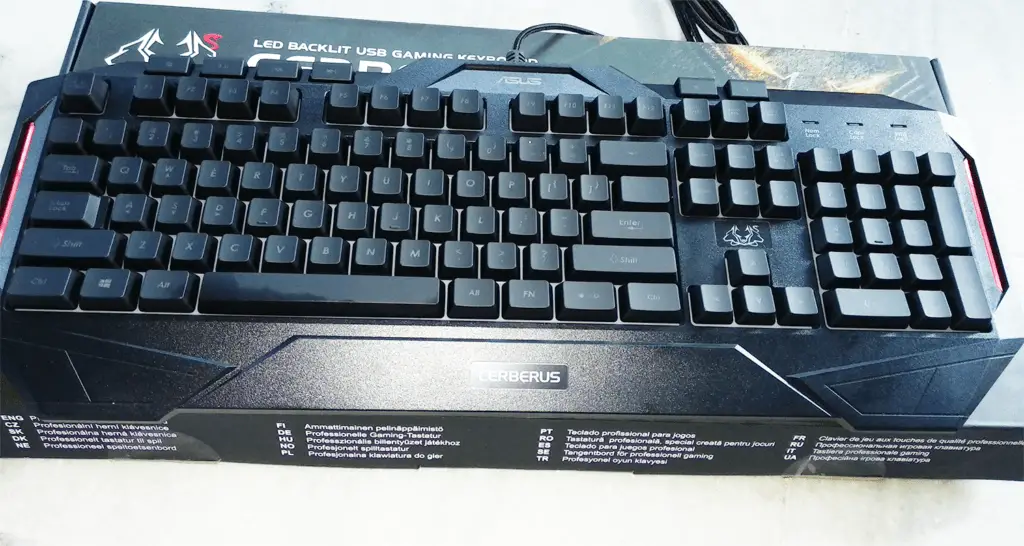 The back of the keyboard is RED in colour and contains 2nos of keyboard mounting stands along with drainage hole to drain any kind of liquid as its a splash-proof design. It also comes with a Wrist Rest which many keyboards lack.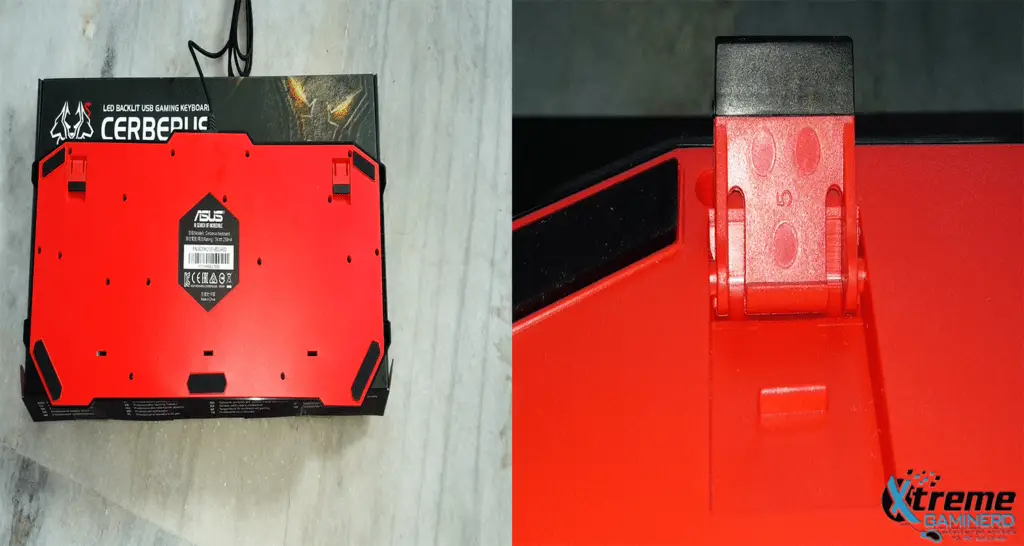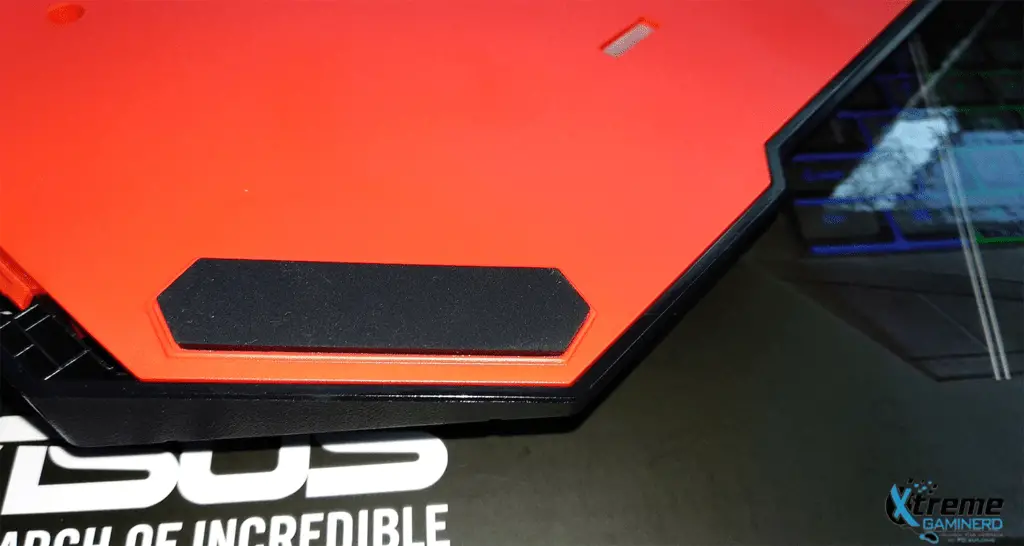 Apart from that the back of the keyboard also consists of rubber pads at 5 location to make it certain that the keyboard stays at its place during heavy use. The pads are pretty decent and upon testing it is also found that no matter what you throw upon this keyboard it will stay in its place.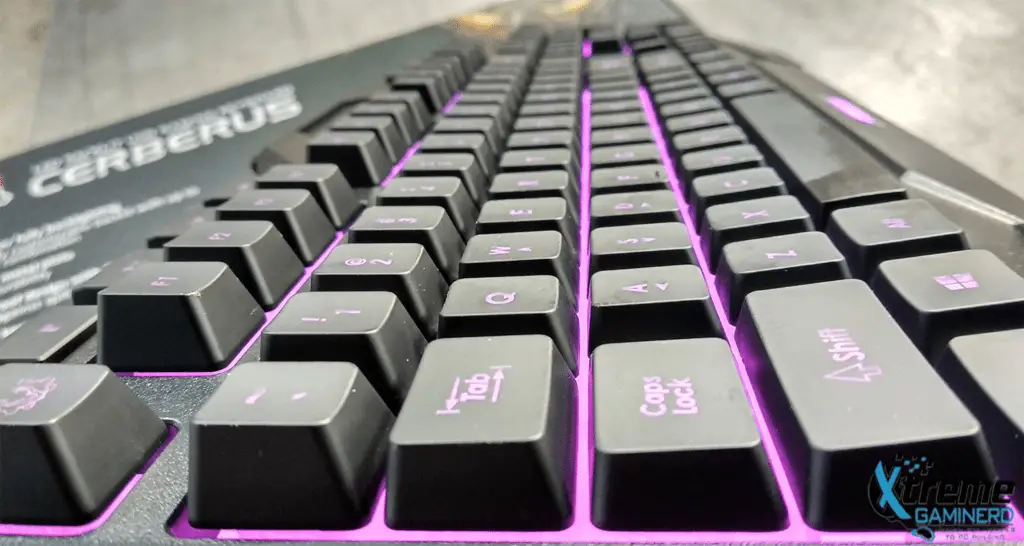 The top contains your 6 dedicated media keys namely Stop, Play/Pause, Previous, Next on the Left side along with  2 Volume Up & Down Button on the right side. The keys are rubberized maat finished with a satisfying feel while using. Unlike its predecessor which offers only 2 colour change, the MK-II offers RGB Lightning Effect but the only downside is that it has only one effect and i.e. the Breathing Effect. Aside than that according to the picture the colours are separated but in real whichever colour you will choose it will illuminate the whole keyboard and I didn't find any other way up until now. If I ever found any other way I will update the same. The greatest drawback of its predecessor is the 2-way colour change also alters the setting of the keyboard but thanks to Asus they have changed that function also.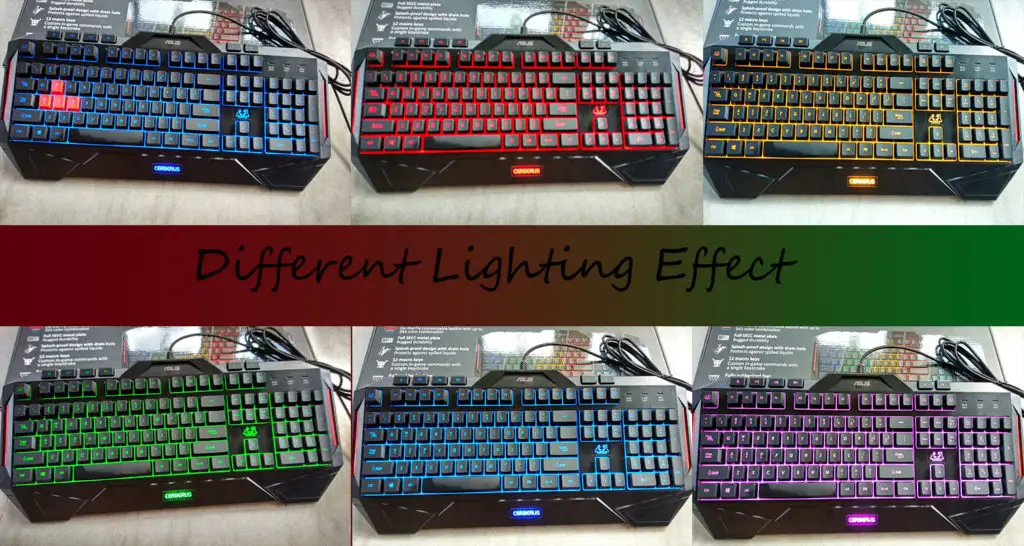 Apart from the Dedicated media keys, this keyboard offers Programmable Macro Keys which was the main attraction for me when I bought the previous one because as it comes handy in many ways.To me, I use this for gaming purpose for configuring different function at my convenience.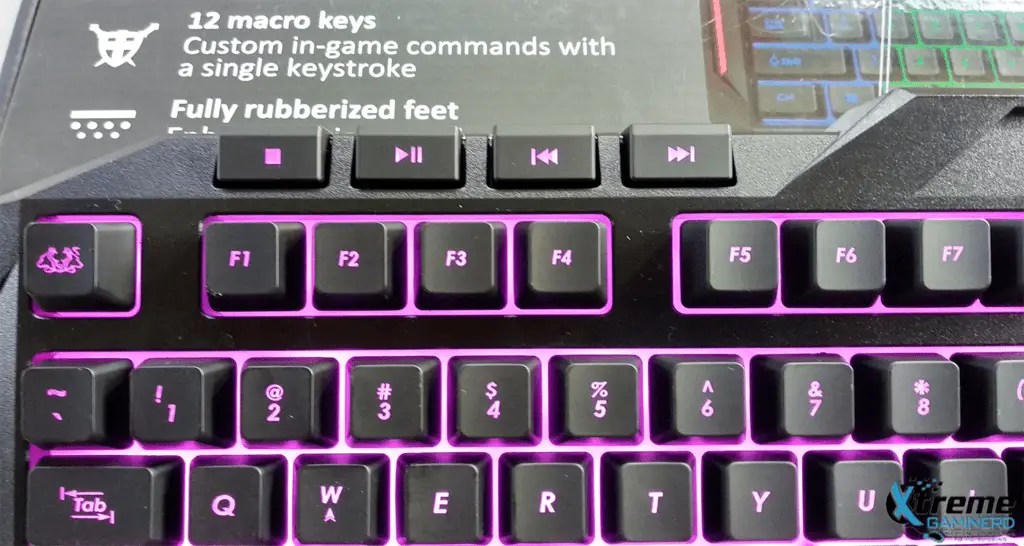 Apart from the above features, I really like the placement of key which makes it easy to use and more over the Lights are not so annoying and you can adjust the brightness level according to your need.
When I took out the keycaps a plastic layer is visible which makes sure that if somehow the keyboard takes some liquid accidentally it will prevent the liquid from entering the inner layer and the liquid will be drained out through the provided drainage system and thus it will protect the keyboard and ensure a long run.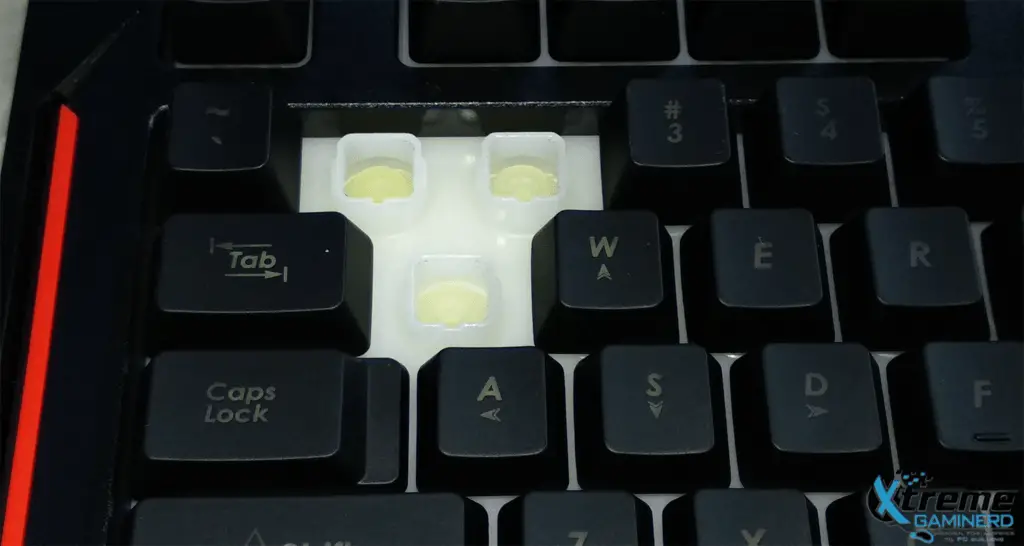 Conclusion
The Cerberus keyboard is fine to some extent its price range. The rubber dome membrane switches isn't that impressive compared to mechanical switches but it's still made of good quality and won't provide any noise unlike other cheap key caps with additional to rubberized maat finish. ASUS offers a top-notch quality for this keyboard. The drain holes and spill proof design provide durability for long-term use. The materials used for this keyboard is quite good which make the feel of the premium keyboard. It is also offering quite unique features which are mentioned earlier.
Apart from lighting, they should be more careful about the accessories they are providing as the above scenario of wrong keycaps is really painful. With a price tag of 3.8k, I would be expecting more from Asus, but still, it is a good product other than some minor issues.
Asus Cerberus MKII
Pros
Superior Build Quality
Coustomised RGB Lighting
Superior Rubberrized Keycaps
Splash Proof Design
12 Progamable Macro Keys
Wrist Rest
Cons
Extra Keycap feels cheap
Not True RGB as it lacks effects other than BREATHING
Little Over Priced
Summary
The Cerberus keyboard is a great option for budget-oriented Gamers who want gaming grade features and performance but is low on budget. The keyboard is really comfortable to use with the presence of the wrist rest. It also offers anti-ghosting which when tested provides satisfactory results in certain games likely Counter Stike Global Offensive, Battlefield, COD Series etc. However according to my opinion and to be really honest Asus should have provided some lighting effect such as snake, strobe etc because it's an era of RGB.