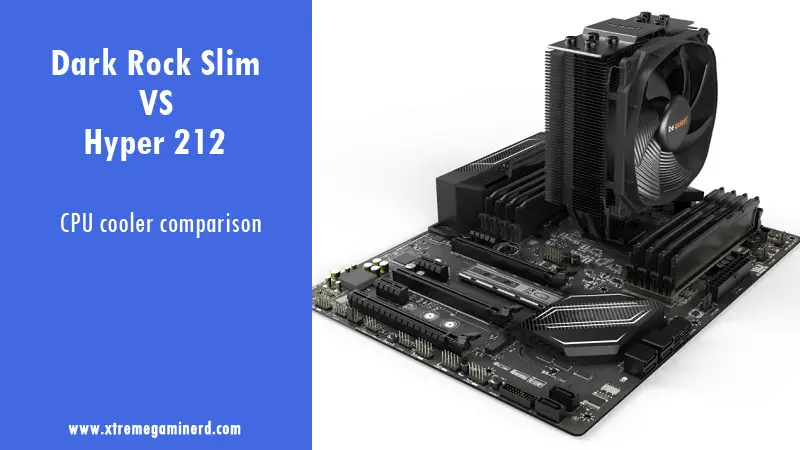 Today we are bringing you a comparison between the Dark Rock Slim from the house of Be Quiet! and Hyper 212 from the house of Cooler Master.
This topic will give you a brief summarized comparison between these two CPU coolers. However, we have ensured that we bring the most detailed information for both.
Differences:
Therefore, let us start with the differences between them.
Dimensions:
The Dark Rock Slim comes with a dimension of 72 x 127 x 159 mm (LxWxH). And the Cooler Master Hyper 212 comes with 120 x 84 x 160 mm (LxWxH). Therefore, looking at the measurement of both, it is quite clear that Cooler Master Hyper 212 is longer, wider than that of the Dark Rock Slim. Although the Cooler Master has more height, yet the difference is almost negligible.
Airflow:
Cooler Master Hyper 212 offers more airflow while the Dark Rock Slim offers more air pressure resulting in almost similar performance.
Noise:
Noice plays an important factor for the fans of the CPU coolers. But again the same shouldn't affect the overall performance of the fans. In this case, both the fans are good enough but the Dark Rock Slim has the upper hand. The noise level of Dark Rock Slim ranges from 11- 23.6 dBA in the use range of 50%-100%. Whereas the Cooler Master Hyper 212 offers a noise level range from 9-31 dBA.
Weight:
The Cooler Master Hyper 212 weighing approx. 0.75Kg is a bit heavier than that of the Dark Rock Slim that weighs around 0.62Kg.
Similarities
Now comes the area where both these coolers are identical.
Heat Pipes:
In terms of heat pipes, both offer similar features. Both of them come equipped with 4 heat pipes each.
TDP:
Both the coolers feature the same TDP range i.e., 180W.
Fans:
Both the fans are of similar dimensions.
Pricing & Conclusion:
Both the CPU coolers offer similar performance. Everything will come down to one single factor i.e. what type of chassis you are having. If your PC chassis is having higher airflow, then Cooler Master Hyper 212 will be the best option. But, if your PC chassis have less room to breathe then the Dark Rock Slim will be a good choice due to its higher air pressure.
Cooler Master Hyper 212 is priced at 69.99$ whereas the Dark Rock Slim is priced at 64.99$ making Cooler Master on the higher side.
Cooler Master Hyper 212
Be Quiet Dark Rock Slim