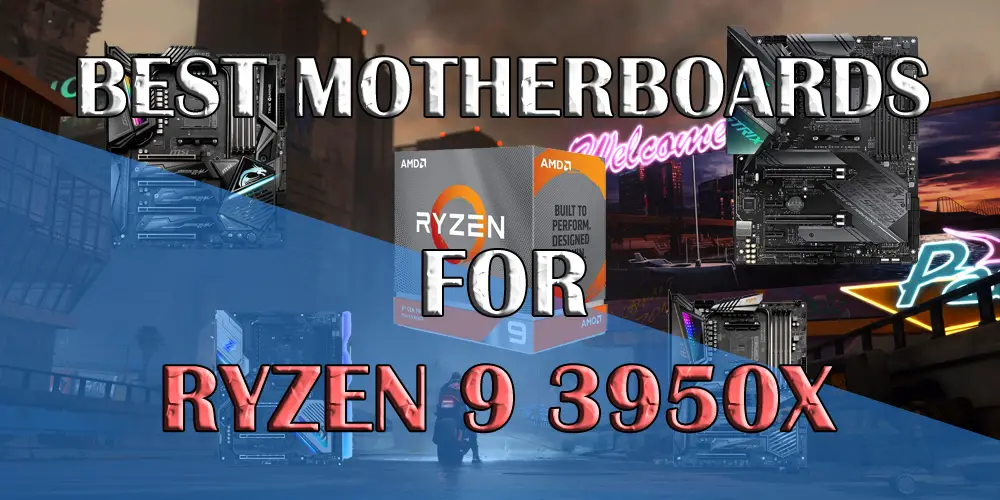 Introduction
AMD launched Ryzen 9 3950X in November 2019 and put aside all the Intel mainstream desktop processors to one side. This is the big brother of the Ryzen 9 3900X but now with significantly higher specs such as more cores and higher boost clock speeds.
The processor brings 16 cores and 32 threads with a base clock of 3.5GHz and up to 4.7GHz of boost clock on a single core. The CPU also brings a massive 64MB of cache memory and is built upon 7nm FinFet technology. Despite of such high specs, it only has a TDP of 105 watts which is impressive. While the processor is specially made for those who have a high requirement of CPU-oriented programs such as Video Editing and 3D-Rendering, it is also capable of gaming as much as the Intel Core i9 9900K.
It is only 5-7% slower than the 9900K in most of the games and thus, can be used for gaming also. Following is the comparison of both the processors in gaming.
But, but, as I said previously, no one would really buy this processor only for gaming as an Intel Core i7/i5 or Ryzen 5 3600 processor would be more than enough. The 3950X is overclockable and needs a good motherboard in order to run consistently on a particular clock speed. If a motherboard that doesn't have a good VRM and additional features which can easily troubleshoot the problems, then it is not fit for this processor. Using only a $200 motherboard with the Ryzen 9 3950X is not recommended and you should only buy one which will help you get the full potential of this monster processor.
Following are the best motherboards for Ryzen 9 3950X which we recommend.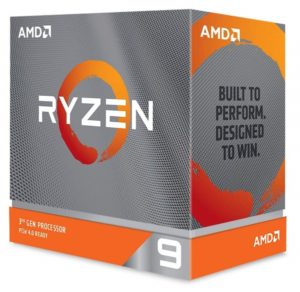 ---
Asus ROG Strix X570-F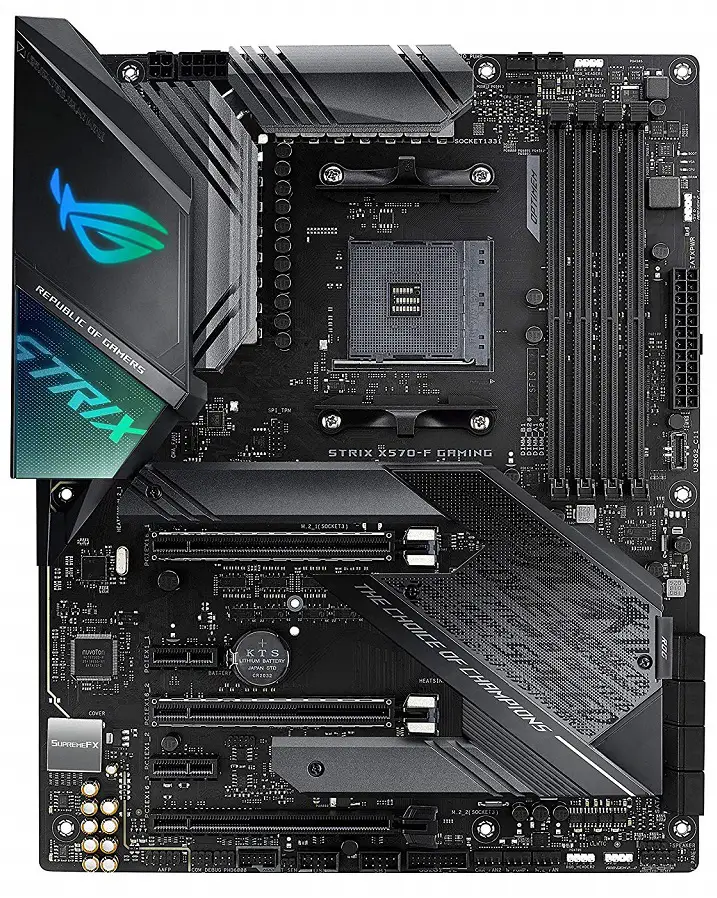 Asus ROG Strix motherboards are considered to be the best mid-high end boards for gaming and productivity. They are not at the top of the line but are enough to overclock a high-end CPU strongly. This board is the least I recommend and I don't recommend going below it. For Ryzen 3950X, it has 14 power phases that are cooled with decent heatsinks. It has some good amount of features necessary for proper functioning and additional features for more utilities.
It has USB Type C port for the front header and also a Type A USB port. There are heatsinks all over the chipset and M.2 slots that will ensure proper heat dissipation in that area. The board comes with 3x PCI-e x16 slots that support up to 2 way Nvidia SLI and 3 way AMD CrossfireX. There are 2x PCI-e x1 slots for additional expansion cards if needed. The only con it has is the absence of inbuilt wifi adapter, so you will need to buy a PCI card for better speeds.
This board has RGB as well as ARGB headers for extending the RGB lighting from the I/O cover to other devices as well. In comparison to the Asus Rog Strix X570-E, it has almost none differences on the PCB except that RGB lit section in the chipset heatsink and inbuilt wifi adapter and so the price is around 30-40 dollars less. In case, you want inbuilt wifi then go for the X570-E but if you are planning to use a more powerful wifi card, then this should be enough.
---
ASRock X570 Taichi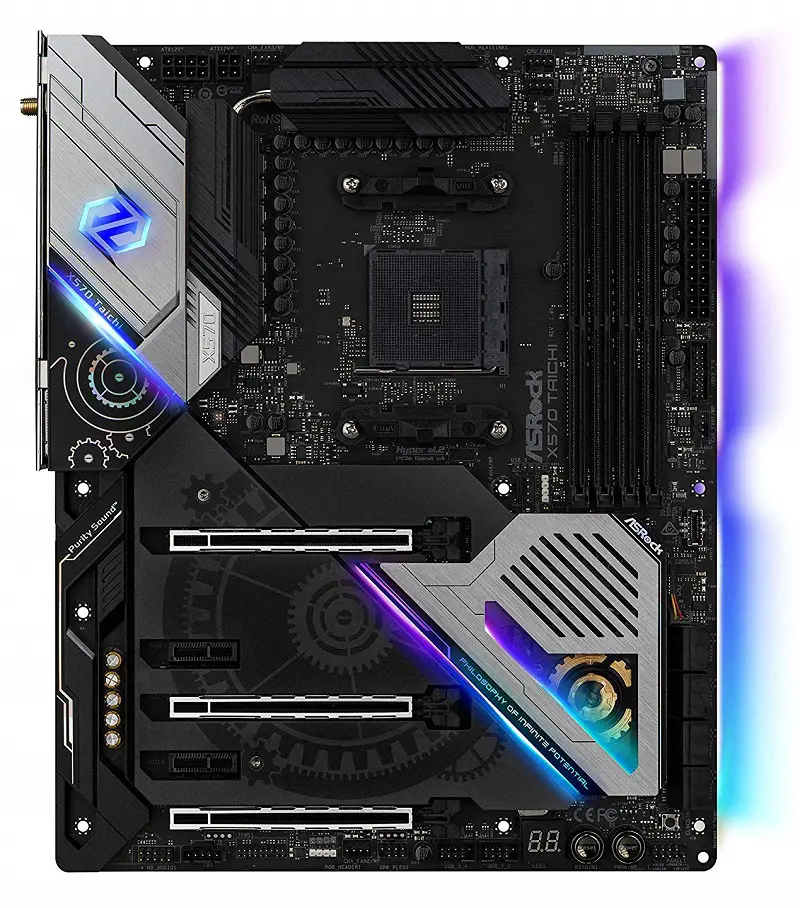 ASRock X570 Taichi motherboard is another fantastic board which directly competes with the Asus ROG Strix X570-F but has some other great features too which are absent on the X570-F. These are the onboard troubleshooting features and inbuilt wifi adapter. The board has an LCD display, power and reset buttons, Clear Cmos button, and a BIOS flashback button at the I/O.
It has a great mechanical type design with beautiful RGB lighting throughout the I/O cover and chipset. It uses Steel Armor on the PCI-e x16 slots and can support up to 2 way Nvidia SLI and 3 way AMD CrossfireX. It has an inbuilt wifi adapter that has 11ax standard and also supports Bluetooth 5.0. As far as the memory support goes, not only this but every motherboard supports 4400+MHz but the best-recommended RAM sticks are those which are clocked at 3600MHz and 3733MHz.
For overclocking, you will get a 14 power phase VRM that uses more powerful heatsink than the Asus X570-F board and has a copper heat pipe going through both of the heatsinks. For $300 bucks, it's also a great alternative to the Asus X570-F and X570-E motherboards.
---
ASUS ROG Crosshair VIII Hero X570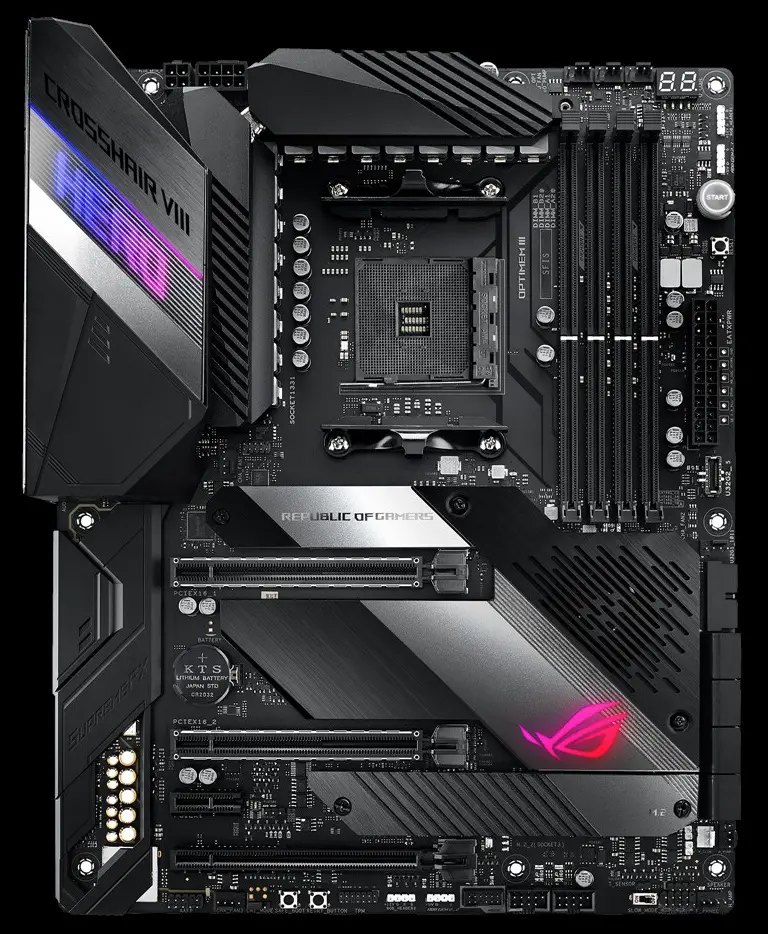 The Crosshair motherboard series is among the high-end series from Asus that helps in a strong overclock which is constant for long hours. These boards have stronger VRM and stronger cooling solution than the mid-end boards like the one listed above. The Crosshair VIII Hero X570 brings in 14+2 power phases for overclocking with IR3555 PowlRstages that can sustain high amperage current and thus results in more stability in overclocking.
This is one of the best possible motherboards you can get for Ryzen 9 3950X if you don't want to spend beyond $400. With a cost of $360, this one brings all the good features that aren't available in most of the X570 motherboards costing under $300. Among them are the onboard troubleshooting options which include an LCD display, Power button, Reset button, Safe_boot button and many more. Overclocking a high-end processor isn't an easy task and needs a lot of tries before getting on to the right clock speed which ensures stability.
Additional features on this board include 2x RGB and 2x ARGB headers, RGB lighting on the I/O cover and chipset, the massive heatsink on the chipset that extends to the M.2 slots, and powerful VRM heatsinks for cooler operation. At the I/O, it features several USB ports including the Type A and Type C, 2x LAN ports that include one 2.5G Lan and one Intel Gigabit Lan, a Clear CMOS button for resetting the configuration and a BIOS Flashback button for upgrading the Bios.
---
MSI MEG X570 ACE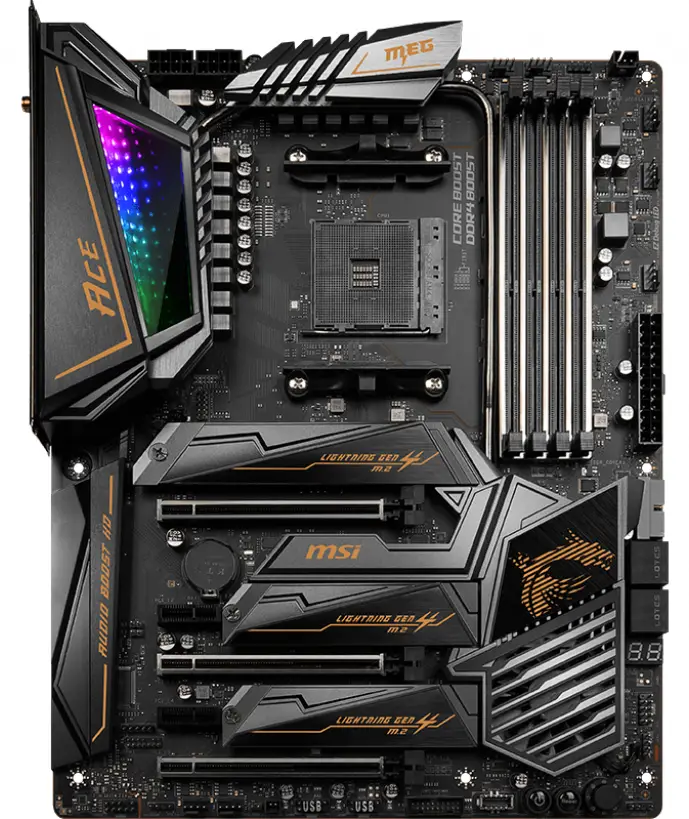 MSI MEG X570 ACE is one of the most popular X570 motherboards due to the solid features it provides. Unlike the higher-end motherboards, it actually comes with a decent price tag which is below $350 but provides one of the best specs in the X570 motherboards series. The board has a 14 power phase design with distinguished heatsinks and cooling solution that goes all the way from VRM to the chipset.
As you can see that the chipset uses heatsink that extends to the M.2 slots and there is a single copper heat pipe that is shared by the heatsinks of the chipset as well as VRM. Ryzen 9 3950X will be more than Ok on this one and you can overclock it strongly with a good cooling solution. The board features 3x M.2 SSD slots and 4x SATA 3 ports for storage devices and tons of USB ports at the back for connecting multiple peripherals.
The board also has some unique aesthetics with the dark yellow accents all over the board and the Mystic Light Infinity for the mirror reflection that produces gorgeous lighting effects with millions of different colours. For cooling, you will get a total of 7x Fan headers including the CPU, AIO and chassis fan headers and for extending the RGB lighting, you can use the multiple RGB as well as ARGB headers present on the motherboard's PCB. MSI has also listed that this board can support up to 5000+MHz on memory clock but that's just not practical and possible right now. And even if it gets possible, you won't find any massive increase in performance.
For internet connectivity, you will get an inbuilt wifi-adapter with the latest Wi-Fi 6 solution, Onboard 2.5G plus Gigabit LAN and two LAN ports with Intel WGI211AT Gigabit LAN controller and Realtek RTL8125 2.5 Gbps LAN controller. Lastly, for troubleshooting, it uses the LCD display, power/reset buttons as well as an overclocking tuner. At the I/O, it has a Clear CMOS button and a Flash Bios button which are one of the most common features on high-end boards.
---
MSI MEG X570 GODLIKE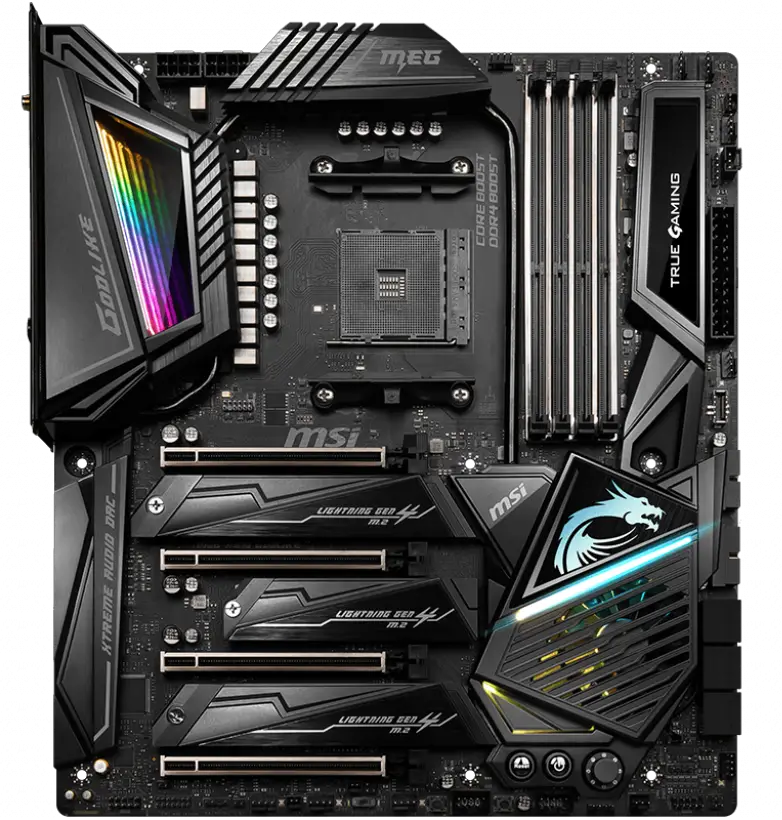 MSI MEG X570 GODLIKE is the peak of performance and you won't find anything better than this one in the whole X570 lineup from any manufacturer. MSI has been always providing with one of the most high-end motherboards that compete directly with the highest-end motherboards from ASUS but currently the X570 GODLIKE is the champion of all and can't be beaten easily. This is the best match for a 16 core 32 thread processor like Ryzen 9 3950X as it features 14+4+1 power phases in the VRM that is seriously insane and are cooling with a similar cooling solution as the X570 Ace uses.
It has 4x PCI-e x16 slots, all of them using Steel Armor and supports up to 2 way Nvidia SLI and 4 way AMD CrossFireX. There are multiple troubleshooting options as well on this board that can be seen clearly just below the chipset. These are the power/reset buttons, overclocking tuner, bios switch and more. The I/O also features two buttons that are Clear CMOS and BIOS Flashback which is similar to the X570 ACE and similar internet connectivity features.
For aesthetics, it features RGB lighting on the chipset and infinity mirror RGB lighting on the I/O cover that can be controlled using the software from MSI which is the Dragon Center. You can also connect more RGB devices such as LED strips, fans etc. with the help of multiple RGB LED, Rainbow LED and Corsair LED connectors. For the 3950X or even for other processors like Ryzen 9 3900X, this should be more than enough to satisfy all of your needs and provide a stable platform for overclocking to squeeze as much as performance as possible.
---
Conclusion
Choosing the right motherboard for budget processors or mid-end processors like i5 9600K or Ryzen 5 3600 is easier but for something that has far greater specs like the Ryzen 3950X, it's very difficult because there are several good high-end boards available that are similar to each other but still have minute differences that in some cases show a significant change in performance when used properly. Make sure you keep your budget in mind and choose the right one from the list to get the most out of your money.