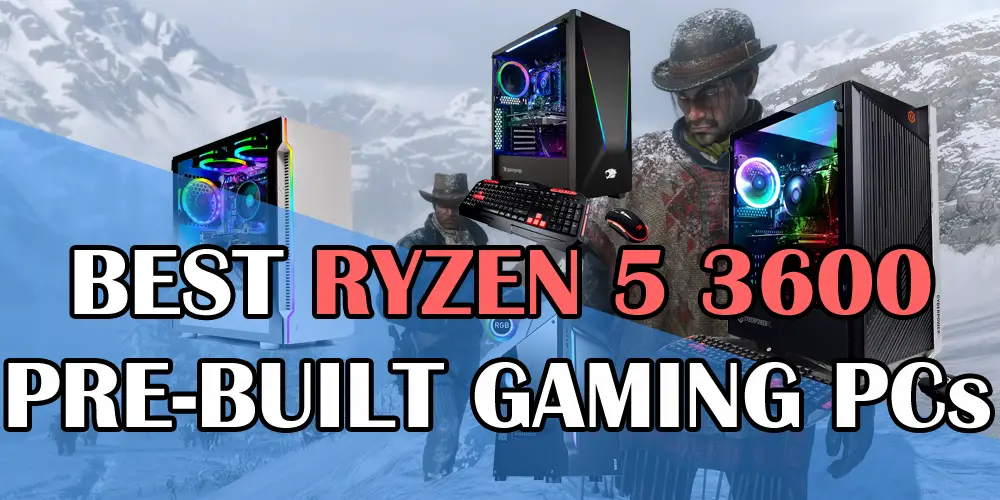 Introduction
We can say without a debate that Ryzen 5 3600 is right now the most popular CPU in the mid-tier for several months and it is also the best seller on Amazon in CPUs. AMD has been winning the competition since the release of Ryzen 3rd Gen processors and Ryzen 5 3600 gave gamers a great value that no CPU from Intel could achieve. Even though the processor was initially launched for $200 which was really affordable considering that it featured 6 cores and 12 threads that gave a good competition to the i5 9600K, the processor is now costing only $180.
This is a great time to get a Gaming PC that uses this chip for awesome performance in gaming and productivity on a budget. I have already put several guides on this chip and have listed down the best motherboards, the best graphics cards, and the best CPU coolers for it. Do check them out if you want to build a Gaming PC by yourself instead. But this post is for those who don't have enough knowledge on building a Gaming PC from scratch or don't have the time to do so.
Certainly, there never had been the time when pre-built PCs were providing a good value for money but now there are several companies that provide good parts on reasonable prices. Some of these include CyberPowerPC, iBuyPower, Skytech and many more. So, if you want a fantastic 1080p or 1440p Gaming PC that comes pre-assembled to your house and uses this beastly Gaming processor with a good CPU, then consider the following list to choose from the right one for yourself.
SkyTech Archangel Gaming PC with GTX 1650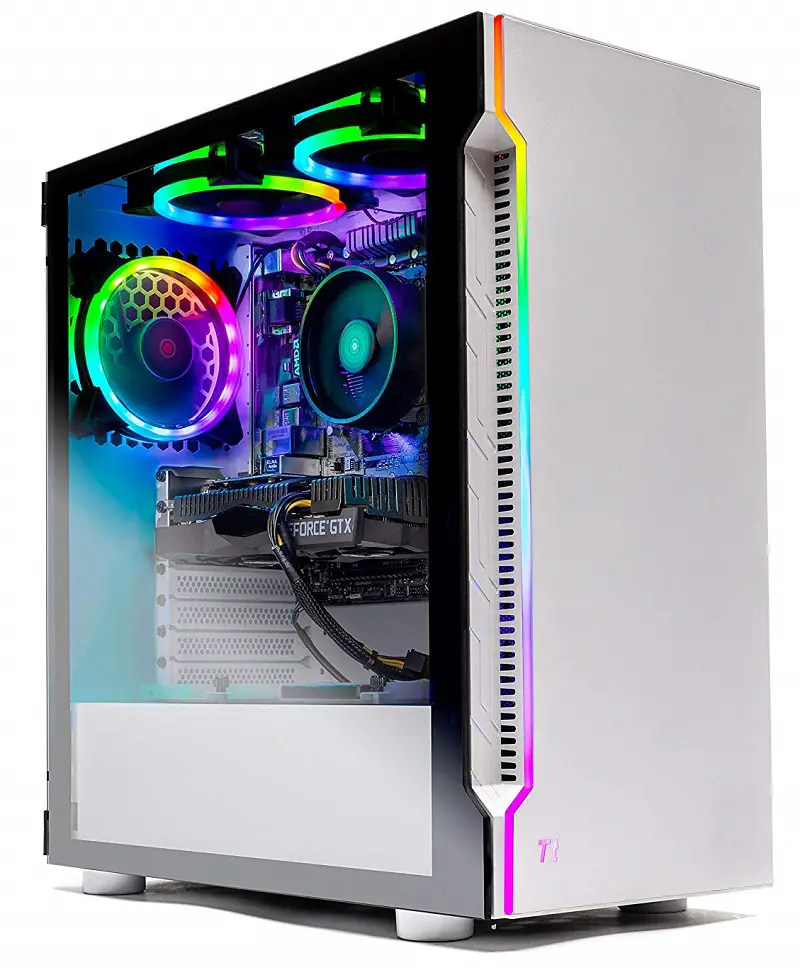 The cheapest one and the minimum specs which I recommend for a PC using Ryzen 5 3600 is found in this SkyTech Archangel Gaming PC. This PC uses a combo of Ryzen 3600 and GTX 1650 4GB. This PC is an ideal PC for gaming at 1080p resolution with high to ultra settings. GTX 1650 is not a beastly GPU which can max out games but can definitely provide you with 60+fps with some settings tweaked. Ryzen 3600, on the other hand, will be more than enough for this GPU to maximize its potential.
Other specs of this PC includes 8GB DDR4 memory which is clocked at 3000MHz which will ensure that you get the maximum benefit of memory as highly clocked memories perform better with Ryzen processors. For Storage, there is a single 500GB SSD which will be enough for storing a couple of games and it also comes with Windows 10 Home 64 bit too. This PC will connect to internet wirelessly as it comes with an 802.11AC Wifi.
For hosting all of these components the PC uses a Thermaltake mid-tower chassis which has some ventilation at the front panel and an RGB LED strip pre-installed. As far as the other things go, we have some good things in it like the motherboard which is a B450 chipset which should be enough for overclocking Ryzen 3600 and uses decent heatsinks on the VRM. For memory installation, there are still 3x DIMM slots left which can be used to install more memory if needed.
The GPU used in it is from Zotac and more likely an AMP edition which uses a single 6 pin power connector. There are also 4x 120mm pre-installed fans in the chassis out of which 3 are RGB which is great considering that the case also features RGB lighting. This PC comes with 1 year of warranty on parts and labour and a lifetime Free Technical support. It comes with a price tag of $780 and is the cheapest PC on this list to feature Ryzen 3600. In conclusion, it's a fine PC but not the best and you should only buy it if you have a budget less than $800. Check Full Specs.
---
SkyTech Archangel Gaming PC with GTX 1660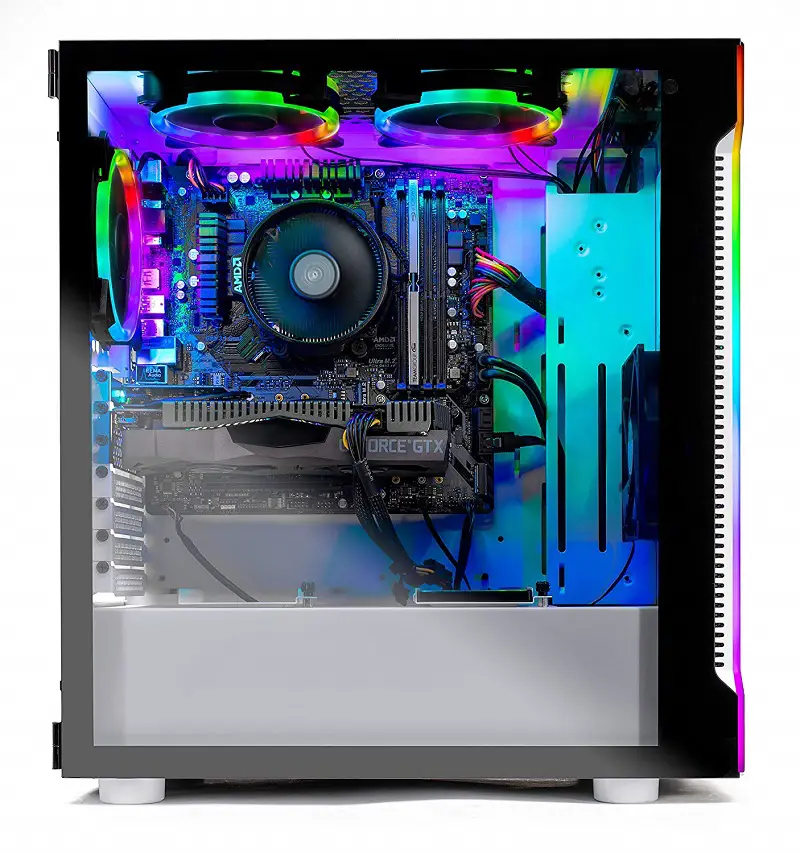 The next one on this list is the exact same PC from SkyTech but with the difference of the GPU. While the previous one uses the less powerful GTX 1650, this one uses GTX 1660 that has 6GB of GDDR5 memory. So, in a lot of games not only you will get higher fps due to more powerful specs you will also get the opportunity to increase the texture quality, water quality, Shadow quality, foliage etc. in different games. This will increase the graphical beauty and will make your gameplay smoother.
It comes with everything as it is as the previously-mentioned PC but due to the presence of GTX 1660 its cost is increased and comes at a price tag of $850. Check Full Specs.
---
iBUYPOWER Elite Gaming PC Trace PRO9400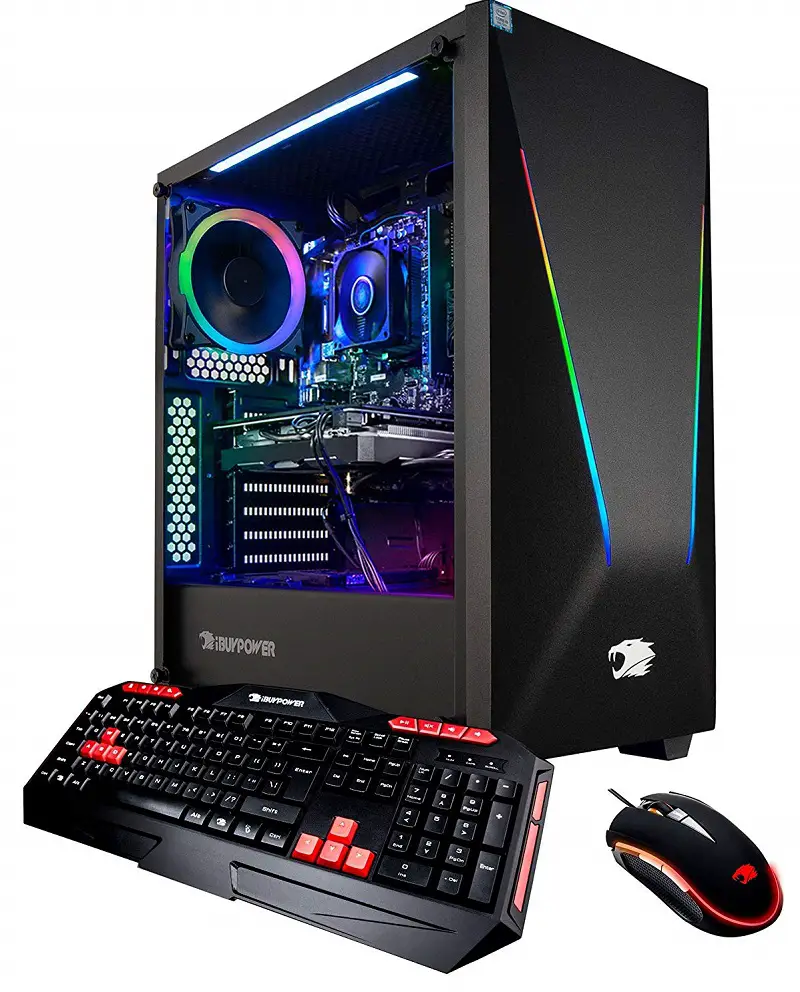 iBuyPower is another great brand for buying pre-built PCs and it provides additional accessories too. The Trace PRO9400 is similar to the SkyTech pre-built PC which uses GTX 1660 6GB but has the other specs different. It provides 8GB of DDR4 memory that is clocked at 2666MHz which is lower than the Skytech PC and hence you may face some decrease in fps here and there but not so much that you will have a great impact in gaming performance. This should be under 5% at max.
Other specs include 1TB hard drive with a 240GB SSD which is a great option for storage where you will get Windows 10 to store in SSD and games and other files to store in hard drive. This should workout for a while before you run out of capacity. The case it uses to host these components is from iBuyPower which features inbuilt RGB lighting at the front panel and also in the inside. As for the motherboard, it uses a very basic board for Ryzen 5 3600 which isn't that great for overclocking but will handle medium or mild overclocking well.
This PC will come with a Gaming Keyboard and RGB Gaming Mouse as well. The keyboard uses membrane keys but the quality of the gaming mouse is definitely a good one to use which has the side buttons and DPI button for settings adjustment. This PC will cost you $880. So, a good one for the price. Check Full Specs.
---
CyberpowerPC Gamer Master
GMA8860CPGV2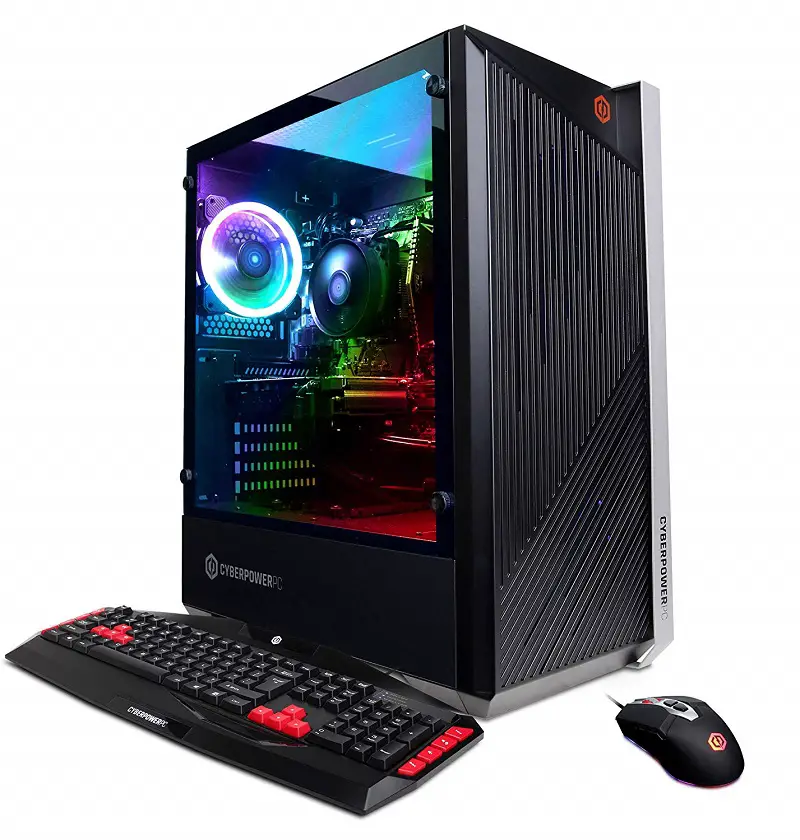 This one is from CyberPowerPC and its name is very long but let's check what different it brings on the table. It uses the same Ryzen 3600 and GTX 1660 6GB combination which is very good for 1080p ultra settings and has 8GB DDR4 memory. It comes with Wifi and Windows 10 Home and for storage, there is 240GB SSD and 2TB HDD. So, you will be able to store a lot of games and other files.
The motherboard on which Ryzen 3600 is used is a B450 chipset board but doesn't have a powerful VRM and doesn't come with heatsinks on it which won't be beneficial for Ryzen 3600 in strong overclocking. So, to be on the safe side better not overclock it or do it mildly with the help of an aftermarket CPU cooler if needed. The chassis, on the other hand, looks fine with good ventilation at the front panel which also allows you to see the RGB fans pre-installed in it. There are a total of 4x 120mm RGB fans pre-installed and that should be enough for cooling the whole system.
The GPU it uses looks like it is from MSI as it is compact and yet it uses copper heat pipes with a dense heatsink which is generally found on MSI GPUs. This PC will cost you $900 and will also come with a keyboard and gaming mouse combo. Check Full Specs.
---
Centaurus Andromeda A6
If you want a more powerful machine, then consider this beastly pre-built PC that features Ryzen 3600 with GTX 1660 Ti. GTX 1660 Ti is much faster than the GTX 1660 and you will get around 10-15% increase in performance. It also features 6GB VRAM but has more powerful specs. I consider this GPU to be one of the best GPUs for Ryzen 5 3600 as this combination will be enough for maxing out games at 1080p and can possibly play games at 1440p too.
This pre-built system uses an RGB chassis that features RGB LED Strip at the front panel and 3x 120mm RGB fans pre-installed. One is installed at the rear and 2 at the front. Front panel although limits the intake air only through the bottom but looking at other specs, this PC is a better choice than the above-mentioned ones if you are willing to spend a hundred dollars more.
It has 16GB 3000MHz DDR4 RAM, 240GB SSD with 2TB hard drive, Windows 10 Pro, Wifi and comes with 3 Years of limited warranty with lifetime support. However, as it is stated on the product page, it comes with a B350 motherboard which is not the best fit for Ryzen 5 3600 but in my opinion that's still Ok considering that you won't overclock it a lot. Check Full Specs.
---
Centaurus Andromeda AX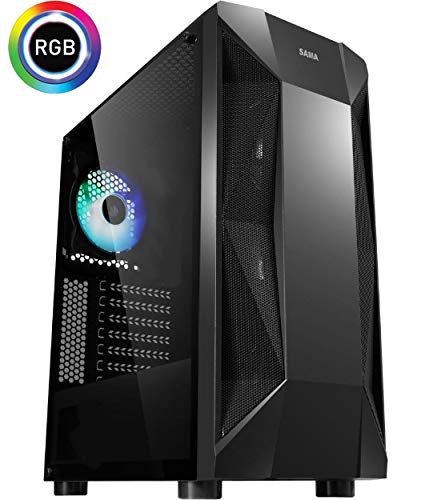 This one is the last but the best one if you are looking to get the most out of Ryzen 3600. It comes with RX 5700 GPU which is way faster than the GTX 1660 Ti and also faster than the RTX 2060. It is a 1440p graphics card and can provide much more than 60 fps at ultra settings. It comes with 8GB VRAM and will take Ryzen 3600 to its full potential. I don't recommend going above RX 5700 with this CPU because it is best to use a powerful CPU with something like RTX 2080.
This PC comes with 16GB DDR4 RAM clocked at 3000MHz, 240GB SSD with 2TB HDD, Windows 10 Pro, and Wifi. Unfortunately, both of these Andromeda PCs don't come with peripherals which I see in them as a CON but performance-wise you can't complain. While the A6 costs $1039, the AX costs $1159. Check Full Specs.
---
Conclusion
For getting the most out of Ryzen 3600 you will need a good GPU but that doesn't mean you should ignore the other parts. RAM, Storage, Chassis, Motherboard and Wifi, all matters. Be wise and choose according to your budget.