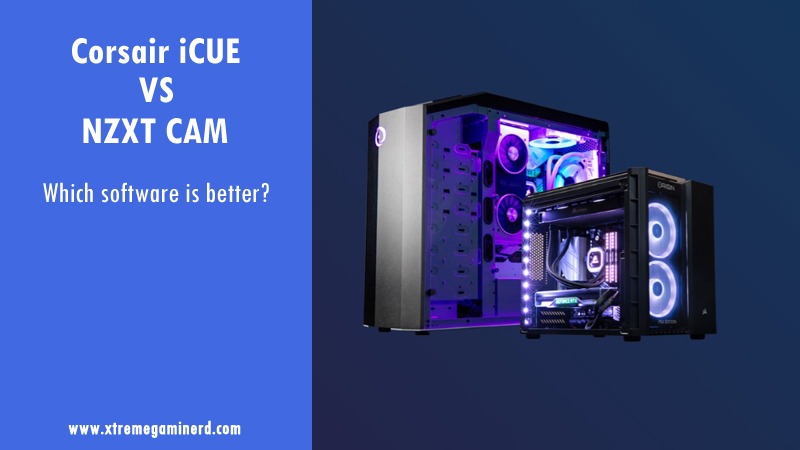 Most PC users or rather gamers these days want to utilize the maximum potential from their hardware and accessories. And with the inclusion of RGB in our life, this has been taken to next level. If you are having any RGB-enabled accessories and you want to customize them according to your preference, then you will be in need of having the software that enables you to do so.
The most well-known among those software are the Corsair iCUE and the NZXT Cam and many would like to know, which one is the best. Therefore, in this topic, we are going to discuss the core features that both these software provides and which one among them is the best to get.
Corsair iCUE
The Corsair iCUE can be downloaded from the official site of Corsair which we also highly recommend. After installation, the software automatically lists out the hardware and accessories from Corsair that are installed in your system, and then you can proceed with the individual customization of each installed hardware and accessory.
As you can see, the application has four different tabs that offer quite a lot of details of your system along with separate functionalities for RGB-enabled setup. The DASHBOARD section offers you an overview of your system that includes even products that are not from Corsair. Such as Motherboard, Processor, GPU, and RAM by default, and also you will be able to monitor Corsair Hardware such as AIO coolers.
The INSTANT LIGHTING tab, when clicked will list out your lighting-enabled devices or accessories and also will offer a color pallet, and choosing a color from it will immediately set that color throughout the entire lighting-enabled devices that are presently installed in your system. Also for additional optimization, you will need to click on the listed devices on this page.
One can even create separate profiles according to their needs and with a single click, the user will be able to change the settings as per his previously saved ones. The Corsair iCUE offers a wide range of customization starting from tweaks in performance and going all the way up to aesthetics.
NZXT CAM
The CAM from NZXT is also an application software, that enables hardware from NZXT to be customized according to the preference of the user. The landing page of NZXT CAM gives the user detailed information about their system's hardware status that helps the user to monitor their system with ease and in real-time.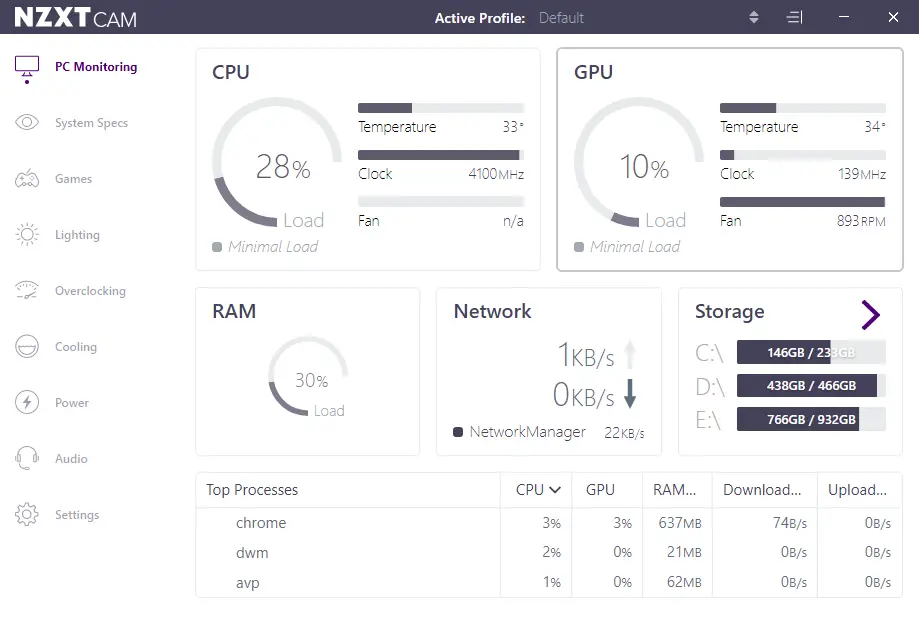 The System Specs tab will provide detailed information about the system hardware components such as Processor, Motherboard, RAM, GPU, etc. that comes in handy if one is to check for some specification to order another similar hardware, for example, the interface also shows the memory type you are having and it makes it quite easier to find the exact memory module that you might be in need to upgrade your system.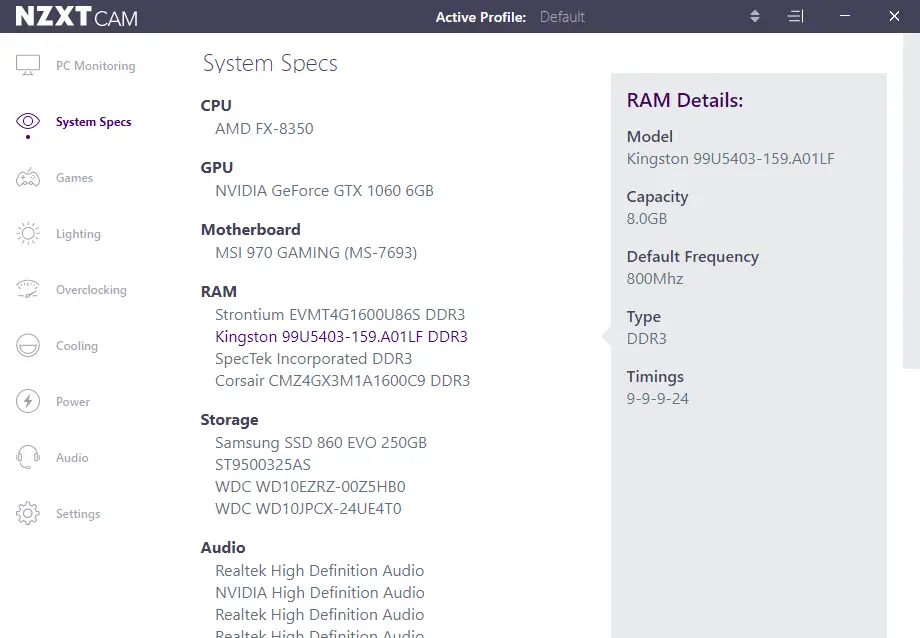 The Lighting tab will allow the user to configure the lighting accessories of their system if they are from NZXT. There are separate tabs from Coolers and Audio also which will only show the details if you are using components from NZXT only.
However, there is one unique feature of the CAM software. It enables the user to overclock their GPU directly which is a big addition for those who want to overclock their GPU without the need of having additional software to do so.
Which is the Best?
[wp-svg-icons icon="point-right" wrap="I"] Both iCUE and CAM offer similar performance in terms of controlling your lighting setup along with the additional option to control the components and accessories that include the option to customize them or to increase their performance. [wp-svg-icons icon="point-right" wrap="I"] iCUE supports more hardware components and accessories allowing the user to have more room for customization if the user is using those from Corsair. The range of supported accessories and components includes PC Case, Fans, AIOs, Air Coolers, Keyboards, Mice, Headsets, Mousepads, and many more. Most of these products are RGB enabled meaning, a user has a wide room of options to choose from. On other hand, the range of Hardware components and accessories is limited to that of NZXT. Therefore, if you are looking for a perfect aesthetic as well as a performance-based setup, then iCUE has the upper hand. [wp-svg-icons icon="point-right" wrap="I"] In terms of system resource consumption, iCUE is a bit on the heavier side when compared with CAM, but it won't affect in all over system performance either. [wp-svg-icons icon="point-right" wrap="I"] If we are speaking of additional features then CAM offers the integrated GPU overclocking utility that gives it an upper hand. But it will depend on the user's way of use.
Summing Up
We have elaborate on all the points that are the key differences between the Corsair iCUE and the NZXT CAM. And from the above analysis, it is quite clear that both the application software serve their purpose well, but since we have to declare a winner, it will be Corsair iCUE. This is due to the fact of offering more room for customization to a user and also allowing the user to have an ecosystem with the same configuration aesthetically.