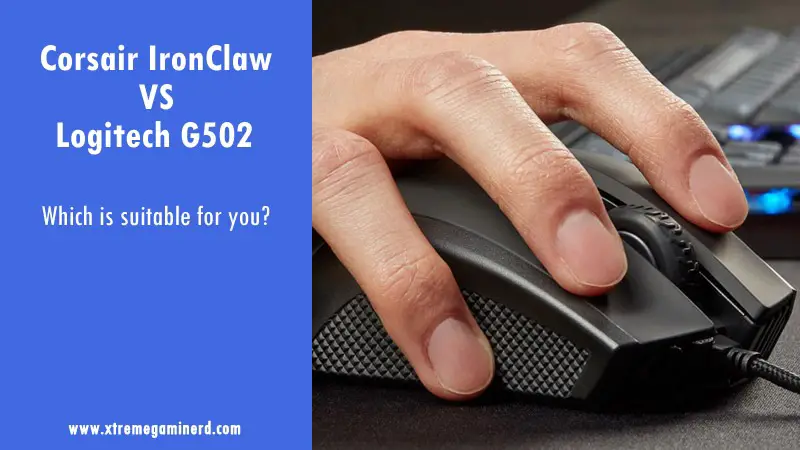 The Corsair IronClaw and Logitech G502 are two great competitors which look similar and very promising to the fps gamers and have been rated very highly by various reviewers. As a G502 user personally, comparing it to different gaming mice from brands like SteelSeries or Razer, I have found G502 having no major CON at all.
The IronClaw RGB is another masterpiece from Corsair which might have got your attention and is aimed at fps and MOBA gamers just as the G502. While the G502 is currently priced at $50 for being a mouse released in 2014, the IronClaw is relatively newer which was released in 2019 at a price of $70.
So, let's compare the basics of both the mice in Design, Tracking and Aesthetics so that you can get the idea of what you can expect from these and which one will suit you best.
Design and Tracking
The first thing to look for in a mouse is its size according to your hand. The IronClaw is a little bigger than the G502 except in the length and is 2mm higher and 1mm wider. A good fps mouse should be lower in height for an easy grip and the G502 will be better for most gamers especially those with small and medium hands.
However, although being smaller in size, the G502 is heavier with a weight of 121g and an additional 18g weight can be added at the bottom. This feature is inapplicable to the IronClaw and its weight is 105g making it better in fast movements which is an advantage for many in playing fps games.
Both the mice have a thumb rest but the IronClaw has rubber on the thumb rest for a better grip. Both are designed for right-handed users and are non-ambidextrous.
Buttons and DPI

The IronClaw comes with 7 programmable buttons and the G502 comes with 11 making it an overall better choice in MOBA games which require easy access to more functions in games. 7 buttons on IronClaw although will be sufficient for any fps game and both of these mice have two DPI buttons on the top to increase or decrease the mouse sensitivity.
The IronClaw has maximum DPI limit of 18000 while the G502 originally had 16000 and with the latest HERO 25K update it can allow up to 25600DPI although these are regardless useless in reality as most fps gamers use somewhere from 500 to 1500 DPI.
Both the mice use Optical sensors and have similar working features such as 1000Hz polling rate and 1.2mm of minimum lift distance.
Another difference is between the scroll wheel where G502 comes with two modes- Notched+Free wheel while the IronClaw comes with only Notched Wheel. This makes G502 better in surfing a long website page but has no practical use in most games.
Aesthetics
The IronClaw and G502 both have RGB LEDs that can be controlled via Corsair iCue and Logitech G Hub software. There are three areas for RGB lighting in IronClaw- one at the mouse wheel, one on the centre with the Corsair's Logo, and one near the thumb buttons with three lines, the G502 features two different areas one of which is on the left having 3 lines that illuminate when DPI buttons are pressed notifying about the changes in DPI settings and the other is the Logitech logo which is near to it.

[box type="shadow" align="alignleft" class="100%" width=""]
Corsair IronClaw overview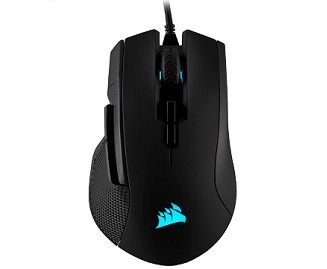 Optical sensor with 18000 DPI Controllable RGB lighting Good thumb grip Lightweight and perfect for big hands
---
The IronClaw is a very capable FPS mouse that features light-weight for fast motion and 7 customizable buttons in total. The mouse is perfect for larger hands due to its height and provides better thumb grip for controlling the aim. It's available in wired as well as wireless version.

[/box]

[box type="shadow" align="alignleft" class="100%" width=""]
Logitech G502 overview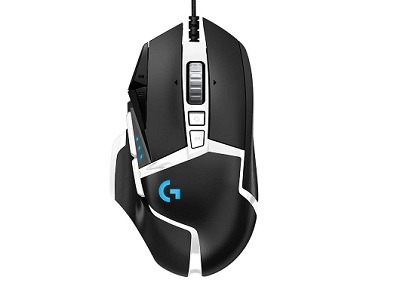 Optical sensor with 25600 DPI Controllable RGB lighting

Customizable weight feature Ideal for medium hands
---
Logitech G502 is an overall all-rounder gaming mouse fit for FPS and MOBA games due to the availability of 11 buttons. It's heavier than the IronClaw and has customizable weight feature which makes it fit for all types of users and is ideal for users with medium-sized hands.

[/box]