Stuttering in games spoils the gaming experience no matter how much fps you are seeing on the screen. CSGO is especially affected by this as it requires fast reactions and frequent stutters are not only annoying but a game-changer.
The problem can persist for several reasons. Stuttering has been more frequent since last year but there are a few methods that work for almost every user and if you have been playing the game with buttery smooth transitions and suddenly you are facing the issue, then the following methods will work for you.
These are simple solutions that will take a couple of minutes but keep in mind that you might need to perform all these methods to ensure a permanent stuttering fix. If you are lucky, then using only one or two methods can also fix the issue.
Windows Update
Believe it or not, Windows Updates really affect games' performance, and not being updated to the latest patch, you will see weird issues with your games.
To update to the latest patch, Type in the Windows Search bar, "Windows Update Settings".

Now check if your PC is using the latest patch or not. If not, then simply download the new update and install it. It will restart your PC after the update and hopefully, it will fix the stuttering issue.
Task Manager
Before moving on to some advanced solutions, it is best to check if something on your computer is using more resources than ever before.
CSGO is a very CPU-dependent application. For a user who owns a dual-core or quad-core processor, it's easy to see stuttering if another application is running in the background.
By using Task Manager, you can check if some application is taking a lot of CPU energy in the background or not. It's always recommended to close heavy applications before launching the game. Google Chrome is one of them that although is only a browser, its multiple tabs consume a lot of CPU and RAM.
Related: How to play CS GO online
Simply right-click on the Taskbar and select Task Manager.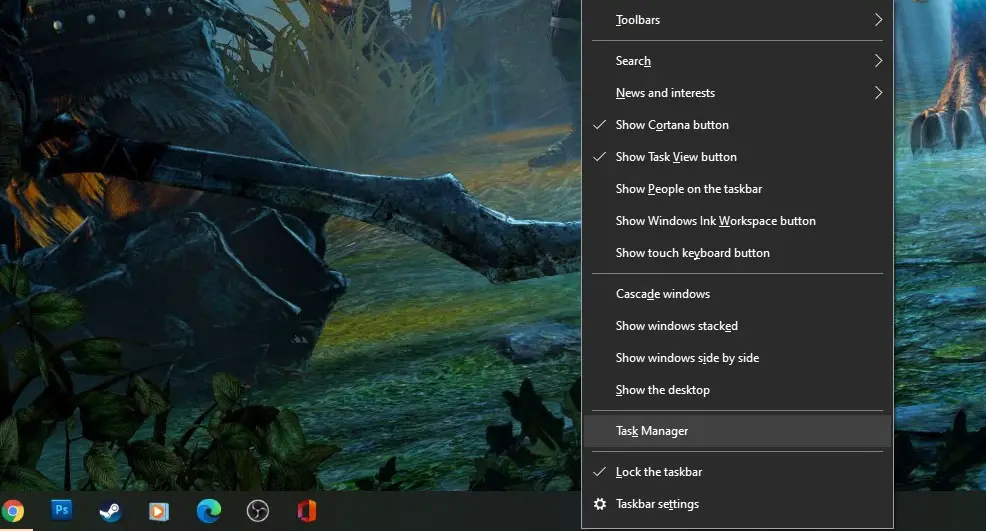 Click on More Details and a full window of all the details will open. Continue on the Process tab where you will see applications currently running on your system.
As you can see from the image above, my Chrome tabs are using 1.5GB of memory which is huge and will drop your fps in CSGO if you have less than 8GB RAM.
Check for the applications that are consuming a lot of memory as well as CPU. If your CPU is taking around 20% or more load at idle, then you need to close down the applications that are consuming the most energy. Be sure to check if those applications are important to you or not.
If this method doesn't help you fix stuttering, then the next method has a lot of potential to do so.
Launch Options Commands
A lot of users are able to fix stuttering by launching the game with some commands at the startup of the game.
These commands set some parameters before the launch that help in fixing stuttering a lot.
Open your Steam Library and Right-click on Counter-Strike Global Offensive. From here, click on Properties, and in the General Tab, copy and paste the following command:-
-tickrate 128 +fps_max 0 -novid -nojoy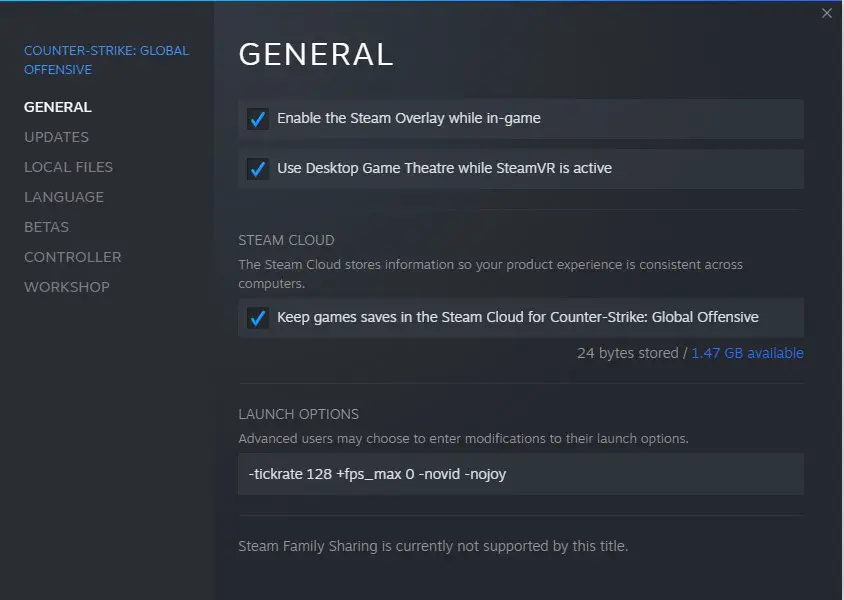 This should increase CSGO performance and fix the micro-stutters.
CSGO Beta Depot Update
For Nvidia graphics card users, the Beta Depot update may help a lot. In the Properties under the Betas tab, you will see a drop-down where there are several betas listed.
You can simply choose any beta you want to opt in for and then Steam Client will ask you to restart the Client.

After the restart, now you can launch CSGO again to see if the problem persists or not. If it doesn't then you can check other betas but if nothing works you can select 'None' again to reset it to default settings.
In-Game Settings
It's recommended to not use the highest graphical settings in the game as it drops the fps a lot. Professional gamers use different settings than the 'Very High' preset due to various reasons.
To get more FPS and avoid micro stutters occurring randomly, make sure you put Global Shadow Quality, Model/Texture Detail, Effect Detail, and Shader Detail to either Medium or Low.
Also, make sure you keep the V-Sync Off as it delays the input, and also, do not go over 2x MSAA for the Multisampling Anti-Aliasing.
Verify With Different GPU Driver
Nvidia and AMD regularly release their driver updates and these optimize games for a better experience. In case, you are still using an older version it is recommended that you update the driver.
However, if you already have an updated version, then you should roll back to the previous one to check if the new update caused the stutter.
Related: How to fix CS GO can't connect to server problem
Verify The Files
In case nothing above worked for you, then you can Verify the Integrity of your game files from Steam. You can also re-install the game to check if this helps.