Being a CS GO player since 2015, things have changed a lot. Whether it is the gameplay itself or the interface. The game is well-known for its Online mode where two teams: Counter-Terrorists and Terrorists clash with each other to secure their positions.
The game is especially fun when you play with your friends. While the game has an Offline mode too, it is incomparable to the Online mode, and here is a quick step-by-step method on how to get into the game right away in a few clicks.
Before proceeding further, I recommend checking CS GO system requirements to avoid any difficulties later on.

Step 1- Installing Steam
Steam is a distribution service that is known to be the most popular gaming platform that hosts millions of games including Counter Strike Global Offensive.
To install Steam, you have to go to the Steam Download page. Here click on the "INSTALL STEAM" button and an EXE file will be downloaded to your computer. Open that and run the installation.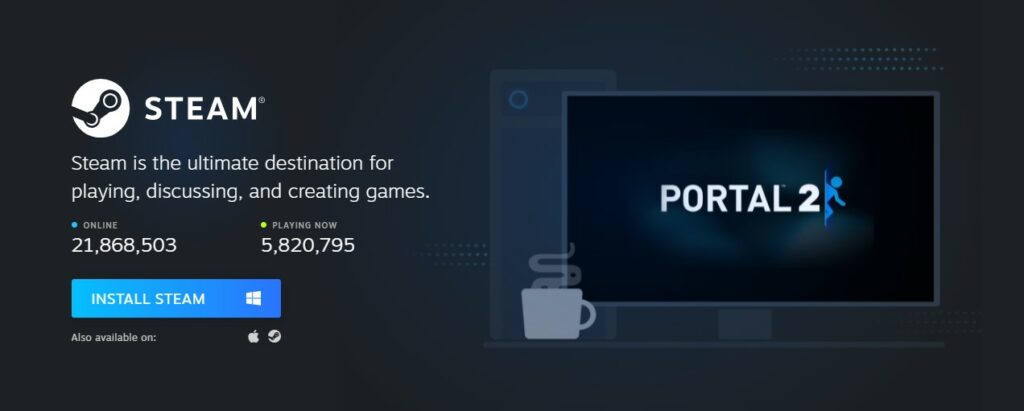 In a short period of time, Steam will be installed but to start using it you have to make an account. You can make your account from the installed software or from the web browser.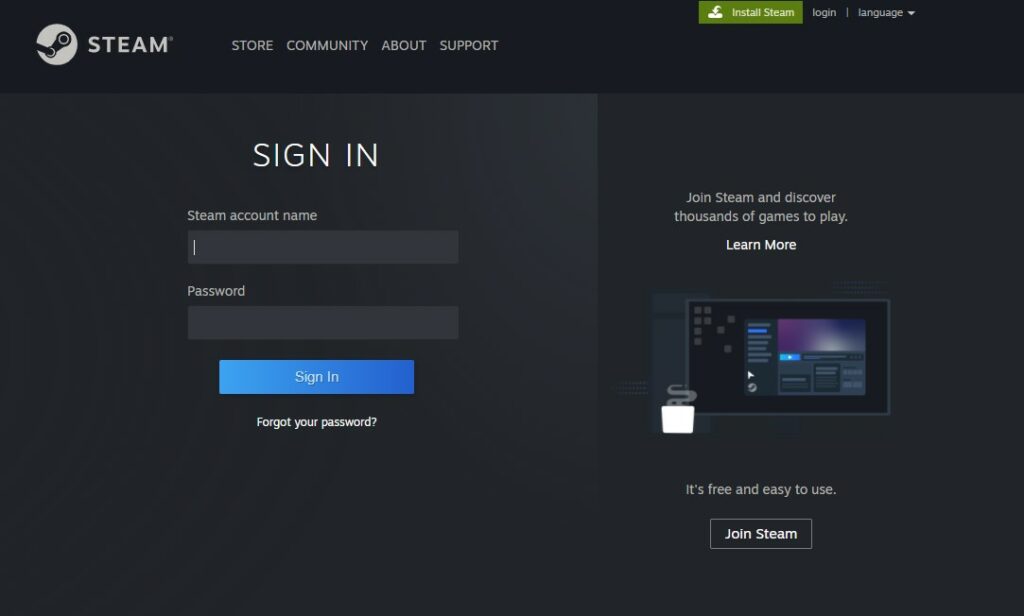 *Make sure you install Steam App on your Android or iPhone for secure login.
Step 2- Installing Counter Strike Global Offensive
Your Steam window will look like something as follows. From the Store Tab, Type in the Search Bar, "Counter Strike Global Offensive".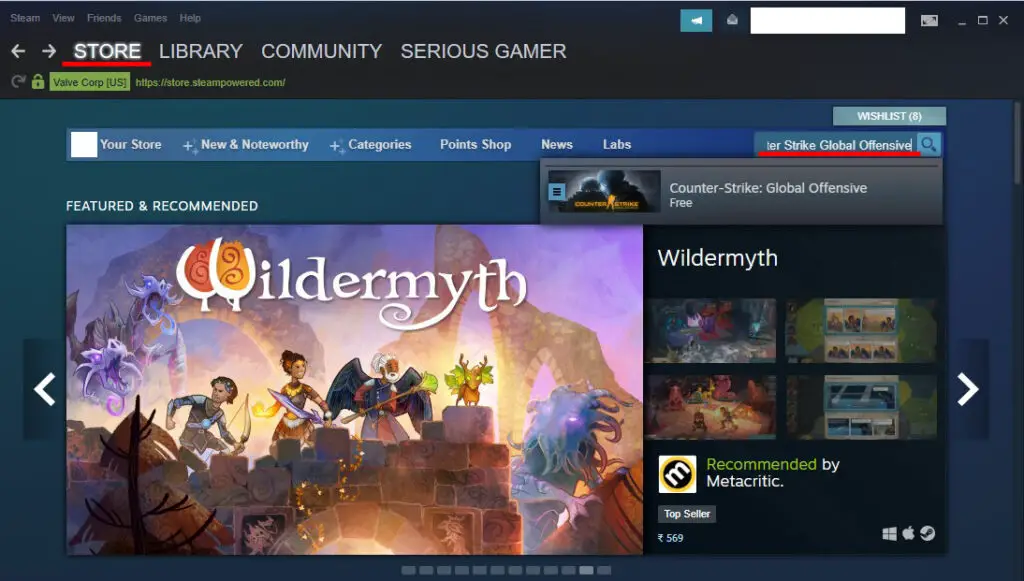 From the Game page, scroll down and click on "Play Game". It will start the installation process and will ask where to download the game. Choose any desired drive and proceed.

The game requires 15GB of free space and based on your internet speed, it will start downloading.
Step 3- Starting CS:GO
After finishing the download, go to your Library and click on "PLAY". The game will start with some basic installation services and should start the game in a couple of moments.
If you have never played it before, then your profile will start with the basic profile rank which is Recruit but that is independent of your Official Online Rank.
Step 4- Choosing The Game Mode
To start playing the game online, click on "Play CS:GO" on the top-left side.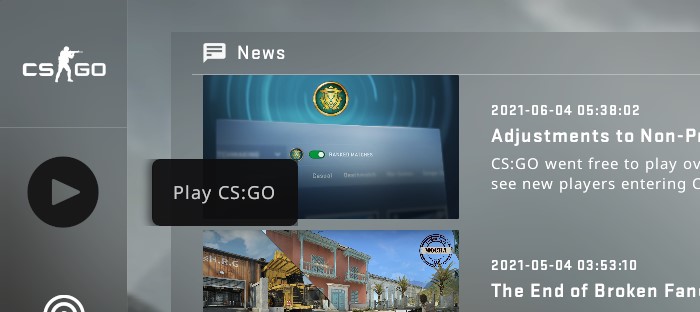 A couple of game modes will show up on your screen. From the top, you should click on that small drop-down arrow to select the "Official Matchmaking" option. This will now make all the listed modes Online.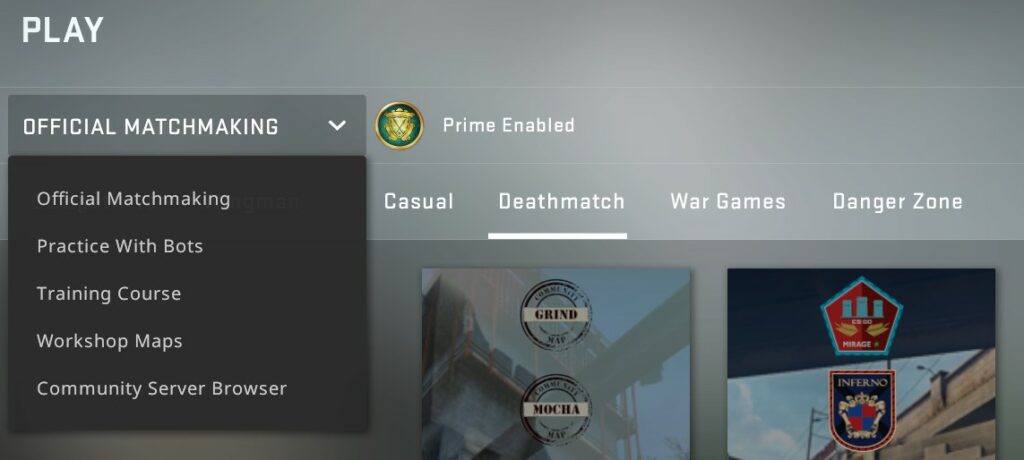 Related- How to Fix CS GO stuttering
Deathmatch
In Deathmatch mode, you enter into your desired team and kill the enemy team members right away. There are no objectives or team planning required. With each kill, you will get an increase in your score. At the end of the round, your XP will increase which will result in increasing your profile rank.
After reaching the 40th Profile Rank which is Global General, you can opt to receive a Service medal. Each year has its own dedicated Service medals that you can show off on your profile picture.
Deathmatch is quick to join and you will connect in only 10-12 seconds. It lasts 10 minutes and based on the server, the maps can change or not.
Casual
The Casual mode features Terrorists and Counter-Terrorists working in a team and formulating a plan every round. The T side can plant the BOMB on either A site or B site. CTs need to defend these sites to win the round.
In Casual mode, up to 20 players can play at the same time and there will be a total of 15 rounds where winning 8 rounds will guarantee the overall win for a particular team.
In this mode, players can switch Teams after the round ends based on the available slots in the other team, and disconnecting from the game won't pose any penalty.
Competitive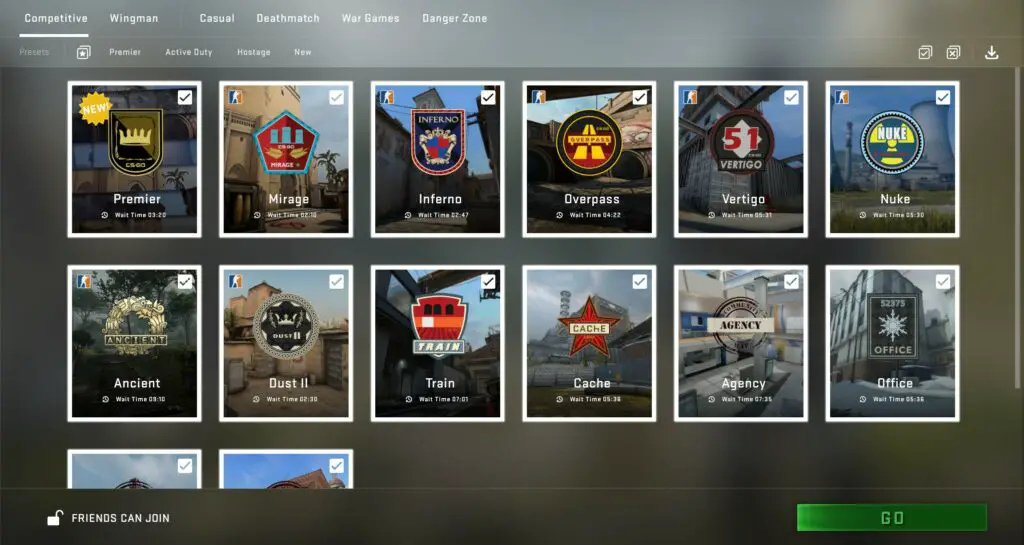 Competitive is for serious players and when you think you have attained some skills in planning, aiming, and cooperating with others, you can now start with the Ranked matches.
Make sure you attain a level 2 profile rank before jumping into Competitive. There are a total of 14 playable maps in Competitive where Dust II and Mirage are the most played ones.
In Competitive, there will be only 5 players on each team and there will be a total of 30 rounds where the winner has to win 16 rounds. If both teams win 15 rounds each, it will be declared a tie.
Each round lasts 1 minute 55 seconds where both teams get a couple of seconds to purchase the weapon and utilities based on the economy. At the end of each round, each team receives money on the basis of kills, bomb planting/defusal, etc. which the teams can utilize in their next round.
Disconnecting from the Competitive mode poses penalties such as bans that range from 30 minutes up to 1 week. Cheating through aim hacking or wall hacking etc. will impose a permanent ban.
There is no switching of teams in this mode and after completing your first 10 competitive matches you will gain your official Competitive Rank.
Each time you join Competitive mode, you will be connected to players of similar skills and ranks.
Step 5- Playing In The Lobby
The game can be played with friends on the same team through Lobby. Make sure you enable the "Friends can Join" option as in the image above.
Now you can invite your friends by clicking on any of your friend's profiles on the right side followed by the Invite option.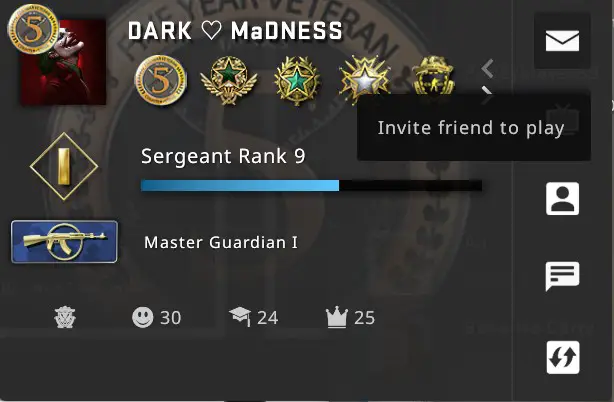 If you don't have any friends, then you can make some when you are playing solo by sending them friend invitations.
When you are playing the Competitive mode, at least 4 members need to have an active Offical Competitive rank or similar ranks to find the game faster.