Almost two weeks ago, a rumor was circulating online suggesting that the Meteor Lake chips for desktops have been canceled. This rumor came from Raichu, one of the prominent leakers PC hardware news websites frequently refer to.
According to one of his older tweets, he was not sure if Meteor Lake S will get canceled because when he says "Maybe", then there is no guarantee that his rumor is right. Still, on 21st Feb, he confidently said that Meteor Lake S is canceled and now Intel is going to focus on Meteor Lake P instead which is made for notebooks.
Now again, another leak from a user Leaf_hobby suggests that Intel is planning to launch Meteor Lake S for desktop but he has deleted his tweet. This report might not be 100% true but many news outlets have already started posting on it.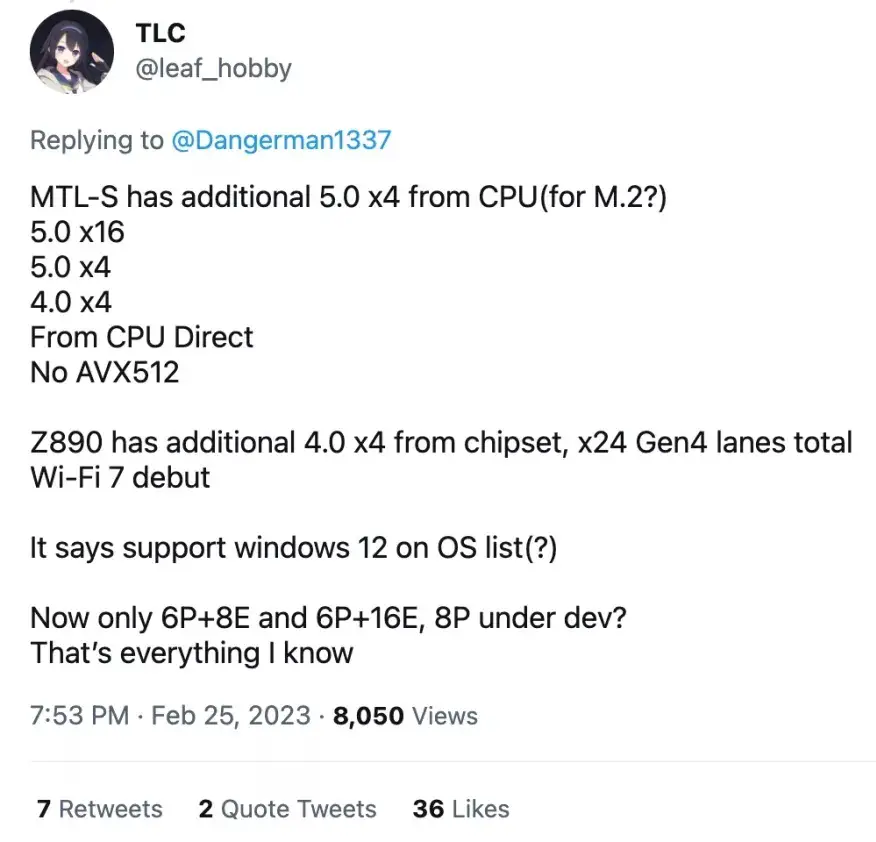 According to the leak, Meteor Lake S is going to bring some new features. One of them is the addition of 4 PCI-E 5.0 lanes from the CPU. This will make a total of 24 lanes from the CPU alone where 16 5.0 lanes will be dedicated to the CPU, 4x 5.0 lanes for the primary M.2 SSD, and 4x 4.0 lanes for the secondary M.2.
Another new feature will be the Intel Wi-Fi 7 which has a total bandwidth of 5Gbps. This is 5 times more than the bandwidth of Wifi 6 which has a maximum speed of 1Gbps. Now a few things to note here is that Meteor Lake S will be using the Z890 chipset, which will supposedly use a brand new LGA 1851 socket LGA 1851 will also be compatible with Arrow Lake CPUs that are planned to launch next year.
Another weird thing in the leak shows that Meteor-Lake S will also support Windows 12 OS. Now even though many are suggesting that it is just a placeholder, some reports say otherwise. Microsoft's head of consumer marketing recently told The Verge that "As we start to develop future versions of Windows we will think about other places where AI should play a natural role in terms of the experience"
While we don't have an official statement from Microsoft about the next Windows operating system, I wouldn't be surprised if Microsoft releases Windows 12 in a few years which will depend on Artificial Intelligence for the most part.
Source: TheVerge