In the past few years, gaming laptops have already become so powerful that they are literally competing with high-end gaming desktops and as you might already know, Nvidia was planning to launch their RTX series GPUs for gaming laptops.
Just yesterday, on 8th February 2023, they launched their new gaming laptops featuring the RTX 4080 and 4090 laptop GPUs starting at a price of $2000. These laptops will be super powerful in gaming and also in productivity as we can see through the latest benchmarks of Intel's flagship Raptor Lake CPUs.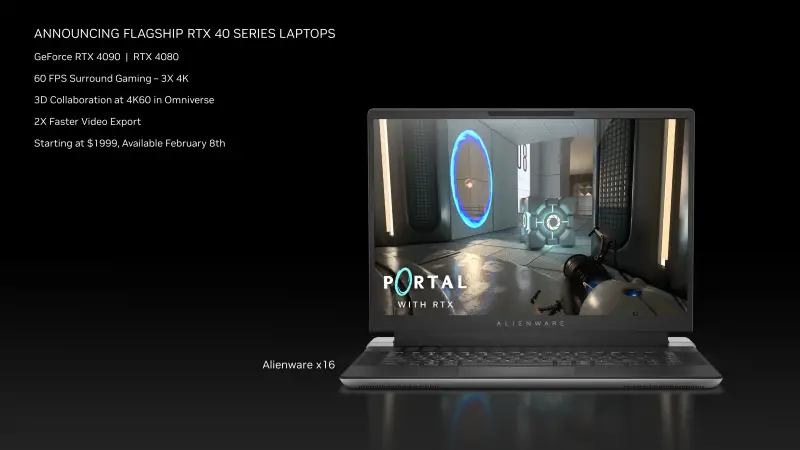 According to Nvidia, the 4080/4090 laptops will make it possible to play games at 4K with 60FPs and bring up to 4X higher performance in titles like Cyberpunk 2077 while remaining 3X more power efficient.
These laptops will feature Intel flagship CPUs such as the Core i9 13900HX and the i9 13980HX, and companies like Acer and Gigabyte were already taking pre-orders for these laptops.
Nvidia can also be seen to be taking care of laptops more than their desktop graphics cards and has planned to launch its mid-range options such as RTX 4070, 4060, and 4050. In the same launch article, Nvidia boasts about the performance of these three GPUs and compares them with the desktop version of the RTX 3080.
Nvidia states,
"GeForce RTX 4070, 4060 and 4050 Laptop GPUs deliver up to RTX 3080 flagship class performance at one-third of the power, improving thinness, acoustics, and thermals."
While it is reasonable to assume that the 4070 laptop GPU can bring an RTX 3080's performance, Nvidia's inclusion of the other two smaller GPUs makes the whole statement misleading.
The statement does not simply say that the Geforce RTX 4070 will bring RTX 3080 performance but also includes the 4060 and 4050 GPUs making it look like these two GPUs are also somewhat close to 3080's performance.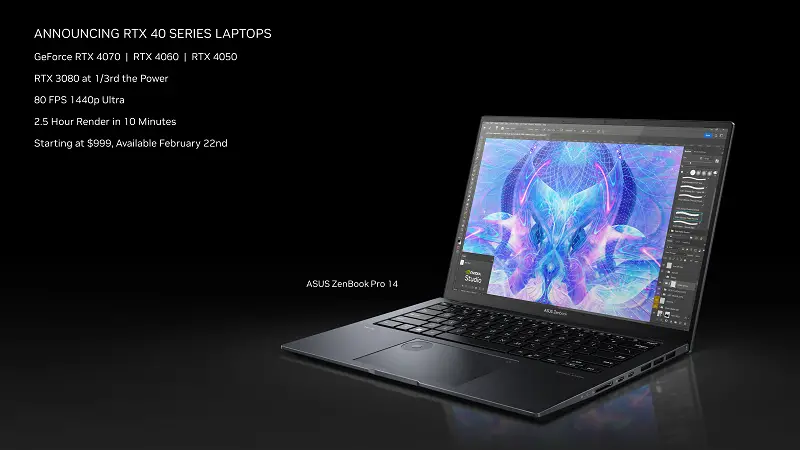 They even did the same with the image by putting all three laptop GPUs in the specs and telling people that they are going to get the 3080's performance at 1/3rd the power. Yes, it's true that these three GPUs bring a maximum TDP of 115W which is almost three times lower than the TDP of the desktop RTX 3080, but in no way the laptop 4060 and 4050 can let you play at 1440p Ultra settings with 80 fps.
These laptops will start at a price tag of $999 where I think the 4050 laptops sell for a price of $1000-$1500 and the 4060 laptops may sell up to $2000. The 4070 laptops should easily cost $2000 or more; therefore, 1440p ultra settings will not be possible for $1000 as Nvidia states.
Source: Nvidia