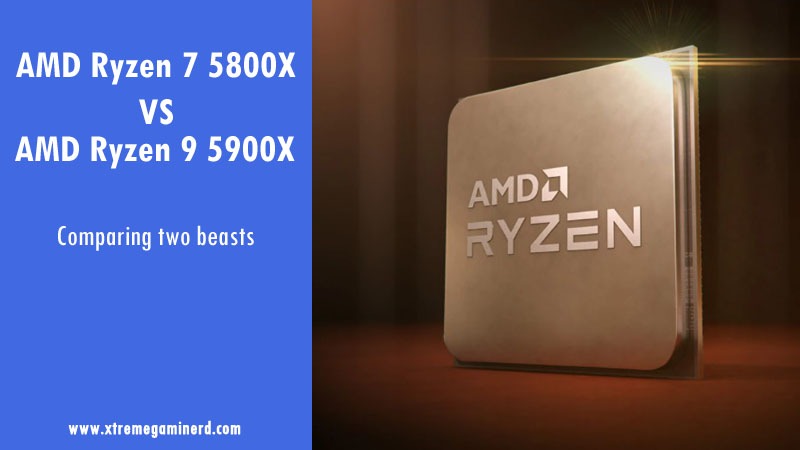 It's the starting month of the new year and there will be many who will be looking forward to getting their PC upgraded or even might be looking to get a new PC altogether. Well, guess what, the previous year had given us a lot of options to choose from. Therefore we are going with the processor on our topic since we have some nice processors from AMD that got released last year and according to many reviewers, they are indeed serious performers.
AMD released four processors altogether back in the month of November the Ryzen 5 5600X, the Ryzen 7 5800X, the Ryzen 9 5900X, and the 5950X. The entire 5000 series processors from AMD are coming with Zen 3 architecture and are promised to deliver a 19% IPC increase over the previous generation processors. They are built with the Zen 3 architecture that is capable of delivering reduced latency from accelerated core and cache communication and doubles the directly accessible L3 cache per core while delivering up to 2.8X more performance-per-watt.
Zen 3 features a redesigned core layout with a single CCX(CPU Complex) for an 8-core processor like 5800X where now all the 8 cores are immediately available to use all the L3 cache memory-making memory latency lower. Moreover, Zen 3 is aimed toward creating an AMD ecosystem that will boost the performance more with help of Infinity Cache, Smart Access Memory, Direct Storage, etc.
In our today's topic, we are going to discuss which processor will be best suitable for what kind of usage between the Ryzen 7 5800X and the Ryzen 9 5900X so that you will be able to figure out which one should be a perfect choice that will fulfill your needs entirely.
AMD Ryzen 7 5800X- Overview
The Ryzen 7 5800X comes with the latest Zen 3 architecture that features core clocks of 3.8GHz/4.7GHz and L3 cache memory of 32MB along with the support of PCIe 4.0 as well as the inclusion of all the Zen 3 additional features. It has a TDP of 105 W. The Ryzen 7 5800X is priced at $450 and comes without a stock cooler. The Ryzen 5800X comes with a single CCX comprising of 8 cores, 16 threads, and an L3 cache of 32 MB.
AMD Ryzen 9 5900X- Overview
The Ryzen 5900X can be coined as the big brother of the Ryzen 5800X. It comes equipped with 12 cores, 24 threads, and a huge 64 MB Level 3 cache. The R9 5900X clocks offer a clock frequency of 3.7 GHz, while the boost clock speeds can reach 4.8 GHz.That means that this processor will have two CCXs, one with 8 cores, 16 threads, and 32 MB of L3 cache, and the other with 4 cores, 8 threads, and 32 MB of L3 cache making it have dual CCX instead of one like that of the Ryzen 5800X. However, instead of having high configurations the Ryzen 5900X comes with a similar TDP of 105 watts making a good power-efficient CPU. The processor comes with a price tag of $550.
Key Differences
If you are looking for excellent gaming performance, then both of these processors are capable of delivering superior performance in almost all games. Both of these processors share a similar architectural build enabling them to offer various features. But the main factor that separates the Ryzen 7 5800X from that of the Ryzen 5900X is the absence of that extra CCX which makes the Ryzen 9 5900X more powerful.
But when it comes down to gaming performances, both the processor will be identical in terms of performance for the fact that games will hardly be able to surpass the eight-core and 16-thread specifications of a single CCX leaving the options for having an extra CCX unutilized.
Related- Ryzen 7 5700X vs Ryzen 7 5800X
Which One Should You Go With?
If you are such a person who plays games as well as works in the multimedia or animation field or you are having a workload that is highly dependent on multicore performance then the best choice for you will be the Ryzen 9 5900X as this is where the Ryzen 9 5900X outperforms the Ryzen 7 5800X by a huge margin.
It beats the 5800X by around 20% or more in applications like Cinebench R20 and Blender Open Data as shown by the tests1)https://www.youtube.com/watch?v=Aeg4NKCo_10 which means you will get your CPU-dependent tasks done much before on the 5900X than on 5800X.
But if you are looking for solely gaming performance, then the Ryzen 7 5800X will certainly fulfill your needs without any issues. Even if you have workloads with not that much need of multicore performances, then also the Ryzen 7 5800X suffices for your needs. As tested by Benchmark, the 5800X and 5900X with RTX 3080 provide equivalent frames per second in literally every game2)https://www.youtube.com/watch?v=FV2oZMUkRFg. The only difference here is that 5900X is utilized lesser than 5800X due to the presence of more cores and threads.
Wrapping up
Both the Ryzen 7 5800X and the Ryzen 9 5900X are quite powerful processors having the potential of running anything that you might need in your everyday life and also capable of delivering superior performance in games. The choice will be narrowed down to the fact that how much you need to have the multicore performance. Hence if you focus only on playing games then the Ryzen 7 5800X will be sufficient enough.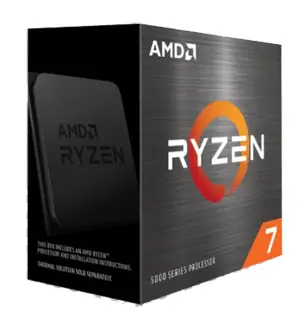 8 cores, 16 threads Base clock- 3.8GHz, Boost clock- 4.7GHz
Overclockable Intel L3 Cache- 32MB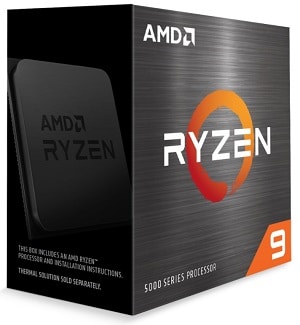 12 cores, 24 threads Base clock- 3.7GHz, Boost clock- 4.8GHz Overclockable Intel L3 Cache- 64MB