AMD Radeon RX 570 is more than 4 years old now and looks like Sapphire still has some RX 570 graphics cards left in their inventory. To make these leftovers usable, Sapphire has converted them as mining GPUs but they still can be used for display.
The images and specs were leaked by a Twitter user @9550pro. The information first appeared on a Chinese forum Saraba1st where a user posted high-resolution pics and benchmarks of this new mining GPU made from an old GPU.
Sapphire ETH mining RX 570 Duo🤪

125W 60MH/s

Source: https://t.co/HA5v3EyeFn pic.twitter.com/tprNBw3987

— HXL (@9550pro) August 13, 2021
Sapphire has used dual Polaris 10 GPUs that makes it powerful enough to be used for mining. As shown in the pic below, it is giving up to 60MH/s in Ethereum.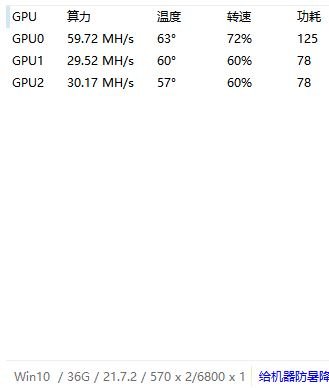 The card uses a dual fan design with several heat pipes embedded inside the aluminium heatsink. It is a 2 slot card and uses dual 8 pin power connectors. Yet, it only consumes 125W that is lower than the original RX 570 that features a TDP of 150W.
Not only that but it maintains a fairly good temperature that is below 65 degrees and also features a single HDMI port for display on a monitor. It features 16GB of GDDR5 VRAM and a memory speed of 8.4Gbps that is also faster than the original RX 570 GPU.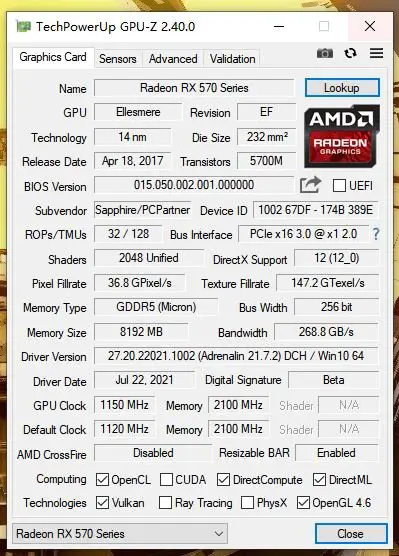 GPU clock, however, is a little slower than the reference edition sitting at 1150MHz but memory bandwidth is higher than the reference card i.e., 268.8GB/s compared to 224GB/s.