Steam owns a whopping 50,000+ games in its store and millions of gamers register every month. This has led to the rise of problems related to email addresses.
While most users are able to get their accounts verified in a couple of minutes, there are still many who cannot verify their email addresses properly.
Steam Registration And Verification Process
Steam has its own login form where you need to put your credentials like a username and password just as any other social media site but when you create an account it sends you a link to your email address to verify the email.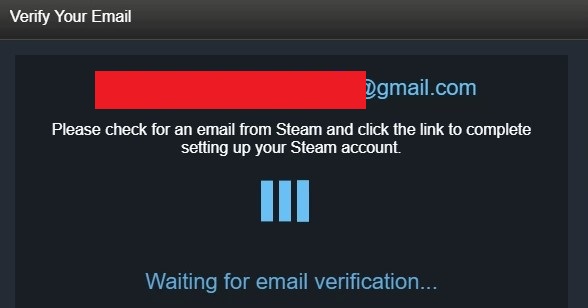 Unfortunately, for many users clicking on the link from the Steam mail doesn't work or sometimes the email doesn't even reach the email account.
For many users, it is also common to have their email verified from their account but the link gets expired or it shows the "Unable to verify email address" error on the Steam page.
Here I will guide you on how to make your account verified with a few steps.
Steam Server Down
Considering that you have input the correct email address with no mistakes in spelling and you still didn't get an email in your email account, the first step is to wait for some time.
Sometimes, Steam servers can go down delaying the response from the server which leads to no mail to your email account. This is, however, not common because Steam servers are generally up all the time.
But if you want to verify if this is the real issue, go to Steamstat.us to check if Steam is down in your region. Once the Steam server is up again, you can try resending the verification email again.
Check Spam Folder
It's not necessary that every time you register on some website, their mail will reach your inbox folder. Sometimes even legit websites are blocked from the inbox.
Check your Spam folder to see if there is an email from Steam. Click the link in the mail if you found it and click on "Report Not Spam" if you are using Gmail to whitelist Steam.

Log Out and Restart Steam
If you see the same verification message even if you verified from your email account, simply log out from your Steam client and restart it.
It can fix the bug and you should see your email is verified.
Change Your Contact Email Address
This is probably the best fix that works almost every time

. If nothing of the above worked, you can fix the issue by changing your email address from the account page.

-> Go to "Steam" and click on "Settings".

-> In the "Account" tab, click on "Change contact email address" and put another email if you have an additional one. Create one if you don't have an additional email account.

It will ask you if you want to send a confirmation to your Steam mobile app or if you don't have the access to your Steam Guard mobile authenticator.

-> Choose the option which is easier for you. If you choose the first option, Steam will send a confirmation code to your Steam mobile app.
-> If you choose the second option, you can get a verification code for your registered phone number.
Once you complete this process, Steam will send a confirmation code to the new email address through which you can change your contact email address.
From the new email account, you can verify the new email address and repeat the steps above to again change back to the original email address or you can keep the account with the new email address.
Final Words
Verifying your email address in Steam can be a painful process but trying the methods above one by one will help you verify your email. Let us know what method worked for you and leave your comment if you are still facing the problem.