As illustrated by NTDev, a developer who is behind the creation of Tiny11 which is a stripped-down Windows 11, the OS was able to run perfectly on the GPU VRAM.
This was achieved by making a virtual drive through RTX 3050's VRAM with the help of a tool called GPURAMDrive utility. This utility can allocate a memory buffer inside the GPU VRAM and allows it to be used like a regular storage which even though is slower than the blazing fast SSDs we have today, is still much faster than a traditional hard drive.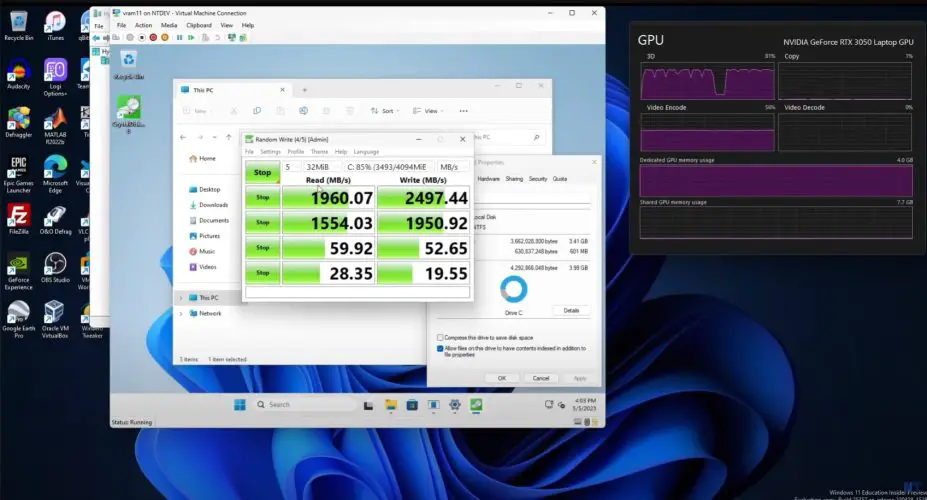 The developer's RTX 3050 only had 4GB VRAM but was sufficient to create a 3550 Megabytes of RAM drive that was able to run Tiny11 smoothly. Even the sequential read and write speeds of the new RAM drive was matching the entry-level M.2 SSDs.
Of course, there are many challenges that one would have to face if he tries to run a full version of Windows 11 on GPU VRAM, one of which is the problem of permanent storage. Unlike a real storage drive, all the data on the VRAM is lost once the computer is switched off.
Nonetheless, it looks totally possible to speed up the applications with the help of a powerful GPU that boasts faster and more VRAM, and considering we have GPUs with more than 8GB memory, storing a full Windows 11 looks totally possible.