When we say "earphones", generally two types of devices come to mind: Earbuds and Headphones, and the difference between them is basically that earbuds go inside your ears while the headphones have their earcups resting on your ears and their band goes over your head.
But have you ever heard of something that is in between?
If not then neither did I and this is where Tozo OpenReal earbuds come into action. This is the company's recently announced product that caught my attention and thanks to Tozo for providing a review sample which we are going to analyze in this review.
In this post, we will carefully inspect Tozo OpenReal and will see whether you should consider it at its price tag of $50(reduced from $120).
Packaging and Accessories in the Box
The box comes with very few accessories that include the headphone itself, a magnetic charger cable, a user manual, and a quick guide. As the headphone doesn't require any particular storage like wireless earbuds, it doesn't need a box every time.
Also, as there is no need for any additional ear tips, the box comes with only the necessary stuff.
Checkout Tozo OpenReal on Amazon
Connectivity and Ease of Use
I am quite impressed by how it is designed to work. Unlike the Tozo Golden X1, it's a kinda plug and play and doesn't require much effort to understand all its functions.
Design
The headphone is made to easily get wrapped around your neck, unlike the traditional headphones that are meant to be worn on the head. Meaning the headband doesn't go over the top of your head but instead goes around the neck which makes it hard to notice from the front.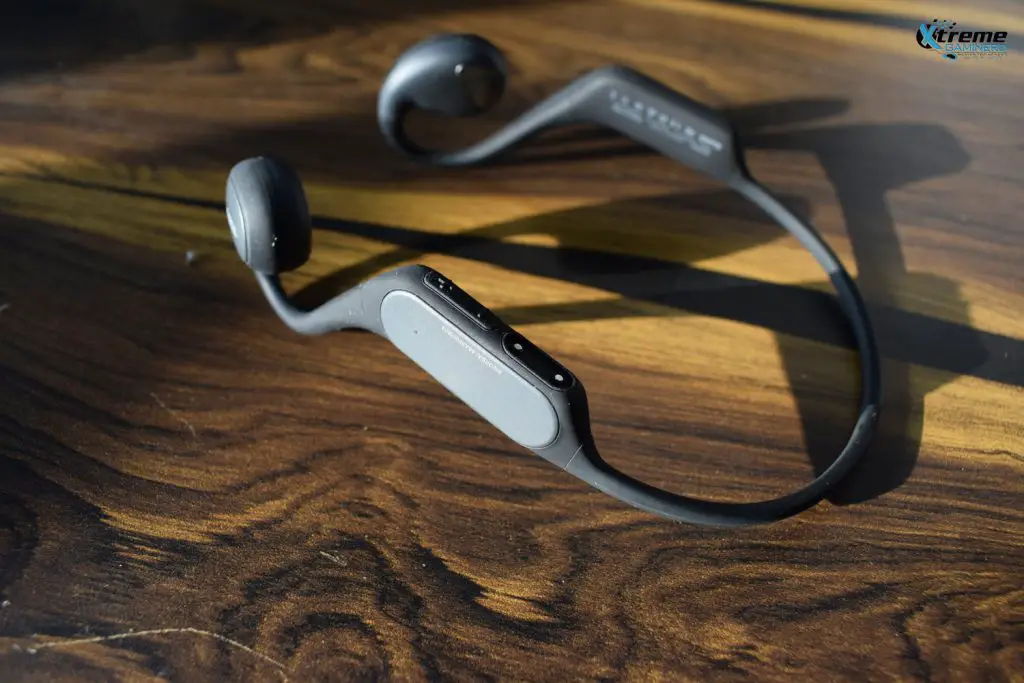 One could not tell if you are wearing headphones unless he sees it from either side and that is one of the coolest things about it. I could wear it all the time and won't look odd in public.
The comfort is superb and this is because the earbuds don't go inside your ears and stay outside that makes it fully comfortable to wear all day. The best part is that you could clearly listen to whatever is going on in the surroundings without limiting your hearing capacity.
The headband or should I say neckband is given a curve just before the earbuds so that they can easily rest on top of your ears and don't fall off.
I have had a pretty good experience in using it and it doesn't wobble at all even when there is an inch gap between the back of the head and the headband.
This gap will allow people with bigger heads to wear it comfortably but you have to keep in mind that it is not stretchable. The only problem I faced wearing it was when I was lying down on the bed. You just can't wear it properly in that position, unlike traditional earbuds or headphones.
Connectivity
Just like any other Bluetooth device, it can pair with your phone with a tap but before that, you need to turn it on. Unlike the traditional wireless earbuds where you can automatically switch off/on by putting them into their charging case, this one requires you to manually turn them on.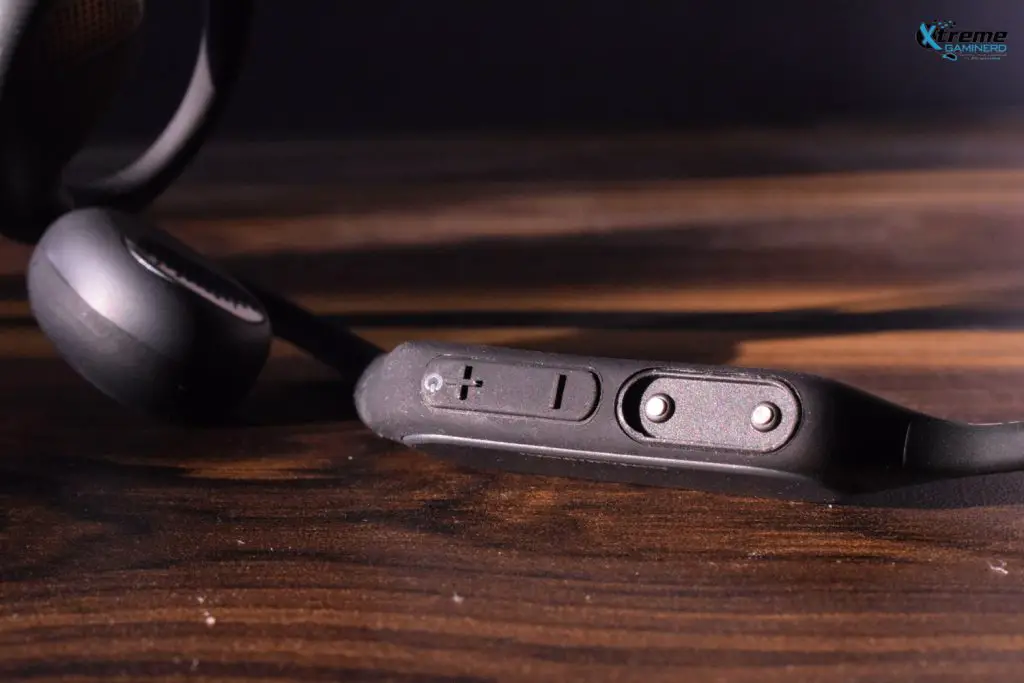 To turn it on, you will need to press and hold the "+" button for 2 seconds and for turning it off, you will have to press and hold for 4 seconds.
Beside those volume buttons, you will find the charging connector. This is a unique charging style and unlike regular mobile devices and earbuds, the cable has a magnetic connector that attaches to the connector on the headphone.
The headphone is charged through the regular phone charger adapter and you will find a USB Type A socket on one end of the provided cable and a magnetic connector on the other end that sticks to the headphone.
The connector sticks only in one orientation and gets repelled if you put it in the wrong orientation. Now even though it sounds cool, the connection is not that strong.
A simple pull can easily detach the connection easily and therefore, you will have to make sure that your headphone is perfectly stable on a stand or desk before connecting to the charger.
Build Quality and Looks
Its build quality is pretty solid. I can confidently say that it is one of the best-made small headphones I have seen in terms of its reliability and aesthetics.
The speaker zones are placed perfectly where they can deliver 100% sound to your ears. At first, I was not sure if they are placed at the right spot on my ears but when I played a clip, I could feel that this is not the case.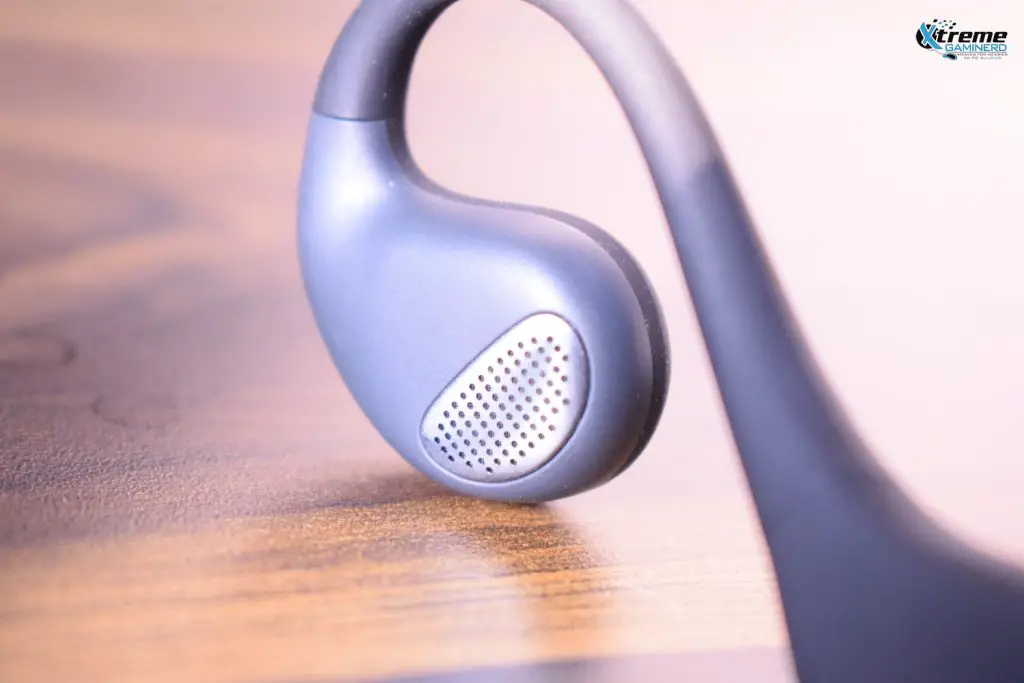 The headphone is pretty lightweight and is easy to carry around. Whenever I feel I have used it enough, I simply drop it to my neck and this eliminates any fear of losing it, unlike earbuds that can accidentally fall off your ears.
Features and Technology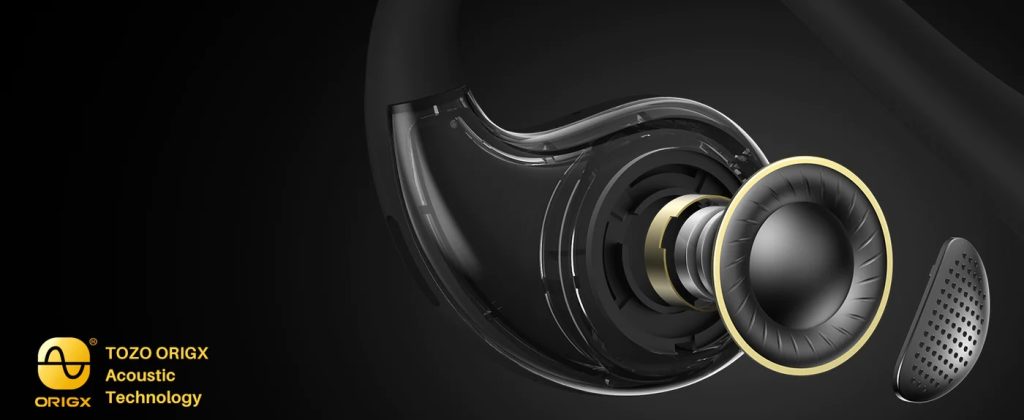 The OpenReal headphone comes with 16.2mm drivers and Tozo's proprietary OrigX Acoustic Technology which the company claims to provide amplified beats and impactful bass.
The company also advertised that it creates Direction Sound to ensure that no sound leaks in the environment. This is a bold claim considering that the earbuds don't go inside your ears at all. We will see how this works in real life in the next section but this sounds interesting and is also pretty necessary for the users.
Just like the Golden X1, it too features touch features but unfortunately, those are limited and are only available on the right earbud. You can pause/play a video/audio file, and control the incoming and outgoing calls but you can not increase/decrease the volume through touch as there are dedicated buttons on the headband itself.
So, no complaints here except it would be great if the left earbud also had the touch features.
Sound Quality
After testing it in various types of audio files, I can confidently say that it is not inferior even to the more expensive Golden X1 in any way. The sound is pretty loud at full volume and without any distortion whatsoever.
The lows, mids, and highs are sharp and crystal clear and the bass is also impressive. Moreover, it is customizable using the Tozo app and here you will get all the equalizer modes to choose from or you can also create a custom one here by yourself.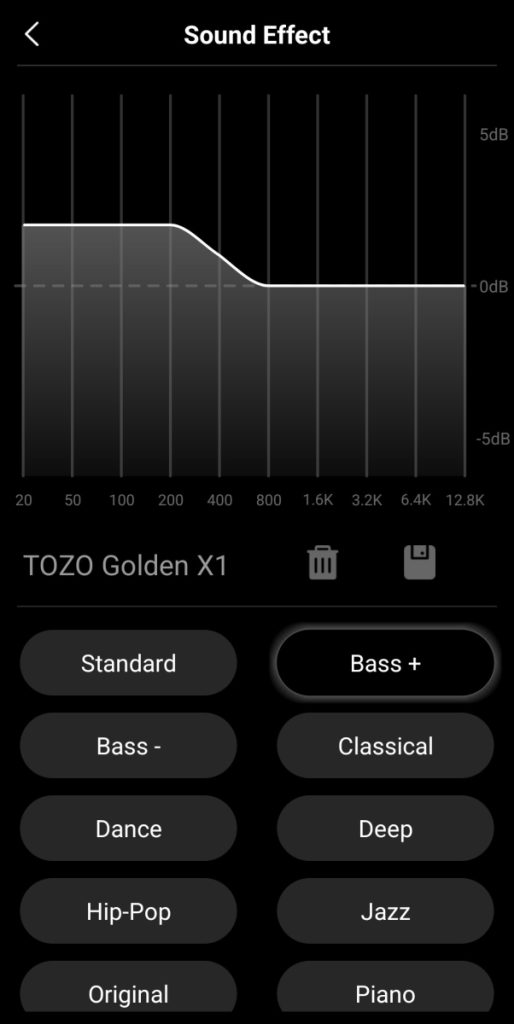 However, the app control is pretty limited compared to the Golden X1 but this is because it is not equipped with noise cancellation. That's NO CON in my eyes as it is not possible to provide ANC on open earphones like these.
The app also shows its battery life which we will discuss in another section but overall, I am more than satisfied with its sound quality considering that it is roughly $100 cheaper than the Golden X1.
The next important thing to examine was to test the claims of the company. As advertised, it is indeed true that there is almost zero sound leakage despite being open. I thought that it won't be possible but I was surprised to see that it gives you full privacy.
Unlike standard earbuds, it doesn't restrict your hearing ability to notice what is going on in your surroundings and that's another positive point but of course, when you play it on high volume, you won't hear any surrounding noise.
Microphone
A good microphone is one of the rarest things in earbuds and unfortunately, the microphone on OpenReal isn't exceptional. The quality of its microphone is similar to what you would get on a mobile phone.
I wouldn't say it is too bad but it is somewhat worse than the Golden X1. I will simply say that the microphone on OpenReal earbuds is just a generic one that will get the job done but be prepared for it to pick up the surrounding noises easily.
Battery Life
The battery is advertised to work up to 14 hours and according to my testing, it lasts somewhere between 10-12 hours which is better than the Golden X1.
One of my biggest fears with it was forgetting to turn it off when I am not using it but it automatically gets turned off after some time if you are not using it. This saves a lot of battery and I believe that 10-12 hours of battery life is more than sufficient for any need.
Conclusion
I am more impressed by Tozo's OpenReal earbuds than Golden X1 due to the fact that it offers almost identical sound quality on a budget. For $50, it's one of the best tech devices I have used till now, and except for a few minor CONs, it brings much more to the table.
Whether we consider its sound clarity, battery life, ease of use, ergonomic design, or touch features, this thing is an absolute bargain. I hope Tozo can work to improve microphone quality on their next sound devices. Except that there are no big complaints.
PROS:
Impressive sound quality with clear lows, mids, and highs
Satisfactory bass quality
Touch features for quick functions
Dedicated app for more control
No sound leakage
Ideal for long time usage
Fits comfortably with no wobble
Great battery life and quick charge
Affordable
CONS:
Unimpressive microphone quality
Uncomfortable fit when lying down
Limited app control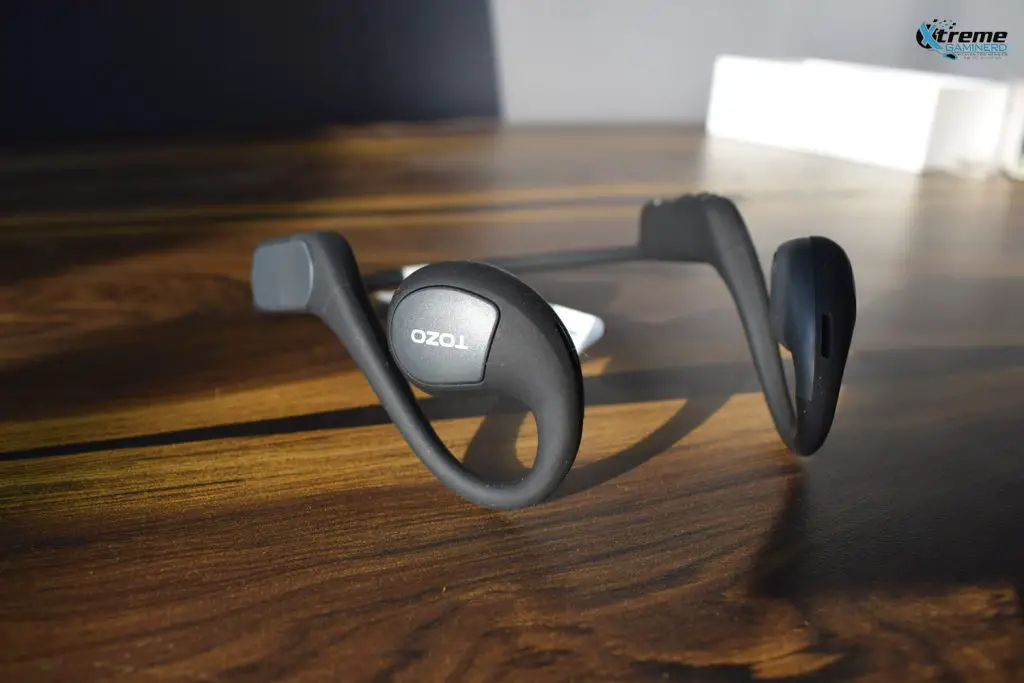 Xremegaminerd Awards