The hype is already in the air, and most PC Enthusiast and gamer are waiting eagerly to get their hands on the latest RTX 3080. The RTX 3080 definitely offers some nice specifications and gives quite an improved performance over the RTX 2080 and 2080 Ti. If you already have bought the RTX 3080, then you might be wondering, which display should you get that will be the best companion for this card.
However, before continuing further, let us know some basic highlights of the RTX 3080. The RTX 3080 (Founders Edition) is approximately 33% faster than the RTX 2080 Ti1)https://www.youtube.com/watch?v=up6P5RdNQzg, 57% faster than the RTX 2080 Super, 69% faster than the RTX 2080 (Founders Edition)2)https://www.youtube.com/watch?v=UQxnYOaaj6k and surprisingly it's even 26% faster than the Titan RTX. Therefore the card is quite capable of performing 4K resolution without any issues.
But, one can even go for a monitor that comes with an ultra-wide display along with a higher refresh rate than that can also be counted as a good option for this card.
Best 4K 144Hz monitor- LG 27GN950-B 27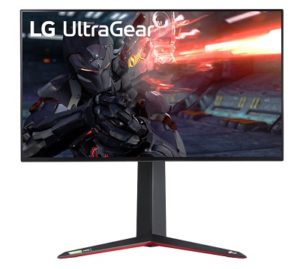 If you want the best picture quality with 4K resolution then consider going with the LG 27GN950-B 27 that comes with some top-notch specifications and features that altogether make it the perfect companion to be used with the RTX 3080. It offers a 27" UHD Nano IPS Display with a resolution of 3840 x 2160 along with IPS 1ms (GtG) 144Hz with VESA DSC Technology.
A few years back you could only have either better picture quality with IPS displays or fast response with TN displays, now you can have both at the same time making fast-paced gaming look better.
This display supports NVIDIA G-SYNC Compatible and AMD FreeSync Premium Pro for tear-free gameplay and smoother gaming session. This is a must needed feature to avoid any type of stuttering or unpleasant transitions while you play on a high refresh rate3)https://www.nvidia.com/en-in/geforce/products/g-sync-monitors/.
This monitor is the complete pack for enthusiasts that don't fall short in any area be it gaming performance or aesthetics. Although the aesthetical feature in it lies more at the back than the front, you will love the RGB ring light behind it projecting different colours on your wall.
Best budget 1440p 144Hz monitor- VIOTEK GN27DW 27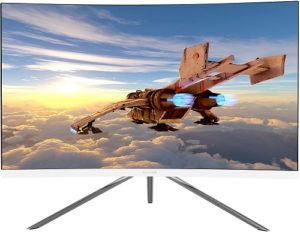 If you are not over-concerned about brands and after service then the VIOTEK GN27DW is a great option and also comes within your budget. Priced at just $259.99, the VIOTEK GN27DW features QHD (2560x1440p) 27-inch display along with a 144Hz refresh rate.
The GN27DW curved monitor features a 178° viewing angle and gentle 1800R curvature. The display panel provides lush, crystal-clear colour reproduction, capturing 16.7 million colours with 1,000,000:1 DCR. Furthermore, the on-screen display options let you switch easily between different viewing modes such as movies, documents, games, etc4)https://viotek.com/shopgn27d-1440p-curved-computer-gaming-monitor/.
It also comes with Integrated PBP and PIP functionality that allows the user to simultaneously view content from a second input source making multitasking and collaboration simple. So you don't miss an urgent video call as you are focusing on gaming.
It also comes with AMD FreeSync and multiple modern-day input options like DP 1.2 or HDMI. It is also covered by Zero-Tolerance Dead Pixel Policy for that is available for 3 years.
Another great curved 1440p monitor- MSI Optix MAG321CQR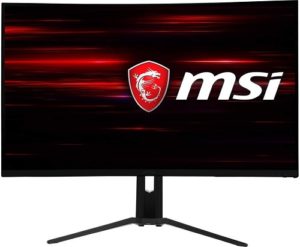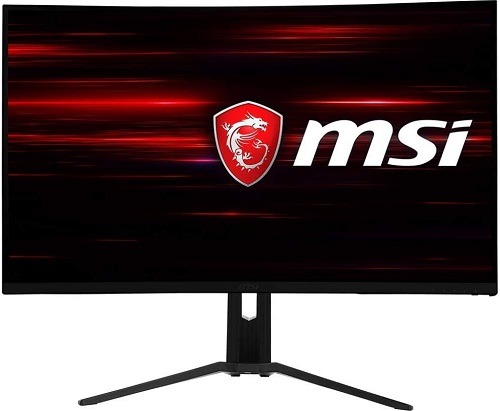 The MSI Optix MAG321CQR is a 32-inch curved Non-Glare Super Narrow Bezel that comes with a 1ms response time along with a refresh rate of 144hz. It offers a display resolution of 2560 x 1440 and True colours – DCI-P3 90% & sRGB 122%. It also offers some important features such as, height adjustments for setting it up according to your comfort and has Anti-Flicker technology and blue light reduction that ensures that the adverse effect of prologue usage is minimal as exposure to blue light over time can lead to damaged retinal cells5)https://preventblindness.org/blue-light-and-your-eyes/.
It is currently priced at $369.99 and can be a perfect choice to be equipped with the RTX 3080. Further, it is coming with a Samsung display unit to complement the entire unit and also offers RGB illumination that can be synced with any other Mystic Light enabled gaming product6)https://www.msi.com/Monitor/Optix-MAG321CQR, producing an awesome ambient lighting effect.
Related: Check monitor-graphics card compatibility
Faster and Quicker- Gigabyte Aorus FI27Q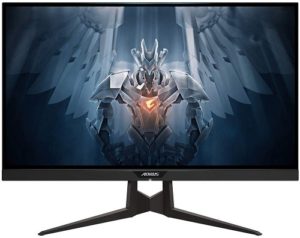 The AORUS F127Q is another good option as a monitor for the RTX 3080. It comes with an advanced 10bits colour IPS display technology that gives you extra-wide viewing angles. It features a 27" QHD display panel with 1ms response time and boasting a resolution of 2560×1440 along with a refresh rate of 165Hz and uses DCI-P3 technology that can provide true colour outputs that are sharper than sRGB.
It is also equipped with RGB lights at the back and can produce nice ambient lighting effects thanks to the RGB FUSION 2 that allows user to customize their lighting effects for different RGB zones7)https://www.gigabyte.com/in/Monitor/AORUS-FI27Q#kf. It also features AMD FreeSync technology along with Blue Light filter, Flicker-free, and most importantly its is covered under ZERO BRIGHT DOT POLICY for a year.
The Dashboard on it is an Aorus Exclusive feature which can show real-time metrics of your computer hardware without using any software like MSI Afterburner and you can disable or enable any metric you want. Lastly, you can adjust the monitor's height or title/swivel it according to your comfort which generally most of the budget gaming monitors lack.
Great high-quality 27″ display- Asus ROG Swift PG27UQ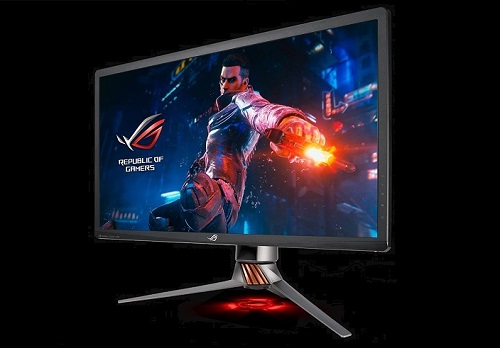 Asus PG27UQ is our first preference as a 27-inch monitor that is best suitable to be used with the Nvidia RTX 3080. The PG27UQ features an IPS display on a 27-inch screen that comes with 178/178 degree viewing angles which means you will enjoy the great picture quality from all angles, unlike the TN gaming panels.
It comes with an IPS display that features a 144Hz refresh rate with a resolution of 3840×2160 pixels fit for RTX 3080. This monitor offers a good balance between quality and performance but the only area in which it falls behind is its response time of 4ms grey to grey.
Taking aesthetics and its looks into consideration, it brings a stylish rear design that comes with a big Asus ROG logo and a logo projector that will project the big eye logo on the object behind the monitor if you want to lit up your room to show your enthusiasm in gaming. However, the projection is not limited to the ROG logo only but can be changed to any other customized light projections with the three black covers that come with it8)https://www.asus.com/Monitors/ROG-SWIFT-PG27UQ/.
Wrapping up
In our topic, we have enlisted a few monitors, that we think can be a good option if you are planning to get a new one for use with RTX 3080. RTX 3080 is indeed the best value high-end card available as of today and can be used with most of the high-end monitors with resolutions from 1440p to 4K presently available in the market. However, it will be depending totally on you and your needs, whether you are looking for super-fast response time or top-notch display quality with vivid colour output.