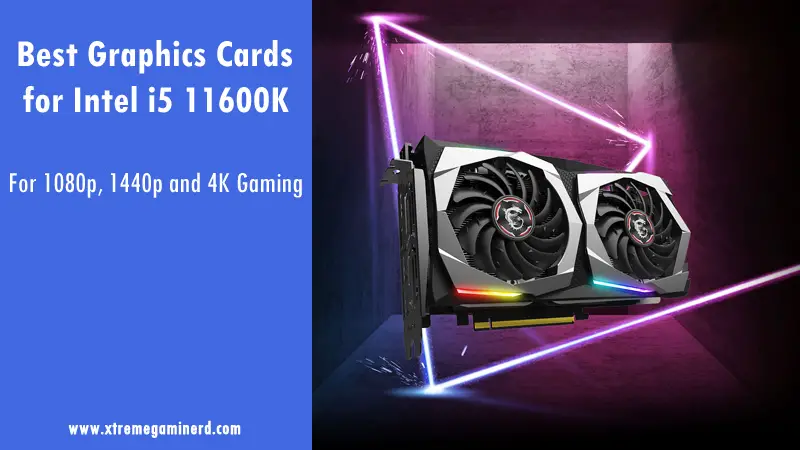 Intel did a great job by providing the faster i5 11600K at a lower price than the 10600K and with a decent graphics card you can reach high fps numbers on the highest settings on different resolutions.
The i5 11600K features 6 cores/12 threads with a base/boost clock speed of 3.9/4.9GHz that is the highest till now we have ever had on an i5. This makes it faster than the previous-gen i5's but the main selling point is of course its price which is very competitive and makes it difficult to choose the Ryzen 5600X over it which is also one of the best gaming CPUs in the market.
Keep in mind that the i5 11600K is very capable of handling even the most powerful graphics cards out there but a balanced PC approach is the best one. A processor that costs less than $300 is better to be used with a graphics card that costs around $500-$600 max rather than with a GPU that costs $1500+.
I say this due to several reasons and therefore recommend the following 6 graphics cards to be used with the 11600K.
Nvidia Geforce GTX 1660 Super
MSI GTX 1660 Super Gaming X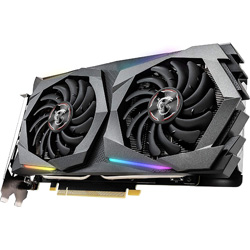 Specifications
Architecture: Turing
VRAM: 6GB GDDR6
Clock speed: 1830MHz(Boost)
Cuda Cores: 1408
TDP: 125W
Summary
The GTX 1660 Super is capable to play any game at 1080p on ultra settings and is even capable to play many titles on high-ultra settings at 1440p resolution. With its powerful GDDR6 6GB VRAM, you don't have to worry about textures, anti-aliasing or shadows
GTX 1660 Super is the only graphics card here that is solely aimed at 1080p gaming and the rest of the cards listed below here are for 1440p or higher. GTX 1660 Super is a very-well designed GPU that has an improved memory configuration over the original GTX 1660.
It features 6GB of GDDR6 VRAM that is sufficient for maxing out textures in most games and comes with 1408 Cuda Cores. The architecture here used is the Turing which was the first one to feature Ray Tracing although the GTX 1660 Super isn't able to do that but it is still good without that as not every game requires Ray Tracing and you need a much more powerful GPU for Ray Tracing effects.
Achieving 60 fps in most titles is very easy for this card and it can also possibly play most games on high settings at 1440p resolution. This only makes it the best value GPU for $250 which doesn't have any competition for this price.
AMD Radeon RX 5600 XT
XFX RX 5600 XT THICC II PRO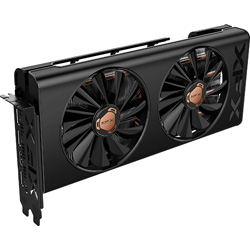 Specifications
Architecture: Navi
VRAM: 6GB GDDR6
Clock speed: 1620MHz(Boost)
Stream Processors: 2304
TDP: 150W
Summary
There is no $300 GPU available today that can beat the RX 5600 XT. Thanks to its powerful Navi architecture, it transcends the Nvidia RTX 2060 and can provide 60 fps at 1440p
AMD's Navi architecture is a solid one and the RX 5000 series was very successful in its launch. Unlike the generation before it i.e., Polaris, AMD now delivered a solid mid-end card that can play most games on ultra settings at 1440p.
RX 5600 XT comes with 2304 Stream Processors and 6GB of GDDR6 VRAM that has a decent memory bandwidth of 336GBps. This card is easily 15-20% faster than the GTX 1660 S and is one of the best affordable choices for high refresh rate monitors if you want to game at 1080p with 100+fps.
Moreover, it features native PCI-E Gen 4.0 support which now comes with the Z590 motherboards on which you are going to use the i5 11600K. This will allow more bandwidth support and nill bottleneck.
Nvidia Geforce RTX 3060
ZOTAC Gaming GeForce RTX 3060 Twin Edge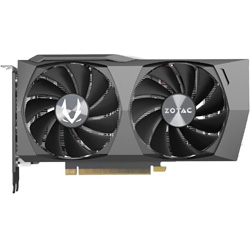 Specifications
Architecture: Ampere
VRAM: 12GB GDDR6
Clock speed: 1807MHz(Boost)
Cuda Cores: 3584
TDP: 170W
Summary
For $20-$30 more, the RTX 3060 is a huge upgrade over the RX 5600 XT. It is capable of Ray Tracing and features a good-sized VRAM for maximum graphics settings
Instead of going towards the RTX 2000 series GPUs that have decently powerful GPUs like RTX 2070 or 2080, I recommend going towards the RTX 3000 series graphics cards as they are cheaper for the performance they deliver.
The first one to choose is the RTX 3060 which although is the slowest among all the RTX 30 series graphics cards but is very much comparable to the RTX 2080. It's significantly faster than the RX 5600XT and comes with 3584 Cuda Cores that is a huge increase over the RTX 2060.
With the new gen powerful RT and Tensor cores, you can now enjoy even Ray Tracing with playable framerates which was not possible with the RTX 2060 at all.
Nvidia Geforce RTX 3060 Ti
MSI Geforce RTX 3060 Ti Gaming X Trio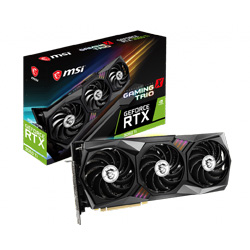 Specifications
Architecture: Ampere
VRAM: 8GB GDDR6
Clock speed: 1830MHz(Boost)
Cuda Cores: 4864
TDP: 240W
Summary
RTX 3060 Ti is the big brother of the 3060 that comes with up to 15% more performance. It although features 4GB less VRAM, the memory is faster and the extra 1280 Cuda Cores helps it process the data quickly
The bigger sibling of 3060 is around 20% faster and weirdly uses less VRAM. The things that make it faster are the amount of Cuda Cores it features and the fast memory. RTX 3060 comes with 3584 Cuda Cores but the 3060 Ti comes with 4864 which is around 1.35X more. This allows faster data processing resulting in more fps.
Another great improvement is the memory specification. It uses a bigger memory interface of 256-bit compared to the 192-bit on RTX 3060. So, even though it has 4GB VRAM less than the latter, it is still faster as hardly there is any game that can fully utilize all the 12 gigs.
RTX 3060 Ti is currently the best choice for 1440p gaming and can deliver 100+fps in many titles.
Nvidia Geforce RTX 3070
Gigabyte GeForce RTX 3070 OC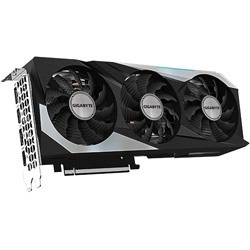 Specifications
Architecture: Ampere
VRAM: 8GB GDDR6
Clock speed: 1815MHz(Boost)
Cuda Cores: 5888
TDP: 220W
Summary
RTX 3070 comes with the price of RTX 2070 but has the power of RTX 2080 Ti. This is a beast GPU that provides a smooth 4K gaming experience and hence, is the best $500 card from the Ampere series
The RTX 2070 was a great 1440p card and when the fans expected the RTX 3070 to be somewhat 10% faster than the RTX 2070, Nvidia delivered much more than that. The RTX 3070 is hugely improved just like the RTX 3060 with 5888 Cuda Cores that are even more than the RTX 2080 Ti and in a direct comparison beats the latter by a few per cent margin.
That's incredible considering that the RTX 3070 is only $500 whereas the 2080 Ti was around $1200 when launched. Coming to the specs, it features 8GB of VRAM and a TDP of 250W. As tested by many reviewers, it reaches 60 fps in a lot of games at 4K resolution. So, it is a very powerful card even for 1440p which makes it ideal for high refresh rate gaming at this resolution.
I believe that you should at least use it with a 144Hz refresh rate monitor if you want the smoothest performance. You can also go with 240Hz refresh rate displays but there are only a couple of games that can achieve 200+fps.
AMD Radeon RX 6800
ASRock RX 6800 Challenger Pro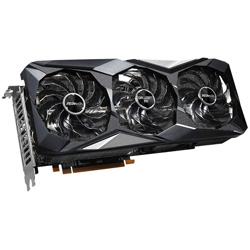 Specifications
Architecture: Navi
VRAM: 16GB GDDR6
Clock speed: 2140MHz(Boost)
Stream Processors: 3840
TDP: 250W
Summary
AMD's RX 6800 is a solid sub $600 GPU that surpasses the RTX 3070 by up to 20% while being only 14% more expensive. It features a whopping 16GB of VRAM and is also capable of Ray Tracing
AMD's RX 6000 delivers Ray Tracing but unlike the RTX 30 series, it is very much behind in this new technology which Nvidia started a few years back. But still, it's a great start for AMD as it has never been in the high-end GPU category so much as it is right now.
The RX 6800 is $70 more expensive which is around 14% more increase in price but delivers up to 20% more performance which makes it a better card when Ray-Tracing is ignored. This is an appreciable alternative to the RTX 3070 and can deliver 60 fps at 4K just like the latter.
It comes with 3840 stream processors and 16GB VRAM that has a memory speed of 16Gbps and a memory bandwidth of 512GB/s. Yes, it is also power-hungry and consumes up to 250W on reference boost clock speed but a vast majority of enthusiast gamers don't care about 50-100W more power consumption.
Winding-up
Right now the acute shortage of all Nvidia and AMD graphics cards will make it hard for you to get even GPU for the original MSRP. I hope that the situation gets better and you will be able to take advantage of the i5 11600K as it should be.
These 6 graphics cards cover all three popular resolutions for gaming and if you want to obtain more potential, you should use one of our recommended Z590 motherboards for the i5 11600K.
If you have any queries or comments, please leave them down below.