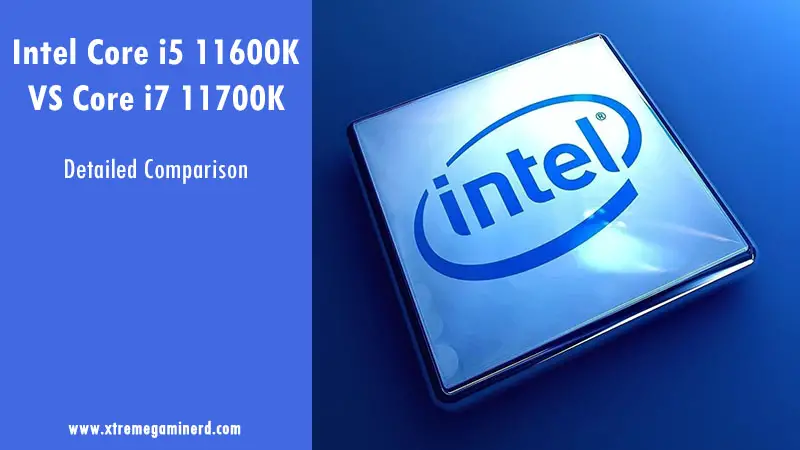 The Intel Core i5 11600K and i7 11700K come with decent specifications that gamers and content creators are looking for. The difference between them varies when we consider different areas like gaming and multi-core performance.
There are some more things to consider when you are looking to buy one of them for your PC build and before you press the buy button, take a look at the following points which shed a light on their similarities and differences.
Specifications and basic differences
| Specs | i5 11600K | i7 11700K |
| --- | --- | --- |
| Code Name | Rocket Lake | Rocket Lake |
| Lithography | 14nm | 14nm |
| Socket | LGA 1200 | LGA 1200 |
| Cores/Threads | 6/12 | 8/16 |
| Clock speeds | 3.9/4.9GHz | 3.6/5.0GHz |
| Cache | 12MB | 16MB |
| TDP | 125W | 125W |
| Integrated graphics | Intel UHD 750 | Intel UHD 750 |
Cores/Threads
The Core i5 11600K brings 6 cores/12 threads similar to the previous-gen i5 and the i7 11700K comes with 8 cores/16 threads.
Most games use max cores up to 6 and therefore the i5 will be sufficient in providing adequate gaming performance. The i7 11700K has two more cores and four more threads which allow better multi-tasking and faster processing in CPU-dependent applications like 3D rendering and video editing software.
This will help the content creators work faster with the 11700K compared to the i5 11600K.
Cache Memory
i7 11700K has 4MB more cache memory than the i5 11600K which makes it overall faster in accessing the programs. The difference although won't be felt a lot in gaming as compared to the difference felt in performance due to higher core count.
Clock Speeds
Both the processors come with the fastest core clock speeds we ever had on the mainstream desktop i5s and i7 processors. The i7 11700K is a better CPU here with its max boost clock speed at 5.0GHz through Intel Turbo Max Technology 3.0 which is absent on the i5 11600K.
Though through ITMBT 2.0, both are equivalent with 4.9GHz as max boost speed. The base clock, however on the i5 11600K is much higher with 3.9GHz as compared to 3.6GHz on i7.
Power Consumption
While the TDP isn't the most accurate measure in determining the accurate power consumption, it is generally the rough idea of how much wattage you can expect the processor to consume at max speed without overclocking.
Both the processors feature 125W of TDP which can increase or decrease based on the usage. On an idle system, the TDP will be much lower than the max TDP.
Motherboard Compatibility
Intel's 11th gen Rocket Lake CPUs use the LGA 1200 socket and are compatible with the previous-gen Z490 chipset as well as new-gen 500 series chipsets that include H510, H560, H570, and Z590.
Integrated graphics
The new 11th gen processors come with the fastest ever Integrated graphics on the Intel processors. Both the CPUs come with Intel UHD 750 graphics which is almost 2 times more powerful than the Intel UHD 630 and are sufficient to play casual games at low resolutions like 720p.
Gaming and Applications
The i7 11700K comes as the winner with around 5-7% more fps on an average in AAA titles while in some games both provide an almost equal number of fps ((https://www.youtube.com/watch?v=7MwQDkivXnY)).
This shows that a few more cores can help the processor to gain some more fps but at the same time the little difference also shows that currently there is hardly any game that hugely benefits from 8 cores compared to 6 cores.
In non-gaming applications, the i7 11700K is far ahead of i5 11600K with some applications like 7-Zip compression showing up to 30% more performance ((https://www.youtube.com/watch?v=PtfzaBZ_J60)).
Cooling Required
When there are more cores and a TDP higher than 100W, the processor will require a better cooling solution.. The i5 11600K can be easily cooled even with a single tower air cooler that has decent specifications but will require a beefy solution like Noctua NH-D15 or a 240mm AIO cooler to unlock its maximum potential in overclocking.
On the other hand, for i7 11700K, it is recommended to go at least with a 240mm or 280mm AIO cooler as it runs hotter. We have recommendations for both the processors and you can check them out from the links below:-
Recommendations for motherboard
i7 11700K will need a more powerful VRM for stable overclocking as more cores will yield higher temperatures both on VRM and the chip. A VRM that has at least 14 power phases or more on the VCore side is recommended to go with the i7 11700K but for the i5 11600K, a 12 or14 power phase VRM is sufficient.
Always check if the VRM is using high-quality components like higher rated power chokes and MOSFETs and comes with decent-sized heatsinks that are designed for optimum airflow. If you want to save time, then you can check our articles on both below:-
Pricing and Conclusion
The i5 11600K is priced at $262 which is very competitive to the best $300 processors available right now including the Ryzen 5600X while the i7 11700K sits at $400. So, for purely gaming purposes, the i5 11600K provides much better value per dollar spent.
I7 11700K, on the other hand, will be better for CPU-intensive applications but will also require a better motherboard for overclocking and a more expensive cooling solution.
Intel Core i5 11600K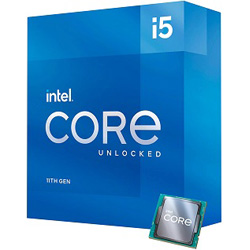 Specifications
Pros
[wp-svg-icons icon="checkmark-circle" wrap="i" color="Green"] Cheaper
[wp-svg-icons icon="checkmark-circle" wrap="i" color="Green"] Requires less powerful motherboard
[wp-svg-icons icon="checkmark-circle" wrap="i" color="Green"] Doesn't require a beefy cooling solution
[wp-svg-icons icon="checkmark-circle" wrap="i" color="Green"] Better gaming performance for less money
Cons
[wp-svg-icons icon="cancel-circle" wrap="i" color="Red"] Slower in multi-core applications
[wp-svg-icons icon="cancel-circle" wrap="i" color="Red"] Doesn't have Intel Turbo Max Boost Technology 3.0
Intel Core i7 11700K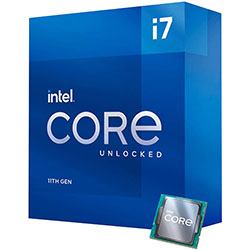 Specifications
Pros
[wp-svg-icons icon="checkmark-circle" wrap="i" color="Green"] 5-7% faster gaming performance
[wp-svg-icons icon="checkmark-circle" wrap="i" color="Green"] Intel Turbo Max Boost Technology 3.0
[wp-svg-icons icon="checkmark-circle" wrap="i" color="Green"] More cores/threads
[wp-svg-icons icon="checkmark-circle" wrap="i" color="Green"] Significantly faster productivity performance
Cons
[wp-svg-icons icon="cancel-circle" wrap="i" color="Red"] Requires powerful VRM and better cooling solution
[wp-svg-icons icon="cancel-circle" wrap="i" color="Red"] Inferior value for price