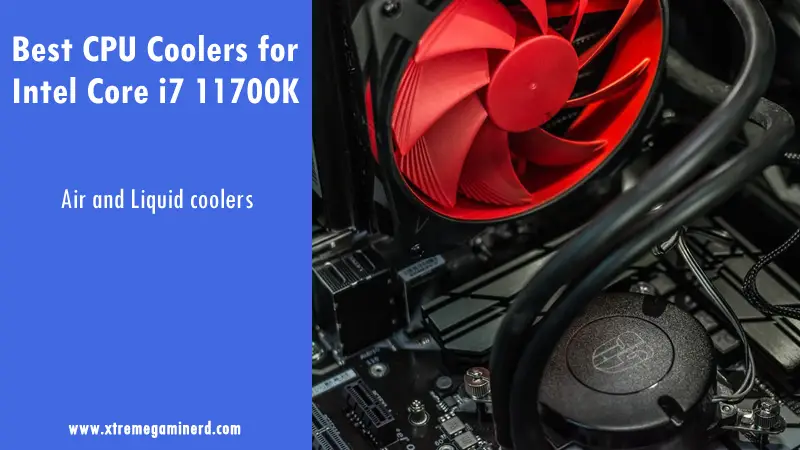 Providing a good cooling solution is a crucial step towards achieving higher performance from your CPU. The i7 11700K is another great chip that needs a cooler which can help it in maintaining proper clock speeds in the overclock without reaching the critical temperatures.
If your processor reaches 80 or 90 degrees Celcius, then there should be no delay in getting a good CPU cooler. As the i7 11700K is an 8 core 16 thread processor rated at a TDP of 125W, you can expect a good amount of heat coming from it. Thankfully, there are a number of solid CPU coolers both in Air and Liquid segments that will allow you to maximize its performance without reaching insanely high temperatures.
Along with installing an effective cooler on it, you should also ensure that you are using a motherboard that has a powerful VRM to support overclocking. These two things are key to higher clock speeds.
So, here are the top 6 CPU coolers I recommend using on the Core i7 11700K.
Scythe Fuma 2
Best Cheap
Specifications
Cooler Type: Air
Heatsink: Dual
Number of fans: Two
Heat pipes: 6
Lighting: No
Summary
With dual tower heatsinks and dual airflow fans, Scythe Fuma 2 is capable of handling most high-end processors at a very cheap price. Its heatsink design is perfect for providing enough clearance for memory modules and the smooth base finish allows perfect contact with the processor
Scythe Fuma 2 is one of the most popular CPU coolers due to its cheap price and premium design. While most dual towers cost nearly $100, this one comes for a fairly cheap price of only $60.
It consists of a dual-tower heatsink that has one side smaller for giving a good amount of clearance for memory modules. Its heatsink consists of a total of 6 heat pipes that are embedded in the aluminium fins heatsink and the smooth base allows proper contact with the processor.
The cooler uses dual Kaze Flex 120mm quiet fans that throw a decent amount of air and are ultra-silent with max noise of up to 25dBA. As the max speed of these fans is 1200RPM, you can't expect them to work in extreme conditions. So take note of that but this type of cooler configuration is adequate for normal situations and should work fine with the i7 11700K.
Be Quiet Dark Rock Pro 4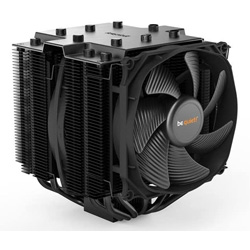 Specifications
Cooler Type: Air
Heatsink: Dual
Number of fans: Two
Heat pipes: 6
Lighting: No
Summary
Dark Rock Pro 4 is a 250W rated CPU cooler that features an all-black dual tower heatsink and silent wings 3 PWM fans for ultra-silent performance. It is very competitive with some of the best available air coolers in the market
Be Quiet Dark Rock Pro 4 maintain its name and delivers what you can expect. The cooler has an all-black heatsink and fans that give it a unique look and makes it perfect for black-themed builds. The heatsinks have cutouts that allow most normal-sized RAM modules to be installed, but make sure you install them before installing the cooler.
There are a total of 7x 6mm copper heat pipes that increases the effectiveness of the heatsinks and a smooth finished base for proper contact with the CPU. Cooling of the heatsink is done by dual 135mm Silent Wings 3 PWM fans that are controllable and generate max noise of only 24dBA at full speed. So, it is directly comparable with the silent performance of Scythe Fuma 2 but cooling is much better.
While in tests, it performs really well, beating many dual tower air coolers, many reviewers hold the position that the black coating hinders the full potential but the difference is only a few degrees.
More:- Best graphics cards for Intel Core i7 11700K
Cooler Master MasterAir MA620M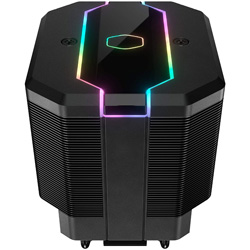 Specifications
Cooler Type: Air
Heatsink: Dual
Number of fans: One
Heat pipes: 4
Lighting: No
Summary
MasterAir MA620M provides the best RAM clearance, thanks to the uniquely designed heatsinks that have great surface area for heat dissipation with proper cutouts at the bottom. It features RGB LEDs on the Lighting badge that adds to its aesthetics making it an ideal combination of performance and looks
For those who have concerns for RAM compatibility and clearance, MA620M is the perfect choice that provides decent cutouts at the bottom while maintaining a large surface area for heat dissipation. Unlike most dual towers, it doesn't use fans on the sides but a single fan in the middle that gets hidden from the view due to its clean design.
This may be a CON for some but in performance, it really isn't behind at all. As there are 6 copper heat pipes embedded into the heatsink and base, the cooling performance works as it should. Also, with the lighting badge on top, it looks really cool with the Cooler Master Hexagonal logo that lights up and is also controllable with the provided RGB controller.
With a single fan, it provides an airflow of up to 53.6CFM and generates noise of up to 30dBA which is definitely much higher than the coolers listed above it. But if you don't mind it, then it is a good combo of performance and aesthetics that will go very well in any high-end gaming build using i7 11700K.
More: Best Motherboards for Intel Core i7 11700K
Noctua NH-D15 chromax.Black
Best Air Cooler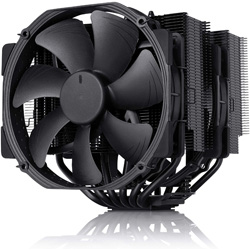 Specifications
Cooler Type: Air
Heatsink: Single
Number of fans: One
Heat pipes: 4
Lighting: No
Summary
Noctua NH-D15 is hands down the champion of air coolers and competes with many liquid coolers. Its performance is uncomparable with other air coolers and you can use it on any high-end processor for overclocking without any worries
The original Noctua NH-D15 was first launched in 2014 and the Chromax.Black is just a different colour edition of the same cooler. Performance-wise it is very well known and can cool any high-end CPU.
It features a massive dual tower heatsink with 6 heat pipes embedded inside the base which helps dissipate heat faster. However, I believe the secret of its unmatched cooling is the fans. It has dual Noctua NF-A15 140mm fans that throw about 89CFM of airflow with a top speed of only 1500RPM.
Here one fan is sandwiched between the heatsinks and the other on one side. Moreover, one more 120mm fan can be installed on the other side for better heat dissipation. These fans not only throw a lot of air but stay silent creating max noise of only 24dBA at full speed.
It is the best choice from all the air coolers if you want no compromise in cooling. The only thing you have to compromise on is LED lighting which is absent here. Also, make sure you have plenty of space inside your chassis as it is big and weighs around 1.3KG.
NZXT Kraken X63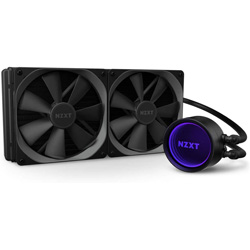 Specifications
Cooler Type: Liquid
Heatsink: 280mm Radiator
Number of fans: Two
Heat pipes: N/A
Lighting: RGB
Summary
Kraken X63 is among the top 3 280mm AIO coolers for it provides amazing cooling performance while remaining silent if not at 100%. The infinity mirror design presents its unique identity and adds more to its aesthetics
Going with a liquid cooler is the best thing you can do for the ultimate overclocking experience. While a 240mm radiator AIO cooler should be Ok but it's always better to get a bigger radiator for an 8 core processor that uses 140mm fans for quicker heat dissipation.
Kraken X63 uses dual AER P140 fans that have a superb airflow of up to 98CFM and air pressure of 2.77mmH2O that are sufficient to cool big heatsinks. These fans, however, can generate noise of up to 38dBA which again you can control through limiting the fan speeds from BIOS or CAM software as 100% of fan speed is hardly needed most of the times.
The CPU block it uses has an infinity mirror design that shows an infinite number of virtual RGB rings for a unique look and is customizable through the CAM software. This cooler is held by many reviewers as the best AIO cooler for $150 that is very effective in overclocking high-end processors.
EVGA CLC 280mm
Editor's Choice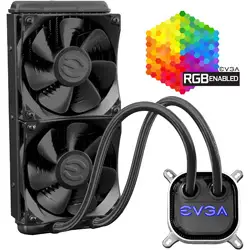 Specifications
Cooler Type: Liquid
Heatsink: 280mm Radiator
Number of fans: Two
Heat pipes: N/A
Lighting: RGB
Summary
EVGA CLC 280mm is hands down the best 280mm cooler to buy. It beats almost every 280mm cooler and is also cheaper. The fan design is outstanding that throws up to 115CFM of airflow with the max speed of 2200RPM
While it produces more noise than most 280mm coolers, it is due to its max speed of 2200RPM which is not needed most of the times. When compared to other AIO coolers of the same size, it outperforms literally every cooler as tested by GamersNexus, Tomshardware and many more.
It features dual FX13 fans that are designed for both high airflow and high air pressure to cool down the radiator as fast as possible. These fans can provide up to 4.20mmH2O air pressure which is insane and helps in stabilizing temperature.
The CPU block is small due to the pump being inside the radiator and is easy to install, unlike many AIO coolers. When compared with other CPU coolers with regards to value for the price, there is no cooler, not even the NH-D15 that can beat it. It is way cheaper than most 280mm AIO coolers with its price sitting at $90. So, it's our best recommendation of i7 11700K.
Masterliquid ML360R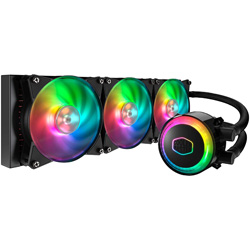 Specifications
Cooler Type: Liquid
Heatsink: 360mm Radiator
Number of fans: Three
Heat pipes: N/A
Lighting: RGB
Summary
A 360mm AIO cooler provides an uncompromisable performance and an 8 core processor is no worry. The ML360R brings a beautiful design that features RGB on both the block and fans, making it one of the most attractive CPU cooler while delivering great thermal performance
Except for Techpowerup, most reviewers achieved great thermal results with the ML360R. It features a 360mm radiator that provides a large surface area for better heat dissipation and triple MasterFan MF120R fans that feature ARGB LEDs that can be controlled via an ARGB controller.
While the airflow and air pressure of each fan are pretty normal but when all of them work together, you can expect much better than what is on the paper. This cooler especially works best at 50% fan speed as shown in many tests and the temperatures are only a few degrees apart from when the fans run at 100%.
Also, this generates much less noise otherwise you can expect the noise to cross 35dBA easily. Overall, it's recommended over most 360mm AIO coolers like Corsair H150i, Kraken X72, Aorus 360 and ROG Ryujin 360.
Final Words
I believe if you want to go with an air cooler for i7 11700K, you should not settle for anything less than a dual tower and if you want to use an AIO cooler, then a 280mm AIO cooler is recommended.
Out of dozens of CPU coolers that can be used for overclocking and maintaining proper temperatures, the above 6 are easily the top-performing cooling solutions.