Processors
Best Gaming Processors for under $100 in 2018
If you are trying to find a budget processor under $100 for your gaming PC, then you are at the right place. Currently, there are more than a dozen processors under $100 that are good performers but not every processor provides the best value for the money. Therefore, it's not necessary that you will get the best out of your CPU if you buy any one of them. If you sit down and try to do some research on which CPU should you get then it will consume a lot of time and you might not be able to decide properly on your own.
Therefore, I did the homework for you so that you don't have to go here and there searching on different sites and youtube channels for what will be good for your build. I have selected the top 4 CPUs that come under 100 dollars but with a good price difference between them that justify their performance. In 2018, these are the processors you should get for your budget gaming build if you want to get the maximum amount of fps in the latest games, be it Fortnite, PUBG, Tomb Raider, Battlefield, CSGO, DOOM or Rocket League.
Top Performers under $100
| Name | Images | Price(May Change) | Links |
| --- | --- | --- | --- |
| AMD A6-9500 | | $52.95 | |
| Intel Pentium G4400 | | $50.00 | |
| Intel Pentium Gold G5400 | | $70.30 | |
| AMD Ryzen 3 2200G | | $94.99 | |
AMD A6-9500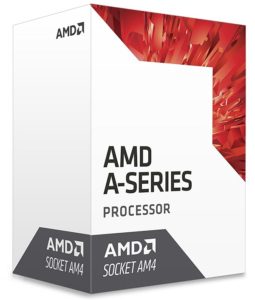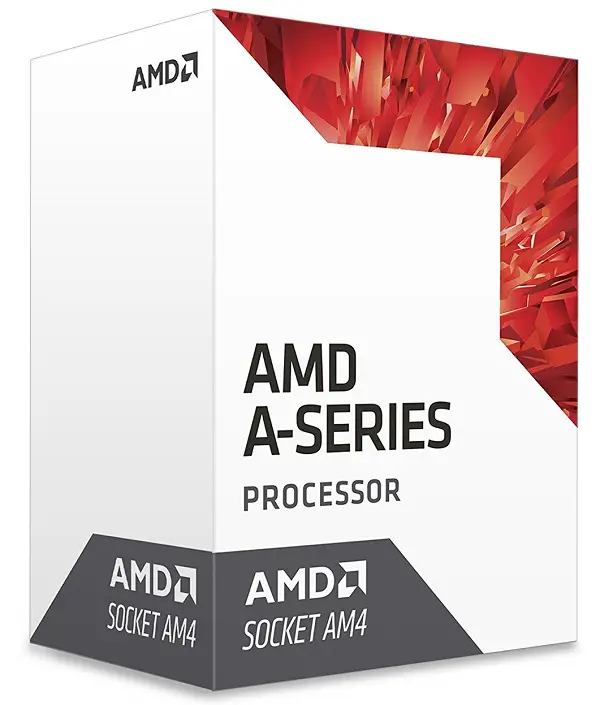 This $50 dual-core processor from AMD is the right choice when you are too tight on budget and just want something that should allow you to play some casual games with a decent budget graphics card. This is not the best solution but this is the perfect solution in case you want something that provides you with the value for your money. Not only the A6 9500 is cheap but it's also one of the latest AM4 processors from AMD which will fit in any AM4 socket motherboard. In future, you can upgrade to a better one if you ever feel that you are bottlenecked in performance but for a $200-$300 Gaming PC, this should be a fine choice as long as you are not combining it with a powerful graphics card. A GTX 1030/1050 should be a good match with it.
This chip is clocked at 3.5Ghz and has a boost clock of 3.8Ghz. It is totally unlocked and you can get some more juice from it if you overclock it. This is what makes it a good choice for $50. Along with good core clocks, it comes with an integrated graphics processing unit which is the Radeon R5 series GPU featuring 6 GPU cores and a GPU core clock of 1029Mhz. Not only you will be able to play games on it with a graphics card but in case you are not planning to buy a dedicated GPU due to money shortage, you can play casual games on the integrated GPU. The GPU it has performs very well when you compare it to the other powerful AMD Athlon processors.
Intel Pentium 
G4400
Intel Pentium G4400 is another $50 processor which beats almost every CPU at this price. Although it doesn't have a powerful integrated GPU, it surely has a faster single core performance which yields more FPS in games when compared to the Athlon processors when tested with the same graphics card. It easily beats the A6 9500 but you have to buy a dedicated GPU in order to make it work properly in games otherwise the A6 9500 is a good replacement from AMD. Both of these processors have their Pros and Cons and it all depends on what situation you are in. I have been using the Pentium G4400 in my $300 gaming build for a long time because of its cost-effectiveness. Using a G4400 with an H110 motherboard is very cost effective and lets you save a lot of money so that you can invest in a better graphics card.
As for its specs, it's a dual-core chip with the core clock of 3.3Ghz. It's locked and therefore can't provide you with more juice unlike the A6 9500 which is unlocked. But still it's a perfect choice for you and I feel no problem in going with this one instead of A6 9500 especially if you are an Intel Fanboy.
Intel Pentium Gold G5400/G5500/G5600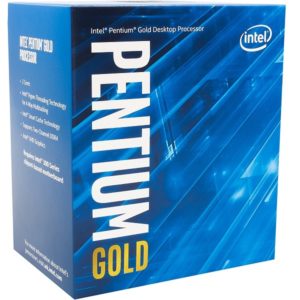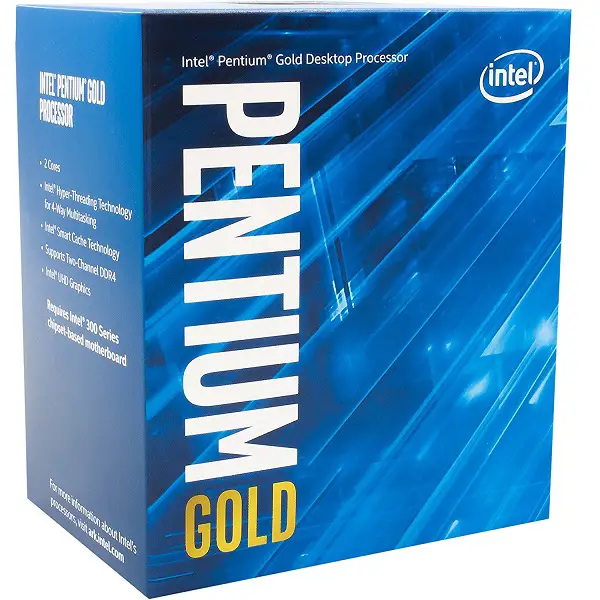 Pentium Gold G5400 is the latest coffee Lake processor that has two more variants: G5500 and G5600. Each of these chip is priced differently and they have different core clocks which justify their prices. Performance wise I don't think there is anything under $100 currently which can beat this chip. It features 2 cores and 4 threads with a core clock of 3.7Ghz which is much higher than the Pentium G4400 and also due to 2 more threads, it performs better in multi-tasking.
When compared to the previous generation Pentiums like the Pentium G4560 it provides at least 10-20% more performance in games with a high-end graphics card. However, with budget graphics cards the improvement may not be that much great but it will be still noticeable. For $70, this is a beast which should help in building a perfect $400-$500 Gaming build. Similarly, the other two higher clocked chips: The G5500 and G5600 can be used if you want some more performance. The G5500 is priced at $82 while the G5600 is currently priced at $95(Prices change on a daily basis).
AMD Ryzen 3 2200G
AMD's Ryzen 3 2200G is the perfect all-rounder processor that excels in everything. It's an APU which comprises both the CPU and GPU and this GPU is not a casual one, but actually, the Vega 8 graphics which is AMD's currently best-architectured graphics processor you can get into a processor. AMD Ryzen 3 2200G costs $95 and features 4 cores and 4 threads which you can't get from any Intel processor under $100. This makes it a perfect choice for those who want to build a powerful gaming PC that is also capable of handling multitasking.
Although Pentium Gold edition processors are faster in single core performance, this chip beats all of them due to its powerful CPU+GPU combination. You can use a cheap B350 motherboard and overclock it to get more performance for free. The performance boost will not be very little but actually much noticeable if you overclock both the CPU and GPU. Therefore, I recommend buying an aftermarket CPU cooler with it if you want lower temperatures and stable overclocking. And remember that you can easily get up to 20% increase in performance in most of the games when you overclock it.
Specs wise, it features a core clock of 3.5Ghz with a boost clock of 3.7Ghz. Its GPU consists of 8 GPU cores and is clocked at 1100Mhz. As it is also unlocked, you will be able to push it further with the AMD Ryzen Master software even if you use a budget CPU cooler. Among all the processors I listed, it's much closer to $100 and is worth every penny.
CPU List (Prices as of 30th Sept 2018)
| CPU | Image | Price | Links |
| --- | --- | --- | --- |
| AMD A6-9500  | | $50 | |
| Intel Pentium G4400 | | $63.94 | |
| Intel Pentium Gold G5400 | | $78 | |
| AMD Ryzen 3 2200G | | $98.89 | |