I remember when I owned a Gigabyte AX370 Gaming 5 motherboard, Gigabyte Fusion was the only choice to control the RGB LEDs on my motherboard.
Sadly, it just didn't control every LED zone on my motherboard and even displayed different colors sometimes.
Gigabyte is known for its pretty awful compatibility with different components and has issues in detecting graphics cards, RAM, Fans, and AIO coolers. Therefore, many users are looking for RGB Fusion 1.0 and 2.0 alternatives that can give them control over their PC components better than this software can.
In this post, we are going to list out the top 5 RGB Fusion alternatives that work seamlessly with most RGB components made by different manufacturers.
So, whether you are owning a Gigabyte motherboard, a Corsair CPU Cooler, an Asus graphics card, or peripherals from brands like SteelSeries or Cooler Master, you will be able to control each component individually and make them sync together.
SignalRGB
SignalRGB is a fantastic Open Source program that lets you control different PC components and accessories made by different manufacturers. You will be amazed to see how good it works compared to most branded RGB software especially RGB Fusion.
SignalRGB gives you the flexibility to choose from hundreds of free presets for your computer and will sync all the components together. You can individually control each component and customize the RGB lighting with many advanced options.
Perhaps one of the best features of this software is that it allows you to make a layout of your whole PC setup where you can individually pick each and every component in a particular order and make them align like they are in your setup.
This makes it easier to customize and create awesome sequential effects that blend with other components. You can find all the supported devices here.
OpenRGB
OpenRGB is still the best open-source RGB program for customization. It is compatible with most RGB devices independent of what brand you are using for your hardware, just like SignalRGB.
It is compatible with most Gigabyte motherboards that were supported in RGB Fusion 1.0 and 2.0. So, it is surely the best alternative to RGB Fusion if you don't want to stick to any branded RGB software.
It has a smaller interface but gives you all the options to customize RGB LEDs on each component and peripheral. Options like mode, colors, speed, and brightness are changeable and you can sync all the components together if you want to.
It is getting constantly revised and is becoming better and better every day. So, definitely check it out if you have RGB devices from multiple vendors.
JackNet RGB
JackNet RGB is another open-source software that is free of cost and has an additional Pro version which cost $5/month or $15 one-time payment for lifetime usage.
The free version already has all the features you are getting on OpenRGB and Signal RGB. You can individually control each component or sync them together irrespective of the RGB device you are using as it is compatible with multiple branded RGB devices.
You can create unlimited profiles and if you get into any problem, they have their Standard Support to sort out your problem.
Now the Pro version has some extended features that you might be interested in. It can allow RGB sync over LAN and you get several custom app themes to change the standard one when you get bored.
MSI Dragon Center
Although not completely bug-free, MSI Dragon Center is surely one of the best RGB software to control different components and also gives you MSI Game Boost feature. I was able to control different RGB devices from this software including MSI, Corsair, and SteelSeries RGB devices.
The Dragon Center has a dedicated feature called "Mystic Light". Once you open it, you will find all your RGB devices listed here.
If you want to let Dragon Center take control of every device, make sure you uninstall all other RGB software to avoid any conflicts because Dragon Center just can't save a profile properly and won't let you change the effects of other components if they are controlled by their official brand software.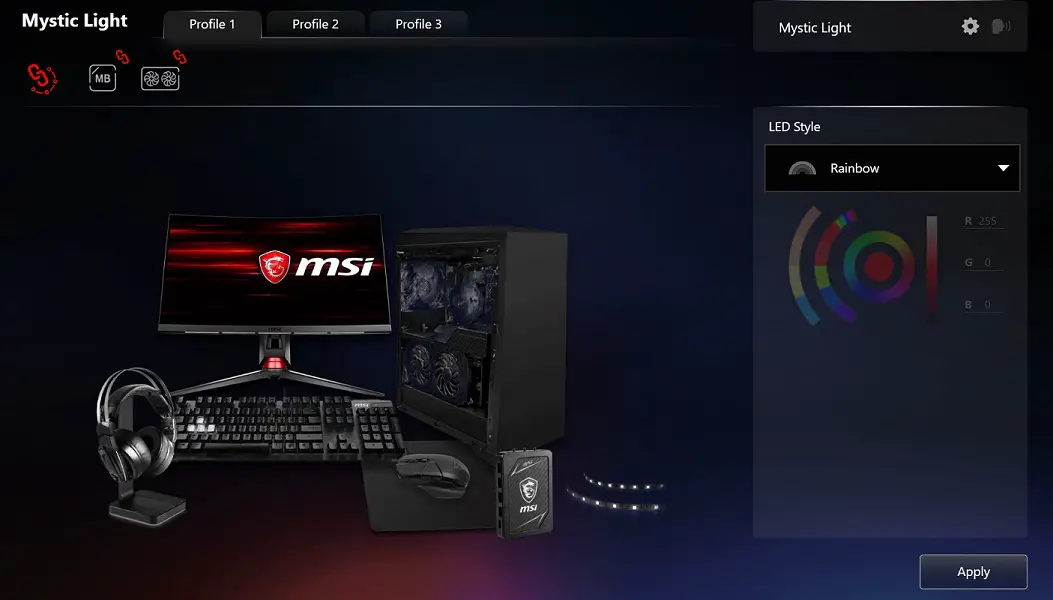 From the interface, it gives you the option to choose the color and modes depending on what your RGB devices are capable of.
By choosing a single effect, you can simply click on the "All Sync" icon and all your RGB devices will produce the same effect syncing with each other.
Definitely one of our top recommendations for controlling the RGB devices and a better option than RGB Fusion.
Corsair iCUE- Brand Exclusive
If you want to use only branded software, then, unfortunately, there aren't a lot of them that can replace the RGB Fusion.
The problem with most of these exclusive programs is that they generally don't support RGB devices from different manufacturers. So, in case you are using only Corsair devices, Corsair iCUE is pretty dope in controlling and customizing the RGB LEDs.

Whether you use any Corsair peripheral or a component inside your chassis, you can create individual effects on each device and even produce layers of different effects to create your own unique RGB effect.
Its support is fantastic and there is little to no issue with compatibility.
Other Brand Exclusive Software
In terms of customizability, we prefer Corsair iCUE over the others but if you are using devices from other brands like Cooler Master, Razer, or Logitech, it is better to install those exclusive programs to control your peripherals.
Each branded device can be controlled individually with its own software without any conflict between two devices as these programs generally don't detect devices from other brands. The CON here is that you can't sync all of your devices if you are using different branded devices and different software for each.
Final Words
The only best alternatives to RGB Fusion are mostly Open Source applications. While some branded apps like MSI Dragon Center give you the flexibility to control other branded devices, most branded applications like Corsair iCUE, MasterPlus, Razer Synapse, etc. are exclusive to their own devices.