Last month BestBuy listed a pre-built CyberPowerPC gaming PC that comes with one of the most hyped entry-level GPUs from Intel i.e., the DG1 Iris Xe. The pre-built PC was quickly sold out, of course, as there is no GPU to buy and who wouldn't like to get a gaming PC for $750 that features i5 11400F and other decent specs?
Well, one Youtuber with the channel name ETA Prime got the chance to buy it for the MSRP and he showed how exactly the new graphics card looked. You can click on the images to enlarge.
As you can see that this edition is made by Asus and uses a passive cooling solution with no fans whatsoever. That is because it is not a high-end gaming graphics card but is directed towards providing entry-level performance at 1080p or lower resolutions. It was before thought that the GPU will perform similar to something like RX 550 but as benchmarked by ETA Prime it is definitely going to be one of the most popular entry-level graphics cards in the market if there is no shortage problem.
The card features a single slot design and is roughly a palm-length long. It doesn't require any external power connector will receive sufficient power from the PCI-E slot. It features 4GB of LPDDR4 memory running at 2133MHz, 128-bit Bus Width, memory bandwidth of 68.3GB/s, and GPU clock of 1500MHz.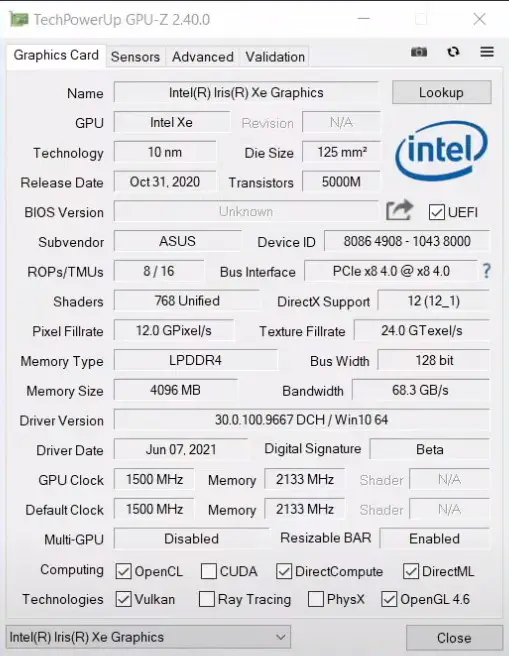 Benchmarks show that the card is able to provide 60+ framerates on most low-medium graphically intensive games running on low to medium settings at 1080p resolution. Esports games achieved much more than that even on high settings. Let me summarize what ETA Prime obtained in each game on average:-
Forza Horizon- 1080p Low- 62 fps
Injustice 2- 1080p Low- 60 fps (Consistent)
Overwatch- 1080p Med- 83 fps
Fortnite- 1080p Performance mode- 151 fps 
Genshin Impact- 1080p Med- 60 fps (Consistent)
Rocket League- 1080p High- 87 fps
GTA V- 1080p Normal- 86 fps
CyberPunk 2077- 720p Low- 29 fps
RDR2- 900p Low- 38 fps
While ETA Prime was not impressed, compared to the Vega 8 GPU from AMD Ryzen 7 5700G, Intel DG1 Iris XE is equivalent to Vega 8 in graphics performance. While Ryzen 5700G is an APU that can be overclocked even further, you can't actually buy it.
The hope is that Intel soon launches its DG1 and DG2 graphics cards in the market to fulfill the demands of the gamers which Nvidia and AMD aren't able to do. As the gamer community is made up of a huge percentage of entry-level gamers who can't afford a mid-end or a high-end graphics card, Intel's DG1 Iris XE shall be sufficient for most of them as currently there isn't any buyable CPU with such integrated graphics that can compete with it.
Again, thanks to ETA to be one of the first ones to show the real benchmark scores of this new GPU. You can watch the whole video here.