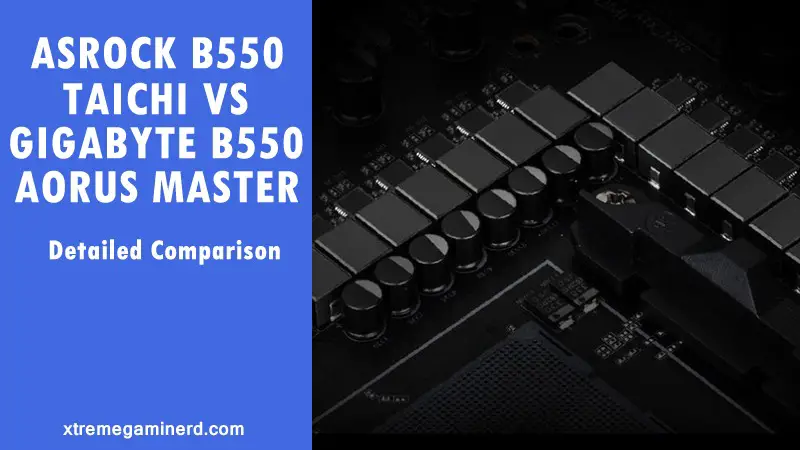 ASRock has the B550 Taichi while Gigabyte has B550 Aorus Master at the top of the chart in the B550 lineup. Both are aimed towards overclocking enthusiasts and gamers who want to maximize the potential of their systems and make their PCs future proof.
While the B550 chipset is inferior to the X570 chipset but most of the enthusiast B550 chipset boards do give X570 good competition. In case you have opted to go with a B550 motherboard and want something that doesn't make you compromise, then the B550 Taichi and B550 Aorus Master are among some of the boards you can consider. I will take each section of these motherboards and compare them so that you can make up your mind in your selection.
And do not forget to check the previous comparisons we have posted on the site
VRM

The ASRock B550 Taichi features a 16 power stage VRM that uses the Renesas RAA 2229004 controller and uses ISL6617A phase doublers. The B550 Aorus Master also features a 16 power stage VRM but with the Infineon XPDE132G5C controller that can handle more current than the controller on B550 Taichi.
While both of them have a 16 power phase VRM, the Master doesn't use any doublers and its Mosfets are rated at 70A each while that of Taichi is rated at 50A totalling in 700A. The Aorus Master can provide a total of 1,120A current support which makes it more than enough for any high-end Ryzen processor fit for overclocking. While both of these are ideal for a processor like Ryzen 3900X that has 12 cores and 24 threads, Master theoretically takes a lead.
Over them are large heatsinks with copper heat pipes for dissipating heat but the Aorus Master has a fins-array aluminium heatsink that is more capable than a traditional heatsink design because it has better airflow due to the spacing between the fins.
RAM support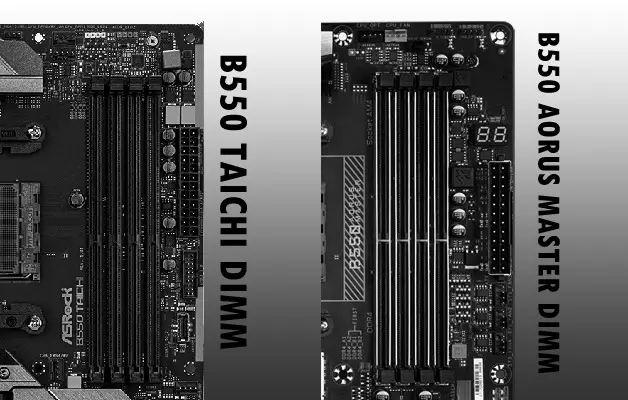 The B550 Taichi supports up to 5000MHz with the current 3rd gen Ryzen processors and up to 5200MHz with future Ryzen CPUs and APUs. B550 Aorus Master on the other hand supports up to 5200MHz with the 3rd gen Ryzen CPUs and up to 5400MHz with future Ryzen CPUs and APUs.
PCI lanes distribution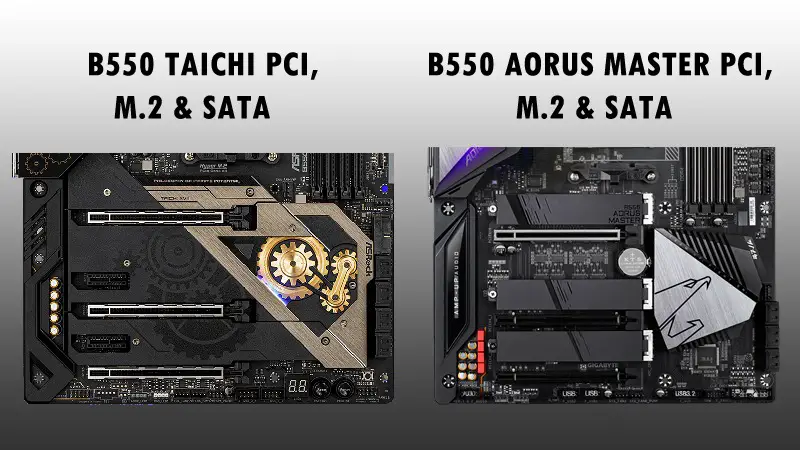 On the B550 Taichi, there are 3x PCI-E x16 slots, two of which are Gen4 and the third one is Gen3. This is different from most of the B550 motherboards which bring only one PCI-E x16 slot as Gen4. The B550 Aorus Master also has 3x PCI-E x16 slots, only the first one being Gen4 and the rest two are Gen3.
B550 Taichi has a support of up to 3 way AMD CrossfireX while the B550 Aorus Master supports only 2 way CrossfireX which is not listed on the official product specs page. On the Taichi, the first two PCI-E x16 slots share bandwidth with each other and use 16 PCI lanes from the CPU. So, if you use two AMD GPUs in CrossfireX mode, they will run at X8/X8 while the third PCI-E x16 slot runs at X4 which uses PCI lanes from the chipset.
There are 2x PCI-E x1 slots on it which share the bandwidth with the third PCI-E x16 slot and if any one of them are occupied, the PCI-E x16 slot will run at X2 which is not good for any graphics card.
On the B550 Aorus Master, only the first PCI-E x16 slot uses PCI lanes from the CPU and shares bandwidth with the primary 2nd and 3rd M.2 connector which will make it run at an X8 mode if an NVME SSD is installed in the 2nd or 3rd M.2 connector while this isn't the case on the Taichi. Taichi, though has one less M.2 slot but installing a second M.2 NVME SSD won't make the primary PCI-E x16 slot run at X8.
On Taichi there are only 4x SATA ports but on Aorus Master there are 6, but the Taichi doesn't have any restriction on using all of them while the Aorus Master has its PCI-E x16_2(Third PCI-E x16) slot sharing bandwidth with the SATA 3, 4, and 5 ports. If any of these SATA ports are used, the PCI-E x16_2 will run at X2 mode. So, in my opinion, Aorus Master is an inferior option to the Taichi even though it has more M.2 connectors and SATA ports.
Troubleshooting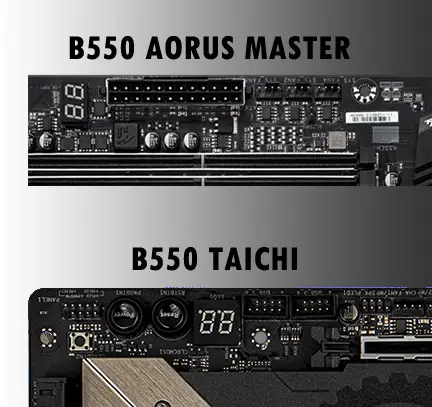 B550 Taichi has overall better troubleshooting features than the B550 Aorus Master. On the Aorus Master, you will get an Error Code Display and Debug LEDs along with a Q-Flash Plus button at the I/O for updating the Bios.
Except for the Debug LEDs, the Taichi has all of them and some more basic features which are required for easy troubleshooting. On it, you will find an Error Code Display, Power and Reset buttons, Clear CMOS button onboard and at the I/O, and a Bios Flashback button. If you know how to use the Error Code Display AKA Dr Debug with LEDs, then you won't need the Debug LEDs anyway. You can check out these Debu Error Codes if you want to know what each code means.
Cooling and Aesthetics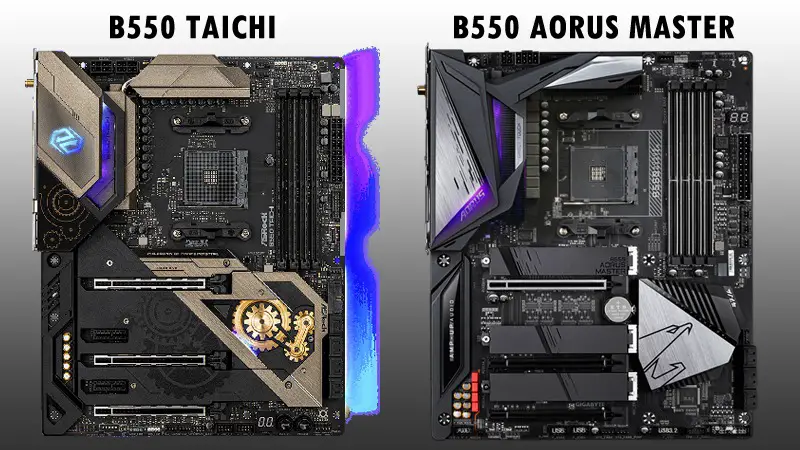 Both of these motherboards use a 6 layer PCB and have appealing looks but the B550 Taichi features a unique design with chrome light-yellowish heatsinks that match with the heatsinks on the chipset and a mechanical wheel design on the chipset to make it look modernistic. Both of them feature RGB inbuilt lighting but the Taichi has LEDs at the right edge of the PCB also which isn't present on the Aorus Master.
Taichi has 2x RGB and 2x ARGB headers while the Aorus Master along with having these 4x headers also have a CPU cooler LED strip header. For chassis fans, CPU fan, and AIO pumps, both of these have 7x headers in total.
Bios
The B550 Taichi has a single 256Mb AMI UEFI Legal BIOS while the Aorus Master has Dual 256Mb AMI UEFI Legal BIOS. The Aorus Master, however, doesn't have a switch which can put difficulty for a lot of users if they run into malfunctions multiple times on a single BIOS.
I/O and Internet Connectivity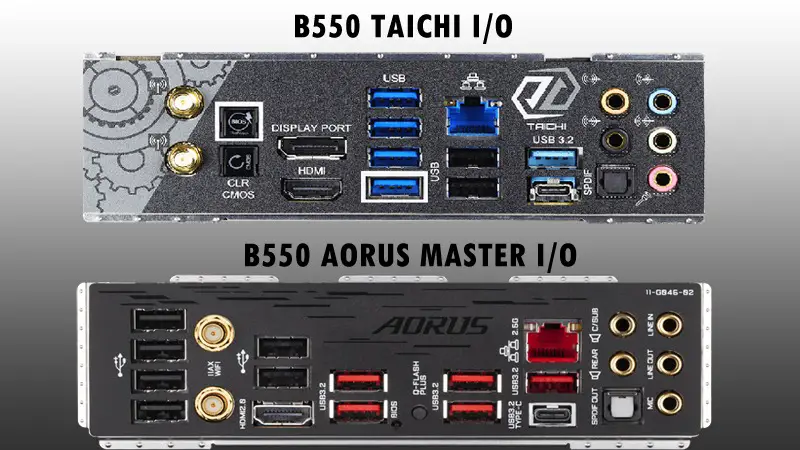 B550 Taichi has a rich I/O with 8x USB ports(1x USB 3.2 Gen 2 Type A, 1x USB 3.2 Gen 2 Type C, 4x USB 3.2 Gen 1 Type A and 2x USB 2.0 Type A), 1x HDMI and 1x DP connectors for display, 1x Intel 2.5G LAN and 6x Audio jacks.
The B550 Aorus Master is unique and unbeatable at the I/O. It features a total of 12x USB headers(5x USB 3.2 Gen 2 Type-A, 1x USB 3.2 Gen 2 Type C, and 6x USB 2.0 Type A), 1x HDMI connector for display, 1x Realtek 2.5GbE LAN and 6x Audio jacks.
For wireless connectivity, both of them feature an inbuilt Intel Wifi 6 adapter and Bluetooth 5 support.
Pricing & Conclusion
ASRock B550 Taichi is priced at $300 while Gigabyte B550 Aorus Master will cost you $280. Both of them are rich in features and in some areas, the Taichi takes the lead while in some, Aorus Master looks better. It's difficult to choose a winner from them and the only way it can be done is to figure out your needs. If Aorus Master has the features which you need, then go with the Aorus Master and if only Taichi has the solution for you, then go with the Taichi. Let me know what do you think of these motherboards in the comments section below!
---