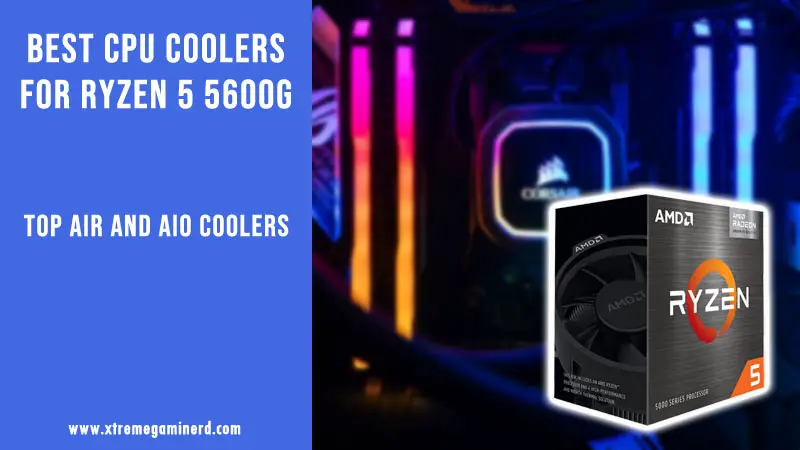 AMD's top-notch APUs fall in the Ryzen 5000 series. The second most powerful desktop APU Ryzen 5600G is capable of providing ideal performance in gaming even at 1080p resolution. Although you can't go far with the graphical settings in AAA titles, compromising some settings and playing less-graphical intensive titles are the best options for this APU.
Ryzen 5600G features 6 cores and 12 threads clocked at 3.9GHz with a max turbo boost of 4.4GHz. However, this limit can be broken with the help of an aftermarket good-performing CPU cooler. In 2022, it's stupid to think of getting 100% potential of a CPU with the stock cooler. Although the Ryzen 5600G comes with a decent stock heatsink which is the Wraith Stealth, it won't help you much in overclocking your GPU and CPU for a longer time.
For this purpose, you need something that will not only maintain your APU temperature lower than the stock heatsink but also result in stable clock speeds for consistent gaming or non-gaming loads.
Therefore, I recommend the following top 5 CPU coolers that will help you achieve maximum performance without overheating your precious APU chip.
---
Thermaltake Contac Silent 12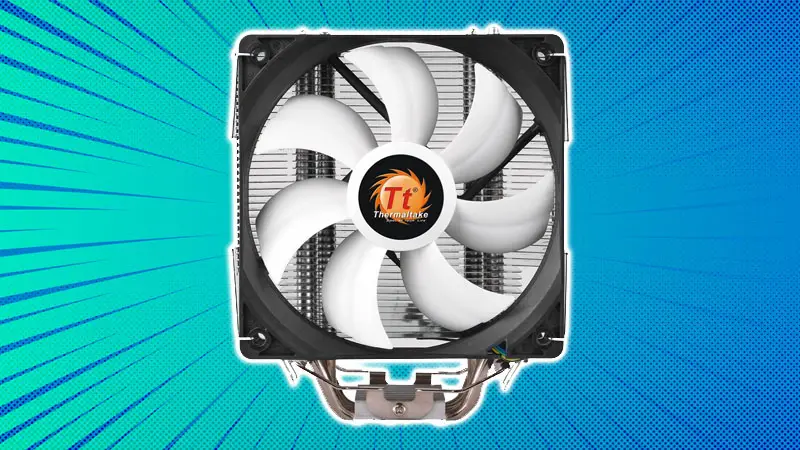 Despite being not so popular right now, the Contac Silent 12 is the best budget cooler I have ever used. While its heatsink fins aren't strong like the bigger air coolers, they do a great job with the assistance of copper heat pipes to eliminate the heat.
One of the reasons why this cooler works so good is that it has a high air-pressure fan that despite having not very high RPM, can provide high air pressure of up to 1.68mm-H2O and high airflow of up to 74CFM at just 1500RPM. This is rare to find in most CPU coolers which is why it is so efficient in cooling any mid-end processor.
You can read its full review as we tested it several years ago. At a cost of $25, this will be the best choice you will ever make for any processor you want to overclock without spending around double its price.
---
Cooler Master Hyper 212 Black Edition RGB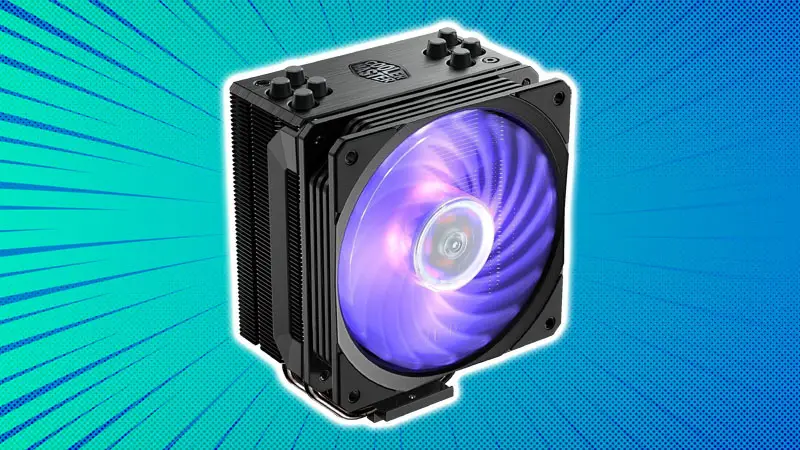 If you have been a member of the PC Master Race for several years, then it's likely that you remember the Champ Hyper 212 cooler from Cooler Master. That cooler has been revised multiple times to provide better cooling and aesthetics. Currently, we have the Hyper 212 Black Edition RGB which features a fully black heatsink with RGB 120mm fan.
This heatsink is improved significantly over the past editions and looks much better than the Hyper 212 edition we have reviewed in the past. It comes with 4 heat pipes that stay in direct contact with the CPU. And as usual, the black heatsink fins are more effective in absorbing the heat from the CPU. The SF120R RGB fan then cools down the heatsink giving bright light effects which you can customize through different RGB software.
It's currently the No. 1 Seller in CPU cooling solutions on Amazon at the time of writing. This is simply because the majority of PC builders are looking for something that fits their budget and provides effective cooling at the same time.
---
Be Quiet Dark Rock Pro 4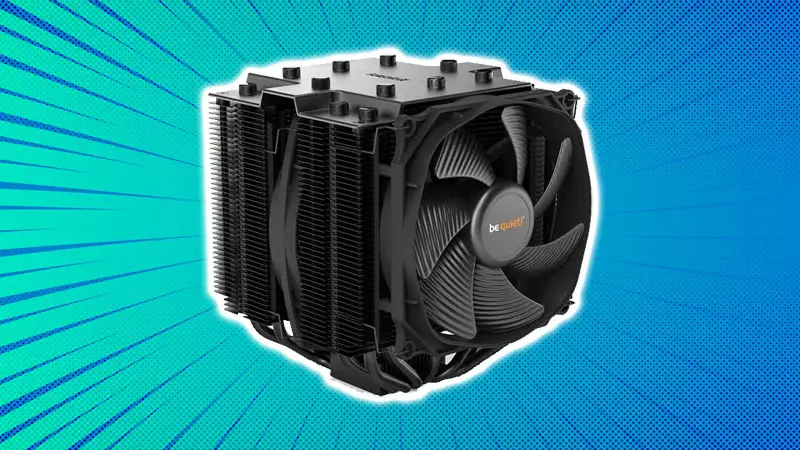 While single tower coolers will work for most Ryzen 5600G owners, some enthusiasts want to squeeze as much juice they can. If you are one of those, then thankfully we have great CPU coolers like the Be Quiet Dark Rock Pro 4. While there are a lot of dual tower CPU coolers, this one is cheaper for the performance it offers.
Related- Best Motherboards for Ryzen 5600G
It comes with big dual fully black heatsinks with dual fans one of which is sandwiched between the heatsinks. This creates a pull-push configuration which results in faster heats dissipation. There are also seven copper heat pipes that quickly transmit the heat to the heatsink fins and with the Silent Wings PWM fans, you not only get superb cooling but also a noise-less operation that is hard to achieve with most CPU coolers.
---
Corsair iCUE H100i RGB Pro XT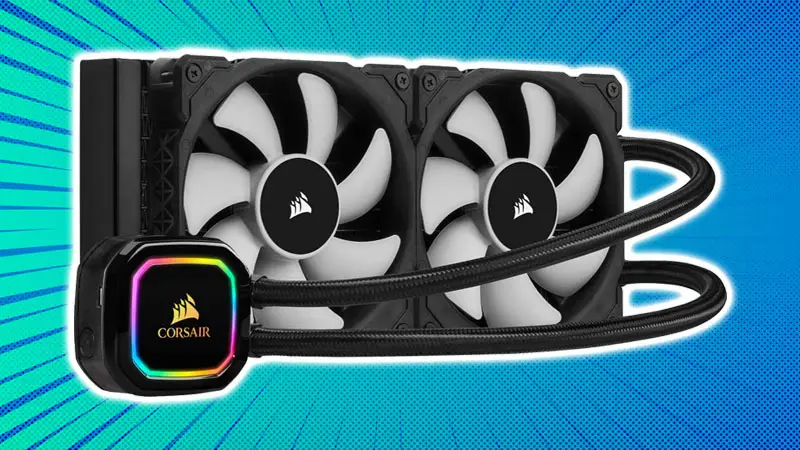 We tested the H100i V2 AIO cooler a few years back and it achieved our XG-GOLD Award for multiple reasons. Corsair produces fantastic air pressure fans that help in achieving lower temps without spinning too fast. With the passing of time, Corsair improved this model and we have the brand new iCUE H100i RGB Pro XT.
It features the same 240mm radiator but improvised operation with the help of a newly designed CPU block equipped with ARGB lighting. The fans used here are the ML120 PWM that run at a speed of 400-2400RPM and are able to achieve low noise operation(Although not as silent as the Be Quiet fans).
There is one thing more that I didn't like which is the absence of RGB in Fans. While RGB block looks good enough but depriving it of the ML fans with RGB LEDs takes away a lot of aesthetics. However, the cost of this AIO cooler is equal to the Dark Rock Pro 4 which makes it worthy of your purchase.
---
MSI MAG Series CoreLiquid 240R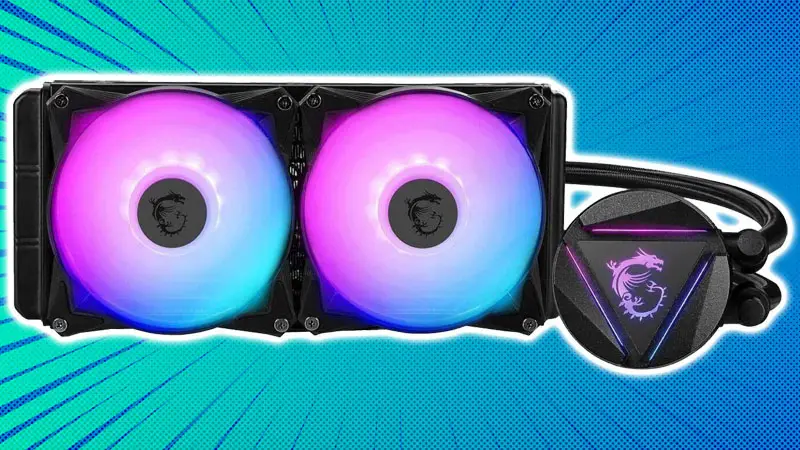 Lastly, we have the CoreLiquid 240R which is a fantastic choice for any high-end processor. It comes with both great aesthetics-performance combo that one would want to show off on his PC. While MSI is relatively new in the cooling industry, it has done a very well job in producing fine CPU coolers.
This particular model comes with an RGB LED-equipped CPU block and RGB fans that give it an advantage over the Corsair H100i. Moreover, these fans are more silent than the ML120 Corsair fans which is an important factor to consider it over the Corsair AIO cooler. Yes, it is a few bucks more expensive but it certainly provides a better value than the Corsair cooler.
It will be more than enough for Ryzen 5600G and even the 5700G that features more cores and threads. I don't think there is any need to go above this one as 5600G isn't a very demanding chip that needs a lot of cooling.
---
Wrapping Up
From $25 to $100, this list contains the best performing CPU coolers for Ryzen 5600G and the likes of. I could have added more to the list but I consider many factors before compiling the final list such as cost, value per dollar, compatibility, aesthetics etc.
If you have any queries regarding CPU cooling or PC builds, feel free to ask in the comments down below.