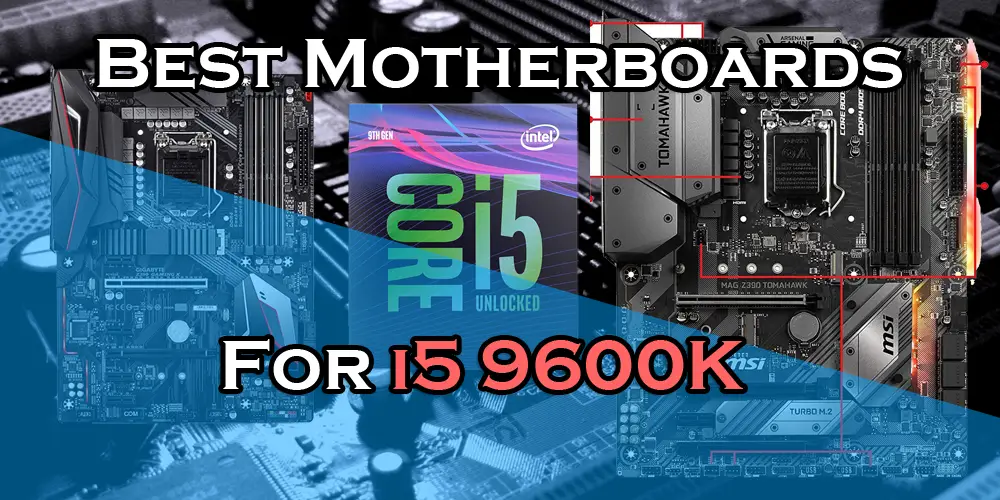 When the talk is about Intel processors, it's very much likely that you are here because you want to use them for faster performance in gaming or in other applications as well. The unlocked Intel processors are much more popular than the locked ones and therefore, most of the gamers tend to go towards the motherboards that will unlock the full potential of their processors.
That's what we will be talking about in this article. I have compiled the top motherboards that should deliver the best performance in terms of gaming and workload which you will also be able to use for years for upgrading. Finding the best CPU or GPU isn't that difficult as finding the best motherboard because a motherboard doesn't provide you with an increase in performance but rather it helps the components to work at their full potential.
So, the better the motherboard is, the better will your components work. Following is the list of motherboards which you should consider buying if you own an i5 9600K or are planning to buy one. If you end up with any doubt at the end of this post, then feel free to drop a comment in the comments section.
After Asus, I trust Gigabyte the most. It's not that it is really the best manufacturer but because I have personally used their motherboards for a long time, be it a low profile or high-end board. They are very much reliable and generally come under a lower price as compared to the other manufacturers. This one is among the cheapest Z390 chipset boards which should be the starting point for your i5 9600K. Going below a motherboard than this one is not recommended at all as the i5 9600k is a 6 core processor and needs a good board for overclocking.
The motherboard features doublers for its VRM and is equipped with 10+2 power phases which of course is due to the number of chokes it is using. But it's still a good choice as it can handle overclocking better than the other simple 5+2 power phases motherboards and will help achieve stability in overclocking for a long time which is very much needed in long hours of operation in gaming or even in non-gaming applications.
The board features 1x PCI-E x 16 slot and 2x DIMM slots with steel armour for more strength. Other PCI and DIMM slots are without steel armour which is really not a big CON. The board consists of 4x Fan_headers including the CPU Fan header and should be enough to power a few chassis fans without any external fan header extension. For storage, it has 2x M.2 slots of which one is covered with a basic heatsink and is a very much needed feature for a fast storage option for using an operating system.
---
You don't only need a good motherboard for i5 9600K, without a great graphics card you won't be able to play games smoothly.
---
The motherboard, however, doesn't have any onboard buttons like Reset or Power but has a two-pin OC header for overclocking which I think is useless most of the time and similar is the case for the extra 4 pin CPU power port at the top. 8 pin power port is enough for any Intel 9th gen processor even if you overclock them to their full potential with a liquid cooler. Other than these small things, this board should be a great choice if you don't want to spend a lot of money on a motherboard but want to use the 9600K to squeeze a lot of performance. Remember that this is not the "Best" motherboard for 9600K but rather a great option at a price of less than $150.

[i2pc pros_icon="icon icon-thumbs-o-up" cons_icon="icon icon-thumbs-o-down" show_title="false" title="Pros & Cons" show_button="true" pros_title="What is Good?" cons_title="What is Not?" button_icon="icon icon-cart-4″ link_text="BUY FROM AMAZON" link="https://amzn.to/3apdKfY" ][i2pros]Powerful 10+2 power phases with doublers
Supports two way AMD CrossfireX
Support for Dual Bios
Inbuilt RGB lighting
[/i2pros][i2cons]No support for two way Nvidia SLI
No inbuilt Wifi
Lack of Onboard troubleshooting features
[/i2cons][/i2pc]
---
If I were to recommend the "Best" motherboard for i5 9600K but also the cheapest, then I would recommend the Prime Z390-P over the Gigabyte Z390 Gaming X. The only better features of Gigabyte Gaming X are that it has better aesthetics and better heatsinks. Prime Z390-P, on the other hand, features a much more powerful VRM without doublers that will perform absolutely amazing in overclocking.

The VRM consists of 9 real power phases with decent heatsinks both at the side and top that should be sufficient for a decent strong overclocking although I don't recommend going to the extremes. It also doesn't feature 4+8 CPU power ports which are unnecessary and features two M.2 slots for fast NVME SSDs to make your system work at its fastest speed. The board doesn't feature any onboard Reset or Power switch but features a Mem_Ok switch for troubleshooting the RAM which will at least help you in some cases.

It consists of 2x PCI-Ex 16 slots that support 2-way AMD CrossfireX. Fortunately, for memory also, it supports memories overclocked up to 4266Mhz which is insane at this price. This board is also Intel Optane ready, water cooling ready, and comes with Four fan headers that support CPU fans/ Chassis fans and AIO pumps. Aesthetically it may not be very appealing and it doesn't have RGB lighting but the white accents will fit into any colour build perfectly which uses a combination of White and any other colour. For the i5 9600K, this is the "Best" option at under $150.

Related- Best motherboards for Intel Core i5 12600K

[i2pc pros_icon="icon icon-thumbs-o-up" cons_icon="icon icon-thumbs-o-down" show_title="false" title="Pros & Cons" show_button="true" pros_title="What is Good?" cons_title="What is Not?" button_icon="icon icon-cart-4″ link_text="BUY FROM AMAZON" link="https://amzn.to/3apdKfY" ][i2pros]9 real power phases
Supports two way AMD CrossfireX
Mem_OK switch for troubleshooting
Affordable
[/i2pros][i2cons]Lack of onboard troubleshooting features
Only 4 SATA ports
No support for Nvidia SLI
No RGB lighting
[/i2cons][/i2pc]
---
MSI's MAG Z390 Tomahawk is a tough competitor to all the mid-end motherboards but at a lower price. The board features a decent 6+3 power phase VRM that doesn't use doublers and perform very similar to the Prime Z390-P motherboard although there are differences in many places like in the board design and heatsinks. This one features a very good design that matches with the colour scheme and the I/O cover makes it look aesthetically sick than other simple motherboards.

The board has 2x M.2 slots for NVME SSDs that are blazing fast and uses one aluminium heatsink on the second slot for dissipating heat from the SSD. The SATA connectors are also placed better than the Prime Z390-P motherboard and it has two more SATA ports for further upgradability. The board also features RGB LEDs that will make your build look gorgeous and features a lot of headers for connecting different accessories. This one catches the attention easily because it's not very expensive and puts a lot of good features on the table for 20 more bucks than you would spend on the Prime Z390-P, although the Prime Z390-P is great and in fact best at its price.

This board uses 4+8 CPU power ports which are unnecessary which I already addressed earlier but gives you a total of 7x headers for fans, AIO coolers, and pumps. You won't even need to buy a fan splitter or a fan hub to increase the number of fans but you can do so if your case can acquire more than 6 fans. Putting all these good features aside, this motherboard still lacks some features like very few USB ports at I/O panel and no onboard buttons. Although, there are EZ Debug LEDs on the right side which are helpful in knowing the problems when troubleshooting.

[i2pc pros_icon="icon icon-thumbs-o-up" cons_icon="icon icon-thumbs-o-down" show_title="false" title="Pros & Cons" show_button="true" pros_title="What is Good?" cons_title="What is Not?" button_icon="icon icon-cart-4″ link_text="BUY FROM AMAZON" link="https://amzn.to/3apdKfY" ][i2pros]Two LAN ports
EZ debug LEDs for troubleshooting
Total of 7 fan headers
Inbuilt RGB lighting
Two way AMD CrossfireX support
[/i2pros][i2cons]No SLI support
Lack of Onboard troubleshooting buttons
No inbuilt wifi adapter
[/i2cons][/i2pc]
---
If you remember our Best Z390 motherboards post, you will find this motherboard on the list as the "Best Value Motherboard" due to the fact that it has no big disadvantages at all. Everything you would need in a perfect motherboard, you will find on this one and it's the best motherboard for i5 9600K if we consider the value we get on the money spent. There are some more motherboards that are even better than this but for i5 9600K which is a 6 core processor, this is all you need. Spending more than $250 on a motherboard is simply not reasonable when your processor also doesn't cost more than this.
The board features a powerful VRM with 13 Power Phases which is achieved with the help of doublers and hence, more stability in overclocking. The heatsinks are heavy that should do the cooling better than the other boards listed here. Aesthetically also, this is a beast and the AORUS category of Gigabyte excels in this area. You can control all the lighting effects with the help of Gigabyte APP Center and sync the RGB lights with other parts as well.
---
Not interested in Intel motherboards? Take a look at our recommendations for AMD processors!
---
It comes with Debug LEDs that will help you find the problems easily and you can easily find out if the problem is related to Memory, CPU or Display. The PCI-Ex 16 slots and DIMM slots of this board uses Steel Armour for more strength and reliability and comes with aluminium heatsinks on all the M.2 slots.

For cooling, it comes with multiple fan headers and pump headers which you can use for cooling your whole chassis and with RGB headers you can extend the lighting effects to show off your build. In comparison to the MSI MAG Z390 Tomahawk, it comes with One more Fan header and thus more cooling.

In simple words, this is the top choice for i5 9600K and even for other 9th gen Intel processors if you don't want to go above $250. But if you want to stay under $200, then you will be good with the other boards listed above it.

[i2pc pros_icon="icon icon-thumbs-o-up" cons_icon="icon icon-thumbs-o-down" show_title="false" title="Pros & Cons" show_button="true" pros_title="What is Good?" cons_title="What is Not?" button_icon="icon icon-cart-4″ link_text="BUY FROM AMAZON" link="https://amzn.to/3apdKfY" ][i2pros]Very powerful VRM with 12+1 power phases
Very dense heatsinks for VRM
LCD display for troubleshooting
Inbuilt wifi adapter
Onboard front panel USB type C header
[/i2pros] [i2cons]No onboard power/reset buttons despite being expensive
No Bios flash button at the I/O
[/i2cons][/i2pc]