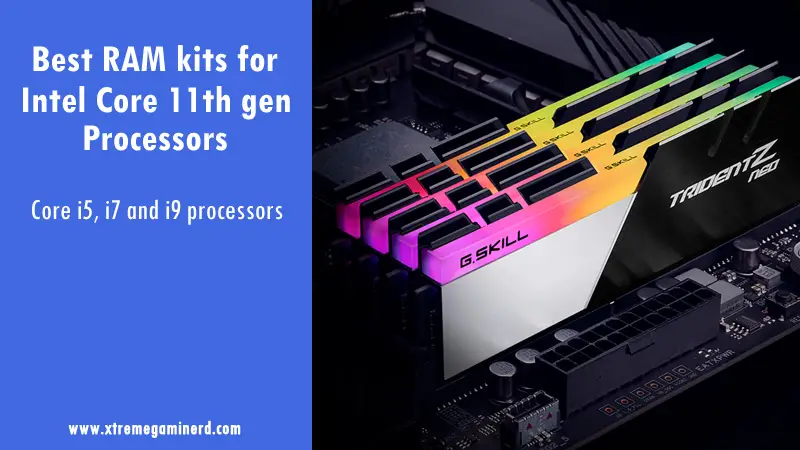 The all-new Intel 11th gen CPUs are here. They although doesn't bring something new that will blow you away if you combine them with a decent memory kit, then you can expect something better than what you could with the previous-gen Intel CPUs.
Intel has upgraded the memory support for the new 11th gen processors and now they will be able to support 3200MHz of memory frequency out of the box. This means no overclocking struggle at all up to 3200MHz.
While 3200Mhz is currently seen as an ideal memory clock, processors nowadays can benefit from memories that are clocked even higher.
Before you buy
You wouldn't want your brand new memory kit to get stuck on a lower frequency with higher timings. This is important to understand as the higher CL timings will lead to slower performance even though your memory frequency is quite high.
If you are able to get any memory kit with let's say 3600MHz or 4000MHz at a cheap price, then you should look for its CL timings and compare it with other memory kits with the same frequency.
But wait, you don't need to do that right now as I have already done this for you. The following RAM kits provide excellent timings with high clock speeds that you should use with an Intel 11th gen processor. These are fantastic in both performance and aesthetics and should get you to your desired performance number in no time.
TeamGroup T-Force Vulcan Z
Model- TLZRD416G3200HC16CDC01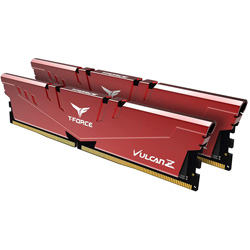 Specifications
2x 8GB
Frequency: 3200MHz
CL Timings: 16-18-18-38
Height: 32mm
LED: No
TeamGroup is becoming one of the most popular memory producers and has a variety of RAM kits that differ in specifications to suit your budget. The above-listed model features 3200MHz of clock speed with CL timings as 16-18-18-38 at 1.35V that are decent enough to deliver the ideal performance you are looking for.
It's quite cheaper than most 16GB kit with 3200MHz clock speed and features decent looks with aluminium heat spreaders with a max height of 32mm that should be compatible with most CPU coolers.
Corsair Vengeance RGB Pro
Model- CMW16GX4M2C3200C16W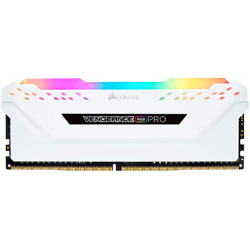 Specifications
2x 8GB
Frequency: 3200MHz
CL Timings: 16-18-18-36
Height: 50mm
LED: Yes, RGB
With a little better timing, the Corsair Vengeance RGB Pro features better performance and better aesthetics with the RGB LEDs on the aluminium heat spreaders. The memory kit features dual modules 8GB each for around $40 more but looks way better than the TeamGroup kit.
It is also available in black colour and has more height that makes it a little less compatible with beefy CPU coolers. This particular model features Tested CL timings as 16-18-18-36 that work on 1.35V and has non-LED versions too. The non-LED edition is only $10 more expensive than the TeamGroup T-Force Vulcan Z kit.
Gigabyte Aorus RGB memory
Model- GP-AR36C18S8K2HU416RD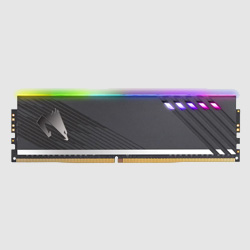 Specifications
2x 8GB
Frequency: 3600MHz
CL Timings: 18-19-19-39
Height: Unspecified
LED: Yes, RGB
Gigabyte has also entered into the memory segment and has launched an amazing kit for Intel's 11th gen processors. The kit features dual 8GB memory modules at $170 and features 3600MHz of memory speed that is the most successful with Intel and AMD Ryzen processors.
With the decent timings of 18-19-19-39, you can expect some good performance. Moreover, with Aorus Memory Boost, this kit can achieve 3733MHz on the same timings. For aesthetics, it features a stylish heat spreader with RGB LEDs on top. The only thing which is not mentioned about it is its height which should be much less than the Vengeance RGB Pro memory module.
Crucial Ballistix memory
Model- BL2K8G36C16U4B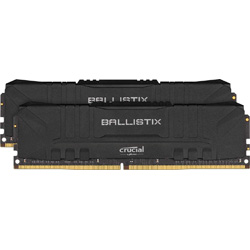 Specifications
2x 8GB
Frequency: 3600MHz
CL Timings: 16-18-18-38
Height: 38mm
LED: No
If you are ready to leave the fancy RGB LEDs behind, then get the Crucial Ballistix memory kit that has tight timings for awesome performance. The RAM kit features 2x 8GB memory modules clocked at 3600MHz with CL timings as 16-18-18-38 that are fairly good and brings faster performance to the table. Users are able to achieve even 3800MHz with the same timings, so that tells us about how serious these modules are.
The modules, unfortunately, don't have any RGB LEDs but simple black aluminium heat spreaders for heat dissipation. This kit is for those who are performance-oriented and don't care about looks that much. With the Intel 11th gen CPUs, it will not only be perfect but a much cheaper option than the Aorus memory modules.
G.Skill Trident Z NEO
Model- F4-4000C18D-32GTZN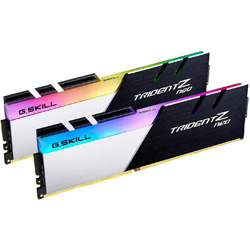 Specifications
2x 16GB
Frequency: 4000MHz
CL Timings: 16-22-22-42
Height: Unspecified
LED: Yes, RGB
In some cases, 4000MHz benefits the 11th gen processors but do remember that the performance boost won't be as good as the increase in the price. If you want to squeeze the maximum amount of performance, you can go with this Trident Z Neo memory kit that features 4000MHz clock speed on CL 18-22-22-42.
These are pretty much standard timings at this frequency and you will need to supply 1.4V to the memory in the BIOS to achieve this speed. The modules features brushed aluminium heatsinks that have individually addressable LEDs on the top that are much better than most RAM kits out there.
More: Best Z590 motherboards
Conclusion
Not only for Intel's 11th gen but these memory kits are perfect even for the latest AMD Ryzen processors. As the PC and gaming industry evolves more and more, RAM is making more difference to the performance.
So, make sure you get the most out of your parts and let me know if you have any queries or comments in the comments down below.