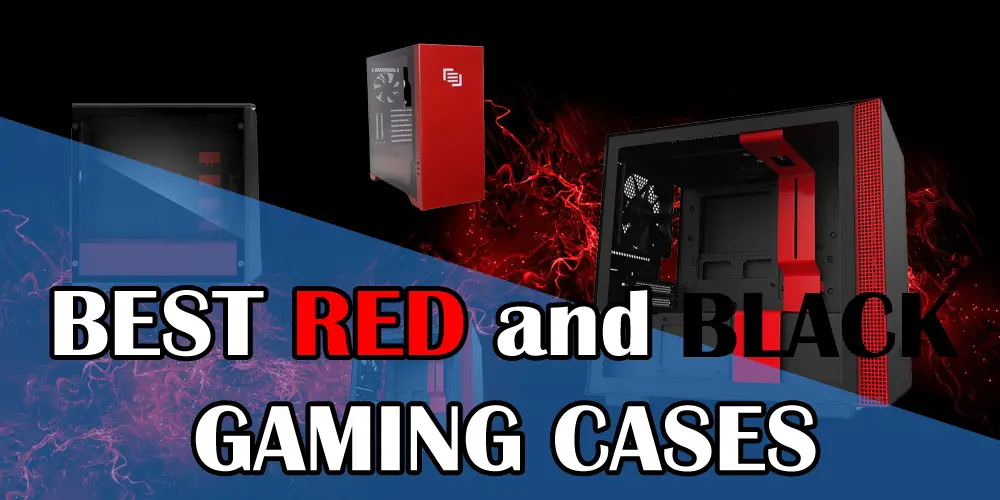 Introduction
So, you want to build a Gaming PC based on Red and Black theme and want a suitable case that will increase the aesthetics?
Surely, you have come to the right place then. There are currently so many cases which apparently look to be Red/Black themed but a case that is coloured in black and has a few Red LED fans doesn't make it a good Red and Black themed PC case. You can buy an RGB black case instead and choose Red colour for your LEDs but that won't look as good as a natural Red/Black case will.
An RGB customizable PC part or PC build is not that charming as a particular colour themed build and when you set up a good coloured themed build, it catches everybody's eyes. There are dozens of cases that feature Red and Black colours but let me just list out the top ones which have the best representation of those colours. And do not hesitate if you have any questions. Just ask in the comments section.
CORSAIR Carbide SPEC-04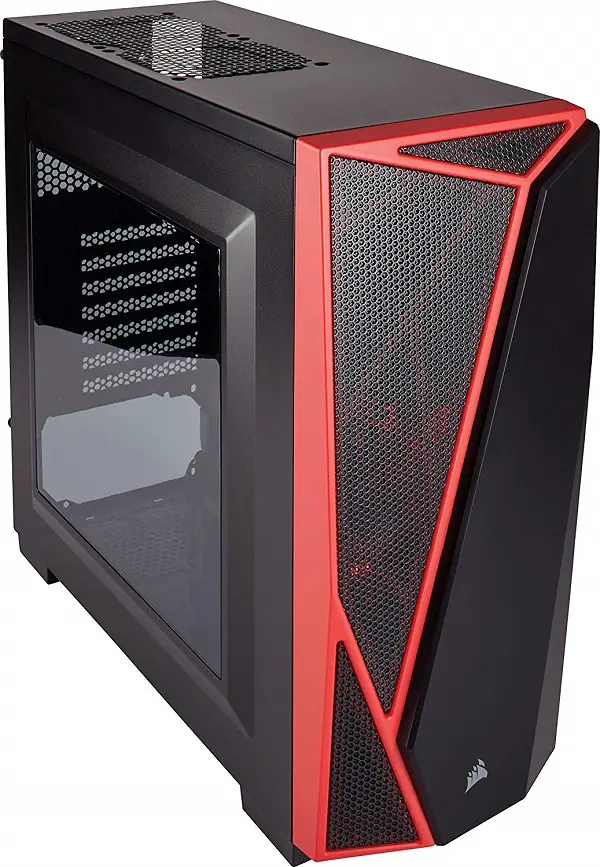 Corsair's Carbide Spec 04 is what you will need if you have just $60-$70 in your pocket. This is a mid-tower chassis that can support ATX motherboards, long graphics cards, medium-sized CPU Coolers and a good amount of fans. The case features RED accents on the front panel. These look good when combined with the Red LED 120mm fan at the front which it comes with. But as there are two more slots there, you can install two more Red LED 120mm fans for the perfect Red colour visibility.
Almost half of the front panel is covered with opaque material and a half uses ventilation that serves both the purposes of airflow and LED fans showcase. Besides that, the whole case is black from interior to exterior. It is not the #1 Red and Black coloured PC case but considering its price and the need, it will fulfill your demands if you do not have enough cash. Check Full Specs Here.
Thermaltake Core P3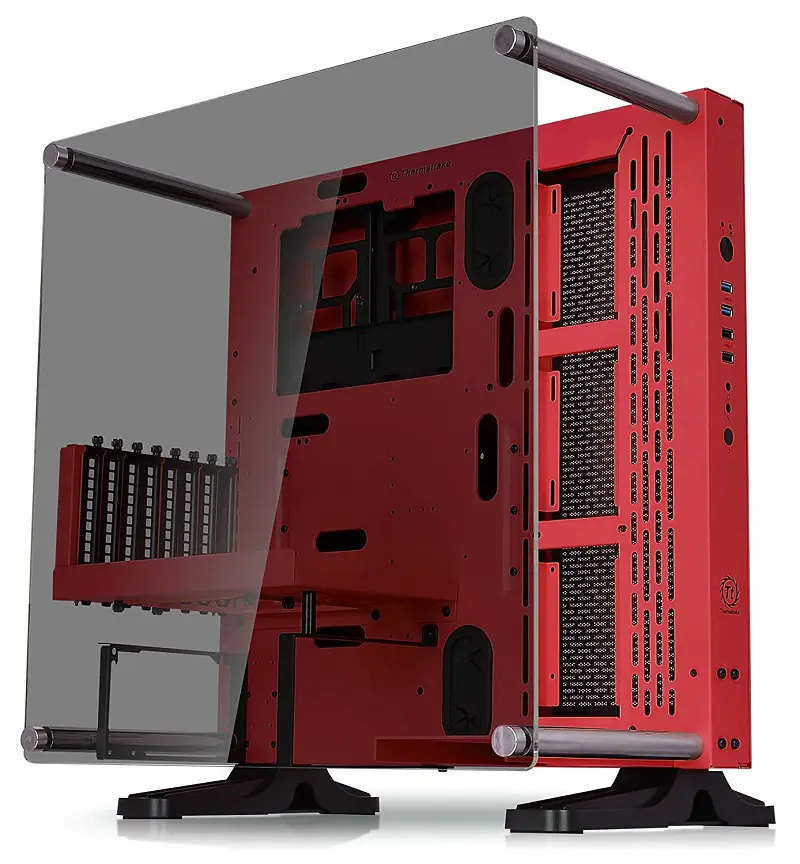 Core P3 from Thermaltake is the case that I have personally used for 1 year and it is really heavy but much more reliable than the traditional mid-tower cases. This case is now available with Red and Black colours which will help you build a great Red/Black build. This cases Red in most of the areas but has black components here and there which are very few as compared to the Red parts.
This makes it a great option to be used with components like a black and red motherboard on which the components like heatsink is red but PCB is black. This case has all the sides open for full ventilation and is modular enough to be customized to put it horizontally, vertically or even on the wall. It's heavy so make sure you handle it with care. Check Full Specs Here.
---
MAINGEAR Vybe RGB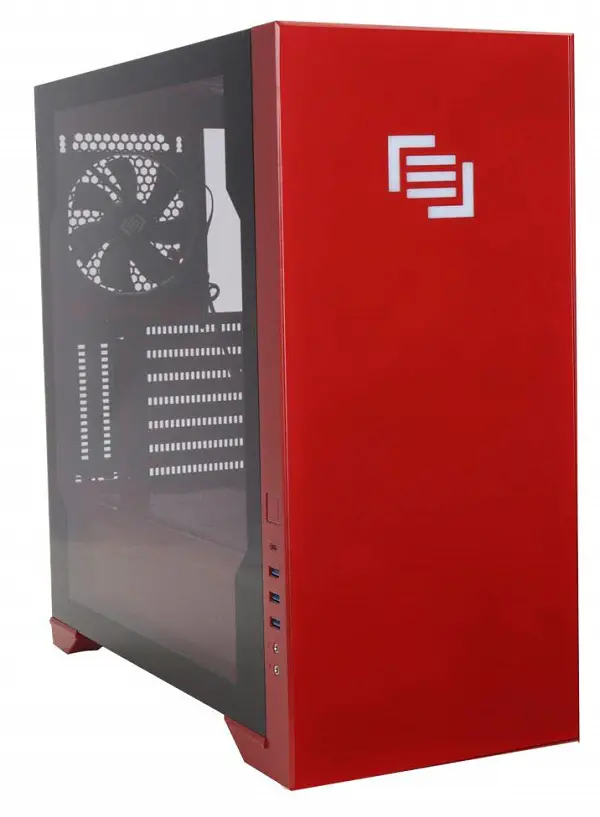 Another great Red/Black coloured case is Maingears Vybe RGB case. From interior to exterior, everything is Red except the rubber grommets and side tempered glass panel's border. The front panel is simple and plain and features a logo that uses RGB LEDs. The case uses a full Red PSU shroud that will hide the cables and hard drives. This is the most common model of chassis nowadays.
Looks-wise it may look simple to you but when you will build the full PC, you will recognise its beauty. The case also comes with 3x 120mm pre-installed fans, 2 at the front and 1 at the rear that are painted in black but aren't RGB. This case is costly compared to the other cases I have listed here and is present in two more different colours: Gray and White. Check Full Specs Here.
---
Phanteks Eclipse P400 TG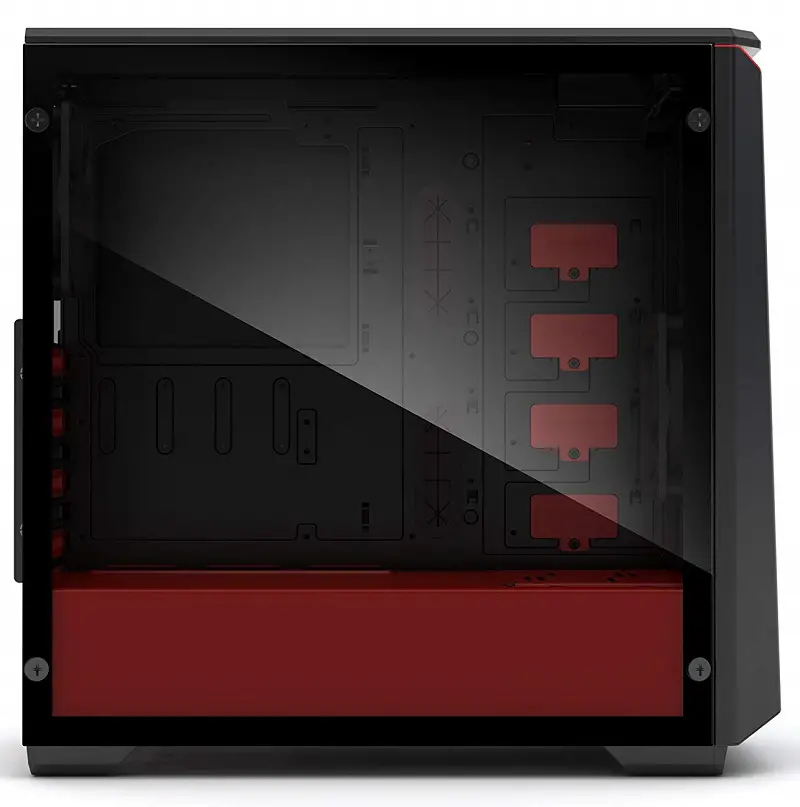 P400 TG is my favourite cases of all time in the mid-tower category. Phanteks case looks very premium and they have a vast amount of space for working with. The P400 TG is available in many colours and this one is using a considerable amount of Red colour with Black. It's not like some of the cases above where the dominant colour is either of the two.
The PSU shroud, top and bottom of the front panel, some area of the SSD slots and some of the rear is painted in red. Everything else is black. There is a tempered glass side panel through which you will be able to see everything and for increasing the aesthetics the case also uses a Red LED at the bottom of the front panel. Unfortunately, the case doesn't use any RGB or Red LED fans but two simple 120mm fans are pre-installed at the rear and the front. Check Full Specs Here.
---
NZXT H210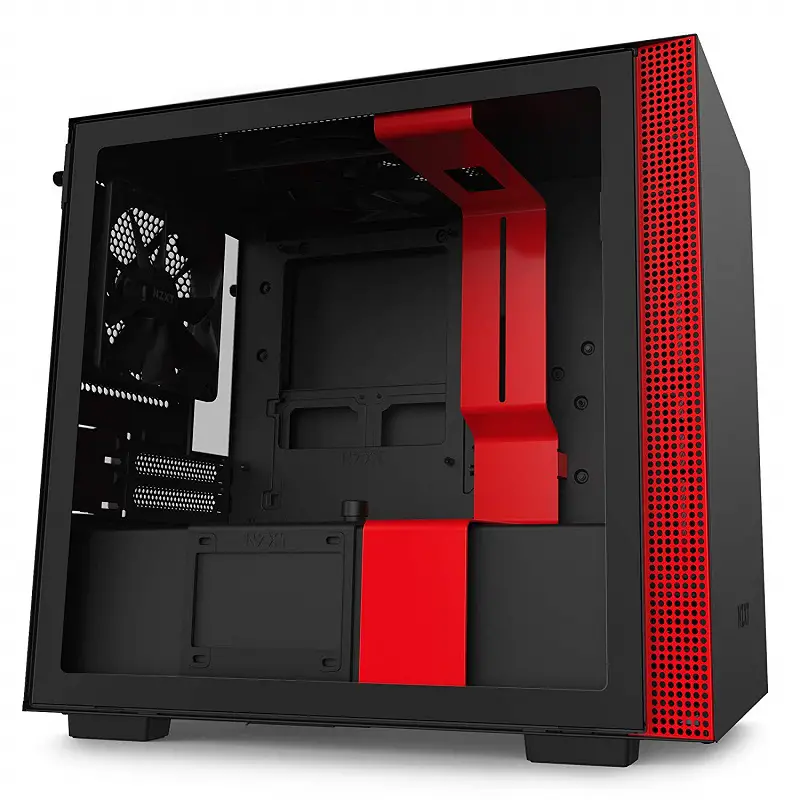 NZXT produces some of the most premium and unique designs which nowadays many manufacturers follow. The NZXT H210 is an ideal combination of Red and Black. The case is an ITX-form factor which only supports ITX motherboards and acquires very less space on the table. This case though looks smaller than the other cases on the list, the design is what you would want for an enthusiast Gaming PC.
It has a plain front panel with good enough vents at the sides that are coloured in Red. Along with it, the case uses a big metal cover inside that is used for hiding the cables and is fully covered in Red that stands out in the first look. Rest of the interior and exterior is painted in black. It has pre-installed non-LED fans installed in it, one in the front and one at the rear but if you want the RGB edition, then get the H210i which is $30 more expensive. Check Full Specs Here.
---
NZXT H710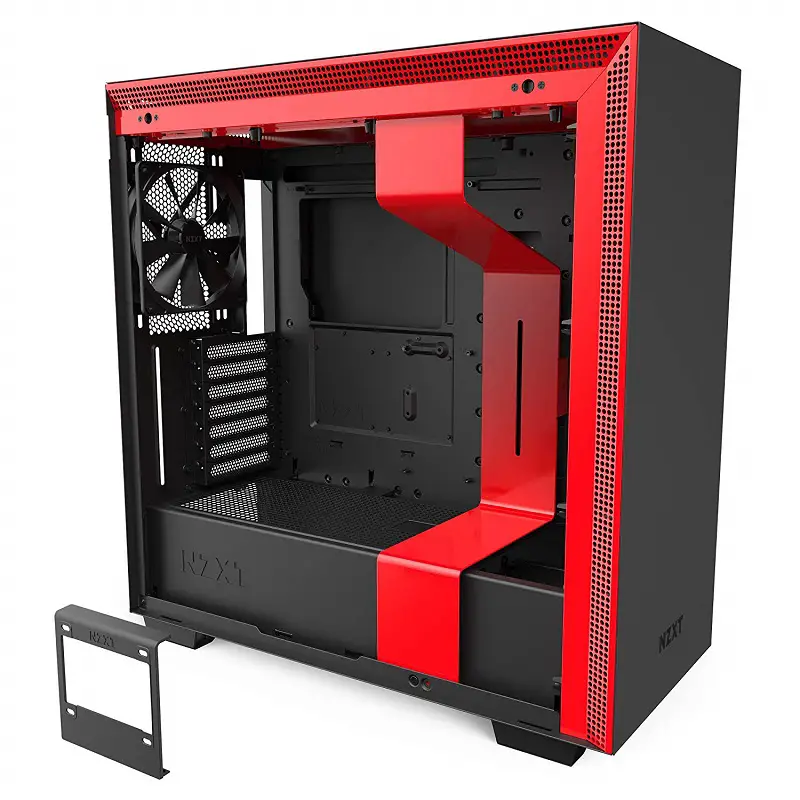 The last on the list is again from NZXT and belongs to the same H family which features a similar design as the H210 features. There are some visible differences in it but as it is a mid-tower, you can opt for whatever component you would want to install in it and get the best combination of Red and Black. I didn't include the H510 because that didn't seem to be any superior to the H210 except that it can support ATX motherboard and spending some more bucks will get you the best one in the series which is H710.
Along with having a large Red cover for hiding the cable, it has ventilation at the sides that aren't limited to the front panel but are also present at both the sides of the top. These vents are coloured in Red and look more impressive than the H210. This case is perfect for any type of gaming build and costs only $140 which is comparatively lower than most of the high-end mid-tower cases. Check Full Specs Here.
---
Conclusion
There are some more cases that feature Red and Black colours but the reason I didn't include them includes several reasons. Having enough Red or just having Red LEDs doesn't make a case suitable for Red/Black themed PC build. The above-listed cases are the top cases for the Red/Black theme and after going through the whole market you will conclude that yourself.