The use of game-boosting services is quite prevalent among both casual and professional gamers. It is a procedure in which firms offer services that enable you to obtain assistance from expert gamers to play any game you want to play until it reaches a specific level or rank.
These services can be purchased from several different organizations and are totally different from unethical cheating like using Triggerbot. Access to your account is required for these services, which place the highest importance on protecting your privacy and personal information.
With the assistance of game-boosting services, you can simply rank up to the desired level and finish your levels quickly. Our research indicates that these expert gamers have the knowledge and expertise to play any game and can improve their performance extremely quickly.
In the meanwhile, you are required to pay them for the services that are provided. The procedure is more or less the same on each platform, although how game-boosting services can be provided might vary significantly.
How to use Boosting Services
Choosing the video game and services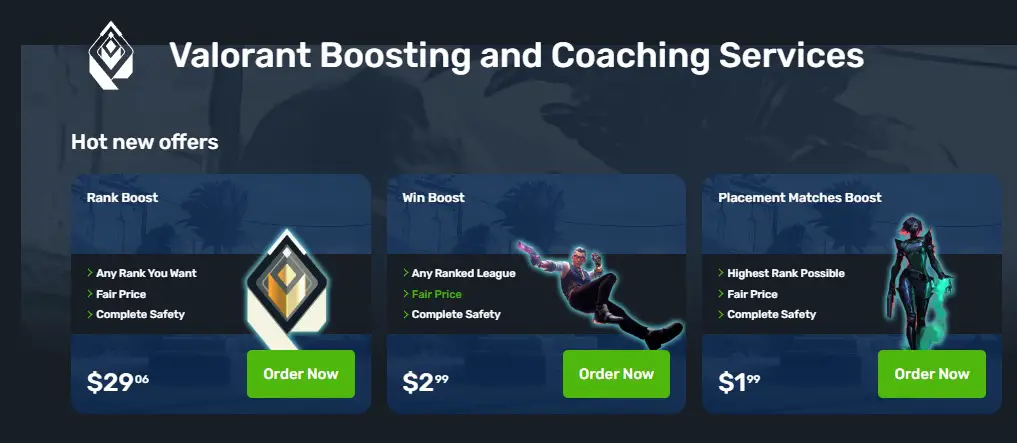 To begin purchasing these services, the first thing you will need to do is choose the game that will require these services. Discover which game is your favorite by browsing through the available options. Choose your preferred game whether it is CSGO, Warzone, Valorant, or any other competitive game you like, then decide the add-ons and services you want. Our research shows that you can request whatever service you desire, whether to improve your account rating, increase your game resources and currency, complete achievements, or anything else.
After you have finished picking out the game and the services you require, it is time to make payments so that you may go to the next phase. Ensure a firm such as Ask Boosters has a strong reputation, and you can trust them with your gaming credentials before making any money. Spend some time doing research before handing up your login information.
Submit your login information for the game
After you have completed the transaction, they will provide you a link to a page where you may enter your personal information and game login credentials. If you are receiving these services from a dependable and well-known firm, based on our observations, you do not need to be concerned about the privacy or safety of your information.
Because con artists and fraudsters may be found anywhere on the internet, it is critical to always have a fallback plan in place in case things don't go as planned. Create a backup of your account using two-factor authentication, and link it to a few other social media accounts, so that you will always be able to access your account when you need it.
Make sure that your credentials are accurate, and always double-check before you submit your data; otherwise, you will be paying to rank up someone person's account.
A professional gamer will be assigned to you
After properly providing your personal information and account credentials for the game, you are paired with a professional player who will play the game you picked from your account until it achieves the appropriate rank or the accomplishment is fulfilled. This process continues until you are satisfied with the results.
You can rely on these players to get the job done since they have spent years honing their skills playing the game in question. They will play in a manner that is completely anonymous, meaning that nobody will have any idea that someone else is using your account to play the game. You may give your profile a boost in stature while keeping it a secret by using this straightforward and user-friendly method.
You have the opportunity to alter the game at any moment, as well as the ability to track the development of your accounts over time.
Time for the Player to do the job
As soon as you have been paired with the gamer, it is time for him to play the game and do the assignment as quickly as possible. You can keep track of his performance so that you are aware of the progression that is being made on your account and whether or not it has been completed to your requirements.
You may even talk to these folks and ask them questions if you have any concerns while in a safe chat room. According to our experience, when you use these game-boosting services, your privacy is protected extremely effectively, and even your conversations with the player assigned to you are kept private between the two of you.
After you have finished using the services they provide, your login information will be successfully removed from their system, and you can continue using your account normally.
Verify the work
Checking to see whether or not you were given all you requested is the final step. These expert gamers won't be paid until you confirm that the services have been finished, and they won't do what they're meant to perform until you confirm that they've finished it.
After everything has been completed successfully and you have given them the all-clear signal, only then will the gamers be paid for the services they have provided, and only then will you be able to continue playing the game from a specific level onward. Even after the services have been provided, several businesses provide support services available around the clock to assist customers with any questions or concerns regarding the game or any problems they may experience while playing it.
Support teams are available to assist you with anything when you require assistance.
Final Words
Game boosting services are commonly sought by inexperienced or new players aiming to rapidly level up their accounts, attain all in-game rewards, and achieve various accomplishments.
This gives them the sensation of playing on an expert player's account and allows them to establish an imposing gaming persona.