AMD Ryzen 7000 brings several benefits over the 5000 series and some of the most popular questions PC builders and gamers have are: "Should I upgrade?" or "Is Ryzen 7000 worth it?"
While every generation, AMD brings some decent level of improvement in overall performance, it is completely different when comparing the 7000 series with Ryzen 5800X3D.
In this post, we will look at what improvements you will have with the Ryzen 7700X over the 5800X3D and whether is it worth upgrading from 5800X3D to 7700X or what should you get if you are building a brand new system.
Specifications Difference
Generally, the specs difference between the Ryzen 7 X700X processors is minimal and we have seen that AMD has maintained the core/thread count of Ryzen 7 X700X processors from the very first generation.
As the 5800X3D falls in the same Ryzen 7 subfamily as its little sibling 5700X and the 7700X, it makes them both very competitive especially when their prices are also close. Both the 5800X3D and 7700X feature 8 cores and 16 threads but at much different clock speeds.
Ryzen 7000 series bring significant improvements in core clocks that contributes to 50% of its performance increase over the Ryzen 5000 family. As you can see from the table above, the 7700X comes with 1GHz higher clock speeds for both base and boost modes.
The other significant difference is the cache size. Ryzen 5800X3D is a distinguished CPU with 96MB of L3 cache which is three times more than the L3 cache on 7700X. On the other hand, the faster L2 cache on 7700X is double compared to the 5800X3D.
One of the most significant improvements made on the 7700X and other 7000 series CPUs as well is providing the chips with integrated graphics which is generally absent on the Ryzen CPUs and is an exclusive feature of APUs. Every previous Ryzen generation sees an absence of iGPUs on its processors but the 7000 series is now featuring an RDNA 2 based iGPU.
The 7700X comes with 2 GPU cores clocked at 2200MHz. It's not fast enough to play games smoothly but is powerful enough to support basic operations at higher resolutions. Unfortunately, the 5800X3D too lacks an iGPU.
Other specs remain mostly similar like the TDP, L1 cache, and overclockability.
AMD Ryzen™ 7 5800X3D 8-core, 16-Thread Desktop...
The world's fastest gaming desktop processor and...
8 Cores and 16 processing threads with AMD 3D...
4.5 GHz Max Boost, 100 MB cache, DDR4-3200 support
For the advanced Socket AM4 platform, can support...
Architectural And Design Differences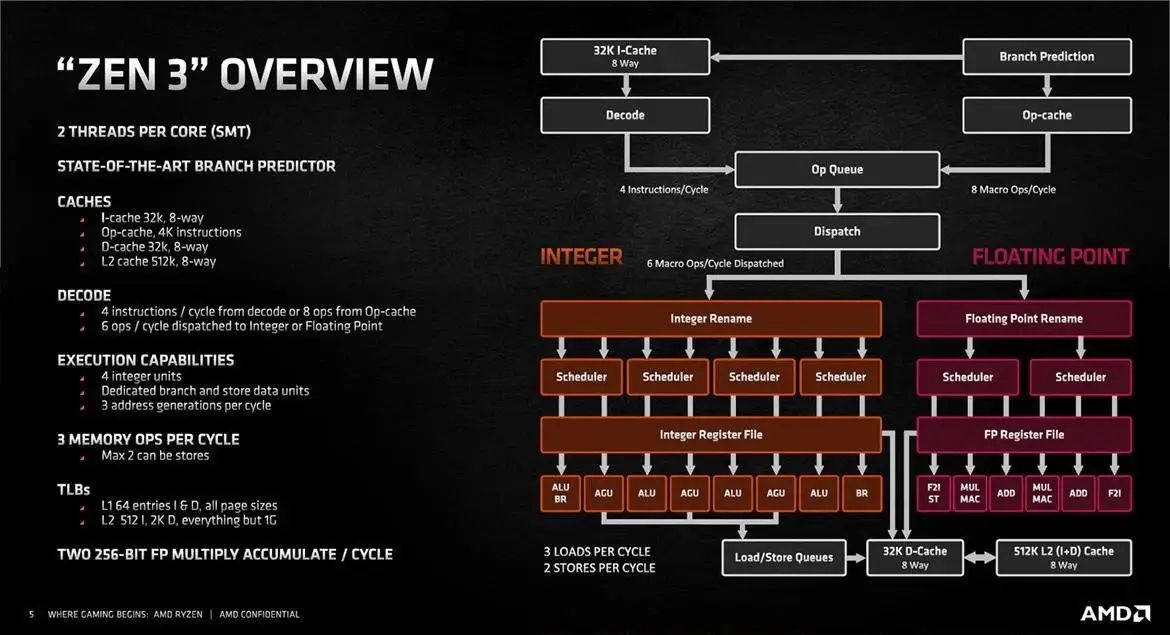 The 7700X is made on a 5nm process node and features a Zen 4 architecture while the 5800X3D is based on Zen 3 but uses a bigger 7nm process node from TSMC. Zen 3 and Zen 4 architectures aren't too different from each other but there are some significant improvements done here and there in the 7700X die.
While both the CPUs can have access to full L3 cache, the 5800X3D triples that access. The 7700X features 4 cores per CCX like Zen 2 but there are two CCXs in one CCD where each core can have access to 4MB L3 cache which makes a total of 32MB cache per 8 cores. The 5800X3D uses 3D-V cache technology where the cache memory block sits on top of the CPU providing a total of 96MB L3 cache giving a 12MB cache access per core.
L3 cache provides a decent boost in gaming and non-gaming performance but L2 cache also plays a significant role in speeding up the processes. 7700X has a good advantage over the 5800X3D with 8MB of L2 cache compared to 4MB on the 5800X3D.
Gaming And Non-Gaming Performance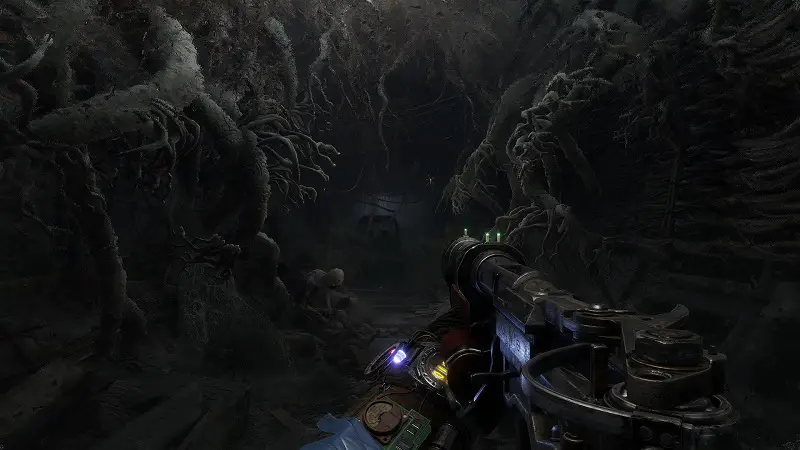 While theoretical specs help choosing between the two but it doesn't show us the reality of how these processors perform. An 8 core processor from 10 years ago is certainly not fast enough to compete with today's 8 core CPUs and hence, it's important to check how much performance is each core packed with.
Third party reviewers have already done their job of benchmarking these CPUs and you should never rely on or trust the company's own benchmarks as they are generally misleading. We have more than a dozen reliable sources that have performed the tests but as almost every test uses a little different configuration, we have to conclude by considering a few of these and analyze how much difference is there between the 7700X and 5800X3D.
We are taking benchmarks from one of the most trusted sources including GamersNexus((https://youtu.be/LJeEd7_Cv90)), Techspot((https://www.techspot.com/review/2537-amd-ryzen-7700x/)), Guru3D((https://www.guru3d.com/articles_pages/amd_ryzen_7_7700x_review,24.html)), and Techpowerup((https://www.techpowerup.com/review/amd-ryzen-7-7700x/)). These four different benchmarks are sufficient for us to make a conclusion and we will see how these two GPUs perform compared to each other in gaming and CPU-dependent applications.
As far as gaming goes, the story is very similar to Ryzen 7600X vs Ryzen 5800X3D. This is because 7600X is the little sibling of the 7700X and just having 2 fewer cores doesn't impact gaming that much at this point. Most games saw basically a tie whereas some games favored 7700X more than the 5800X3D and there is a lead of up to 3% on average.
Sale
AMD Ryzen™ 7 7700X 8-Core, 16-Thread Unlocked...
This dominant gaming processor can deliver fast...
8 Cores and 16 processing threads, based on AMD...
5.4 GHz Max Boost, unlocked for overclocking, 80...
For the state-of-the-art Socket AM5 platform, can...
More CPU-dependent games see a larger gap favoring the new Zen 4 architecture but the 5800X3D isn't much behind though. The  results are similar across different benchmarks where the GPUs used were RTX 3080, RTX 3090, and RTX 3090 Ti. This shows that these two are almost equivalent  and the 1-3% performance gap can be ignored as it generally falls under the margin of error.
Next, in applications, the story is a lot different. Despite having an equal number of cores and threads, the 7700X wins by a big margin. Here we are not seeing a 2-3% increase in performance but a whopping  30-40% performance boost across different applications . This difference is even larger than what we saw between the 7600X and 5800X3D.
This shows that 7700X is really better when it comes to single and multi-core processes and will quickly complete such tasks.
The Upgrade Path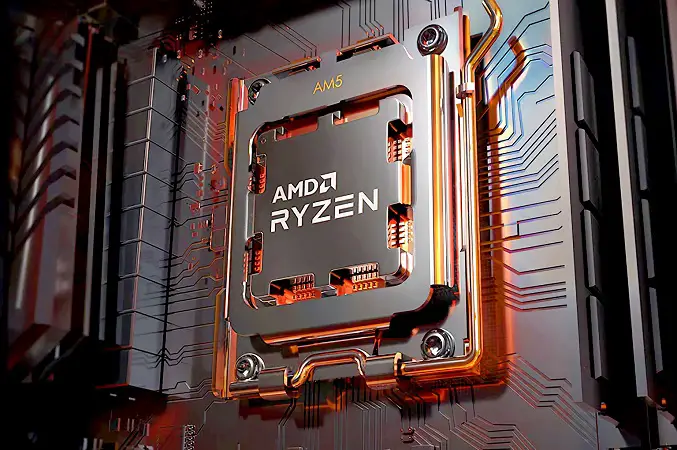 Upgrading is an essential factor that enthusiasts take into account as not everybody wants to buy a completely new motherboard, RAM, and other such components. Upgrading allows users to boost their performance without breaking the bank.
While both the processors are going to stay here for a couple of years easily, we are going to see the evolution of processors every year where the average performance boost is generally 15-20%. So, that matters a lot when it is even without a GPU or a different RAM or motherboard.
When we reflect on how much upgradeable the AM4 platform is, the 5800X3D doesn't appeal too much as the only processors you could upgrade to are the higher-end Ryzen 9 processors from the 5000 family. However, that may not be necessarily a positive upgrade as the 5800X3D is already way ahead of all the Ryzen 5000 series processors.
This means, upgrading the 5800X3D is next to impossible as the 7000 series is not compatible with the AM4 socket. On the other hand, the Ryzen 7700X may look appealing as it is already faster, particularly in CPU-intensive applications, it is also possible to upgrade the processor to the next-gen as AM5 is most likely going to exist for the few next-gen Ryzen CPUs.
Analyzing The Value
If we collect all the points explained above, it becomes really difficult to decide which one will be better. While we can provide you with some reasons why you should go with the 7700X or the 5800X3D, it will ultimately depend on your needs.
If you are positive that you are definitely going to upgrade in the next 2-3 years, go with the 7700X or if you want to save money and think you don't need the upgrade for at least 5 years, the 5800X3D is a much better choice.
Ryzen 5800X3D was launched at $449 and the 7700X was launched for $399. While the 7700X is going to stay around this price, the 5800X3D is already near $419 as of now. But that's not where you save with the 5800X3D.
The actual savings come from buying the AM4 motherboard and DDR4 RAM kit. AM5 motherboards are comparatively more expensive than AM4 boards especially when we talk about the X670 and the X570 chipset motherboards. DDR5 memories are still not as popular as DDR4 and therefore, the cost of DDR5 RAM is still very high.
The total cost of building a PC because of these factors rises to the point that it completely diminishes the value of 7700X below the 5800X3D when we consider gaming. However, for professionals and content creators, the 7700X still gives a fine value  if not better.
Final Words
If you are building a computer from scratch, my recommendation will be to go with the 7700X if you are looking from the perspective of upgrading, however, the 5800X3D is going to be a fantastic choice for gaming and content creation too if you don't want to overspend.
AMD Ryzen 7 7700X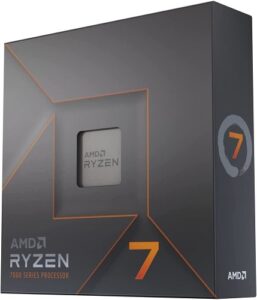 Reasons To Buy Ryzen 7 7700X
[wp-svg-icons icon="thumbs-up" wrap="i" color=green] A little better at gaming
[wp-svg-icons icon="thumbs-up" wrap="i" color=green] AM5 will last longer
[wp-svg-icons icon="thumbs-up" wrap="i" color=green] RDNA 2 based iGPU
AMD Ryzen 7 5800X3D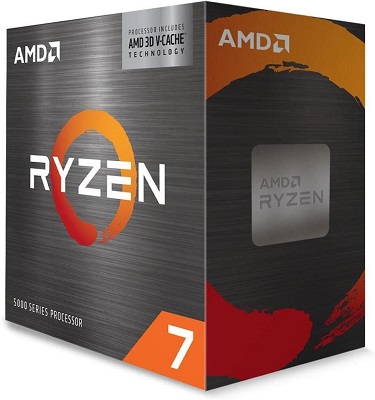 Reasons To Buy Ryzen 7 5800X3D
[wp-svg-icons icon="thumbs-up" wrap="i" color=green] Big L3 cache
[wp-svg-icons icon="thumbs-up" wrap="i" color=green] Lower PC cost overall
[wp-svg-icons icon="thumbs-up" wrap="i" color=green] Supports less expensive DDR4 RAM
Related: