AMD's Ryzen 7000 family comes at a time when the competition between AMD and Intel was already fierce. With the launch of the new Ryzen family, Intel's Alder Lake processors are challenged particularly the mid-range and high-end ones.
In this post, we are talking about the Ryzen 5 7600X and the Core i9 12900K CPUs. Although the processors do not belong to the same CPU tier and have a huge gap in their prices, it's still worth it to compare the CPUs to see how far you can go with the 12900K against the newer 7600X.
To compare these CPUs fairly and make a conclusion, I am taking several factors into account such as specs, architecture, gaming, and non-gaming performance, compatibility, thermals, and of course, the value. This comparison should help you in deciding the better processor for yourself and will clear your confusion regarding their differences.
Specifications Difference
2.4-3.9GHz(Efficient)

3.2-5.2GHz(Performance)
It's pretty obvious from the specs that theoretically, the 12900K is way superior to the Ryzen 7600X. The most significant difference is the core/thread count which is more than double on the 12900K.
The clock speed of the i9 12900K has a wider range due to having two types of cores. This allows the 12900K to run at comparatively lower clock speeds if the load is low. The 7600X, on the other hand, runs at a fairly high clock speed which generally stays above 5.0GHz. As higher clock speed is generally loved by games a lot, we will see if this has an effect in the real world.
With the higher core count comes a higher TDP of up to 241W on the 12900K which is almost 2.4X than the default TDP of 7600X. The power consumption can still reach above the mentioned TDP as both the CPUs are overclockable and can reach higher clock speeds than their stated boost clock speeds.
Next, we have the cache memory where again the 12900K wins when we consider the L2 cache but L3 cache of 7600X is 2MB higher. Ryzen CPUs usually feature higher L3 cache memory and their higher-end CPUs generally have more than double the L3 cache present in the Intel competitors.
Sale
AMD Ryzen™ 5 7600X 6-Core, 12-Thread Unlocked...
The Socket AM5 socket allows processor to be...
Ryzen 5 product line processor for your...
5 nm process technology for reliable performance...
Hexa-core (6 Core) processor core helps processor...
Architectural Difference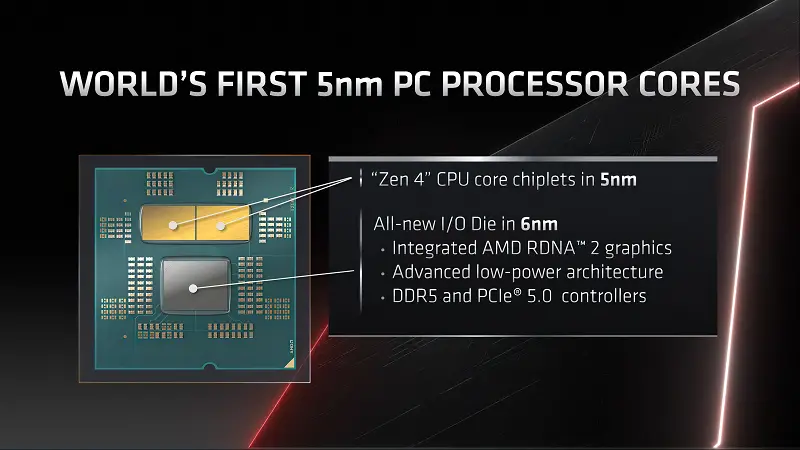 The 7600X and 12900K both use different architectural designs that can't be compared directly and we cannot deduce any conclusions from comparing their architectures and die design alone. Still, it is important to know what changes the manufacturers have made over the previous generations.
As for the 7600X, it uses the Zen 4 architecture and a smaller 5nm process node from TSMC. This is the smallest process node ever we saw on desktop processors and it allows a lot more transistors to be packed on the chip allowing better efficiency and a smaller hardware footprint.
The 12900K uses a bigger 10nm process node called "Intel 7" and uses a hybrid architectural design featuring two types of cores. This is the first-ever design on a desktop processor where a single processor comes with two types of cores for different purposes. The 12900K comes with 8 Performance and 8 Efficient cores.
The Performance cores are mostly active on the intensive tasks and the efficient cores take care of smaller background tasks reducing the overall load on the main performance cores resulting in an increase in overall performance.
The 7600X which is based on Zen 4 brings a die design where there are 4 cores per CCX(Core Complex) with one core disabled and two CCX per CCD(Core Chiplet Die). It is similar to Zen 2 more than the Zen 3, however, the cache memory is easily accessible along with several architectural enhancements that provide up to 20% more performance over Zen 3.
Motherboard Compatibility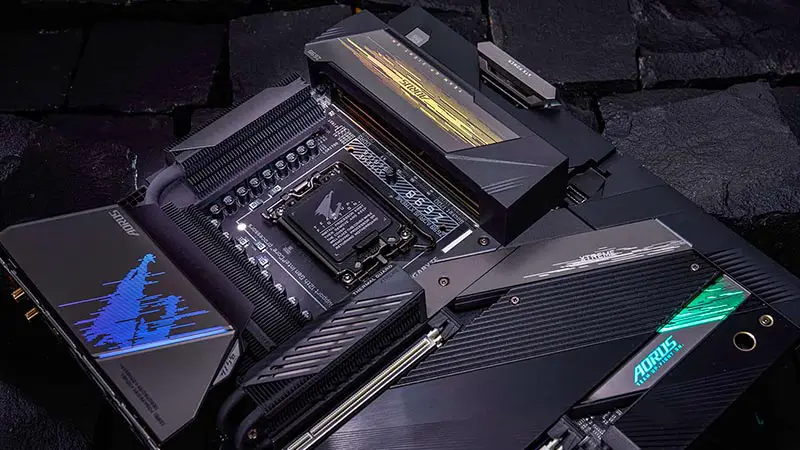 As usual, both the CPUs are compatible with different sockets as they belong to different manufacturers that launch different sockets for their processors.
Normally, AMD releases PGA(Pin Grid Array) sockets that were the socket type used for AM4 but the 7000 series uses the LGA(Land Grid Array) socket just like Intel processors. The Ryzen 7600X is compatible with the AM5 socket while the i9 12900K is compatible with LGA 1700 socket.
You can't use the 7600X on LGA 1700 socket or any other previous Intel or AMD socket. Similar is the case for the 12900K CPU. Every socket has some chipsets that define the functionality of a motherboard.
The LGA 1700 socket motherboards can feature many chipsets like H610, H670, B660, and Z690, and similarly, we have 700 chipsets that can be found on LGA 1700 motherboards. Intel Core i9 12900K is compatible with all of these chipsets but only the Z690 and Z790 chipsets allow overclocking.
The 7600X right now doesn't have as many compatible chipsets as the 12900K. The AM5 socket is fairly newer and only has four chipsets in total. These are B650, B650E, X670, and X670E where the "E" stands for Extreme which provides more PCI-E 5.0 lanes.
RAM Compatibility
The 7600X is compatible with only DDR5 RAM out of the box and that is also due to the fact that AMD has completely dropped the DDR4 support on AM5 motherboards.
The LGA 1700 socket motherboards are available in both DDR4 and DDR5 editions. Hence, the i9 12900K can support both DDR4 and DDR5 memories out of the box giving it an advantage over the Ryzen 7600X.
Gaming And Non-Gaming Performance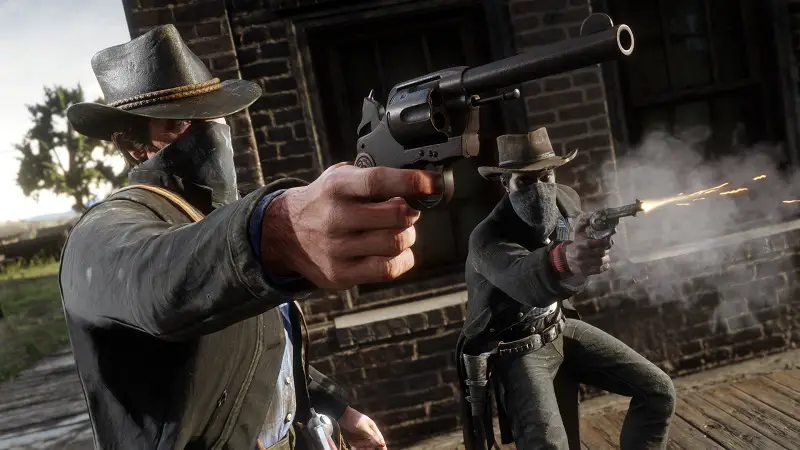 The most important comparison for analyzing the processors is testing them in gaming and applications. Video games are one of the most intensive tasks for both CPU and GPU. Still, CPU-oriented applications are more accurate in determining the actual performance of a CPU as they can push even the strongest of the CPUs to their limits.
To see which one performs better, we will analyze a couple of benchmarks from various third-party sources that are reliable and trusted by PC and gaming communities. Comparing the two processors from a single source may provide us with inaccurate or misleading results as every piece of hardware, every configuration, and the number of games and applications used are different and will yield different results.
For the comparison between 7600X and 12900K, we will use benchmarks Gamers Nexus1)https://youtu.be/JM-twyjfYIw, Tomshardware2)https://www.tomshardware.com/reviews/amd-ryzen-9-7950x-ryzen-5-7600x-cpu-review, Guru3D3)https://www.guru3d.com/articles-pages/amd-ryzen-5-7600x-review,1.html, and Techspot4)https://www.techspot.com/review/2534-amd-ryzen-7600x/.
As we can see from the gaming tests, some games prefer the 7600X more than the 12900K, and vice-versa. The difference in the performance between the two still doesn't exceed 2-3% and the CPUs essentially tie in gaming performance . It is still interesting to note from Techspot's benchmarks that the i9 12900K performs significantly better when used with DDR5 memories otherwise, the 12900K loses by a bigger margin than the 7600X.
In CPU-oriented applications, the 12900K takes a really big lead in multi-core tests, thanks to its high core/thread count but in single-core tests, the results look identical in synthetic benchmarks apps like Cinebench R23 and also in apps that require faster single-core power like Adobe Premiere Pro and Photoshop.
In applications requiring CPU to render, compress or decompress, there is simply no comparison between the two. The 12900K can lead to up to 1.9X more performance than the 7600X in some applications while maxing out at 1.5-1.7X better performance in others . This difference in performance will vary from application to application and can be smaller or higher.
Value Comparison
If you are looking to max out your games considering that you are already planning to use a high-end GPU, there is no reason to go for the i9 12900K. 12900K was not made for gaming only but for productivity and content creation.
The 7600X at $299 is equivalent in gaming to the 12900K which was launched at $599. That's a 200% more price for basically no increase in gaming performance. Therefore, go with the 7600X if you are building a gaming PC for mostly gaming.
If you are a professional or a content creator who uses CPU-intensive apps that render, compress, and decompress, the i9 12900K is going to create a huge difference in performance. However, note that even if you use the 12900K for CPU-intensive apps, you are still getting around 150-190% of performance boost max, and that too in only multi-threaded tasks for a 200% price increase.
It's not that I am recommending the 7600X for professional apps and content creation but if you are looking from the value perspective, the 7600X still owns the 12900K easily even if you include the CPU-intensive apps and games.
Conclusion And Final Words
The 7600X is superior in gaming and brings much better value even if we consider gaming and non-gaming tasks. The i9 12900K, on the other hand, is for those who are serious about their work and want to play games in their spare time. Let me know what processor you are going with and why.
AMD Ryzen 5 7600X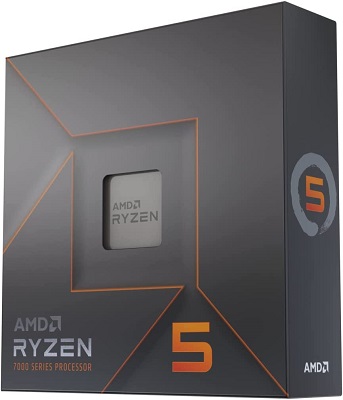 Reasons To Buy Ryzen 5 7600X
Higher clock speeds
AM5 will last longer
Significantly better value than 12900K
Intel Core i9 12900K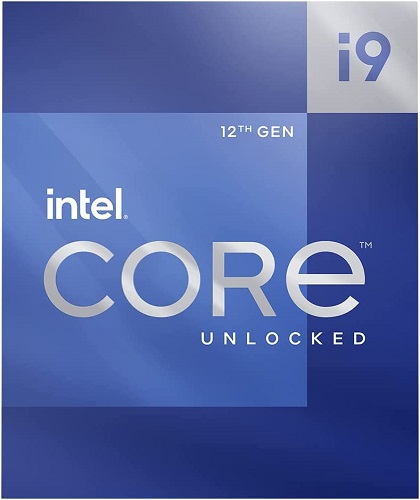 Reasons To Buy Core i9 12900K
Higher core and thread count
Superior in multi-threaded tasks
Supports both DDR4 and DDR5
Related: