The Ryzen 7000 series has dethroned its own 5000 series and has also beaten the Intel Alder Lake series with not so impressive performance difference.
The 7000 series lineup succeeds the 5000 series in a way that many of the specs remain similar except for some huge and little differences that make it superior to the 5000 series.
In the 7000 lineup, we are considering two of the high-end CPUs: Ryzen 7 7700X and Ryzen 9 7900X, and will compare them head to head to see whether spending another $150 on the 7900X is worth the money or what major differences are there between the 7700X and the 7900X.
As the theoretical specs don't tell the whole story, we are going to compare them in different areas and analyze the benchmarks found across different sources to conclude our result.
Specifications Difference
The biggest difference between the 7700X and 7900X is the core and thread count. As the 7700X and 7900X belong to different Ryzen sub family, they naturally belong to different tiers.
The 7900X is way above the 7700X in core/thread count and this theoretically gives a big advantage to the 7900X. While there are a lot of similarities too, the obvious specs differences make the 7900X an enthusiast-grade processor.
7900X consumes more power and can be overclocked higher. It even features a higher base/boost clock speed than the 7700X and can sustain 5.5GHz for a long time. It also features a higher L2 and L3 cache which are crucial for fast performance both in gaming and professional applications.
Unlike previous Ryzen generations, this time the 7000 series feature integrated graphics. Both 7700X and 7900X feature an RDNA 2 based iGPU with 2 cores clocked at 2200MHz. Therefore, the GPU power theoretically is the same and this GPU isn't made for smooth gaming performance like the Ryzen APUs.
Other things like socket compatibility, overclockability, and memory support are similar. We will see in the next sections what makes both of these CPUs different and what are the merits and demerits you are going to have by choosing either of these.
Sale
AMD Ryzen™ 7 7700X 8-Core, 16-Thread Unlocked...
This dominant gaming processor can deliver fast...
8 Cores and 16 processing threads, based on AMD...
5.4 GHz Max Boost, unlocked for overclocking, 80...
For the state-of-the-art Socket AM5 platform, can...
Architecture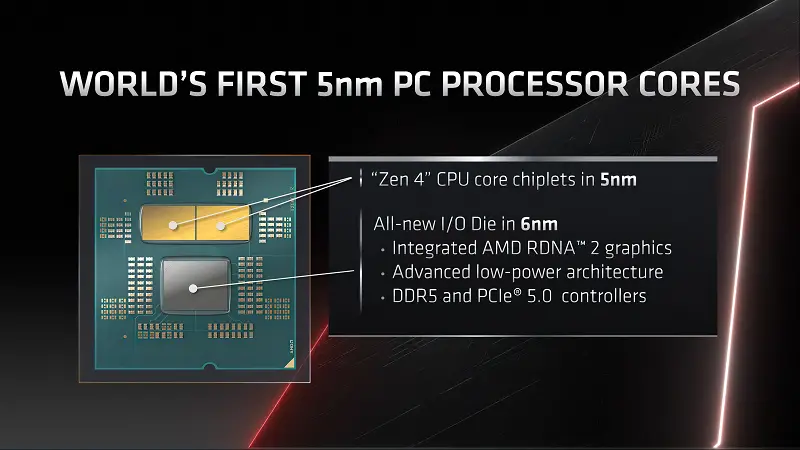 Both processors use Zen 4 architecture which is the successor of Zen 3 and are made on TSMC's 5nm process node. While the Zen 4 architecture is not made from scratch, a lot of things are similar but significantly improved.
Zen 4 die design looks somewhat similar to Zen 2 even though it is now faster than Zen 3 by various types of improvements. Zen 3 uses a design where a maximum of 8 cores can be used per CCD(Core Chiplet Die) or sometimes called as CCX(Core Complex) in the case of Zen 3 CPUs.
In Zen 4, there are 4 cores per CCX inside of a CCD. There are two CCX inside a single CCD which makes a total of 8 cores per CCD. This design is the same as the Zen 2 but the L3 cache memory support is increased hugely.
The Ryzen 7700X brings 32MB of L3 cache where each core can access up to 4MB of cache but the 7900X features 12 cores and a total of 64MB of L3 cache giving each core around 5.3MB of cache memory.
Every other architectural design is identical and there isn't much to talk about.
Motherboard And RAM Compatibility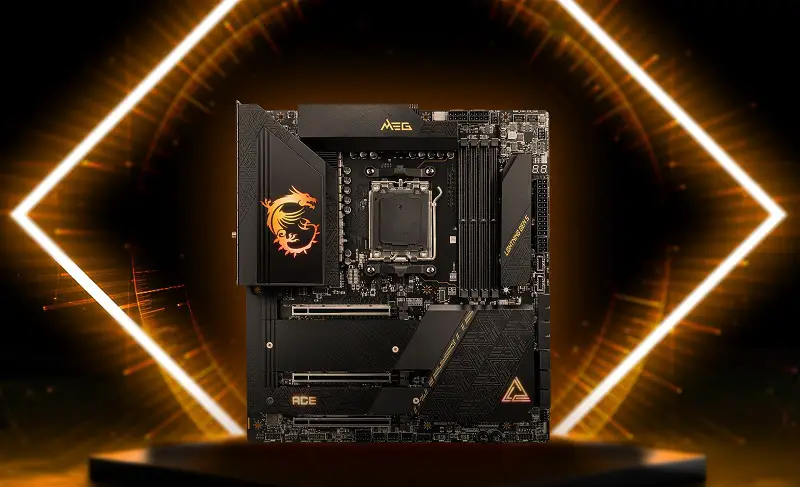 Ryzen 7700X and 7900X are compatible with only AM5 socket and therefore only those chipsets that are used on AM5 motherboards will be compatible with these processors.
7700X and 7900X are overclockable and keeping this in mind, AMD has two dual chipsets for Ryzen 7000 CPUs. This has been the case in every Ryzen generation but this time we don't know if AMD has plans to release the successor of the A520 chipset.
The two dual chipsets we currently have are the X670, X670E, B650, and B650E where the "E" stands for Extreme which provides more PCI-E 5.0 lanes.
Naturally, the AM5 motherboards can only support DDR5 memories and unfortunately, unlike the Alder Lake CPUs, the 7700X and 7900X can't support both DDR4 and DDR5.
Sale
Gaming And Non-Gaming Performance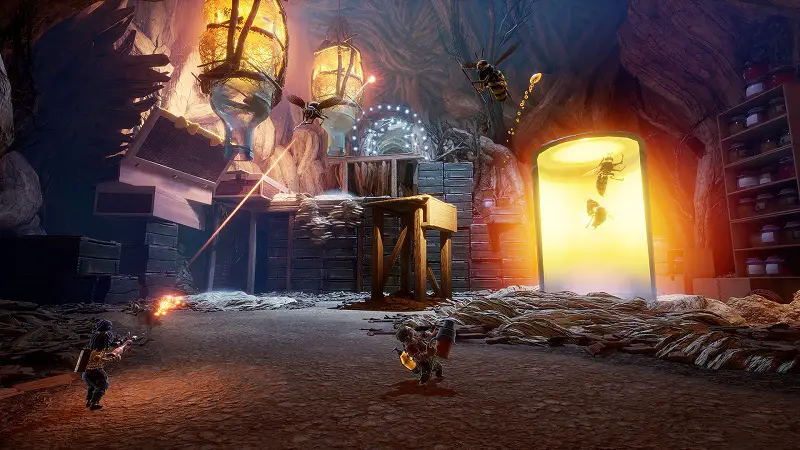 While considering the specs and architecture gives a rough idea of how the processors will perform, they are sometimes far off the real-world performance. To measure how good a CPU is, we need to see how they perform in games and non-gaming applications.
To compare the 7700X and 7900X, we will compare and analyze different benchmarks and conclude the results. As the processors have been out for a while, several third-party reviewers have released their official benchmarks. Most of them use a similarly powerful GPU which is generally the RTX 3080, 3090, or 3090 Ti. This allows us to see how much the processors themselves are pushing the performance numbers.
We are considering four different sources for analyzing the benchmark results. These are Gamers Nexus((https://youtu.be/LJeEd7_Cv90)), Tomshardware((https://www.tomshardware.com/news/amd-ryzen-9-7900x-review-cpu)), Guru3D((https://www.guru3d.com/articles-pages/amd-ryzen-9-7900x-processor-review.html)), and TechSpot((https://www.techspot.com/review/2538-amd-ryzen-7900x/)).
The gaming benchmarks are straightforward and easy to understand. Every source has similar benchmarking results where  both the 7700X and 7900X are identical in gaming performance . No matter what resolution or what settings you use, there is hardly any difference between their gaming performance.
If we consider the non-gaming or CPU-dependent application tests, the story is a lot different. This is where the extra cores of the 7900X shine. Depending on the application, the  7900X can be 10-40% faster than the 7700X . However, the applications which are more single-core dependent see hardly any difference between the two such as Adobe Photoshop.
Looking At The Whole Picture
The 7700X was launched at an MSRP of $399 while the 7900X was launched at $549. The $150 gap between the two can only be justified once the 7900X is used in CPU-dependent applications.
If you are looking at the CPUs for gaming purposes, the 7900X won't do any good. 7700X is sufficient for all types of games and resolutions. Even the 7600X will be better in terms of price-to-performance ratio.
If you are a content creator or a professional working with rendering, video editing, and such software, the 7900X will be a better option for quicker processing and higher numbers. Other stuff such as motherboard compatibility, RAM compatibility, Thermals, GPU bottlenecking, and CPU cooler cost won't matter much.
Conclusion And Final Words
The Ryzen 7700X is perfect for both gaming and non-gaming purposes but those who are serious about their career can opt for the 7900X. If you are looking at more gaming and less productivity, the 7700X is a much better option and you won't need those extra cores.
Let us know what processor you are going with in the comments below. Also, let us know what you think about the Ryzen 7000 series CPUs as a whole.
AMD Ryzen 7 7700X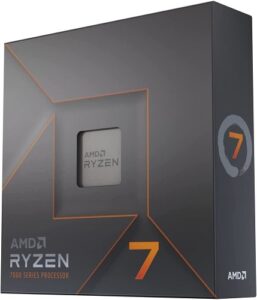 Reasons To Buy Ryzen 7 7700X
[wp-svg-icons icon="thumbs-up" wrap="i" color=green] Ideal for high-end gaming
[wp-svg-icons icon="thumbs-up" wrap="i" color=green] Better value per dollar
[wp-svg-icons icon="thumbs-up" wrap="i" color=green] Cheaper PC build cost
AMD Ryzen 9 7900X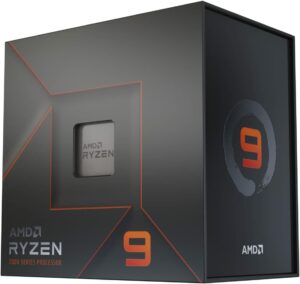 Reasons To Buy Ryzen 9 7900X
[wp-svg-icons icon="thumbs-up" wrap="i" color=green] Higher core/thread count
[wp-svg-icons icon="thumbs-up" wrap="i" color=green] Better productivity
[wp-svg-icons icon="thumbs-up" wrap="i" color=green] More future proof
Related: