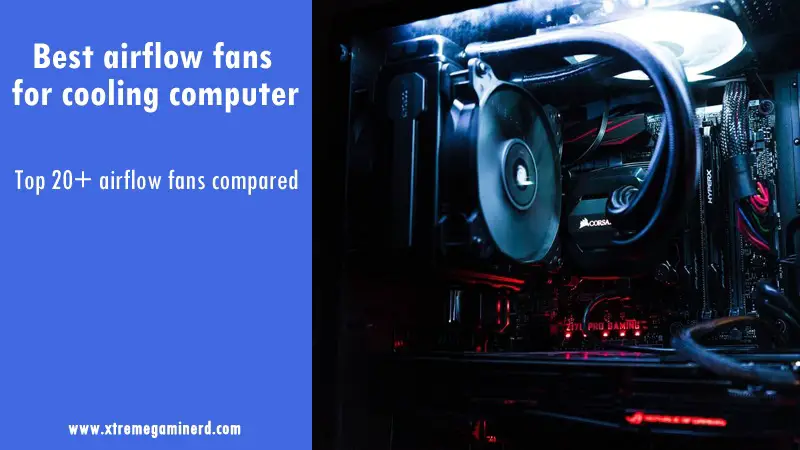 Airflow is one of the major causes of overheating problems. Older computers didn't use to have proper airflow fans and ventilation due to which the components used to die faster than their expected life. Thanks to the growing competition, now we have more than 100s of options to choose from.
Providing adequate airflow inside your computer chassis will help to provide cooler air directly from the outside which will decrease the overheating of your CPU cooler, graphics card, memory and storage drives. A single fan can help decrease the temperatures by a few degrees and if you properly manage the airflow as we recommend, your computer will work for longer and cooler.
Along with the listed top airflow case fans, we also recommend going with a good airflow case that doesn't restrict airflow from the outside and will balance the airflow as it should be.
Take a look at these top 21 airflow pc fans that provide the highest airflow to drive away all the heat inside to the outside.
Outdated or discontinued fans not listed
Fans
Airflow
(CFM)
Max
Speed(RPM)
Max
Noise(dBA)
Cooler Master Sickleflow 120 LED
62
1800
27
Be Quiet Pure Wings 2
65
2000
36.9
Arctic BioniX F120
69
1800
24.4
Cougar Vortex CF-V12HP
70.5
1500
17
Be Quiet Silent Wings 3
73.3
2200
28.6
Corsair ML120 PWM
75
2400
37
Cooler Master Blade Master 120
76.8
2000
32
Cooler Master Silencio FP 120
Performance Edition
76
2400
27
InWin Saturn ASN120
77.17
1800
35
Cryorig QF120 Performance
83
1400
37
Fractal Design Venturi HF-12
83.4
1900
25.3
MasterFan PRO 120 Air Flow
84.5
2200
36
Fractal Design Dynamic X2 GP-12
87.6
2000
32.2
Scythe Kazeflex 120
89
2000
38
InWin Jupiter AJ140
100.4
1400
34
NZXT Aer F140
103.4
1500
35
MasterFan PRO 140 Air Flow
106
1600
36
Noctua NF-F12
110
3000
43.5
Fractal Design Dynamic X2 GP-14
118.2
1200
26.5
Thermaltake Toughfan 14
119
2000
33.2
Noctua NF-A14
158.6
3000
41.3
Budget choices
Cooler Master Sickleflow 120 LED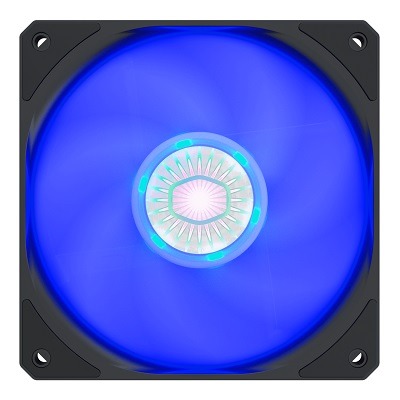 CM Sickleflow is almost a decade old yet it is a good option for using inside a chassis as it has a fair airflow of up to 62CFM at full speed of 1800RPM. It's silent and is available in Non-LED as well as LED versions which are Red, Blue, and White. It features a simple frame and doesn't require any software for controlling the lighting.
Be Quiet Pure

Wings 2(High Speed)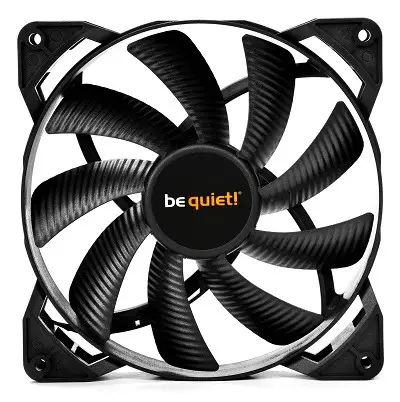 Pure Wings 2 has several options to choose from, ranging from sizes to different fan speeds. The High-Speed edition features up to 2000RPM with an airflow of up to 65CFM that is very ideal for most budget-end cases. The fan features a black frame and 9 black fan blades that produce up to 36dBA of noise at 100% speed which although is a bit noisy but will get your chassis temps down decently.
Best budget

– Arctic BioniX F120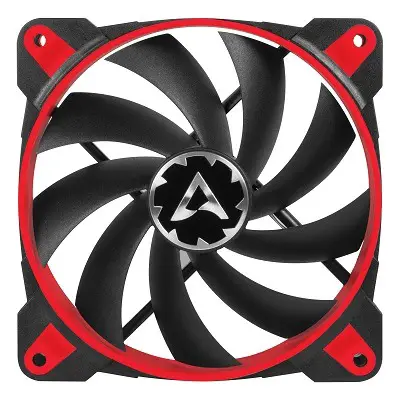 I have personally reviewed the BioniX F120 fans 2 years ago which were sent by Arctic. They are still the best budget airflow fans you can use today. I rank them among the top 3 fans of all time for the price till now and they are very silent even at high speed. With the max speed of 2000RPM, it can generate up to 69CFM of airflow which is certainly not bad for only $14. You can read the full review here.
Best Silent

– Cougar Vortex CF-V12HP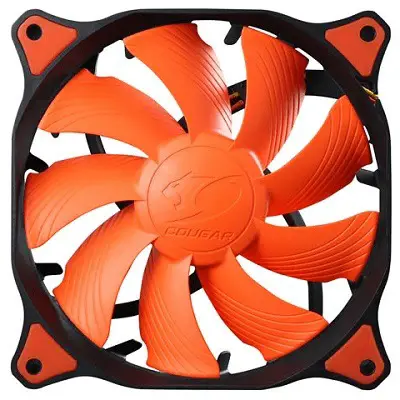 While not so popular in cooling solutions, Cougar has still managed to take one of the best spots in providing best case cooling fans and in this case, the Vortex PWM is the perfect controllable 120mm fan that is sturdy and features 9 fan blades with a hydrodynamic bearing. The best feat of this fan is that at its max speed of only 1500RPM, it can throw up to 70.5CFM of air while producing only 17dBA of noise which is insanely low and can be considered as the most silent airflow fan with large airflow.
It also comes in black colour and 140mm in size.
Mid-level
Be Quiet Silent Wings 3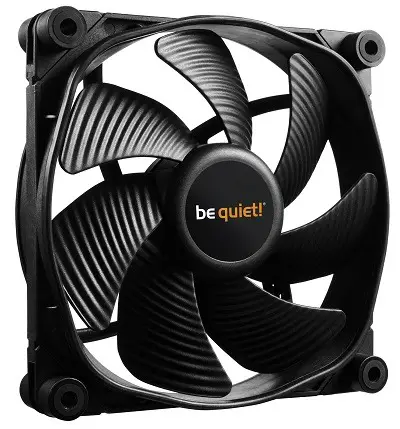 Another great fan for not only airflow but great air pressure is the Silent Wings 3 120mm PWM high-speed fan from Be Quiet. This fan features wider fan blades and a total of 7 in count which can throw up to 73CFM of airflow at 2200RPM speed but the amazing feat is its silence which keeps noise below 30dBA all the time. A single Silent Wings 3 high-speed fan will cost you around $25 which is almost double the price of the Bionix F120 fan.
Corsair ML120 Pro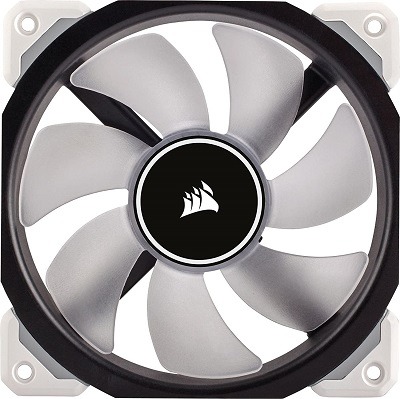 Corsair ML120 Pro is currently the best airflow fan from Corsair which is capable of producing 75CFM of airflow at 2400RPM with up to 4.2mm-H2O of air pressure which is insanely high. It is not very silent as it can easily produce around 35dBA of noise but if you love cooling more than the noise, then certainly this fan should be among your catalogue of best-performing fans.
It is available in non-LED as well as LED versions which give you a wide range of options to choose from.
Cooler Master BLADE MASTER 120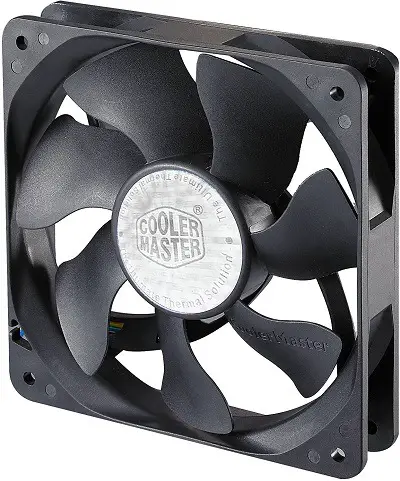 This decade-old 120mm fan from Cooler Master is very successful when it comes to performance and doesn't lag behind even if it is very old. Despite having a very old and simple design, it throws up to 76.8CFM of airflow with a decent air pressure of up to 3.9mm-H2O and doesn't go beyond 32dBA in noise. Unfortunately, there is no lighting option but if you are performance-oriented and doesn't care about aesthetics, then not only it will fulfil your airflow purpose but will also come fairly cheaper than most fans listed here.
Cooler Master Silencio FP 120 Performance Edition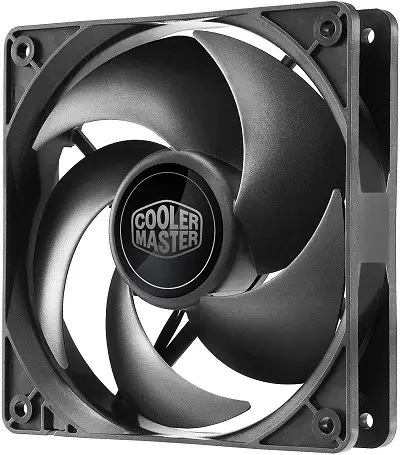 Cooler Master has some more amazing fans which include the Silencio FP 120 which has some variations in which the Performance Edition fan is the fastest when it comes to airflow and air pressure. It can run with up to a speed of 2400RPM generating only 27dBA of noise while creating airflow of 76CFM and air pressure of up to 4.8mm-H2O. This is insanely high and is definitely among the top 10 airflow fans you can buy right now.
InWin Saturn ASN120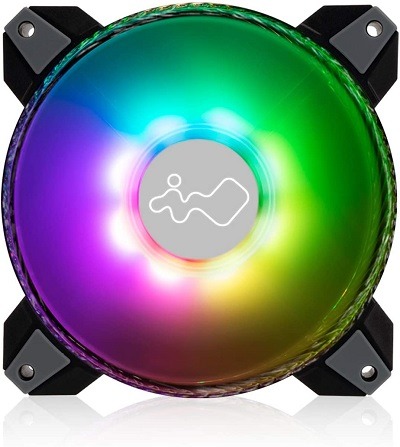 Fortunately, we have good looking airflow fans on the market. InWin, a popular computer chassis manufacturer has a catalogue of fans that is adequate for fulfilling both performance and aesthetics purposes. InWin Saturn ASN120 features ARGB LED lighting that can be controlled using the controller provided with the 3-fan pack and can be synced with other ARGB components.
It can easily provide up to 77CFM of airflow with the max speed of 1800RPM and generates noise around 35dBA. Considering the fact that it is very good looking and the cost of each fan in a 3-fan pack is only $15, you can ignore the noise factor.
High-End
Cryorig QF120 Performance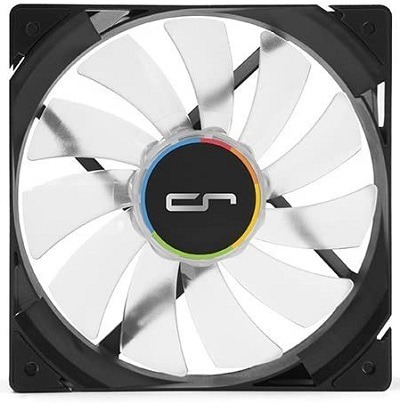 To reach 80+CFM airflow, we have the first on the list, the Cryorig QF120 Performance which has a White-LED as well as a non-LED version. The good thing is that the White LED version costs under $15 and does the same job. It can provide up to 83CFM of airflow at a top speed of 2200RPM creating noise of around 37dBA which is definitely not silent but considering its price to performance ratio, it is a deal-breaker.
Fractal Design Venturi HF-12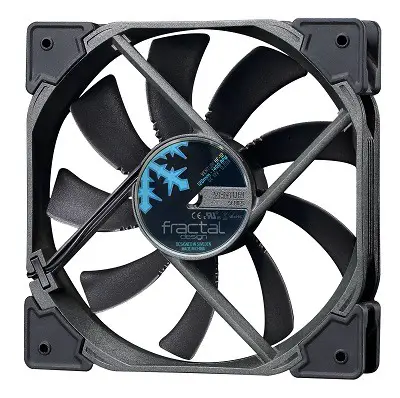 A great alternative to Cryorig QF120 is the Venturi HF-12 which provides almost the same airflow of 83CFM with a top speed of just 1400RPM. Due to this, it creates only 25dBA of noise which is damn silent but the disadvantage is its air pressure which is 1/3rd of that of the QF120 fan. In case you are ready to overlook this factor, then it is much better than the QF120 as it is silent while producing the same airflow.
MasterFan PRO 120 Air Flow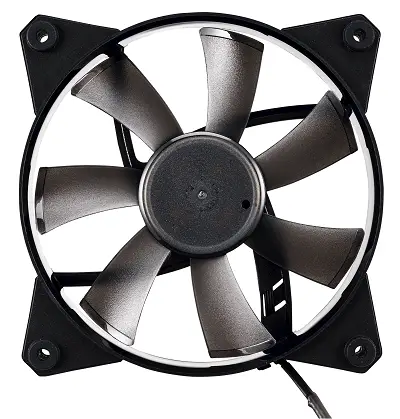 The MasterFan Pro 120 Air Flow edition is specially designed to work in three modes and unlike its LED counterparts, it's much better at delivering what it has in its name. It has Silent, Quiet and Performance modes which operate from as low as 1100RPM up to 1900RPM as max speed delivering airflow up to 84.5CFM with up to 2.61mm-H2O air pressure. To make it quieter as it has a max noise level of 37dBA, you can also change the mode to either Quiet or Silent.
Fractal Design Dynamic X2 GP-12 PWM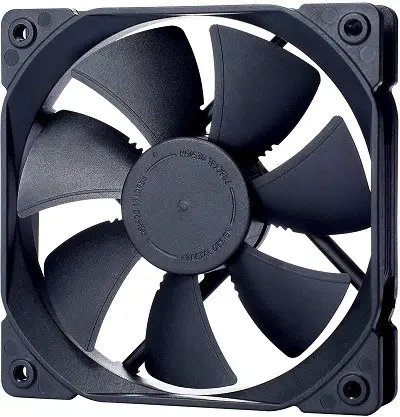 Fractal Design has one more airflow fan which is even better than the Venturi and that is the Dynamic X2 GP-12. It is very popular amongst PC builders due to its comparatively low noise at its max speed of 2000RPM and an amazing airflow of 87CFM. It is completely black and doesn't feature any LED lighting and therefore, costs fairly low compared to the RGB airflow fans.
InWin Jupiter AJ140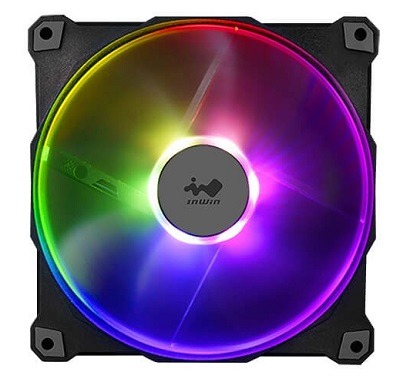 Jumping on the 140mm fans, we get an increased airflow due to bigger fan blades and InWin Jupiter AJ140 is an ideal fan that does the job for a very low price while maintaining its beauty through RGB. The fans come in triple fan pack for only $40 and operate at a maximum speed of 1400RPM generation around 100CFM of airflow. The only drawback is the noise it generates which is close to 35dBA which is considerably high for its speed.
NZXT Aer F140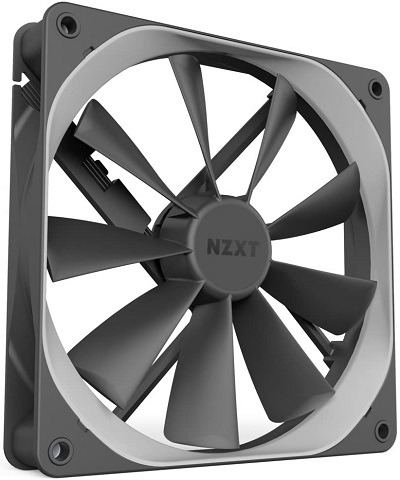 NZXT Aer F140 serves purely airflow purposes and while the F120 lags behind most 120mm fans listed here, the F140 is a big step up. It can achieve up to 103CFM with a top speed of 1500RPM but cannot manage to get a good air pressure which is why I don't recommend it using on a radiator rather it should be used in the front panel for maximum airflow.
Moreover, it comes with three different coloured trims to fit according to your system's colour theme.
MasterFan PRO 140 Air Flow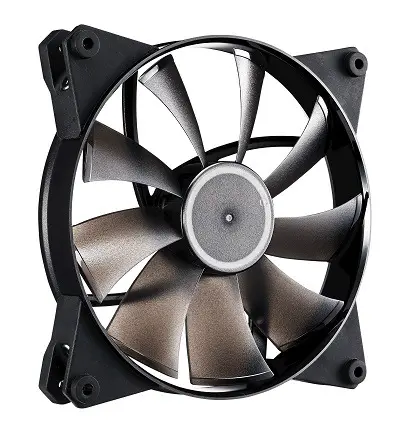 The bigger sibling of MasterFan Pro 120, the Pro 140 can deliver very high airflow of up to 106CFM on the maximum speed of 1600RPM. It too comes with three different modes of operation just like the Pro 120 and if you have 140mm fan slots in your case, you can maximize the cooling potential by using this one instead of the 120mm fan.
Fractal Design Dynamic X2 GP-14 PWM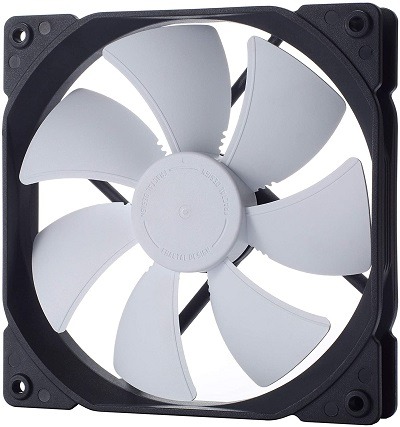 Dynamic X2 GP-14 PWM is the bigger version of the X2 GP-12 and remember that the PWM is a different one than the normal GP-14 and comes with around 40% higher airflow. It can deliver up to 118CFM of airflow with the max speed of 1700RPM and uses long-life sleeve for reliable operation for years.
It is available in 3 colour variations: Black, White, and Whiteout.
Thermaltake ToughFan 14- 119CFM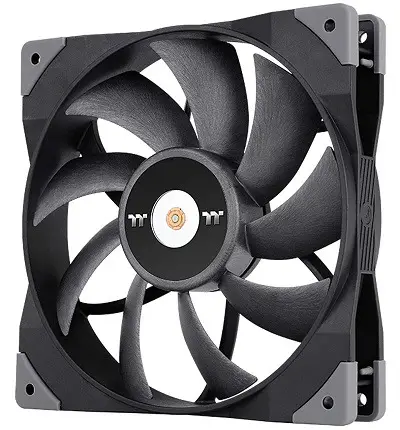 ToughFan 14 is a relatively low noise 140mm fan that runs at a high speed of up to 2000RPM generating noise up to only 33dBA. It can throw around 119CFM of air at its top speed and has an impressive air pressure of 3.54mm-H2O. Therefore, you can expect its cost to be high. A single fan will cost you around $30 while dual-fan pack costs $50 making the cost of each fan $25.
Enthusiast
Scythe Kaze Flex 120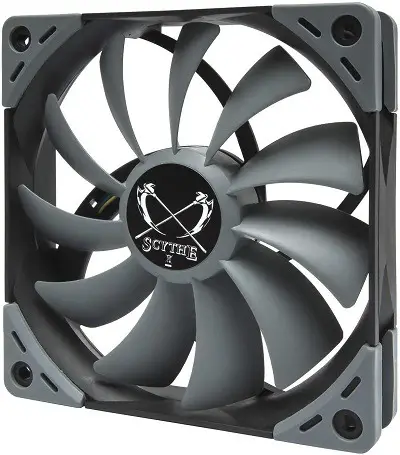 Till now the list has shown the max airflow of up to 87CFM with a 120mm fan. The Kaze Flex 120 from Scythe is a little better than that with around 90CFM of airflow at its max speed of 2000RPM. It features 11 blades designed for high airflow and therefore generates more noise than most 120mm fans. Otherwise, it's also a top-notch choice for performance especially when its price is considered which is less than $15.
Editor's Choice

– Noctua NF-F12 Industrial PPC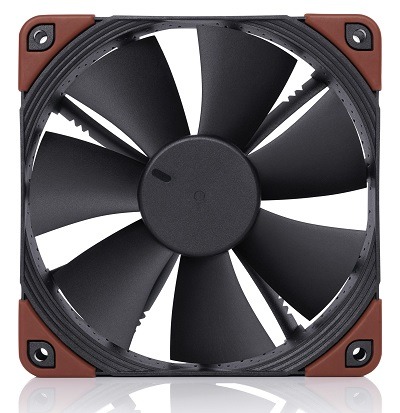 Perhaps the fastest 120mm fan you can buy today, Noctua NF-F12 is currently #1 airflow fan of all time with up to 3000RPM speed and an outstanding airflow of 110CFM that can't be found anywhere else. Thanks to Noctua, now you can get the black coloured fan instead of the brown and though its price is more than most 120mm fans, it is literally uncomparable and is worthy of being the Editor's Choice.
Not only airflow but it leaves all the above fans behind by delivering up to 7.63mm-H2O air pressure that is roughly double than what you can get with the best 120mm airflow fans mentioned-above. The only problem now you have to deal with its noise which is close to 43dBA but you can fix that by lowering down the fan speed or using a case that uses sound dampening materials.
Best 140mm

– Noctua NF-A14 Industrial PPC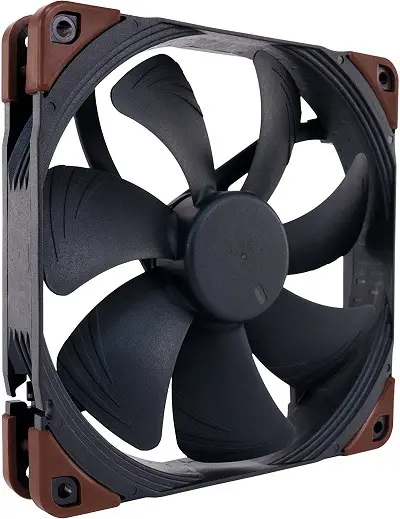 Just increasing the size to 140mm, the Noctua NF-A14 is able to deliver up to 158CFM of airflow which is insanely high and is almost double than most of the mid-end 120mm fans and almost 1.5X than the high-end 140mm fans. It too features a max speed of 3000RPM and unbelievable 10.52mm-H2O air pressure which makes it worthy of using on radiators as well.
Wrapping up
I have listed fans from most manufacturers and upon comparing them you can easily draw conclusions and make up your mind to go with the desired airflow fan. Airflow is necessary when you have overheating problem and nothing can cool down your PC components better than a good airflow fan.
Let me know what fan is your favourite in the comments section below.