Fortnite is an easy game for anyone who has ever played a PC shooter genre in their life. Now the real story begins when you are in the final 10 players and starting from that point, the game changes completely, as you must have skills rewarding twitch reflexes and perfect aim equally with your ability to build a beautiful fortress in shortest possible time.
To build a fortress, especially for new comes, it will be the most frustrating ability to master. And the devs are releasing new features quite sooner and another new feature that is coming to the game is an addition of portable grenade that will sprout forts.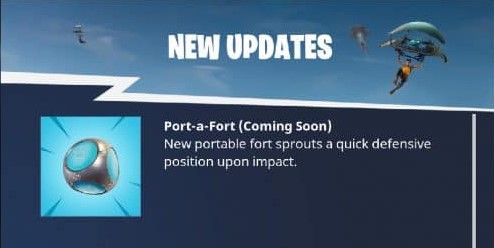 The name of that portable grenade is Port-a-Forts and when it will be used, it will sprout a quick defensive position upon impact.  It can be said that it will be a throwable item instead of tap ones due to the way it is defined "impact". Though much about it unknown like we are not aware of its official release though, although it can be said with earlier experience that Epic is real quick with bringing new updates and thus it can be said that it can be arriving in the upcoming weeks. Here is a teaser of what actually Port-a-Forts is:-
Looking at the teaser it can be said that it might look a cool idea and will gladly be accepted by newcomers, but this might not be the case with pro's as they might feel this as an unnecessary thing. Keeping all speculation aside, let's wait for the new item to be released and test yourself.
For newcomers, we will debrief the game in short, precise manner. The game Fortnite is a Battle Royale and the basic game is free for everyone. In the game, 100-player faces each other in PvP mode in one giant map and being dropped from a battle bus. The rule is indeed simple with the last one standing wins. It is available on PC, PlayStation 4, Xbox One & Mac.