Rainbow Six Siege, a team-based shooter game has broken its all previous records by a great margin when Steam reported that the concurrent players of the game have reached 176,208 for the last 30 days which is more than a 50K increase from the last month. Although, the game's concurrent players were constantly increasing on a gradual basis but suddenly this much increase wasn't expected.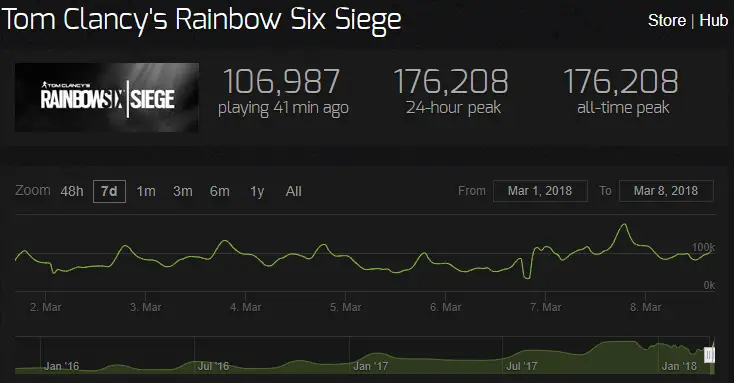 The data is shared by Steam and not by Ubisoft which shows that the game is a success for sure and if you know about it, the matches are very easy to find in it. Currently, there are over 27 million players all over the world when Xbox One, PS4 and PC are considered collectively.
Last year in the same month, the concurrent players were about 47,994 and crossed the 100K line in Dec 2017. The game was released in December 2015 on all the platforms and right now it has got its third season pass hitting number 3 spot on the steam top sellers list after the Final Fantasy XV and Warhammer: Vermintide 2.
The content of this new season pass revolves around Operation Chimera and also has a new Co-op mode called Outbreak which is a story-driven set of missions where you have to face hordes of zombies. The game mode can let 3 players play together.