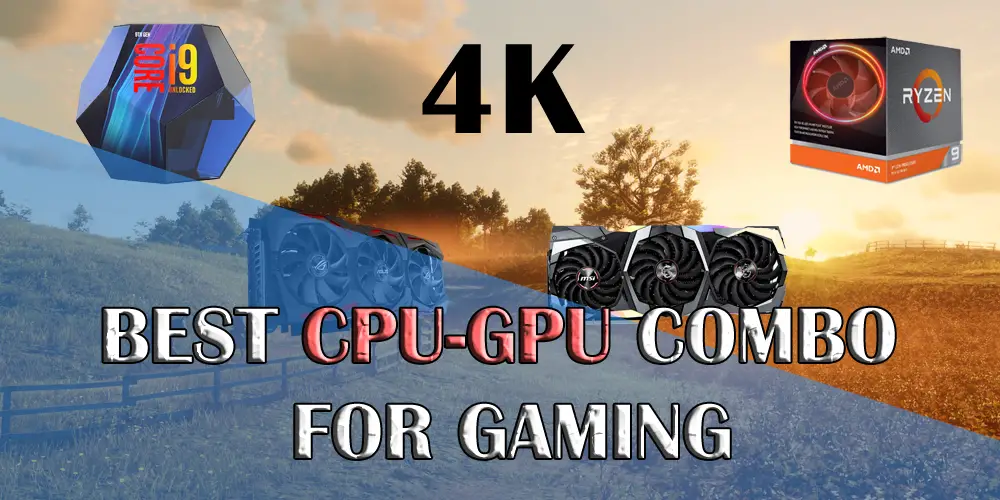 Introduction
For the increasing demand of high-quality graphics and higher fps, PC parts producing companies are making high-end components to provide the best ever gaming experience to take gaming to the next level. A decade before things were quite simple with good gameplay and fine-looking graphics but now it's Ray Tracing, real looking textures, foliage, depth of field and what not to provide as much detail as possible inside the games.
This makes gaming amazing in 2020 and as there are currently 3 popular resolutions for gaming, companies have taken care of everything that could go in the right direction. 1080p gaming is currently the baseline with 1440p gaming as the sweet spot that can have both great graphics along with high fps but 4K is what enthusiasts consider for the best eye candy. 4K is although popular but it still isn't the mainstream or common right now with PC parts so high in price that not everybody can afford it.
I myself use up to 3440 x 1440p resolution at max for gaming and to run games smoothly on that resolution, I use GTX 1080 Ti which is capable of handling the games at this resolution very well. 4K resolution is a little higher with 3840 x 2160 pixels and requires almost 4 times more power than a 1080p resolution will require. There are currently fewer CPU-GPU combos you can get for playing the games smoothly on this resolution and certainly, it will cost much more to play with somewhat 100 or 144+ fps which will require you to set up multiple GPU configuration that is not affordable at all.
But 60 fps is achievable using some parts I am going to list out below. This will ensure that you get the best graphics along with having fps close to 60 and if you compromise a setting or two in games, then you may reach higher in that number.
---
Intel Core i9 9900K- RTX 2080 Super [Best Value and Editor's Choice]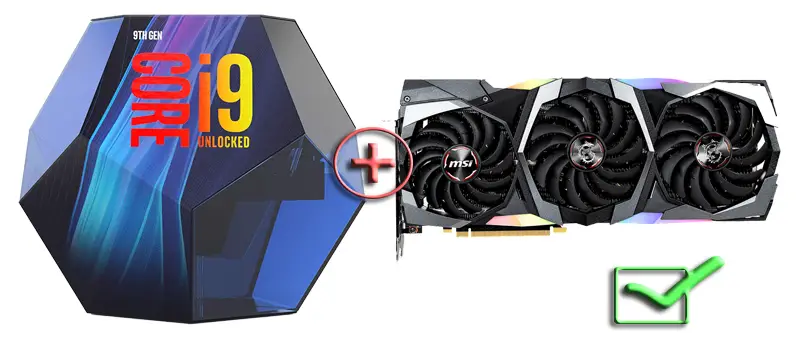 Currently, the fastest gaming CPU you can get is the Intel Core i9 9900K which is a beast in gaming. Although i7 9700K should be enough, i9 9900K has some great specs which along with providing the best performance in gaming, will also be future proof due to those 16 extra threads on top of the 8 cores. It features a Core clock of 3.60GHz and a boost clock of 5.0GHz which is massive and should eliminate every possible bottleneck in gaming as well as CPU-oriented applications.
One of the best matches I believe for this processor is the RTX 2080 Super which is a remake of the original RTX 2080 with some of its specs increased. The card features 3072 Cuda Cores, with up to 1815Mhz on the reference design, and 8GB of GDDR6 memory that runs on 15.5Gbps speed. This card draws around 250 watts of power and Nvidia recommends using at least a 650 watts of reliable power supply.
The RTX 2080 Super is roughly 5% faster than the RTX 2080 and can deliver 100+ fps at 1440p on ultra settings in most of the games. When it comes to 4k resolution, it can provide up to more than 60 fps in many games and closer to 60fps in graphically intensive games. This costs with a price tag of around $700 with some editions going up to $800 that feature higher boost clock speeds and more headroom for overclocking. Both the i9 9900K and RTX 2080 Super will provide the best value for money at 4K resolution that can't be achieved using any other combination because the other higher-end parts are way costlier for their respective performance. This is the one which should be the priority if you ever go on building a 4K gaming PC to save the most amount of money.
---
AMD Ryzen 9 3900X- RTX 2080 Ti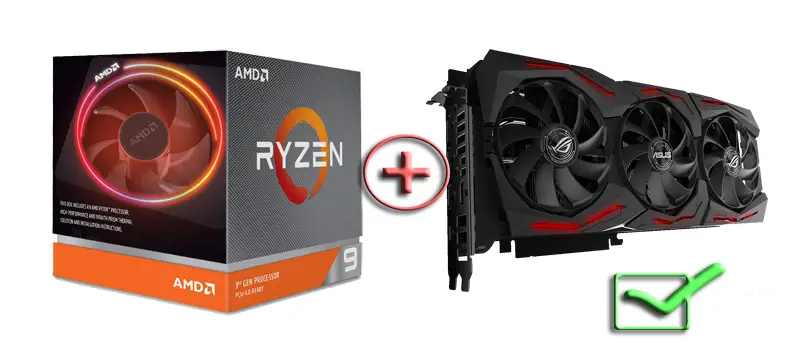 Perhaps the most powerful processor for gaming without spending over $600 you can get is the Ryzen 9 3900X. Currently, no other processor at this price features so powerful performance as this beast. The specs are phenomenal with 12 cores and 24 threads and up to 70MB of game cache. Ryzen processors are also known to be the most benefitted of highly-clocked memories and with a 3600MHz or 3733MHz kit, you can expect somewhat equivalent or better performance to the i9 9900K in gaming.
As far as other non-gaming things are considered, i9 9900K doesn't even come close and the price difference is only $90. So, this is the one which will be more future proof and with RTX 2080 Ti, you will be observing around at least 10% more fps than with the previous combination. RTX 2080 Ti is the fastest mainstream graphics card and can max out any game at 4k with over 60 fps. The only disadvantage is the price which is much more than the value it provides. It costs a whopping $1200 with some editions going above it like the Asus ROG Strix RTX 2080 Ti that costs around $1250 but features the highest boost clock speed.
It features 4352 Cuda Cores, 11GB of GDDR6 memory and a memory bandwidth of 616GB/s. However, the memory speed sits at 14Gbps which is lower than the RTX 2080 Super which is due to the fact that the Super series is a remake with some improvements. But that didn't have any impact on RTX 2080 Ti being the winner as there is a significant difference in other specs which makes this card a monster in gaming. Ryzen 9 3900X and RTX 2080 Ti is the second and the last combination I recommend for gaming. Going above it to buy something like Titan RTX is a waste of money and to increase the performance further, it is recommended to use a second RTX 2080 Ti in SLI.
---
Conclusion
If you are an enthusiast gamer who doesn't want to sit at 1080p and 1440p, then you should start saving some money to invest in the parts mentioned above. The CPU-GPU combination will alone cost you from $1200 up to $1900 which will take your PC's cost up to $3000 easily. But if already have saved up, then don't hesitate and fulfill your dream gaming experience.