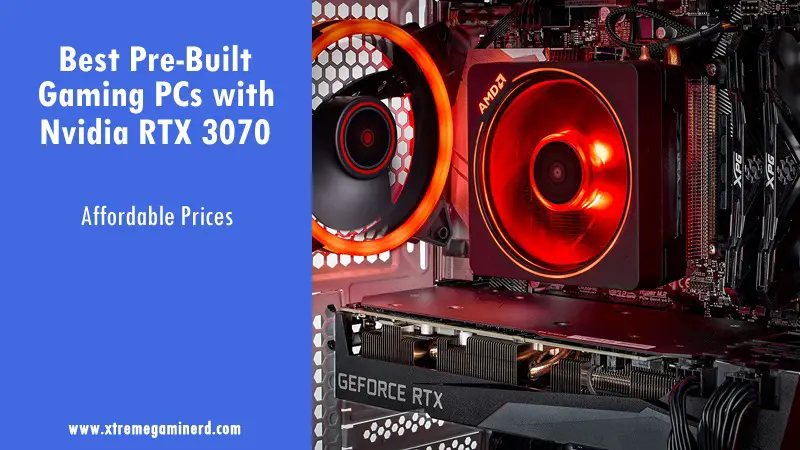 The chances that you will get a brand new RTX 3070 on the original MSRP are very slim. But there are a few solutions you can do in order to get this graphics card. You can either get a gaming laptop with RTX 3070 graphics card or you can buy a pre-built PC that has it pre-included.
While I encourage building your own gaming PC, I can't advise you to pay double-triple prices for the PC  components. There are some good companies that build and sell their own pre-built PCs and they are quite good when it comes to value for price unlike the major brands like Dell, HP or Corsair which sell overpriced pre-built PCs.
If you can't wait for a few months, then you should probably get a gaming PC with the RTX 3070 from the companies that sell pre-built PCs. Fortunately, there are a couple of PCs you can buy right now for decent prices and enjoy gaming without waiting any further.
Skytech Chronos Gaming PC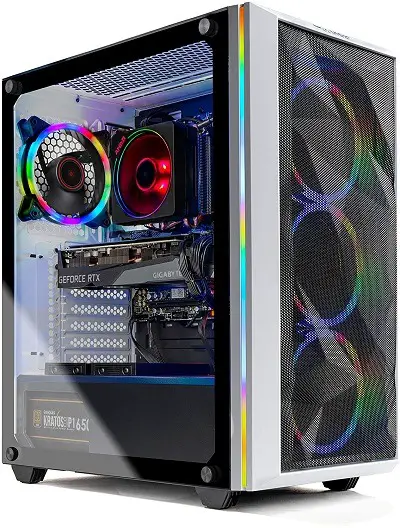 Skytech, one of the popular brands for making and selling pre-built gaming PCs has the Chronos gaming desktop that comes with the AMD Ryzen 3700X and RTX 3070 combination. While the Ryzen 3700X is older and slower than the Ryzen 5800X but still is worthy to be used as a gaming CPU in 2021. It is very capable of gaming and productivity, thanks to the 8 cores and 16 threads it boasts.
With this gaming PC, you will get 16GB of RAM that is clocked at 3600MHz which is the sweet spot for achieving the highest performance with Ryzen processors. With this much RAM, you can easily play games at 4K resolution and get 60+ fps. The combination of the CPU, GPU and RAM will make it possible and you can enjoy the AAA titles on ultra settings easily.
The PC uses a white Chronos case that features a fully vented front panel along with RGB LEDs at the sides and 4x 120mm ARGB fans pre-included. The case has a tempered glass side panel to look through the window and a full-length PSU shroud to hide those cables underneath.
The motherboard used in it is a B550 chipset and it looks like from Asus. It's not bad at all and features decent heatsinks on the VRM for overclocking. Do remember that the processor is cooled by a Wraith Prism CPU cooler which is not made for enthusiast overclocking but is sufficient to cool down the chip and will be ok for gaming purposes. You can always change it to a custom CPU cooler if you would like to, using our guide on the best CPU coolers for Ryzen 3700X.
iBuyPower Ryzen Next Gen Gaming PC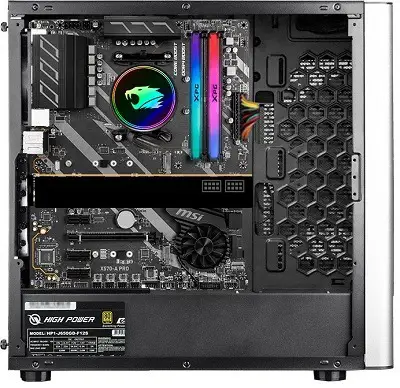 iBuyPower is selling a very powerful gaming system with AMD Ryzen 3700X combined with 16GB of RAM that is clocked at 3000MHz and uses a custom iBuyPower liquid cooler for cooler operation. The system pic above is not the exact thing you will get but just an illustration.
With this build, you will get an AsRock X570 Phantom Gaming 4 motherboard that is surely better than what you can have from the previous build and is very capable of intermediate level of overclocking. With the RTX 3070 graphics card, you will be able to play all the games at 1440p and 4K resolutions and when you overclock your processor as well as the GPU, you will get a noticeable jump in the performance.
The casing used is the Thermaltake Level 20 MT ARGB that uses a tempered glass side panel and has a full-length PSU shroud to hide the PSU and cables. The best thing about this PC build is that you can customize each and every part according to your need. If you don't like any particular brand or a component, you can select from dozens of available choices. The cost, therefore, will vary but it's still around $2100 with the default specs.
Allied Patriot Liquid Cool Desktop Gaming PC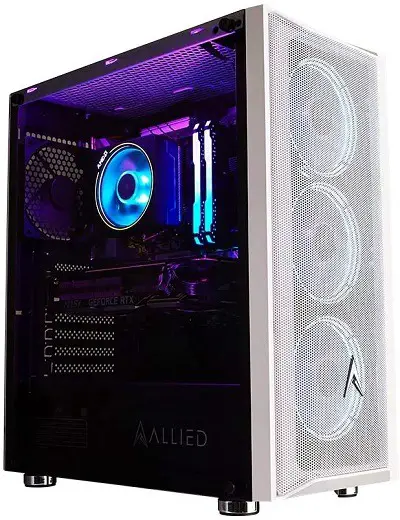 For Intel lovers, Allied gaming has a beast gaming PC that uses the Intel Core i7 10700K which is noticeably faster than the Ryzen 3700X and features 8 cores and 16 threads. The pic above is not the correct one as it is showing an AMD cooler but don't worry, you will get a 120mm liquid cooler pre-installed on this PC.
It is equipped with 16GB of RAM clocked at 3000MHz and a 512GB NVME SSD for fast O/S boot. Make sure you increase the storage capacity by adding another drive or you won't be able to add more than a couple of big games. The case used is from Allied itself that features a fully vented front panel with 3x 120mm pre-installed fans and a side tempered glass panel to look through.
The motherboard used has a B460 chipset which is disappointing but if don't care much about overclocking then that's your choice but Allied should have used the non-K version if they wanted to use this board. To power all the components including the RTX 3070, it has a 600 watt 80+ Gold certified PSU and comes with inbuilt wifi that will allow you to connect to the internet wirelessly out of the box.
It's although not the best gaming PC for money but considering the fact that it is much affordable than building a system by manually searching for the graphics card, it's definitely not a bank breaker.
OMEN 30L Gaming Desktop PC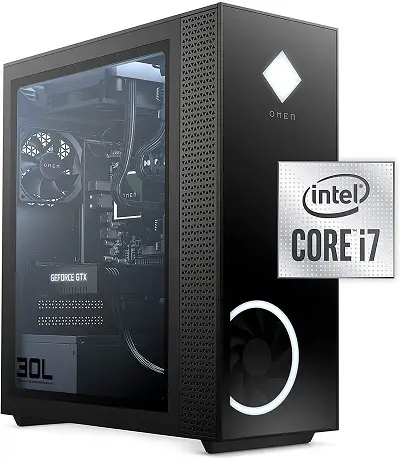 Omen 30L brings the Core i7 10700KL processor that features 8 cores and 16 threads with base/boost clock speeds of 3.8/5.1GHz and with the RTX 3070 graphics card it's just as powerful as the previous build. The Omen 30L brings a liquid CPU cooler and 16GB of HyperX 3200MHz RAM that is sufficient to game on 4K resolution.
Unlike most builds here, this PC features a 750W Platinum rated power supply which is insanely power-efficient when it comes to performance and is sufficient for further small upgrades. To host all of these, it comes with the Omen mid-tower chassis that features a side-vented front panel with an RGB logo and one RGB fan at the bottom to show off your rig.
The amazing thing is that it is configurable and you can choose either a lower-end CPU or a higher-end CPU like i5 10400F or a Core i9 10900K respectively. Similarly, you can change the GPU to GTX 1660, 1660 Ti, RTX 2060, 3080 and 3090 which will result in a decrease or increase in the cost.
Chillblast Fusion RTX 3070 Custom Gaming PC
This $1900 gaming build features a front panel with massive 2x 200mm RGB fans for throwing an insane amount of air but unfortunately, it can't as the ventilation is on the right side but still it should be ok for normal cooling. It has an Intel Core i7 10700K with 16GB of RAM clocked at 2666MHz. Unlike most builds above, it comes with an air cooler and it is a decent one but as the motherboard is a B460 chipset, you don't have to worry about overclocking and stuff. I hope the company also provides customization to choose a Z490 motherboard.
The mid-tower comes with a side tempered glass side panel and a 700 watts 80+ Bronze PSU which is also fine although not great. It comes with 5 years of warranty and Lifetime Tech support which will be helpful if you don't know how to troubleshoot bigger problems.