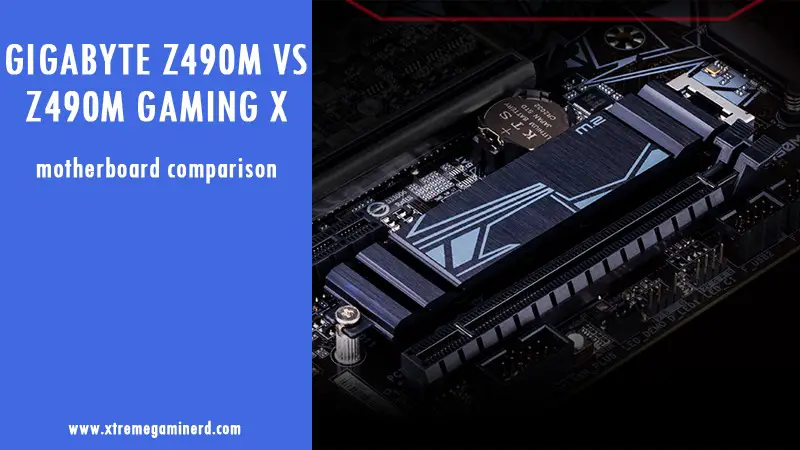 Gigabyte has eighteen Z490 motherboards that include all the budget as well as enthusiast-level boards. There are only two Micro-ATX boards in the Gigabyte Z490 lineup which are:- Gigabyte Z490M and Gigabyte Z490M Gaming X that share a similar name, however, both are Micro-ATX motherboards which are different from each other in many areas.
I will explain the features of both of these motherboards and list out the similarities and dissimilarities for making it easy to choose between them both in case you are searching for a motherboard for your PC with a Micro-ATX form factor.
VRM

Z490M Gaming X is designed for enthusiasts that provide better VRM for overclocking. As compared to the Hybrid Digital 4+2 power stage VRM on the Z490M, Z490M the Gaming X has much more powerful VRM with 11+1 power stages. This alone makes it superior in providing better and stable voltages for overclocking.
Both of these boards use the same Low Rds(On) MOSFETs where R is the resistance between the Source and Drain. Gigabyte claims to have Low Rds as compared to the standard MOSFETS on these motherboards VRMs which helps in lower temperatures as the Rds is directly proportional to temperature.
A 6 power phase VRM like on the Z490M is not ideal for overclocking especially the Intel Core 10th Gen processors like the i5 10600K which has 6 cores and 12 threads and i7 10700K which features more cores with hyperthreading. Z490M Gaming X, on the other hand, can easily handle both of these processors easily while it is recommended to not exaggerate in overclocking of i7 10700K or any higher-end processor like i9 10900K.
RAM support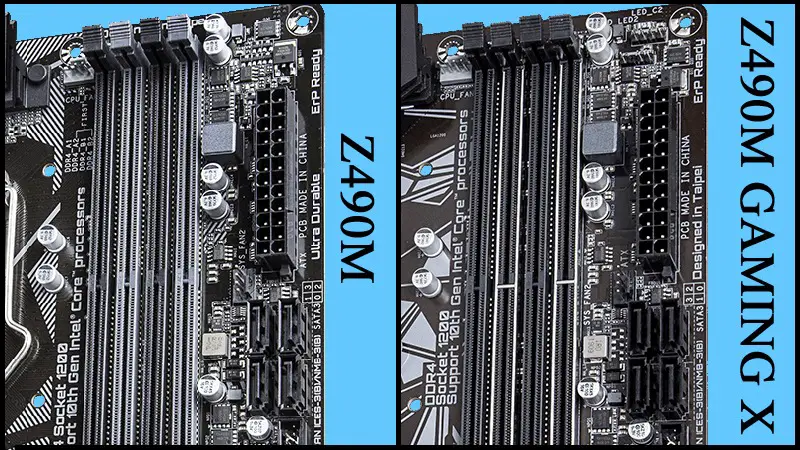 Both the Z490M and Z490M Gaming X have identical memory support with up to 128GB of DDR4 RAM size as max capacity on 4x DIMM slots. They can support memory frequency of up to 4400MHz with the Intel 10th gen processors. There is only one minor difference. The Gaming X has armor steel on two DIMM slots while Z490M doesn't have any.
PCI lanes distribution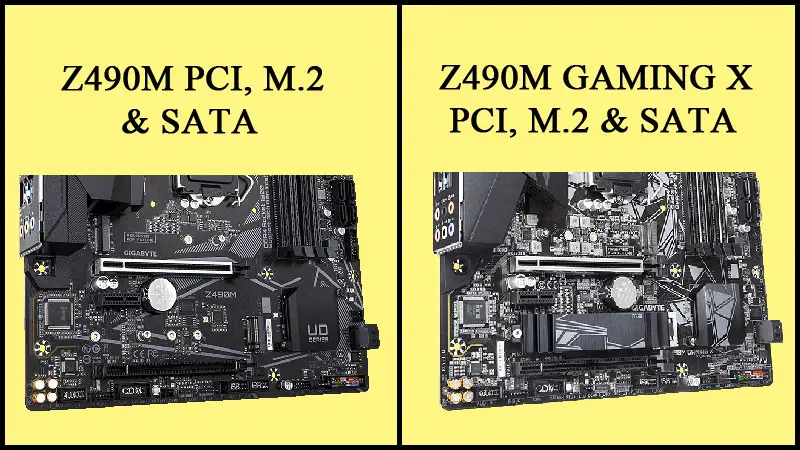 Z490M and Z490M Gaming X have an equal amount of PCI, M.2, and SATA connectors. For graphics cards, each of these has 2x PCI-E x16 slots that support two way AMD CrossfireX. The first PCI-E x16 slot runs at X16 mode and uses PCI lanes from the CPU while the second PCI-E x16 slot runs at X4 and uses PCI lanes from the chipset.
There are 2x M.2 connectors on both, the primary one being unaffected from other slots or connectors while the secondary M.2 slot which supports both the SATA and PCI SSDs share bandwidth with the second i.e., SATA3 1 port(First SATA port is named as SATA3 0). This means if you install any SATA SSD on the secondary M.2 slot, then you won't be able to use the SATA3 1 port.
For connecting SATA devices, you will get 6x SATA 6Gb/s ports on each of them.
Troubleshooting
As compared to most of the high-end Z490 boards, these have almost very few to none troubleshooting options. Both of them lack any Debug LEDs, onboard switches for Power and Reset functions, LCD Error Display but have Q-Flash button for updating the BIOS. On I/O, unfortunately, there is nothing available for troubleshooting.
Cooling and Aesthetics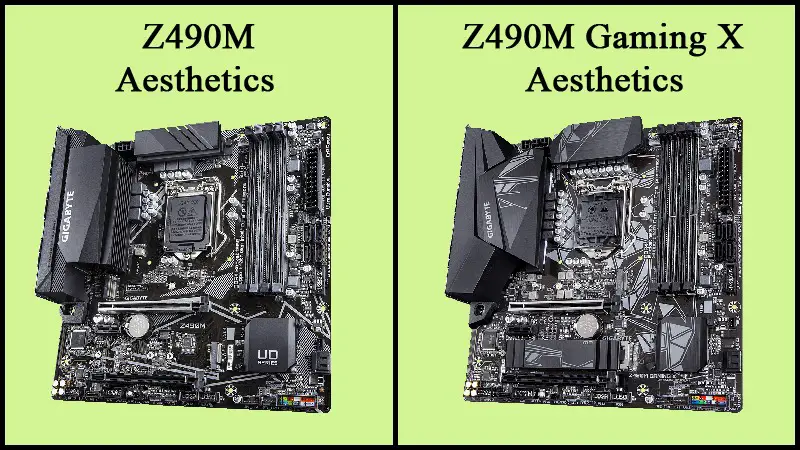 Aesthetically both are pleasing and have good heatsinks over the VRM which are grooved for better airflow. The Z490M uses a 4 layer PCB while the Z490M Gaming X uses a 6 layer PCB which is cleaner but none of them have inbuilt RGB lighting.
On the Z490M Gaming X, the secondary M.2 connector uses a heatsink while it is absent on the Z490M. Both of them have 1x CPU fan header and 3x Chassis fan headers for cooling but for connecting RGB devices, the Z490M Gaming X has one-one more RGB and ARGB headers.
Bios
Each of them has a 1 x 256 Mbit flash BIOS.
I/O and Internet Connectivity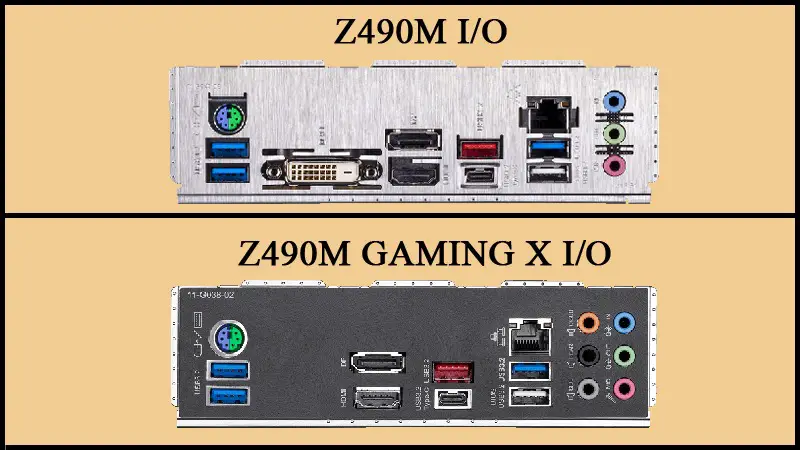 The Z490M has an additional DVI display output along with an HDMI and DP ports. The Z490M Gaming has the HDMI and DP ports and both of them have 6x USB ports in total including the Type C port. The Red coloured USB port is USB 3.2 Gen 2 while the rest of the 5x USB ports that include the Type C are USB 3.2 Gen 1.
For internet connectivity, there is a single Intel 1G LAN on each of them but no inbuilt wifi adapter for wireless connectivity.
Pricing & Conclusion
Gigabyte Z490M Gaming X is priced at $160 while the price of Z490M is unknown and for the specs, it brings on the table, it should be somewhere between $110-$120. The Z490M Gaming X is a much better choice due to its VRM because Z490 chipset is made for overclocking and if you can't do overclocking properly with a Z490 chipset, then better get a B460 chipset motherboard.
---