Best CPU Coolers- Roundup!
Why buy an aftermarket CPU cooler?
This question can be asked in another way: "Why not buy an aftermarket CPU cooler?"
For several years I have been building PC's on different platforms for me and for my friends. I have a lot of experience especially on PC cases and CPU coolers. I never use an Intel or AMD stock cooler because they are damn loud and of so cheap quality that it almost makes me think every time to protect my processor from thermal throttling. The cheap quality heatsink and the irritating loud noise of that cheap fan should never be used until you are on a very tight budget. You can buy a very cheap cooler that costs $15-$20 but the thing is, you should buy it. Remove the stock heatsink for making your processor live longer.
Overclocking or Not. It doesn't matter!
When you buy a processor like i5 7600K/8600K or an i7 7700K, then you are buying them for a reason. That reason is overclocking. Nowadays, there are more unlocked processors than locked ones. All the Ryzen processors are unlocked and can be overclocked to their full potential by increasing the voltages but this will increase the chance of getting your CPU to throttle. A stock heatsink can easily increase your CPU's temperature more than 80C on some moderate workload and if you overclock it a little, then expect your CPU to thermal throttle because no processor is designed to operate at 100C. Your processor will bottleneck and you will suffer serious performance issue.
I remember my i3 2120 thermal throttling when the thermal paste dried up. An aftermarket CPU cooler wouldn't let your CPU reach that state even if the thermal paste dries up because it has a huge capacity of dissipating heat efficiently. Thus, when you use an aftermarket CPU cooler then you can not only make your CPU work on lower temperatures but also you will have the headroom for overclocking without any fear. You will gain some good performance on every Intel or AMD processor when you increase the clock speed by a few hundred Mhz. The best thing is, these aftermarket CPU coolers aren't very expensive. A good budget CPU cooler can be bought even under $30 and if you want high performance you can get a damn good CPU cooler for $100.
I have listed the most widely used and most popular CPU coolers that are tested and have performed well in every test. Not only these help you achieve good clocks, but they are also far more silent than a stock heatsink.
How we test?
Most of the test on CPU coolers is done by me and Subhanka Naskar, an IT professional. My rig consists of Core i5 6600K, 8GB ddr4 Ram, Asus Z170 Pro gaming motherboard while Subhanka has FX 8350, 12GB ddr3 Ram, MSI 970 Gaming motherboard. We use Heavyload software for stress testing the CPU for 15 minutes on different clocks and different fan speed. We allow the CPU to cool down after every benchmark for 5 minutes at full fan speed until the idle temperature goes back down to the initial stage.
The software used for measuring fan speed and temperature of the CPU was CPUID HWMonitor and software used for overclocking Core i5 6600K was Asus Suite 3 which is very easy for tweaking things.
Disclaimer:-
Most of the CPU coolers listed below are tested by us and have performed well to be able to get on this list. No cooler was provided by any company for testing and all were bought by us for testing to put our unbiased opinion. The coolers which have been tested by us will have Awards on their images and links to their full reviews below their summary. The article will be updated whenever a new CPU cooler is tested and proves itself to be worthy of putting on the list.
ARCTIC Freezer 33 eSports ONE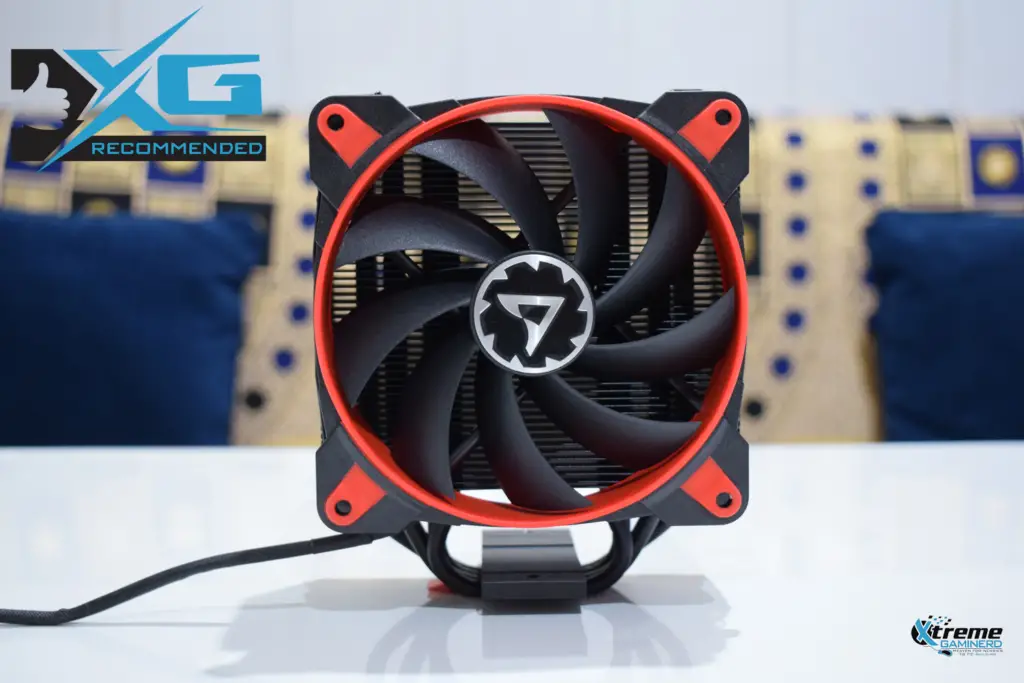 Arctic's Freezer eSports One is an ideal choice for budget PC builders who want to overclock their CPUs without spending too much. The cooler has a good black heatsink that comes with 4 different coloured fans. These fans are the Bionix F120 which perform very well when run at full speed. At lower speed, the fan is very silent and provides adequate cooling. The cooler uses an aluminium heatsink with 4 copper heat pipes that are also painted black and pass through the base exposed to the surface to make a good contact with the CPU. For mild overclocking and maintaining temperatures under the 70s, it's a very good choice for starters.
[rwp_box id="6″]
Thermaltake Contac Silent 12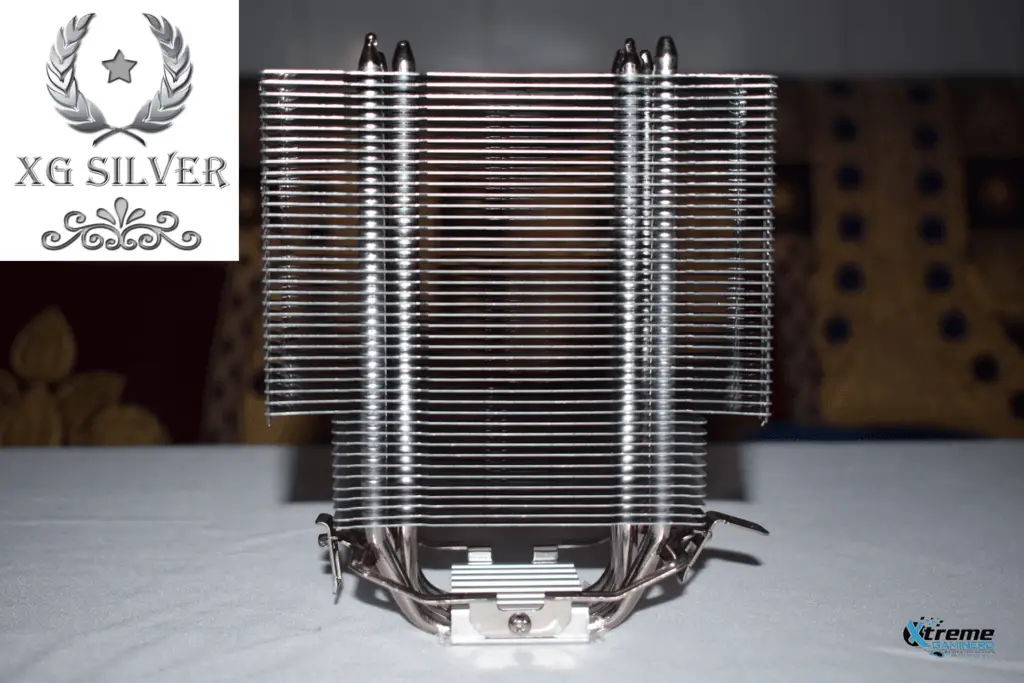 If you are looking for a cheap solution with which you can maintain the temperature of your unlocked CPU like an i5 or Ryzen 3 or 5 processor, then for mere $25, this one will never disappoint you. It has got a decent heatsink with 4 copper heat pipes that are very efficient in removing heat from the chip. The base of the heatsink is properly finished and the Thermaltake air pressure fan keeps the temperatures down even though it's working operation is between 500-1500RPM. For moderate overclocking, it's the best solution for the money and a good contender for this list.
[rwp_box id="5″]
Cooler Master Hyper 212 LED Turbo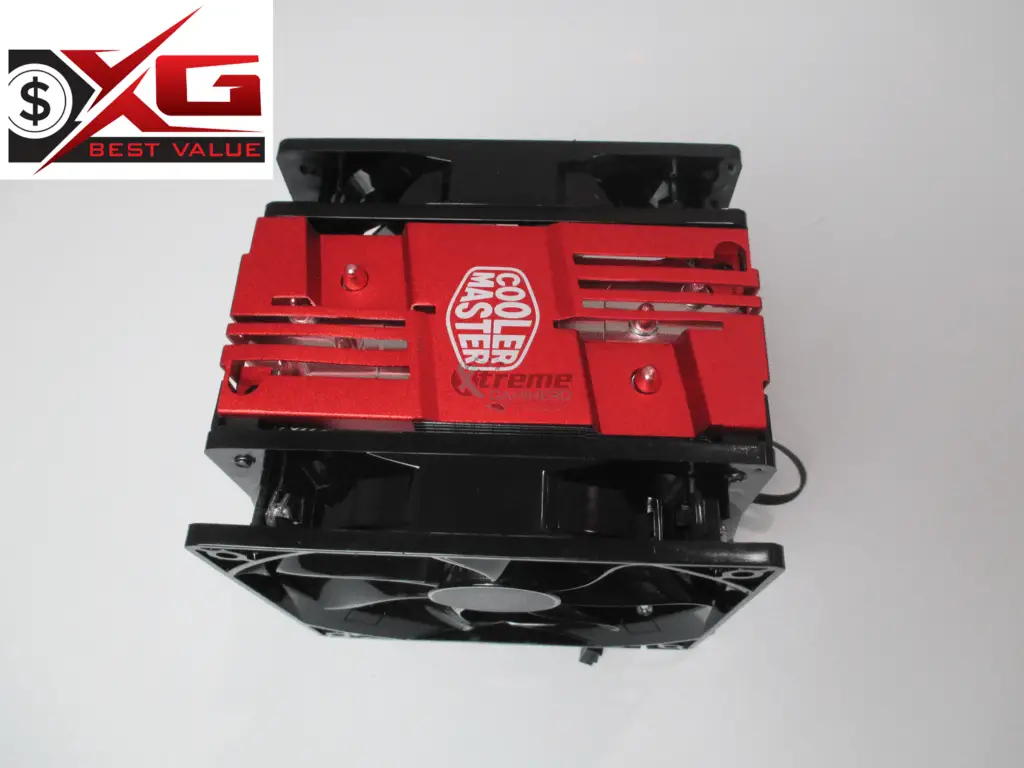 Cooler Master Hyper 212 LED Turbo is definitely a surprising CPU cooler which features a simple heatsink but offers great heat dissipation by two pre-installed fans. Testing it on my i5 6600K proved it to be one of the best budget CPU cooler for overclocking. The copper heat pipes combined with the aluminium heatsink are effective because of the exposure of both directly to the chip. On the other hands, fans are very silent and provide a push-pull configuration that eliminates heat effectively even at medium fan speed. The cooler is available with RED and BLACK top cover.
[rwp_box id="0″]
---
MSI Core Frozr L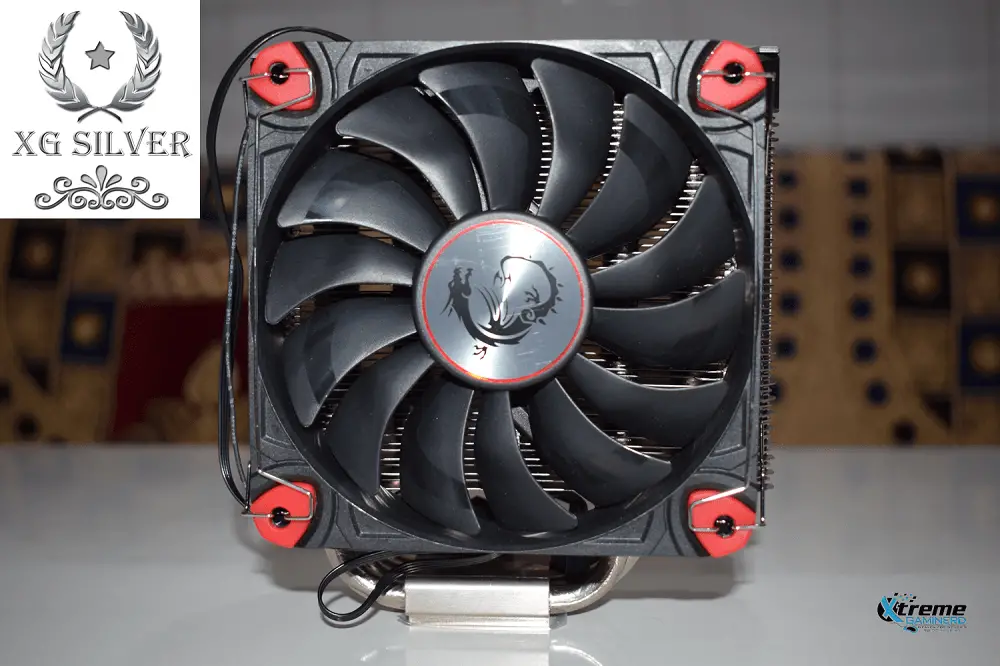 MSI Core Frozr L is the best budget CPU cooler that I have tested till now. It's a very good start for MSI in the CPU coolers field and I am glad that I have one. The heatsink is strong like none you will see in budget CPU coolers. The fan is static pressure type which is very powerful in airflow as well as air pressure when running at a full speed at 1800+RPM. The copper base along with embedded copper heat pipes are well effective in taking the heat from CPU and for a couple of more bucks, this one is better than the Hyper 212 LED Turbo.
[rwp_box id="1″]
---
DeepCool Assassin II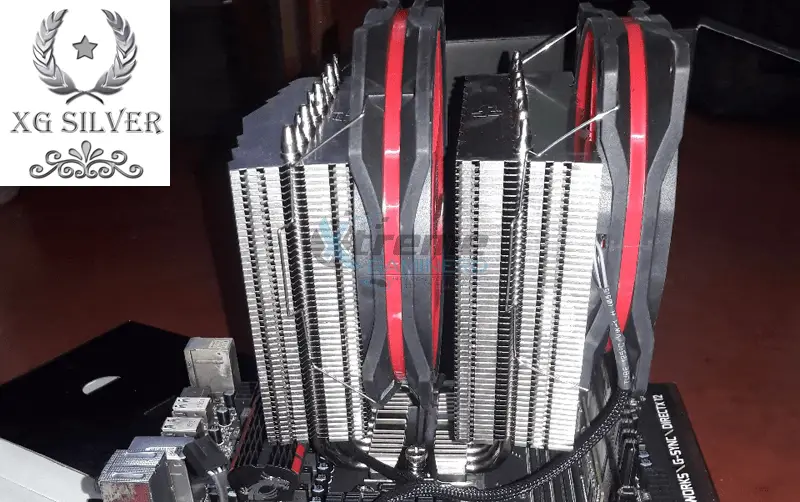 DeepCool Assassin is a full tower CPU cooler which is so huge that it eats some of Ram slots but as the clearance is enough, you can easily install small heightened Ram sticks. This thing is a beast in cooling. Testing it on a power hungry and a hot chip like FX 8320, it was even better than most of the 240mm Liquid coolers. This cooler with 2 separate heatsink sections and 2 different sized fans creates a powerful package which is enough for any unlocked chip to be overclocked to its full potential.
[rwp_box id="2″]
---
Noctua NH-D15
This is an exceptional cooler that no one is able to beat. The huge dual heatsink is much better than you can get for its price. It can support three 140mm fans and comes with two 140mm NF-A15 PWM fans that can be controlled easily and are specially designed for high air flow. Its previous version which was NH-D14 is still considered one of the best CPU coolers even in this year but this cooler has some good improvements in both the heatsink and fans. Noctua fans are the best of all the fans you can get right now. They are very silent and have good airflow. The only bad is that most of the Noctua fans have this brown/light brown colour combination and no RGB version. But if you prefer cooling and overclocking over aesthetics which should be the target for everyone, then you will definitely use this.
The dual heatsink in this cooler has 6 heat pipes that are nickel coated and has a smooth finish on its base. This particular version of cooler is compatible with all Intel and AMD mainstream platforms except AM4. There is a completely different version for AM4 if you want to use it for your AM4 socket.
The fan frames are designed properly so that you can have much better compatibility with memory modules. Although, you still cannot install tall memories with this but memories like Corsair Vengeance LPX will go perfectly fine. But be sure to install RAM first and then install the cooler. You can create a push-pull configuration and if you add one more fan then you will have a little better performance. Although, with different cases and different motherboards, it may or may not be easy to install three fans on a huge heatsink like this. So, it's up to you to research a little bit before you buy this cooler. But most of the mid towers and full ATX motherboards can fit it easily with 2 fans. I would like to test it personally someday.
P.S: The cooler comes with 6 years of warranty.
---
Corsair Hydro Series H100i v2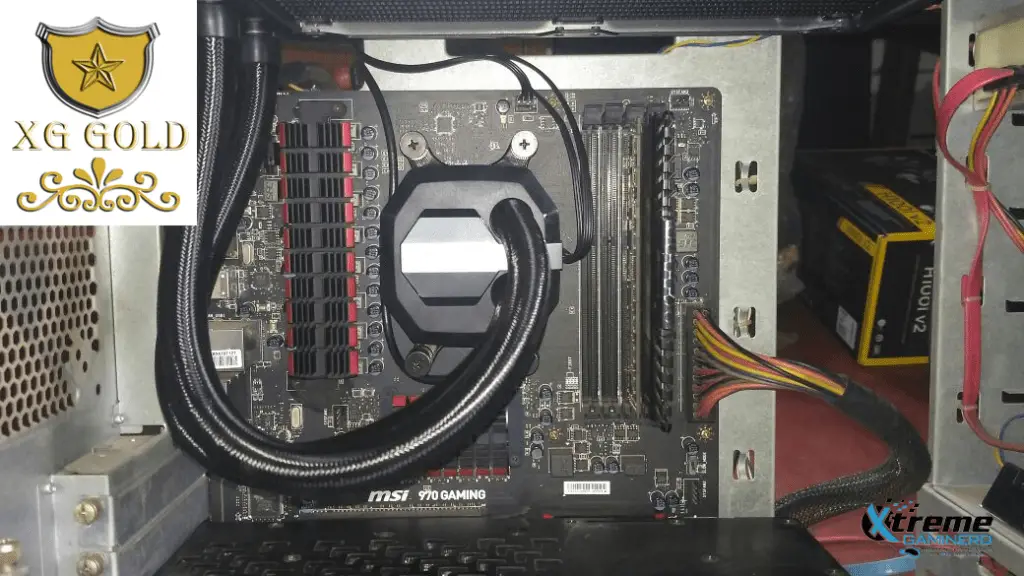 Corsair Hydro Series H100i V2 is a one of the great success in the industry of cooling and is the successor of the original H100i but with redesigned CPU block and fans. The pump is absolutely flawless in regulating the liquid and the Static pressure fans cool down the radiator very effectively. Corsair Hydro series coolers are without a doubt, the best coolers in any category and H100i V2 cooler deliver best value to price performance and for $110, there is no other cooler that I recommend for overclocking.
[rwp_box id="4″]
---
Cooler Master MasterLiquid 240
 
Cooler Master ML 240 is a perfect CPU cooler that comes in the budget under $90 and performs well in both temperature and noise. The cooler is simple with good durability and reliable sleeves which makes it a flawless cooler for its price. It can be installed on any Intel platform and also on AM4 socket for AM4 processors. The fans perform exceptionally well even at a low speed of 760RPM and accompanied with the noise of pump running at full speed, the total noise doesn't exceed 18dbA. Even at 4.5Ghz on i5 6600K with the silent profile, the cooler never went over 60 C which makes it very good silent cooler for overclocking.
[rwp_box id="3″]
---
EVGA CLC 280 RGB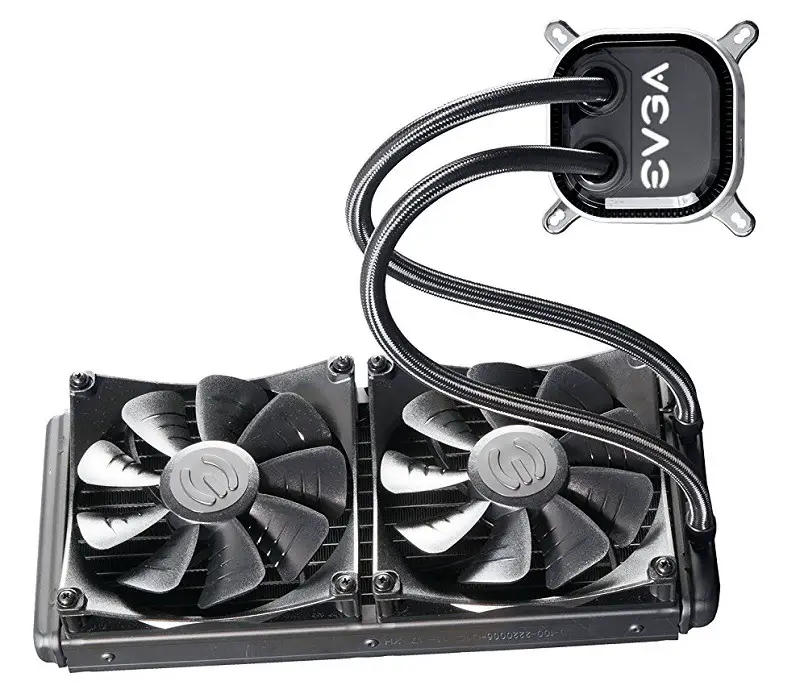 EVGA is not into making CPU coolers except the heatsinks on the graphics cards but it launched its first AIO coolers. They are EVGA CLC 120/240/280. Of course, the 280 has a bigger radiator and bigger fans, so it will perform better for a little more price which is around $130. This cooler is a little different than most of the AIO coolers as the tubes are not going to the CPU block from sideways but from the front. So, the issue of adjusting the pipes is not there. Also, as most techs reviewed it, the tubings are made well flexible.
The radiator is slim and the block has pre-installed clips. Now it's also equipped with RGB and you can customize it with the EVGA software. What is really unique is the design of the fans. These are Air-pressure fans with a good amount of airflow and the frames are curved. EVGA says that it helps to reduce noise and increases airflow.
Fans operate in a wide range from 600 to 2200 RPM but produce a lot of noise when at full speed. The pump also produces max noise at around 20dbA but fans can go up to 39dbA. So, this is not that much silent but as the radiator is big enough, you don't need to operate the fans at full speed. Keep it around 1200RPM and you will be fine with the temperatures.
---
Fractal Design 
Celsius S24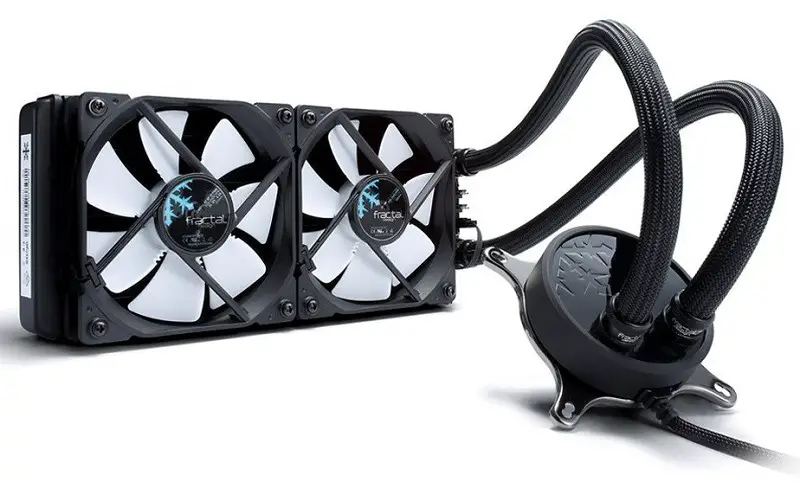 Fractal Design Celsius is another success which has another version with 360mm radiator. But the value for the price of S24 is better than S36. This cooler is much like the EVGA CLC 240 as the CPU block is similar and the tubes are also flexible although there is no RGB present in it. There are a lot of modifications on this cooler over the traditional CPU coolers. First is that the radiator has an inbuilt fan hub that has two fan connectors. This makes the connection and powering both the 120mm fans easy. Cable management will also be good and you don't need to buy a separate hub.
The CPU block is very thin and the pipes are emerging from the top just like the EVGA CLC. The block has a copper base that comes with pre-applied thermal paste and the block comes with pre-installed Intel kit. It can be replaced by AMD kit also and is also AMD Threadripper compatible along with the AM4 socket. So, this cooler is compatible with almost every mainstream platform. The fans are air pressure designed and operate in the range of 500-2000RPM delivering max noise of 32dbA. The pump also has a moderate amount of noise at 20dbA max but as reviewed by many techs, it regulates liquid quantity less than 1 litre per minute which is lower than some of the best liquid coolers. Despite that, this cooler performs well in cooling with low noise.
---
NZXT Kraken X62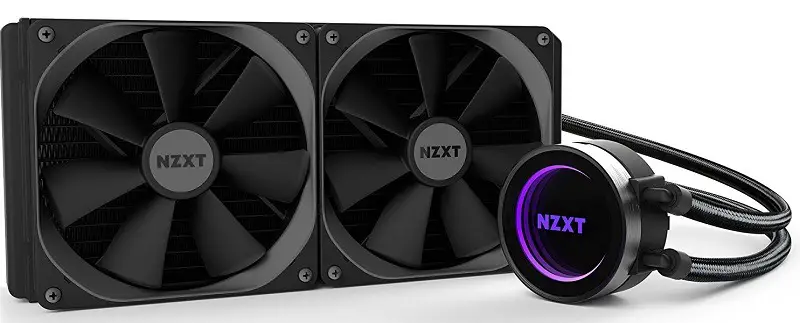 Kraken X62 is the upgraded version of X61 which was also a very successful cooler but X62 is designed for more performance. It's a 280mm cooler and has a little brother with 240mm radiator and also a 140mm radiator. Although, the radiator is similar to every other 280mm radiator but fans and the CPU block is a redesigned for more liquid flow and provides better aesthetics.
The fans work in the range of 500-1800 +-300RPM producing max noise of 38dbA which is not that silent although many techs who have reviewed this cooler found it silent than its specs state. The CPU block has a Copper base which is big enough to cover big chips and is also compatible with AM4 socket and uses a different bracket. The aesthetics are next level with infinite mirror technology, you will be mesmerized by its looks. The lighting is, of course, RGB and you can customize it according to presets or manually by CAM software.
The performance in cooling is great because of those airflow fans which produce a good amount of airflow through the heatsink of the radiator. Cooling is top notch on overclocking and this one is definitely recommended if you have $160.