Guides
How to know if a graphics card is compatible with your PC
Xtremegaminerd.com is a participant in Amazon Associate Program and is supported by the readers. The qualifying purchase you make through our links may get us some commission and doesn't cost you an extra penny.
---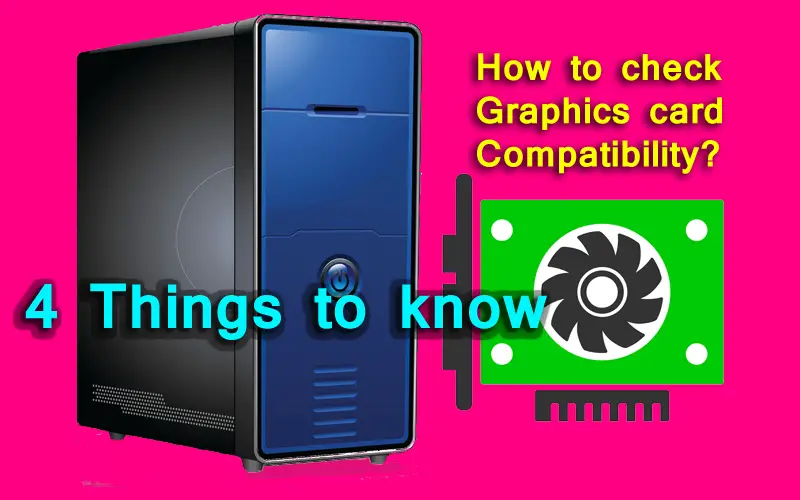 You want to play some great AAA titles or just want to do casual gaming and you are ready to buy a graphics card but don't know if your graphics card will be compatible with your system or not?
This is one of the most common problems that new gamers face and I was too among them when I started my journey in PC gaming. There are a couple of things one must know before purchasing a graphics card to avoid incompatibility from all areas. This will not only save your money but will also ensure that your graphics card face no bottlenecks and any other possible problems for optimal performance.
Graphics card need to be compatible with 4 things in every PC:-
Motherboard
Power Supply
Processor
Chassis
Monitor
Graphics card-motherboard compatibility
For a graphics card to be compatible with the motherboard, you have to first check what type of graphics card you are going to use on your motherboard. Is it an old AGP graphics card like Radeon H3850? or is it a PCI express graphics card?
Most probably it will be the PCI express graphics card which has pins or a connector like following:-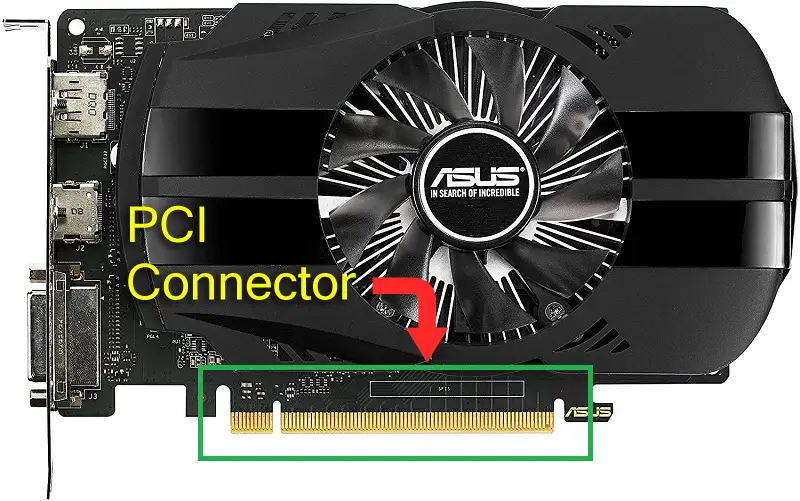 For a connector like this, you will need PCI-E x16 slot on your motherboard which looks like the following:-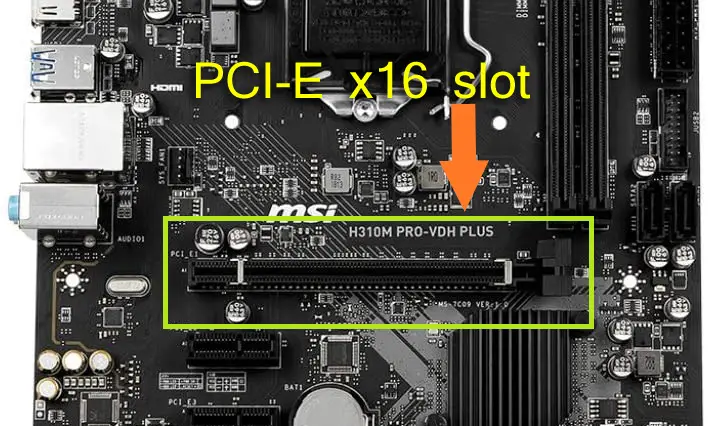 The above image shows a latest PCI-E x16 slot which has an opening latch at one of its ends for securing the graphics card on to the slot. The latch may be different but the slot will always be of this size which is roughly 89mm.
If your motherboard and the graphics card you are buying or own have these two slots, then your graphics card is fully compatible with the motherboard.
Graphics card-Power Supply compatibility
After you figure out if the GPU you want to buy is compatible with your motherboard, don't rush into buying before checking if your power supply supports it. A power supply is the one which is responsible for supplying the correct voltage and power to your graphics card.
Connector
Low-profile graphics cards don't even need an external power supply as the motherboard PCI slot is enough for supplying power of up to 75 watts. But if your graphics card has a power connector like shown below which can vary from a single 6 pin to double 8 pins, then you will definitely need a power supply that consists a PCI-E connector cable with the required number of connector pins.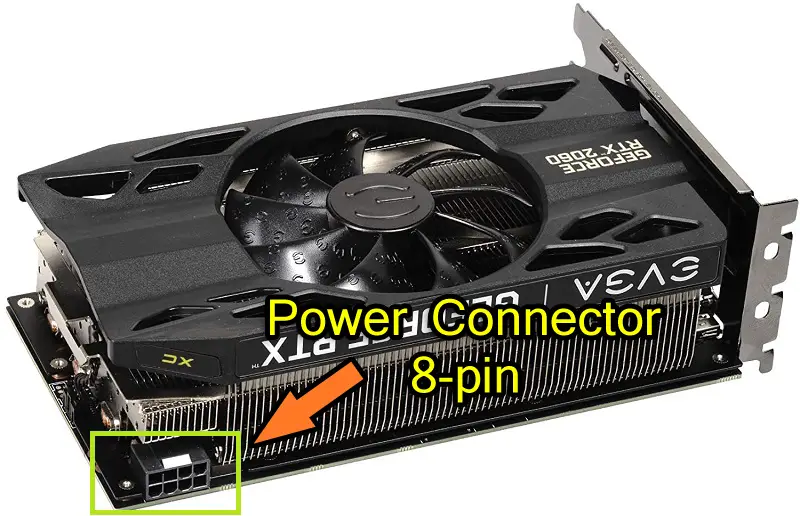 If your graphics card has a single 6 pin connector, then make sure your power supply has at least a single 6 pin PCI connector cable. Similarly, if your graphics card has a dual 8 pin connector, then your power supply must also have dual 8 pin connector cable otherwise your graphics card might not get powered On.
Related:- Fix Graphics card not recognized issue
Wattage
If your graphics card is a low profile one then there is no need to worry about the wattage of your power supply but it's recommended to use a continuous power supply over peak power supply for reliable operation.

If your graphics card does have a power connector then check how much wattage does your graphics card consumes. This is easy to find out through the manufacturer's website. Aftermarket or custom graphics cards which are different from the reference cards generally consume more power due to being factory-overclocked. Make sure you go to the official website GPU page to check the power consumption and their recommendation for power supply.
A high-end graphics card like RTX 2080 Ti won't properly run on a 450 watts of power supply taking into consideration all of your components that are probably also high-end. Also, a 450 watts of power supply is unlikely to have dual 8 pin connectors. It's necessary that you use a higher-wattage power supply for future-proofing and it's best to use according to what the manufacturers recommend.
You can check out our list of best power supplies for best performance.
Graphics card-CPU compatibility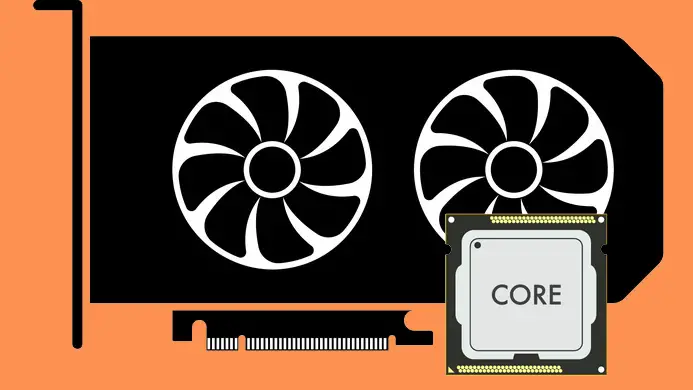 Generally, all of the modern CPUs are compatible with all of the graphics cards from low-profile to high-end but that doesn't mean you should not balance things in your system. A powerful graphics card like RTX 2080 shouldn't be combined with something like a Pentium processor. The Pentium CPU will definitely support RTX 2080 but won't give you desired results for which the RTX 2080 is made.
Always compare and check CPU-GPU compatibility in terms of performance. Check out these articles to know more:-
–Best CPU-GPU combos for 1080p
–Best CPU-GPU combos for 1440p
–Best CPU-GPU combos for 4K
Graphics card-Chassis compatibility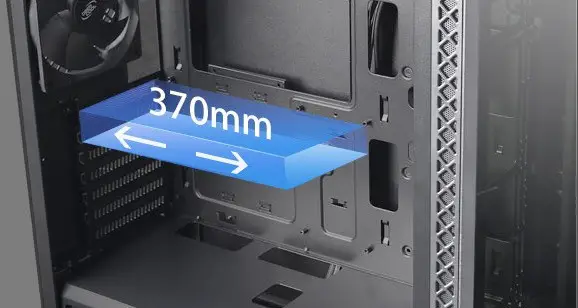 Your computer chassis should have enough space to acquire the graphics card you are going to use. Always check the dimensions of your graphics card before buying. Check how much clearance does your case provides. You can check on the chassis manufacturer's site or you can manually measure it with a ruler.

Some cases are modular and have hard drive cages installed at the front which can be removed to install long graphics cards. So, consider that too. Some cases are very less in width and your graphics card may be wider than the width of the case or even equal to that. In both the cases you won't be able to install the graphics card as motherboard, motherboard tray, back panel etc. will take up a considerable amount of space leaving insufficient space for your graphics card. Make sure you have enough clearance for cable connection also.
Check:- Best Cable Management Cases
Graphics card-Monitor Compatibility
While most of us just go for the graphics card if all the 4 of the above issues are addressed but it's equally important to know if your graphics card is compatible with your monitor or not.
You should check if the graphics card you are buying has the ports that are also present on your monitor otherwise you may have to end up in buying a converter. You should definitely check out our full guide on checking the compatibility of a graphics card to a monitor.
Anything more you want to know?
If you want to inquire something that didn't get covered in these 4 steps, then do feel free to ask in the comments section below!