First person shooters are among the most competitive games and because of this fact, there is a huge player base on it alone. Different shooter games can allow several players to play at a time which makes it more fun. Unlike the 1vs1 game, here you have a tougher competition because you don't know what is going to happen next? who is going to kill you? and what should be your next strategy?
As I am a fan of FPS games, I have played several different FPS games on consoles and PC. Although, I didn't play every one of them but I played many great titles that are still famous and have a huge player base. So, I have brought you the list of the Top 7 FPS games that I think are the best. And of course, you can disagree with the list as this is according to my opinion and not of anyone else.
Counter-Strike: Global Offensive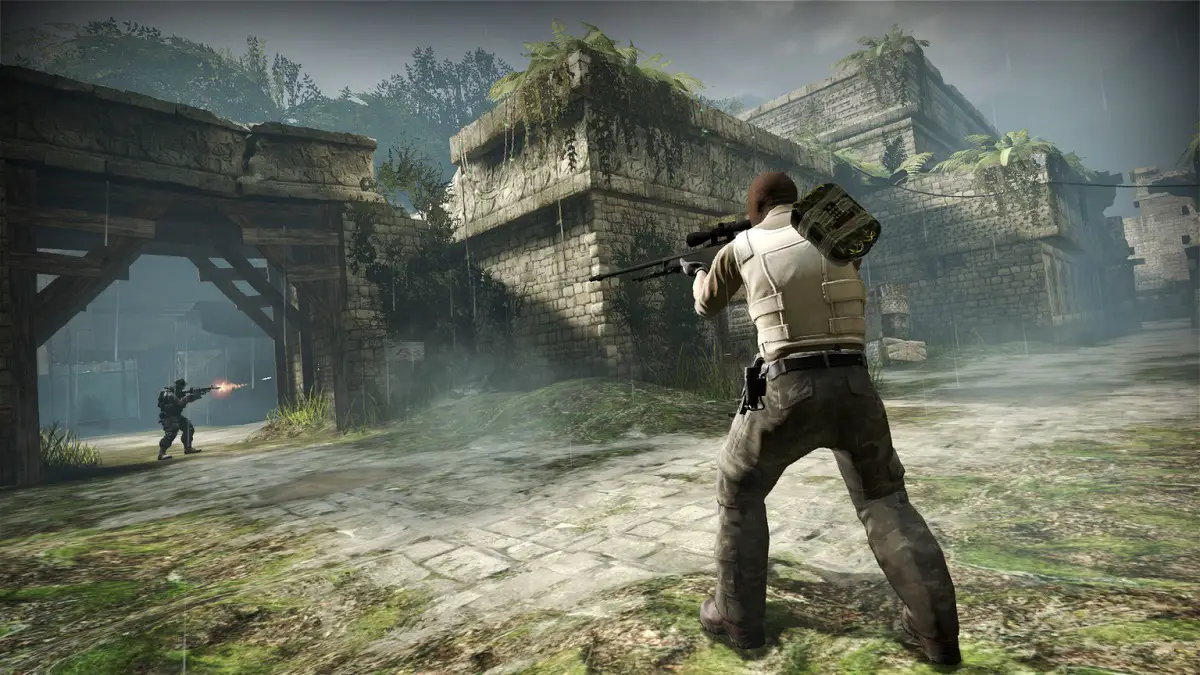 First Counter-Strike started in the year 2000 and then there were several versions of the game like Counter-Strike 1.6, Source, Condition Zero etc. And in the year 2012, we had Counter Strike Global offensive which is the 3rd most played game on Steam right now and has around 700K concurrent players as a peak in a single day. I have put more than 1100 hours on this game and it was very addictive in the starting. It is very rare to find people who have a steam account and do not have it. This game gets a frequent update in maps and weapons which makes the competitiveness going on and is one of the most hyped games in world tournament with over several million fans.
The gameplay of this game is like this:- There are two teams: Terrorists and Counter-Terrorists. There are two sites and Terrorists have to plant the bomb on one of the two locations. Counter-Terrorists have to defend those sites while remaining alive but if the T's manage to plant the bomb, CT's have to defuse it while keeping care that T's don't kill them.
This is the basic gameplay but there are other game modes too like Story Mode, Casual, Deathmatch etc. You should definitely have this game because it is neither expensive and nor it has any big bugs. Also, it doesn't require a very high-end PC. You can run it on a budget gaming PC if it has an entry-level graphics card like GTX 1050 or GTX 1050 Ti easily. The competition of this game is very high and so the reward is.
Battlefield 4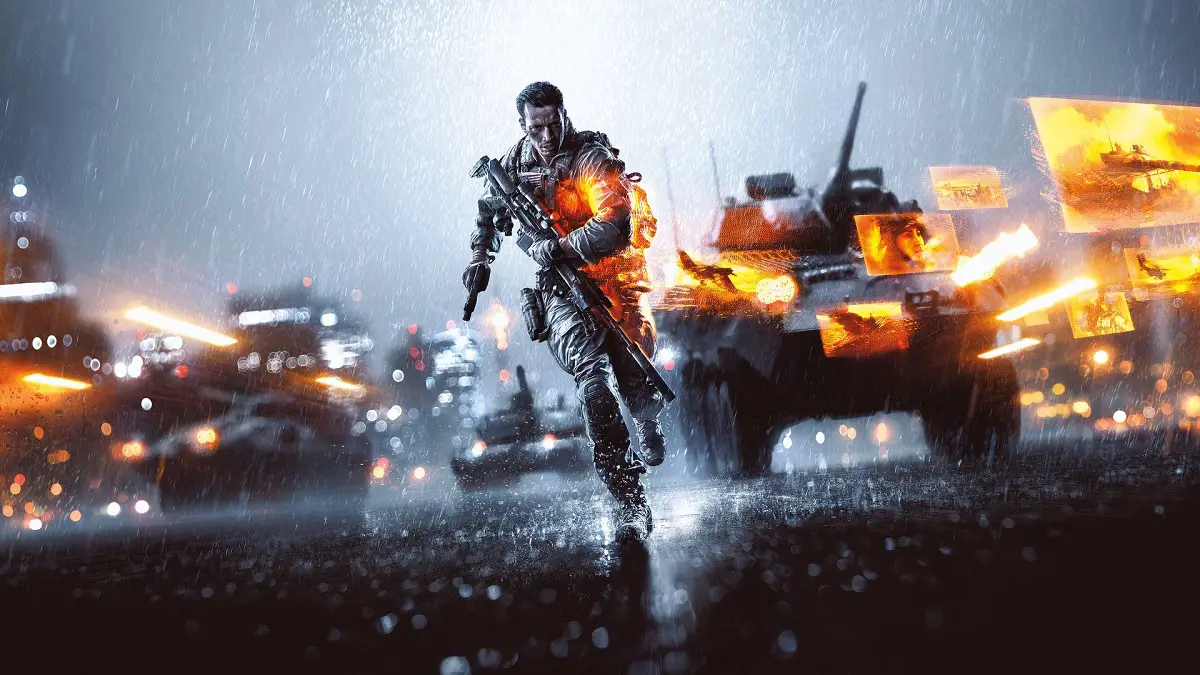 Battlefield series is my favourite fps shooter games of all time. Even though I have put more than 1100 hours on CSGO, I don't think that can be compared to the Battlefield games. Among the Battlefield games, my favourite is Battlefield 4 because it displays the latest generation technology and everything feels like in the present, unlike the COD games which are too futuristic. This game has several maps and several modes where players have opportunities to do different missions in order to win. My favourites among them are RUSH, Domination, Conquest.
This game was released in the year 2013 and still has a fair player base. Although in some regions like India, it's hard to find a server with good ping but even with the ping of 150, you will feel no lag playing it and difficulty is legendary. You won't be able to know easily where your enemies are. This sometimes becomes frustrating if you spawn in the middle of the battle. There are tanks, jets, Choppers, infantry vehicles, snipers, mortars, rocket launchers and what not. Aiming is seriously very difficult in the game when you stand far away from the enemy but when the missile hits the target, it feels very satisfying.
This is one of the toughest Fps games I have ever played which will require some serious skills probably more than in CSGO and you will have fun in a large battleground with 60+ players playing along with you.
Battlefield 1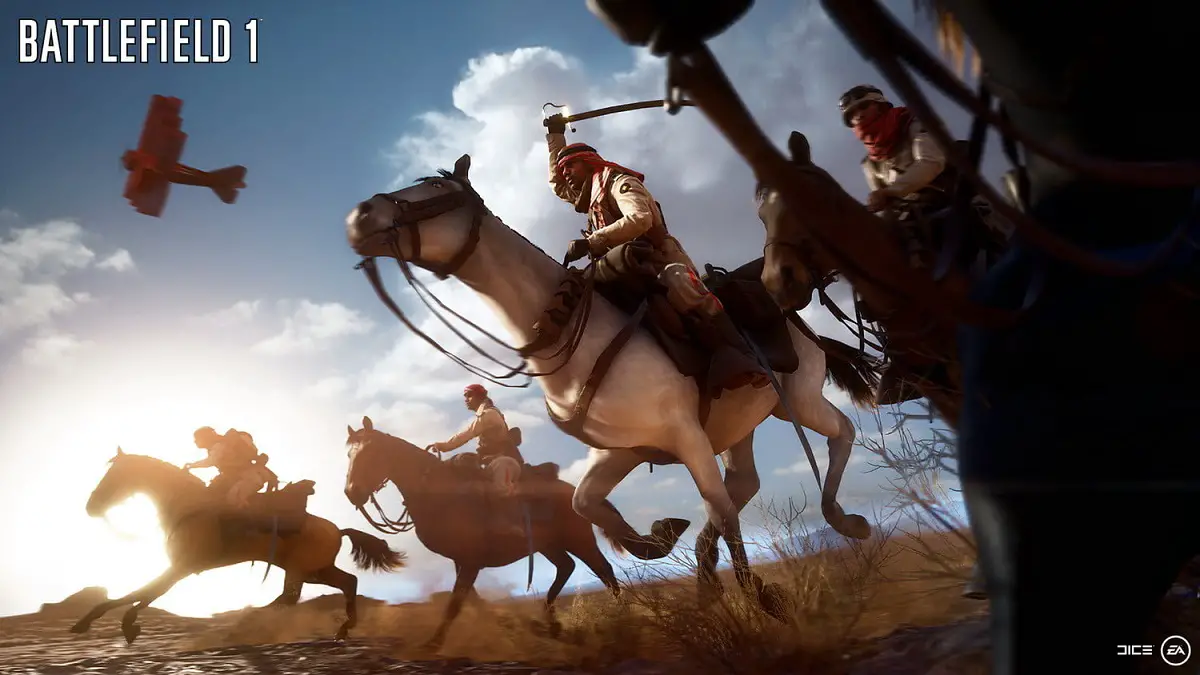 Battlefield is the successor of Battlefield 4 and it has gone into the past where the world saw World war I and the theme matches completely with the time. There you have the guns and weaponry of that time so that you can revisit the world what it was 100 years ago. What a great time to launch a game?
This game uses the mechanics of BF4 although, there are many things introduced such as new game mode Operations. The game uses most of the modes of Battlefield 4 such as RUSH, DOMINATION, CONQUEST etc. but horses and swords are a new thing which was the traditional way of war hundred years ago and the weapons were robust and heavy.
In the game, you will get unique weapons to use compared to the BF4 although there aren't that many possibilities of modifying or upgrading the weapons but tanks are more fun here. You can go on a rampage with a tank and destroy everything that comes in your way. The game is filled up with rage and your soldier has the ability to rush with the rifle knife in close combat. This game proved itself revolutionary and brought something new to the table. So much so that the Call of Duty World war too copied much of its thing but still failed to deliver such a great combat style.
Best budget graphics cards that you can use to play this game
TitanFall 2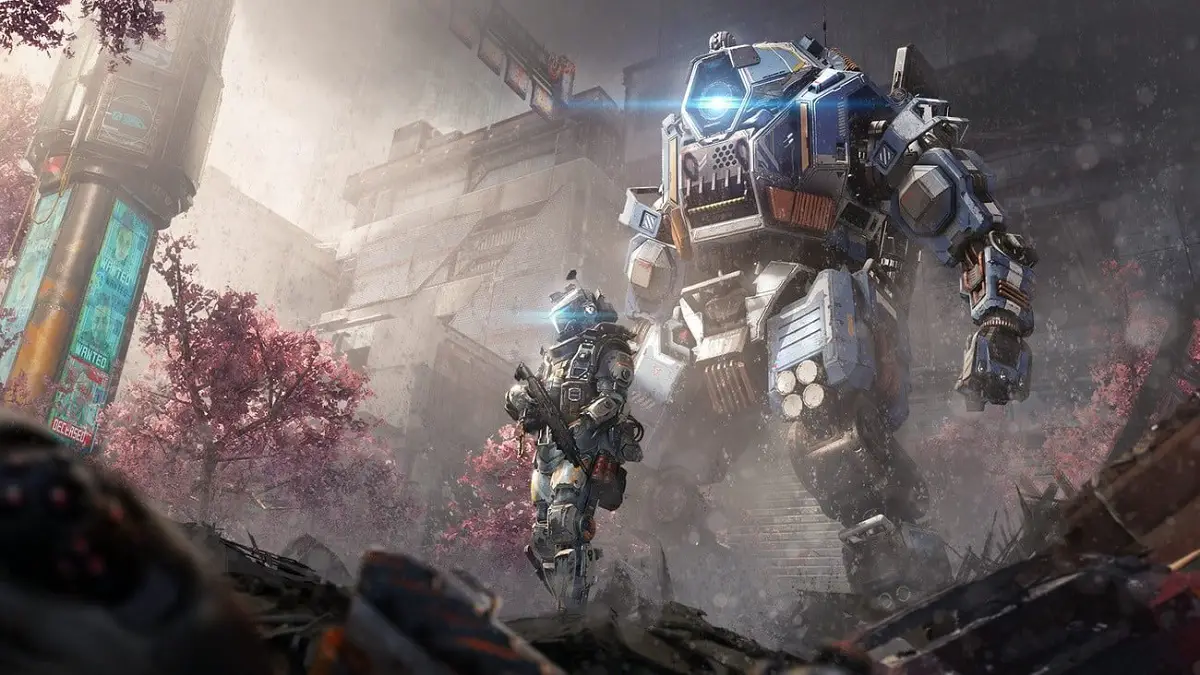 TitanFall 2 is an underrated game one of the reasons may be because of its presence on Origin instead of Steam but the game is far better than any COD game and it has so much flexibility that you would feel flying in the air all the time once you master it. The game has several modes like Amped Hardpoint where you hold on to a hardpoint to gain points as well as modes like Capture the Flag where you take the flag of your enemy and bring it to your base while defending.
The game mechanics is superb and it doesn't look broke anywhere. You can run on walls fly high in the air and have a lot of options to choose different weapons for your loadout. Moreover, just like the Battlefield games, you have the choice to customize the load outs before spawning. And after you fill up your gauge meter you can call your Titan to increase the damage on your enemies. With different Titans, you get different abilities and they have their own pros and cons. But make sure you upgrade your pilot as well as Titan from time to time to maximize your damage and increase your abilities.
The game also has a long story mode which I completed in like 7-8 hours if I remember correctly and the gameplay goes very smooth going through different stages where you face different types of enemies. Some in the form of humans and some in the form of beasts. You go in the past to observe what happened and then return immediately to the present for knowing the cause of the condition of the present. Unlike the Battlefield story mode, it has a much better single player campaign and you should get it on your list to have one more awesome FPS game.
Doom 2016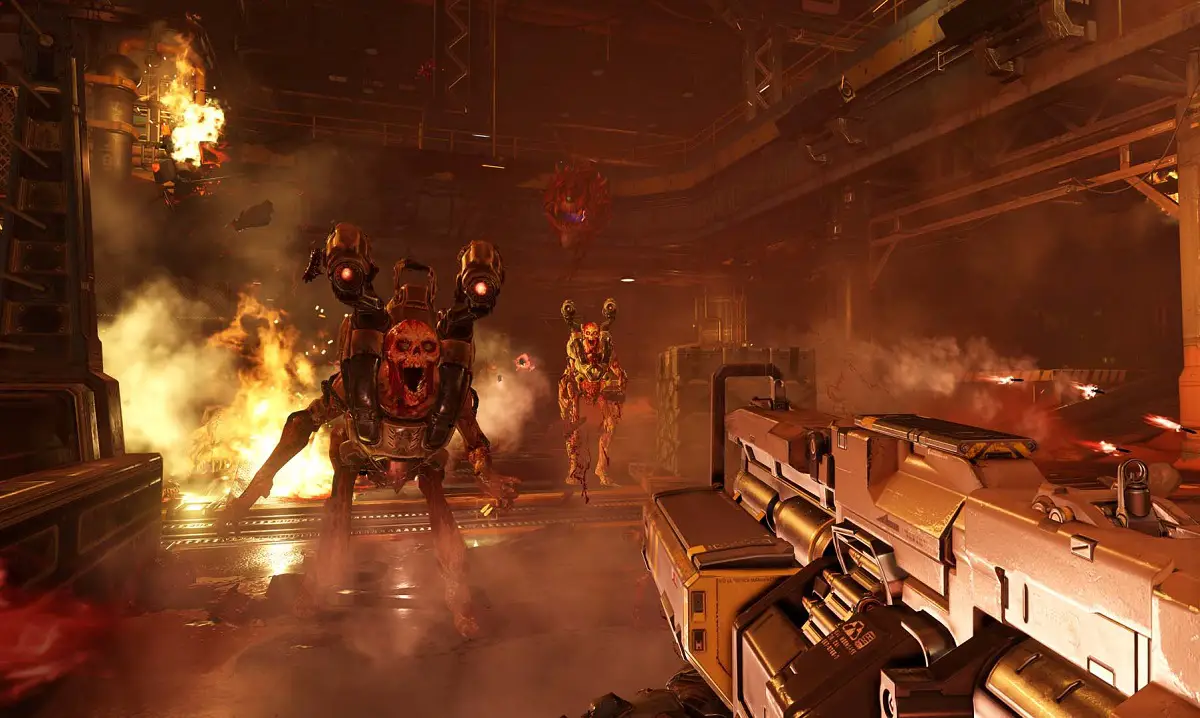 Doom 2016 is the latest title of the Doom series which started back in 1993, the year in which I was born. So, this game is equally old as I am and the 2016 edition didn't disappoint at all in any way. Although, I don't remember playing the old Doom games except for one time in 2007 but the Doom 2016 is alone enough worthy for convincing you that Halo is not the only game which you should be playing.
The Hero is the Doom protagonist who is ruthless in killing the beasts and monsters. The game starts at a very intense place where you are tied on a stretcher like a thing and immediately there are monsters trying to kill you. You acquire your gear and step out to destroy all the enemies. You face rocket monsters, big bull type beast running at you and huge giants who take a lot of life if they hit you.
But don't panic. The weapons are next level from simple plasma guns to chainsaw which cut your enemy into the half but beware and keep cautious cause its fuel depletes very fast.  So switch to the machine gun or traditional two bullet shotgun which kills enemies in just a few shots.
The multiplayer now, on the other hand, is also very competitive although not as good as of CSGO or Battlefield. It sometimes feels repetitive but it's still great with the difficulty you have to face. Your opponent can anytime become a monster and can take all of your teammates down at any time. With more and more experience you will be able to unlock new skins and upgrade your weapons.
Overwatch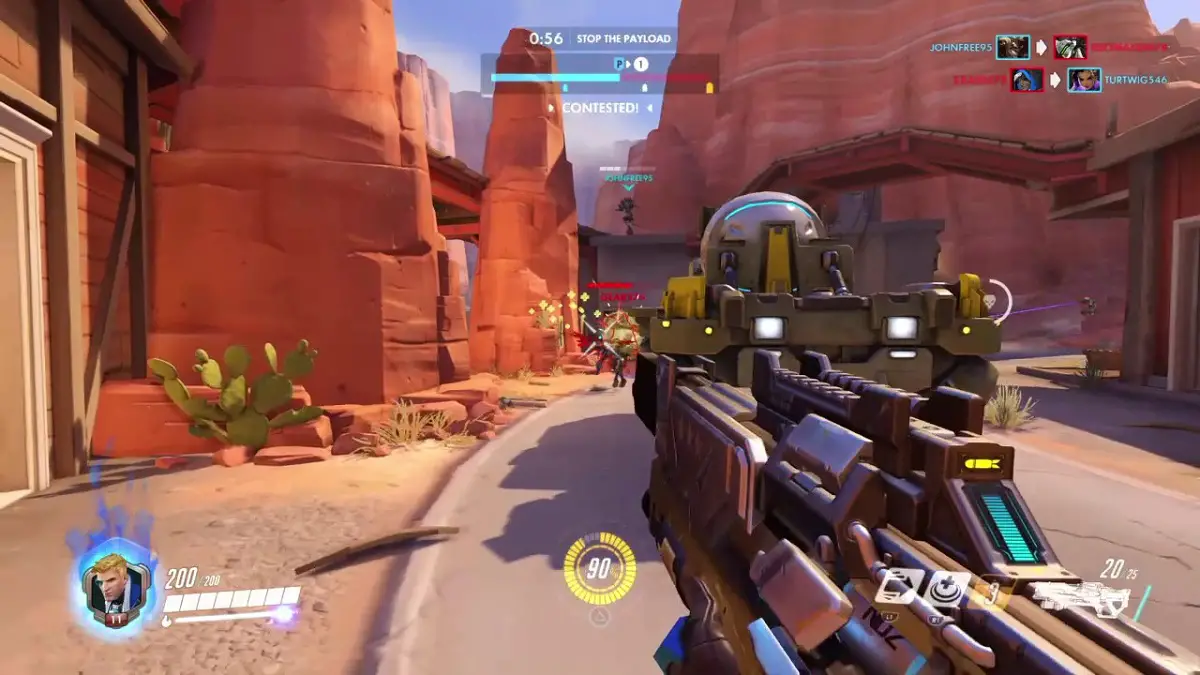 Overwatch is a mixture of TitanFall 2 and Doom in my opinion because of the features that it has been equipped with. The uniqueness of graphics which distinguishes it from other games makes it good for kids, teens as well as adults. The gameplay is very intense and fast paced and similar to many FPS games, the role in the game is to defend the points on a map where two teams having 6 players each will face each other for a limited amount of time.
There are 20+ characters in the game, all having different abilities and weapons perform differently in different scenarios. This makes it unique as you have the opportunity for thinking and strategizing against your opponents. This game was developed by Blizzard Entertainment and was released in 2016. The game soon became very popular and now has over 35 million players which is a huge achievement.
The cartoonish graphics and the cosmetics make the characters more appealing and most of the updates for this game are free except if you want to pay for the cosmetics which is present in most of the games nowadays.
Arma 3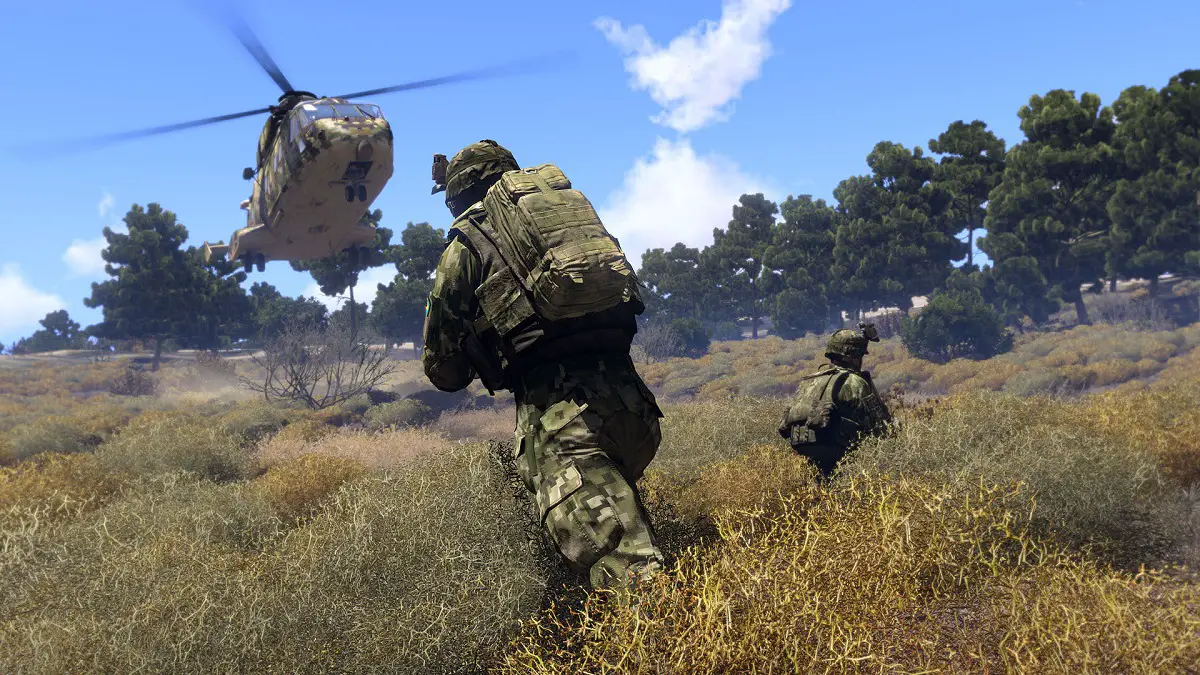 I read somewhere on the internet that COD is for kids, Battlefield is for teens and Arma is for Men. This is just a phrase some people mention for this game because of the difficulty. When I first played this game I couldn't control the soldier properly and it was difficult as it could be in the starting. Slowly slowly I realised that it requires even more skill than Battlefield and it's too practical as compared to any other game that I have ever played. From this game, I remembered some of the old gold games like Desert Strike and Delta Force.
This game has the most realistic mechanics both in weaponry and vehicles. The sound and visuals are so satisfying that you will feel that you are in a real battleground. Even though this game was released in 2013, it's still very CPU intensive and will require a decent gaming  Rig to load all the details properly. This game even though didn't get a very good rating from reviewers like IGN or Gamespot but in the real world, it has got very positive reviews on steam and still gets hundreds of positive reviews every month.
The game can host more than 100 players and the battleground will be very large. You have to attack by making strategy and should stick to a group if you are a newbie to learn how the game works. When I played it for the first time and I didn't understand it at all. It's not that heart pounding as Battlefield because it requires strategy and most of all teamwork with proper communication.
Suggest more FPS games
If you believe that there are some more FPS games that we should try, then feel free to list those as these were among the best FPS games that I thought of putting into the list.