Motherboards
Best MINI-ITX motherboards[Best INTEL and AMD Boards]
Introduction
If you ever wanted a compact build in a compact case then you must be looking and searching for the Best Mini ITX motherboard. Mini-ITX motherboards are not as popular as ATX motherboards because of the limited features due to the small form factor. Also, they cost more while sharing the same features as that of an ATX motherboard. But again, you want a compact PC, right? Then, of course, you have to compromise in one way or another. Although the compromise is merely in the title, the boards I have brought on this list are totally worth your money and shouldn't be taken as a compromise at all.
These are the TOP 4 Mini ITX motherboards right now I recommend from Intel and AMD with the latest chipsets. Be sure to read the reviews carefully or you might miss something important and do not forget to ask any question if you are confused. I will try my best to help you according to my knowledge.
Buy The Best Intel Processors
Buy The Best AMD Ryzen Processors
---
BEST INTEL ITX MOTHERBOARDS OVERALL
ASRock H370M-ITX/AC[BEST BUDGET]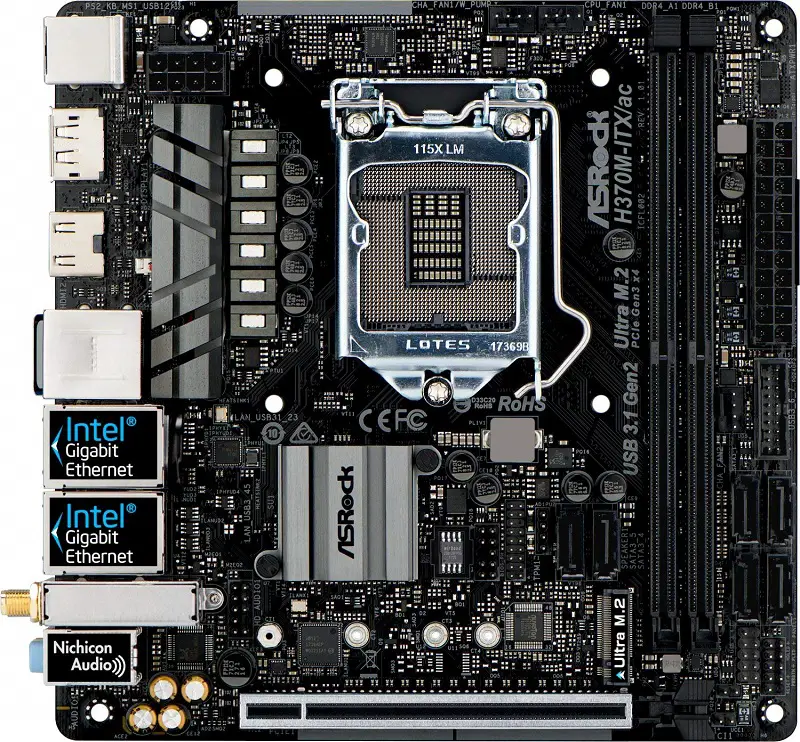 The H370 chipset isn't made for overclocking but it has most of the things that one would need and gives the Z370/Z390 chipset a good competition in terms of upgradability without spending a lot of money. This H370 chipset board from ASRock is real deal for under $100 because it has even great features that even the motherboards that cost above $100 don't have.
This board features a 6 power phase VRM which uses doublers for more stability and has an 8 pin power port for the CPU. For cooling, it has a total of 3x Fan headers out of which two can be used for chassis cooling and AIO cooling and for storage there is a single M.2 slot which you can use for the NVME SSD. Not only that, it also has 6x SATA 3 ports which are rare to find on an ITX motherboard and this will ensure that you can upgrade your system much better than with the other ITX boards in terms of storage.
At the I/O, there are a total of 8x USB ports out of which 4 are USB 3.1 Gen 2, and 2 are USB 3.1 Gen 1. For Internet connectivity, there are two Intel Gigabit Ethernet ports along with a wireless inbuilt wifi adapter which has the Intel 802.11ac standard and Bluetooth 4.2. This motherboard is the best one in the budget category for any Intel 8th and 9th gen processor but if you want the best performance then scroll down to see the next one.
---
ASUS ROG Strix Z390-I Gaming[BEST OVERALL]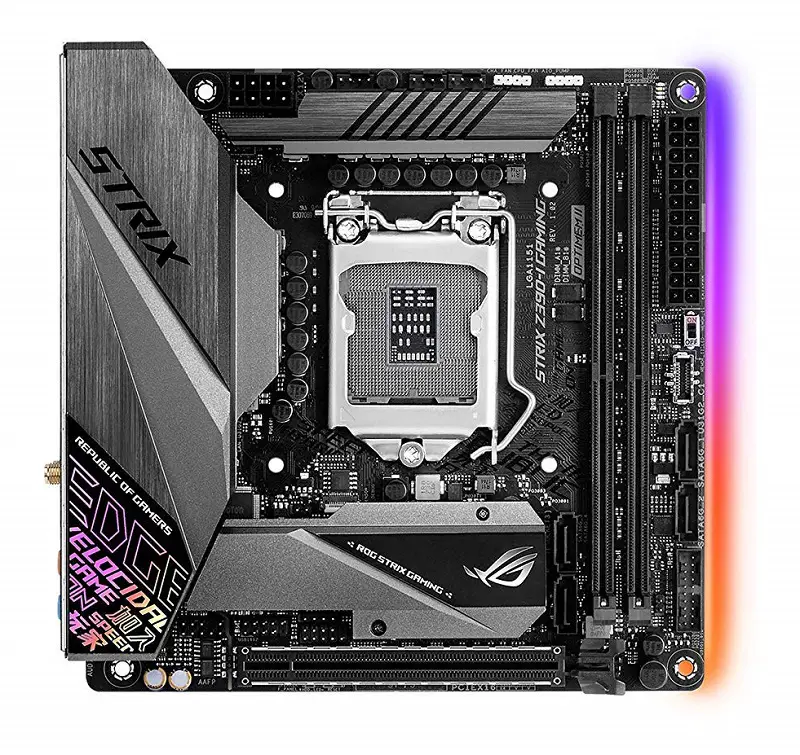 If you want the maximum performance for your money without overspending, then the Z390-I Gaming from Asus is the perfect board for any Intel Core 9th gen processor. It features a strong VRM with 11 power phases that are capable of overclocking an 8 Core processor and the heatsinks over them will make sure that the temperature remains as low as possible.
There is no lack of anything on it, be it any kind of slots or ports or aesthetics. For storage, there are 4x SATA ports which are common but for NVME SSDs, there are two M.2 slots: One at the front that is covered with an aluminium heatsink for heat dissipation and one without it at the back of the PCB. So, you can just skip the traditional hard drives if you want and opt only for the fast NVME SSDs.
For cooling, there are 3x Fan headers including the CPU Fan header and besides them are two headers for RGB and ARGB for connecting RGB devices such as RGB fans or strips. There are some additional good features on this board which are the USB 3.1 Type C connector and onboard Memory troubleshooting Switch, The MemOK button. A lot of good cases nowadays use the Type C connector at the front panel and if your motherboard has it, then it will be cool to utilize the fast speeds.
---
BEST AMD ITX MOTHERBOARDS
GIGABYTE B450 I AORUS PRO WiFi[BEST BUDGET]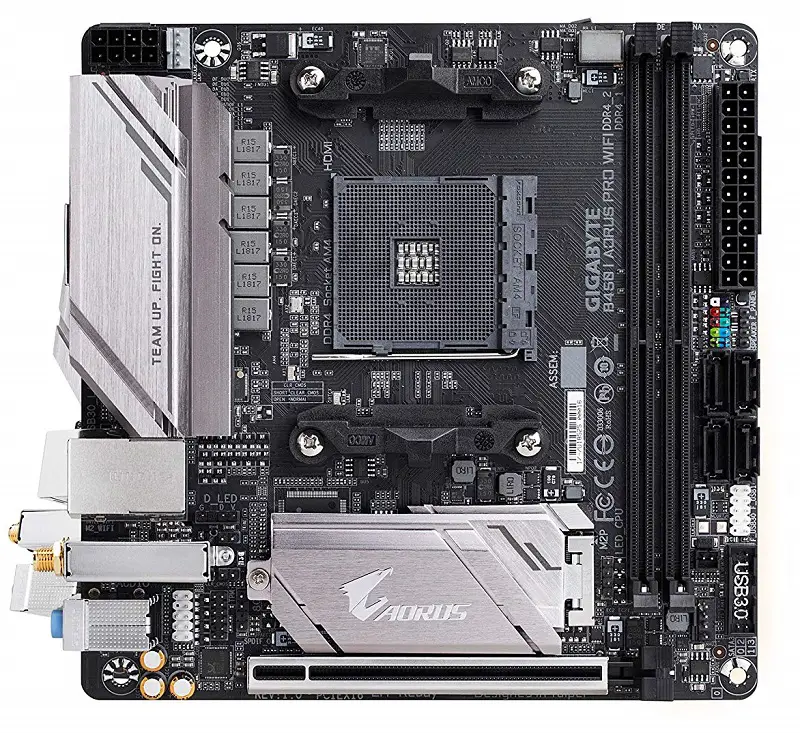 For the Ryzen processors, the B450 chipset is specially made for overclocking on a budget and you necessarily don't have to spend over $200 for a good X470 chipset. As A320 chipset is neither meant for overclocking nor it has any Mini-ITX form factor, you will have to buy at least a B450 chipset motherboard. The good thing is that these are still cheap and you can build an affordable gaming PC with just $400-$500 in your pocket.
The Gigabyte B450 I Aorus Pro Wifi motherboard is from the Aorus series which is especially known for aesthetics and decent performance at a low price compared to the other brands such as ASUS Strix. This board features a very good 4+2 power phase VRM that is cooled down with a big aluminium heatsink on the VCore side. Along with the VRM, the M.2 slot is not left alone. It's also equipped with an aluminium heatsink that will cool your NVME SSD.
The PCI-Ex 16 slot on this board uses Armor steel for more strength which is generally found on higher-end motherboards. Other features include RGB LED header near to the M.2 Slot and 2x HDMI, 1x DP ports at the I/O. This motherboard for its price is one of the best you can find today and I don't find any CON other than the number of fan headers present on it but it will be still great for your build costing $400-$500 in total.
---
ASUS ROG Strix X470-I Gaming[BEST OVERALL]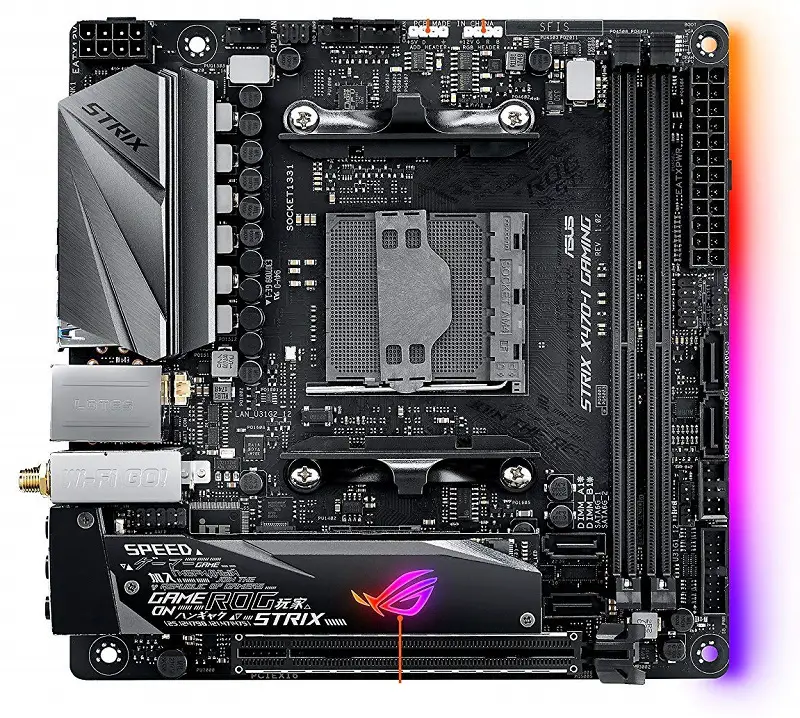 Asus ROG Strix X470-I Gaming is a premium motherboard which is very popular amongst the Ryzen users. It has no big CON at all and you can find almost everything on it you would need on an ITX motherboard. The X470 chipset which is on this motherboard is generally better in overclocking than the B450 and you should consider it if you want some in-depth overclocking features that aren't present in any other B450 board.
This motherboard has a small distinction of RGB lighting on the M.2 heatsink as compared to the B450-I Gaming from Asus and the rest of the things are the same. There are 3x Fan headers, 1x RGB header, 1x ARGB header and 4x SATA ports on it. The maximum memory it can support is 32GB with max clock speeds of 3600Mhz.
It has an inbuilt Wifi adapter which eliminates the need for using an external USB wifi adapter and will be ready to use after installing the drivers. For increasing the signals, you will receive the 2T2R Wifi antennas with it which you can place on your desk and a total of 4 SATA cables for connecting to the SATA drives. The problems I find with this motherboard is the absence of onboard troubleshooting buttons and only one output port for display at the rear. But if you don't have any use of those, you should definitely buy this for getting a good value for your money.