If you are an online gamer, then you might well be aware of the fact how a router makes a huge impact on your online session. If you want to improve your gaming skills then you definitely need a nice router. There are even budget routers which offer nice specs and performance but there are some routers which are meant to deliver you the ultimate performance. Netgear, being a leading manufacturer of routers and networking devices has announced its lineup of Nighthawk Pro Routers last week at IFA, the Nighthawk Pro Gaming XR700 which according to the company is the fastest home router for gaming.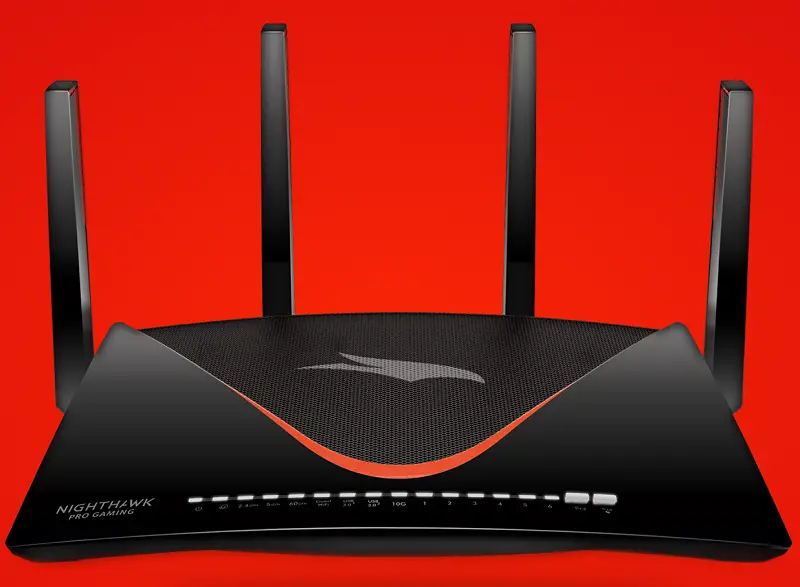 The Nighthawk Pro Gaming XR700 apart from being the top of the line product from Netgear also comes with its award-winning DumaOS which offers more control over your network. Undoubtedly the router is equipped with cutting-edge hardware specs such as its AD7200 Quad Stream Wave2 WiFi, the fact is that the router is aimed for hardcore gamers and enthusiast. The Nighthawk Pro Gaming XR700 in its package offers an optimized network connection by reducing the ping spikes and also offers fastest wired and wireless connectivity for your ultimate gaming experience. It also has modern gaming software which offers a gaming dashboard along with a Geo Filter and QOS to prioritize your requirement as per your choice.
Related:- Best Gaming Routers
The Nighthawk Pro Gaming XR700 is designed to enhance your online gameplay and under its hood, there is a  1.7GHz quad-core processor along with top of the line features like quad-stream WiFi with MU-MIMO, the fastest 60GHz 802.11ad WiFi technology, and four external high-power active antennas. With a single 10G SFP+ port and additional 7 Gigabit ports, the XR700 is ready to grab anything you throw at it. There are a bunch of modules available which are compatible along with this router and they are meant to satisfy your needs which might be LAN event also and you can do that by having an SX10 10G LAN Switch which can provide the perfect setup for the ultimate LAN gaming and can also transfer 4k video swiftly.
The Nighthawk Pro Gaming XR700 is going to get released on October 19, 2018, but its already up for pre-order and the price of the router is set at $499.99 which according to me is the biggest reason for concern as there are plenty of other routers available in the market which offers almost similar specification such as The ASUS ROG Rapture but at much lower price point. The Nighthawk Pro Gaming XR700 is definitely the best in class at this point of time but there will be very few users who will invest roughly $500 for a router alone unless the user being a hardcore gamer or PC enthusiast. If you want to check its specification and feature in details check this link out.